This post may contain affiliate links. We may earn money or products from the companies mentioned in this post.
Who doesn't love bulldogs? Many people prefer the French Bulldog or the American Bulldog, but one of the most popular bulldog breeds is the English Bulldog. Not only are these charming dogs unique looking, they also have very specific nutritional needs and, just like us humans, without a properly balanced diet, the already rotund English Bulldog is prone to putting on weight.
Unfortunately, a poor diet and a lack of exercise can result in joint, and respiratory problems too.
Like a lot of large breeds, English Bulldogs are omnivorous, which means their food must be a mixture of fats, carbohydrates, protein, minerals, and vitamins. What and how much you feed your bulldog will depend on its age, its current health, the living conditions, allergies or other specific needs, like pregnancy.
An English Bulldog puppy's food must give him the energy he needs, but also take the underdeveloped digestive tract into account. As with most puppy food, it must have plenty of phosphorus and calcium for healthy growth and bone development. Once your puppy is around 18 months you can change to an adult-appropriate diet.
At a Glance: Our Choices for the Dog Food For English Bulldogs
DOG FOOD

DETAILS

OUR RATING

Earthborn Holistic Great Plains Feast Grain-Free

Bison meal, pea protein, tapioca and dried egg product are some of the key ingredients
Contains L-carnitine for converting fat into energy
Has a proper ratio of omega 3 to omega 6 fatty acids
Enriched with vitamin E and vitamin C that boost your dog's immune system

Solid Gold Wolf Cub Bison & Oatmeal Puppy Formula

Has bison, ocean fish meal, brown rice and oatmeal as the primary ingredients
Suitable for English bulldog puppies
Features about 20 nutritious super foods such as pumpkin, carrots, broccoli and cranberries
Void of corn, wheat and soy, which trigger allergies in English bulldogs

Precise Holistic Complete Grain-free

Made with chicken as the first ingredient; also has chicken, lamband salmon meals
Includes prebiotics and probiotics for a healthy digestive tract
Contains Yucca Schidilgera extract supplement that aids in reducing stool odor
Natural preservation using vitamins C and E
A wealth of antioxidants from fruits andveggies

Contains deboned chicken, sweet potato, chicken meal and chicken fat
Enriched with fruits and vegetables instead of grains
Also supplemented with probiotics for optimal digestion
Rich in omega 3 & 6 fatty acids that boost the health of the joints, skin and coat

​The Honest Kitchen Grain-Free Dehydrated

Primary ingredients include chicken, organic flaxseed, potatoes, celery and sweet potatoes
Suitable for picky English bulldogs
The formula is approved by AAFCO
Features slightly processed, dehydrated, whole-food ingredients that are sourced from USA
Deciding on the best dry dog food for English Bulldogs, as well as the best food for bulldogs with allergies, is essential and if you are still unsure after reading this article you should visit your local vet for more advice. While they're strong and muscular, they can also gain weight fairly quickly and they battle to lose it once it's on. For this reason, it's important that their food has a lower fat content, somewhere between 8 and 15%. This will ensure healthy skin and a shiny coat and maintain a healthy body weight.
If you're the proud owner of bulldog puppies or even adults, carbs are not your friend. Sugary foods will make your pup bloat like an annoyed puffer fish and trigger severe allergies. Soy, grain, and wheat or corn-based products are also no-no's because of this breed's sensitivity to allergies. It's also a good idea to feed your bulldog twice a day to regulate his sugar levels.
​With all this in mind, finding the best dog food for English Bulldogs seems like an almost impossible task. However, our five top choices will give you a good starting point.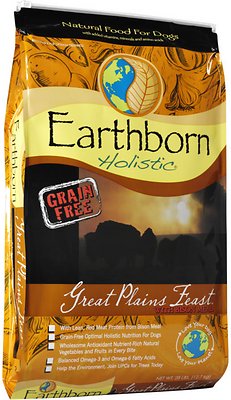 This is possibly the best food for bulldogs with allergies. Not only is it free from grain, a cause of allergies, and gluten, the culprit behind weight gain, it's also free from chicken.
Not many people are aware that dogs can be allergic to the protein source in their food, which is usually the meat, like chicken. Earthborn's protein sources come from high-quality red lean meat like lamb.
Also included are superfoods like fruits and vegetables that provide the necessary antioxidants for a healthy immune system. Interestingly, the formula has L-carnitine, an ingredient that helps maintain a dog's fat level and body weight, which is essential for a bulldog.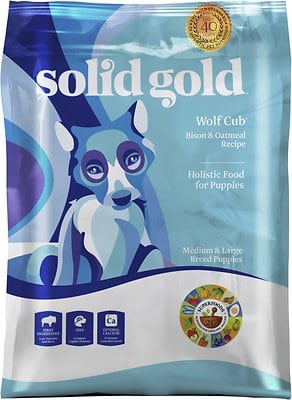 Since 1974 the Solid Gold brand has been making food that gives pets the high-quality, holistic nutrition they need and deserve. The company originally started with one recipe but now make different formulas for dogs in their different life stages, like the Wolf Cub Bison & Oatmeal Puppy food. The formula is an excellent choice because it's made for pups of his size.
It's made with delicious protein-rich bison, eggs, and ocean fish meal. The meat-based food provides 26% crude protein and loads of healthy fats, which helps with his development and growth. This brand of dog food has dried fermentation products for probiotic support, which is essential for a bulldog.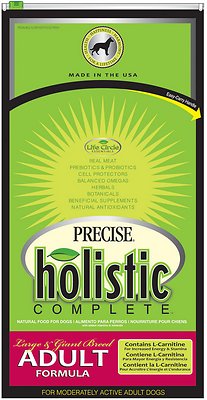 The Precise brand gets a thumbs up from us for being the best dry dog food for the English Bulldog puppy and adult because of the company's high-quality, nutritious pet foods. Not only do they make foods for dogs' different stages of life, but for breed sizes too. Precise is, in fact, one of the few brands that make an adult food for medium-sized mutts like English Bulldogs.
It contains 27% crude protein, 17% fat, and 3.5% crude fiber. The main source of protein in Precise Holistic's formula is fresh chicken with chicken meal while oatmeal and brown rice are the main sources of carbohydrates. The healthy fats, fresh and dried fruits and vegetables, and synthetic supplements make this a very good food choice for your adult English Bulldog.
Evanger's is a premium pet food with a range of gourmet hand-packed dinners and balanced meals for your pet in all his stages of life. The company uses only USDA-inspected meats and all their products are free from wheat, soy, and corn products. There are also no artificial preservatives or unhealthy additives.
Along with balanced nutrition, Evanger's range of dog foods tastes delicious, with natural flavors. The recipe provides 33% crude protein and 16% fat. Probiotics provide digestive support and chelated minerals help with optimal absorption of all the essential nutrients. To help with bones and joints, Evanger's also contains chondroitin and glucosamine.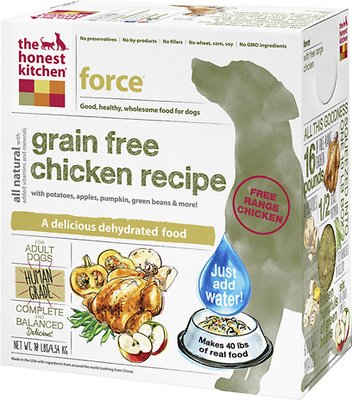 The Honest Kitchen dog food is different to the other foods on the list because it's dehydrated. To prepare it, you need to add water. There is a variety of ingredients for each of the product's ranges and the protein choices include fish, turkey or chicken. It's grain-free and includes fruit and vegetables for a naturally-balanced diet. What's unique about this range is that it offers a base mix product that allows you to add your own meat.
Especially for your English Bulldog's sensitive stomach, the Honest Kitchen offers a herbal gastrointestinal supplement and there are no by-products or artificial flavorings. It's real food with a good balance of protein, vegetables, and carbs.
Conclusion
Regardless of the breed of dog, a good dog food is essential to keep them happy and healthy in all areas of their life and even more so for a Bulldog. His diet, good or bad, will affect his joint strength and muscle tone, his skin and coat health, energy levels, and digestive well-being. It even impacts how he is able to fight off illnesses.
Feeding your best friend the right friend could literally save his life. For more information on problems with diet and exercise for your beloved bulldog, visit your local veterinarian surgery.
Top Picks For Our Dogs
For a list of all the supplies we get for our new service dog puppies check out our New Puppy Checklist on the PuppyInTraining.com blog.