This post may contain affiliate links. We may earn money or products from the companies mentioned in this post.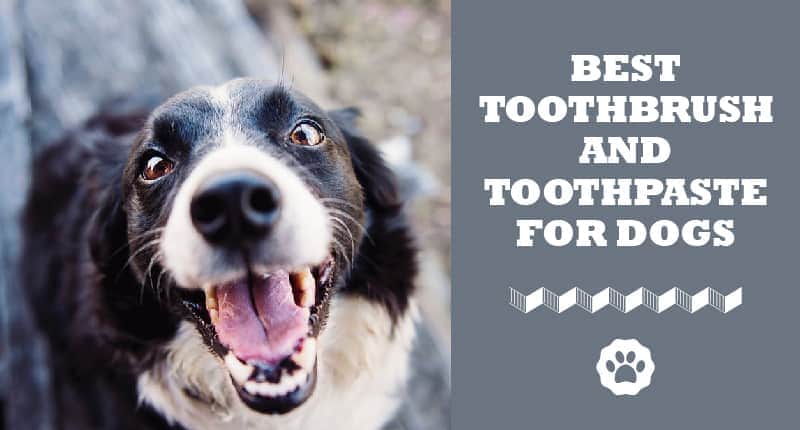 I'll be the first one to admit that there are a lot of things that I'm horrible at: running, cooking, cleaning, and too many more things to list.
I once saw an ad in a magazine that read, "a mechanic's only as good as his tools." Indeed, I blame my selection of low-grade tools for how horrible I am with all types of machinery.
I'd argue that you can definitely say the skilled can be handicapped by poor equipment, and the same can go for some aspects of caring for your dog!
Look:
Brushing your dog's teeth without the right kind of brush is a perfect example of this problem. It's darn close to impossible to clean them properly. And the right brush with the wrong paste is nearly as bad.
Tooth and gum problems are very real concerns for your dog, so you want to make sure you are taking proper care of their oral hygiene. Even daily brushing will be less effective without the right tools.
So, what should be in your doggy dental kit to give your pet optimum oral care? Read on to discover 4 of the best dog toothpaste and toothbrush.
At a Glance: Our Choice 2 Top Dog Toothbrushes and 2 Best Dog Toothpastes
Note: Some of the links above take you to more information, current prices and customer reviews on Chewy.
What Type of Toothbrush is Best for My Lab?
First off, you want to choose a toothbrush specially designed for dogs.If you've never thought about brushing your dog's teeth before, you might be surprised to learn there is such a thing!
K.I.S.S. (Keep It Simple, Silly!)
The most effective brushes are actually quite simple. Of course you want a medium to large size brush for a fully-grown Labrador, but your puppy can make do with a smaller brush. Look for one with a long handle so you can easily reach each tooth.
A good dog toothbrush has an angled head, making it much easier for you to control and reach every spot. Bristles should be soft, and firmly rooted in the brush head so as not to dislodge and stick between teeth.
Multiple-Head Brushes
There are brushes on the market that have 2 or 3 sets of bristles attached to the head. The idea is that you surround the dog's tooth with bristles and clean all surfaces at once. In theory, that's a great idea!
In practice, however, unless your Lab's teeth are just the right size, it's not going to fit properly. Also, it forces you to brush facing your dog straight on, or from behind, neither of which is easy to do. Stick with the single-head brush.
Finger Brushes
Another idea that sounds great on paper, these brushes slip right on your finger. With bristles at your fingertips, reaching every nook and cranny becomes a piece of cake (or kibble, more appropriately).
Being a one-size-fits all device, you'd best hope your index finger is small enough to be accommodated. Personally, I suspect I lack the dexterity in my pinky to brush effectively.
Don't forget about this potential drawback:
The biggest disadvantage of finger brushes is the need to stick your finger in your dog's mouth. My Lab would never, ever bite me on purpose, and yours is probably the same. But if something suddenly spooked him, or if I made him gag by accident… who knows? Personally, I wouldn't risk it.
Don't Double Up
If you own more than one dog, have a separate brush for each. Using the same brush for both could result in cross-contamination if one dog is sick.
Can I Use A Toothbrush Made For People?
Your first inclination might be to reach for one of the extra toothbrushes you have in the washroom from your last visit to the dentist. After all, teeth are teeth, right? Not so fast there!
Too Rough for Those Who 'Ruff'!
Many toothbrushes for humans have bristles that are either too sharp, or too firm for your dog's gums. As well, the angle of the head will not allow for easy access; they're designed to reach into your own mouth, not someone else's.
Child and Baby Toothbrushes
The Veterinary Oral Health Council (VOHC) does approve the use of child-size toothbrushes that meet American Dental Association (ADA) standards. The rounded ends of the bristles are gentle enough for your dog's gums.
Those who have to purchase these brushes anyway may choose to go this route. However, you might find the small size of the brush difficult to manage in your Lab's rather large mouth. If this site were called "Chihuahua Training HQ" I'd say go for it.
Top 4 Best Toothbrushes For Dogs
There are many brushes on the market, but not all are created equal. I've sifted through the selection for you, and here are the best bets: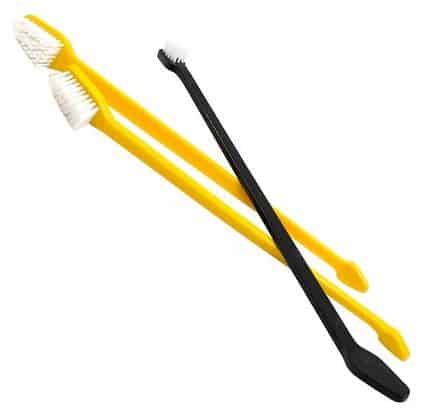 With one of the longest handles on the market (8.8 inches) and a wide brush head, this is a properly sized toothbrush for a medium to large dog. The bristles are soft and the head is angled, making it suitable for cleaning at the gums without causing discomfort.
The bristles are soft and the head is angled, making it suitable for cleaning at the gums without causing discomfort.
This product is new to the market, but is already receiving rave reviews. Best of all, you get 4 different colored brushes in the package – awesome for people living with a pack!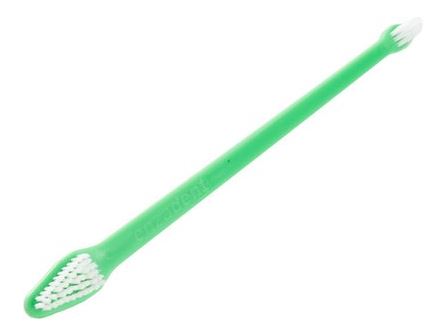 Sticking with the "more is more" philosophy, here's a great example of a double-ended brush. Soft bristles protect your Lab's gums from damage, and the nearly 9-inch handle protects your fingers from damage!
As with any good brush, the heads are angled so as to clean both the teeth and the gums.

This brush provides both value (you get two brushes in the package), and quality.
The long handle (8.5 inches) is great for big Labrador mouths, and the angle of the head allows you to easily brush along the gum line, which is critical.
The second, smaller head at the opposite end of the brush is useful for brushing small teeth, or for those who also own a puppy, small dog, or cat.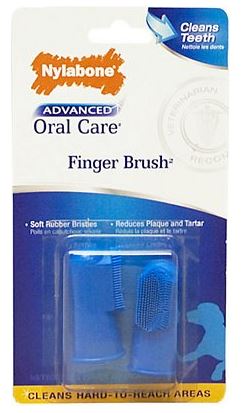 Another great value, this time a 2-pack of finger brushes. Its soft rubber bristles are designed to clean teeth and remove plaque and tartar. This finger brush also helps keep gums healthy and prevent gingivitis.
To use, put your finger in it, some toothpaste onto the bristles, and slide into your dog's cheek. Use circular motions on the teeth and gum line.
It's best to do this everyday so your fluffy one gets accustomed to the routine.
Don't forget to reward your good doggie after every brushing! And wash the brush thoroughly.
Choosing the Right Toothpaste for Dogs
Another product category for dogs you never knew existed! It takes two to tango, so naturally you'll want to pair your new toothbrush with some good paste. And how do you know what's the best dog toothpaste?
Why Use Toothpaste On Dogs?
Simply brushing your dog's teeth isn't enough. If you want to really protect your dog's mouth health, you need to use both a toothbrush and toothpaste.
Using toothpaste can help reduce and solve the following problems that dog's might have:
check Gets rid of bad breath
check Prevents periodontal disease
check Reduces bacteria in dog's mouth
check Prevents tooth decay
check Prevents gum disease
check Reduces plaque build-up and tartar buildup
check Improves dental health
Oral hygiene is important for dogs just as it is important for humans. With the right care, toothbrush, and toothpaste, your dog's mouth will be in tip-top shape!
A Matter of Taste
Getting a dog to sit still and have his teeth brushed won't be easy at first, or maybe ever. Choosing a flavor of toothpaste that your Lab enjoys should make things go more smoothly.
Flavor options include:
poultry
beef
peanut
vanilla
mint​
Try a few and see which flavor gets the nod from your pooch. Anything that seems like a tasty treat will go over well with a Lab!
What's Inside?
Some common ingredients in dog toothpaste include:
Silica – a gentle abrasive for removing plaque and tartar
Enzymes – proteins that work to reduce bacteria in your dog's mouth (and thus reducing bad breath!)
Emulsifiers – salts that help control tartar build-up
Sorbitol – a sweetener for taste which occurs naturally in some fruits (not to be confused with Xylitol, which is also a natural sweetener, but is toxic to dogs)
These ingredients (plus some others) are what helps dog toothpaste prevent periodontal disease and gum disease from every becoming problems for your dog. With the right dental care, you won't have to worry about mouth bacteria such as tartar buildup becoming a larger issue in your dog's life.
Some people even make homemade dog toothpaste, but you can get some of the best dog toothpaste options online, so that isn't necessary for you to learn how to do.
Can I Use My Toothpaste For My Dog?
There are many ingredients in toothpaste for humans that are not fit for consumption, even if you want to rid your dog's mouth of plaque and tartar immediately. We are ok to use human toothpaste because we are taught from an early age to spit, not swallow our paste.
Now, you've got to remember this:
Your Lab, of course, cannot spit. (Though he can drool like a champ!)
Therefore all the non-edible ingredients, like fluoride, will go straight into the digestive system. Some of these ingredients can cause serious harm to your dog, especially in products like whitening toothpaste.
No matter how much you care about helping improve your dog's dental health, absolutely never use human toothpaste for your dog.
Top 4 Toothpastes For Dogs
Of course every dog has different tastes, and flavor is a major consideration when buying dog toothpaste.
It's impossible to know which formulation your Lab will enjoy (mine would take anything but lemon, I'm sure), but here are some of the best options for you to try if you want to improve your dog's oral care:

One of the best-loved dog toothpastes on Chewy, with over 87% of reviewers giving it a 5-star rating.
How the good people at Sentry managed to make a poultry flavored toothpaste freshen breath, I'll never know. But this also helps create a pleasant oral hygiene experience for your dog, which goes a long way toward overall teeth and gum health.
The powerful formulation uses enzymes to provide your dog's teeth with a thorough cleaning.
Disease-causing bacteria, and tartar build-up are targeted by this paste, which comes in a generous 6.2-ounce tube (a 2.5-ounce size is also available).

Virbac is a leader in pet health care and they offer a complete line of dental products.
Using a dual-enzyme formula, this paste offers a great defense against disease- and odor-causing bacteria. And for picky pooches it comes in the following flavors
vanilla mint
poultry
malt
seafood
beef
For those who feel more comfortable with a shorter list of ingredients, this peanut-flavored paste should do the trick.
It is formulated to remove plaque, freshen breath, and keep teeth and gums healthy. This is effective toothpaste that you might feel better about using on your Labrador.
Let your dog taste it first before first use, and then proceed to rubbing some of it onto their teeth and gums, then apply some more with a toothbrush, using circular motions.
No need to rinse it out of your pooch's mouth after.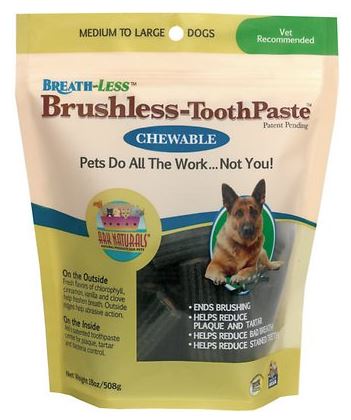 A product offering a natural alternative to standard toothbrushing: what's not to like? They care about your dog's dental health, but they also care about convenience and having you exert the least amount of time and effort for your dog's oral care.
These chews clean your pup's teeth as they, well, chew. Spices such as cinnamon, cloves, and vanilla smell great and naturally inhibit bacteria growth. It has a toothpaste center to round off this effortless "brushing".
This product removes the last remnants of gross factor from face licks!
Shop Smart
Once you've figured out what the best dog toothpaste and toothbrush are for you and your Lab, shop around a bit. You might find that you can buy them in larger quantities or in brush & paste combo packs, and save a few dollars.
Happy Mouth, Happy Life!
Even if your dog is older, it's not too late to start brushing to help them with their dental care. You'll be doing your friend a great favor that can improve their oral health removing excess plaque, tartar, and other dangerous build-ups from their life.
As an added bonus, you can reduce the amount of bad breath from dog mouth in your life – now that's a win-win!
Product image credits: © Chewy.com
Please be aware this page contains affiliate links and LabradorTrainingHQ receives a small commission if you make any purchases through any such links. This has absolutely no effect on the eventual price that you pay and we are very grateful for your support.
Disclaimer
All content on this site is provided for informational and entertainment purposes only. It is not intended to be nor can it be considered actionable professional advice. It must not be used as an alternative to seeking professional advice from a veterinarian or other certified professional.LabradorTrainingHQ.com assumes no responsibility or liability for the use or misuse of what's written on this site. Please consult a professional before taking any course of action with any medical, health or behavioral related issue.
Top Picks For Our Dogs
For a list of all the supplies we get for our new service dog puppies check out our New Puppy Checklist on the PuppyInTraining.com blog.