This post may contain affiliate links. We may earn money or products from the companies mentioned in this post.
If you are looking for help training your dog, there are lots of best dog training books available to get you started. We all know how important it is to train our dogs to keep them healthy and happy, and keep our homes clean and calm. But actually teaching your dog the behavior you expect, and soliciting that behavior from them in the moment when it is needed, is another question.
We have all heard that we should use praise to reinforce good behavior, and never use punishment to discourage bad behavior as it can cause behavioral problems. But how do you reward your dog without making them fat on tasty treats? And what do you use instead of punishment in a moment of crisis when your dog is causing problems?
The 10 books on the list below are all excellent guides that answer these questions, and many more. They provide details on what exactly you should be doing when it comes to training your dog and explain why some techniques work and others don't.
While which of these books is right for you will depend on how much you already know and what kind of training you want to give your dog, I think that Zak George's Dog Training Revolution is a great place to start. One of the newest publications on the list, it draws on the collective knowledge that has come before, while also providing new insights based on the author's extensive experience. The book provides practical how-to information and just enough theory to help you understand why certain techniques work and others don't, without leaving you bogged down in the details.
Read on to discover my full list of the 10 best dog training books and what each of them covers so that you can find the right one for you and your pooch.
10 Best Books On Dog Training
1. Zak George's Dog Training Revolution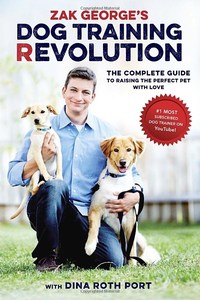 Written by: Zak George and Dina Roth Port
Year: 2016
Format: Paperback, Kindle, or Audiobook
Zak George has made a name for himself as a dog trainer through his popular YouTube channel and his SuperFetch shows on Animal Planet. There he provides useful and practical tips on training and caring for dogs, and he brings the same approach to this book. It covers everything from potty training to managing aggression, as well as topics such as how you know when you need to take your dog to the vet.
This book is great for people looking for practical advice, who don't want to get bogged down in the psychology and theory. It is full of how-tos rather than technical material. This makes it the book you want to reach for in a crisis when you are looking for a quick fix (as opposed to deep fireside reading).
New dog owners will really appreciate the practical knowledge that is passed on through this book and veteran dog owners may also find it interesting as it includes ideas on positive reinforcement and reading your dog's body language.
2. The Art Of Raising A Puppy (Revised Edition)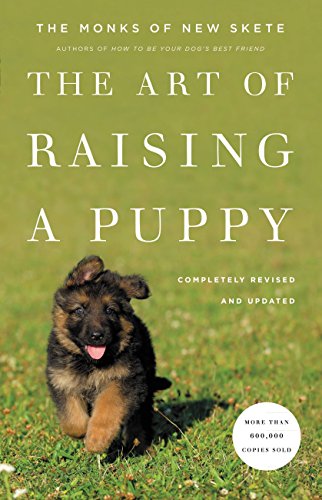 Author: Monks of New Skete
Year: 2011
Format: Hardcover, Kindle, or Audiobook
Bringing home a brand new puppy is always exciting. But new dog owners can quickly realize that they have no idea what they are doing and can't be sure how to get their dog to not eat their shoes, not cry all night, and definitely not pee there! This book is ideal for new dog owners and tells you everything you need to know to start your relationship with your dog off on the right foot.
Another element that makes this book a bit intriguing is that it is written by the Monks of New Skete, a community of dog-loving monks that having been raising German Shepherd puppies for 30 years. As a result, they really know their stuff. They may not be the best authors, but their book is full of excellent advice.
This book is definitely to be recommended to new dog owners bringing a puppy home for the first time. Training your dog right from the start will mean a long and happy relationship together.
3. The Power Of Positive Dog Training (2nd Edition)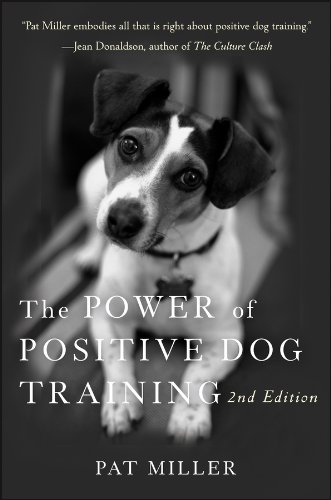 Author: Pat Miller
Year: 2008
Format: Paperback, Kindle, or Audiobook
This book fills a genuine gap in the market. There are many guides out there that explain how to train your dog using a clicker or treat. These guides will also tell you that it is best to only use these during the training process and then switch to praise in the long term. But few explain exactly how you do that. Well, that is exactly what Pat Miller does in this book!
A prolific publisher over his 40 years as a dog trainer, Pat Miller certainly knows his stuff. However, the book is certainly a case of "my way or the highway", and it can be quite critical of other training approaches. But if you are on the same page as Miller, you will find this book extremely useful as it explains how you should react to your dog in every situation to encourage the right kind of behavior.
This books should definitely be on the shelf of anyone who is concerned about the long term behavior of their dog, rather than just fixing an immediate problem.
4. How To Housebreak Your Dog In 7 Days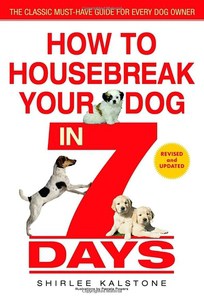 Author: Shirlee Kalstone
Year: 2004
Format: Paperback or Kindle
While the title makes this sound a bit like a diet book, full of unbelievable promises, the information in this book can help you housebreak even the most difficult-to-train puppies. This book focuses exclusively on potty training, but in all its forms, including housetraining, but also litter and paper training. Nevertheless, some of the techniques used to get your dog's potty habits under control are also transferable for other types of training.
Pet owners who have decided on crate training will also find this book useful, as it has sections dedicated to how best to use crate training as a tool. It also looks at how you can use your dog's natural instincts to encourage the behavior that you want.
If you have a problem potty when it comes to housebreaking, this book is a must, and it is also invaluable to anyone housebreaking a puppy for the first time.
5. The Puppy Primer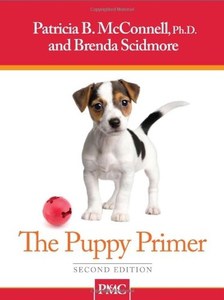 Author: Patricia B. McConnell, Brenda Scidmore
Year: 2010
Format: Paperback or Kindle
Author Patricia B. McConnell has written 13 books on dog training, and for this outing she has teamed up with animal behavior consultant Brenda Scidmore to produce something new. The book is aimed at new dog owners with pretty much no experience of how to raise, train, and care for dogs. It explains everything, and there is no assumed knowledge. While great for newbies, it does mean that more experienced dog owners may find it a bit basic.
The book lays out detailed training exercises to help encourage the type of behavior that you want from your dog. It gives tips for positive reinforcement, but probably more importantly, it explains what you can do when things go wrong! The book also identifies key behaviors, which probably indicate that it is time to bring in the help of a professional trainer.
This primer will help first-time dog owners feel in control when it comes to training their new pet, making sure this first experience is a positive one.
6. Beyond The BackYard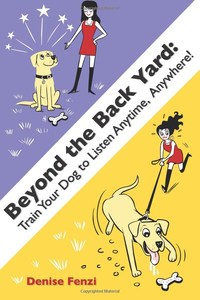 Author: Denise Fenzi
Year: 2016
Format: Paperback
If you are looking for a step-by-step guide on how to train your dog, then this could be the book for you. It is broken into three parts. The first part gives you just enough of the theory that you can get started, without bogging you down in concepts that are difficult to digest. The second part then lays out a plan for training your dog. The third part deals with problem solving, and problems arise no matter how well trained your dog is.
While this book tells you all the techniques that you need to train your dog, what makes it a bit special is that it makes sure that these approaches are always fun. Spending time with your dog should always be fun, for you and for them, no matter what you are doing.
This is another great primer for first-time dog owners who want to get off to a great start, but also want to get stuck in without being bogged down in too much theory.
7. Decoding Your Dog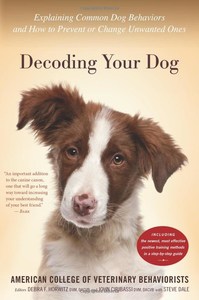 Author: American College of Veterinary Behaviorists
Year: 2015
Format: Paperback or Kindle
Written by a group of experts from the American College of Veterinary Behaviorists, this book makes the science of dog behaviour accessible to a more general audience. In particular, it delves into how your dog senses the world around them and how this translates into their behavior and communication practices. This helps you to understand why they are doing the things that they are doing, to better identify potential solutions to the problem.
The main drawback with this book is that it recommends a lot of products, which can break up the flow of the content. But if you can put that to one side, you will find yourself understanding your dog better than you thought possible. It has been recommended to owners of dogs with unknown backgrounds to help figure out what is really happening with them.
This book has something interesting to offer to both new dog owners and veteran canine lovers alike when it comes to getting inside the mind of your dog.
8. Dog Training Diaries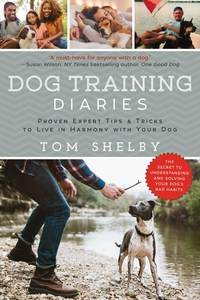 Author: Tom Shelby
Year: 2018
Format: Paperback or Kindle
Author Tom Shelby has made a name for himself as the trainer of the most difficult dogs. If you have a difficult dog, this should be enough to put this book on your radar. Here Shelby provides lots of useful training advice for dogs, but recognises that there is no one size fits all approach and helps you use your dog's past experiences to tailor your training approach to your dog.
What really sets this book apart, however, is that it is not just about training your dog, but about training yourself as a dog owner and how to interact with your dog to get the best results. Dog's are instinctive animals and pick up on body language and feelings, so controlling your behaviour in certain situations is vital to controlling your dog's behaviour.
This book is something to be read cover to cover, rather than consulted for how-to tips. But the read is rewarding, and the book is written in an engaging and non-judgemental way.
9. How To Be Your Dog's Best Friend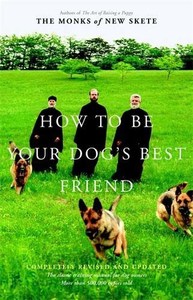 Author: Monks of New Skete
Year: 2002
Format: Hardcover or Paperback
Another publication from the Monks of New Skete, this book takes a more spiritual look at the relationship between man and dog, and how to make the most of it to train your dog properly. While this book covers a lot of territory when it comes to dog behavior, it is not strictly a training guide. What it will give you is some food for thought that will help you identify for yourself which techniques are likely to work best with your dog.
Of course, it's not all theoretical. The monks also share some very practical tips around often overlooked things when it comes to behaviour, such as getting your dog on a solid feeding schedule and ensuring that you are grooming them in the right way.
This is an updated version of a book originally written in 1978, so it can seem a bit old fashioned at times, but it will provide inspiration to any dog owner and is particularly useful if you own a German Shepherd.
10. The Other End Of The Leash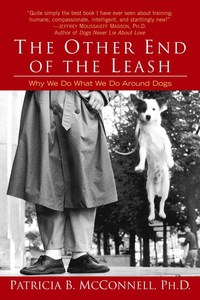 Author: Patricia B. McConnell
Year: 2003
Format: Paperback, Kindle, or Audiobook
Another entry from author Patricia B. McConnell on the list, this is another book that focuses on how dog owners need to behave around their dogs in order to get the best out of them. She delivers the information by combining the scientific theory with her experiences with her own dogs. This does mean that the result is not a how-to guide but rather a thinking guide that will point you in the right direction.
One thing this book does do well is explain why positive reinforcement works and why punishment is detrimental to the behavior of your dog in the long run. This does make it the ideal gift for any friends who still insist on using forms of punishment to adjust their dog's behaviour.
This is definitely a book to read cover to cover. It will provide you with a good basis to then assess the effectiveness of training tips you come across elsewhere.
Buying Guide: Dog Training Books
Here I have only listed 10 of the best dog training books available, but there are thousands more, and knowing where to invest your time and money can be challenging. Fortunately, dog lovers tend to like to support one another, so they are likely to review books they have read on popular websites. Checking out the overall star-rating of the book can help you quickly discern which titles are worth a closer look.
Once you have narrowed down the list in this way, there are a few things to consider:
How much do you already know about dogs and dog training?
Are you an experienced dog owner looking to reinforce what you already know or deal with a particularly difficult pooch? Or are you a first-time dog owner with very little knowledge or experience?
What you already know is going to dictate what you need. If you know very little, you are probably looking for a how-to guide with practical tips, which explains everything and doesn't assume any pre-knowledge. If you are already quite knowledgeable, you will probably find this same book very frustrating to read. You would benefit from a title that deals more with the theory of why some techniques are more effective than others so that you can tweak your own practice.
What kind of training does your dog need?
Do you have a new puppy that basically needs to be trained in everything? Do you have a difficult dog that just refuses to be house broken? Have you adopted an older dog who has already developed bad habits? Are you looking to train a specialist dog to do particular tricks of work? Each of these dogs will need different types of training, and there are titles available that specialise in each.
For insight into some of the most common behavioral problems among Labradors check out our guide to Labrador behavior. Spoiler alert! Expect them to want to chew everything in site, and jump up at you for your attention and affection.
Do you agree with the author's philosophy?
There are many different ways to train a dog. You might use a crate, or you might not. You might prefer a clicker or treats, or you might be looking to be able to control your dog's behavior using praise alone.
You might believe that a loving environment is more important than discipline. You might think that adapting your behavior to your dog's is as important as adapting theirs to yours.
You will probably want to find guidance from an author who shares a similar philosophy towards dog training as you. Of course, you can always learn new things from a new philosophy, but you also need to believe in the validity of the training that they are suggesting.
The Verdict
If you are looking for help when it comes to training your dog the right way, fortunately many experts have shared their years of experience in a number of excellent books. You can find guidance on every problem, from how to reward your dog to reinforce good behavior, to how to behave yourself in order to solicit the right kind of response from your dog.
All 10 of the books on my list are full of useful and interesting information. Which one is right for you depends on how much you already know about training a dog, and whether you are looking for solutions to particular behavioral problems. If you aren't sure where to start, then I recommend going with Zak George's Dog Training Revolution. It covers a broad range of training approaches that can be applied to almost any situation. He also provides just enough of the theory to help you understand why certain techniques work, but you don't feel like you are reading an academic thesis. You can also go from his book to his YouTube channel to see some of his tips and techniques in action.
If you are struggling with dog training and looking for advice, rest assured that it is available as little as a click away or a visit to your local bookstore.
Top Picks For Our Dogs
For a list of all the supplies we get for our new service dog puppies check out our New Puppy Checklist on the PuppyInTraining.com blog.