This post may contain affiliate links. We may earn money or products from the companies mentioned in this post.
If you have a Labrador who just can't get enough of being in the water or you live in a hot climate and want your dog to be able to cool off, you might consider getting them their own pool.
We're not talking Olympic size here, but more like a puppy paddling pool. Imagine your four-legged friend having somewhere to chill on a scorching day, or being able splash around whenever the moment takes them.
The problem is, with all the choices on the market, it can become a little overwhelming.
That's why we're here to help you through.
First of all, we'll address why it is you might want to get a pool for your dog, then we'll talk about what to look out for when you're buying a pool, and finally we'll give you some of our top choices of best dog pools available in 2019.
At a Glance: Our Choice of 3 Best Pools for for Dogs
Note: Some of the links above take you to more information, current prices and customer reviews on Amazon.
Why Buy a Dog Pool?
Before you get started, the first question you'll want to ask yourself is, why should I buy a pool for my dog?
If you already know you want a dog pool, great! But, if you're on the fence about it, these reasons might make you choose which side to land on.
It's good exercise for your dog. Jumping in and out of the pool, splashing around and — if the pool's big enough or your dog's small enough — having a swim. These are all great ways to get your dog a bit more exercise.
They're good for dogs with certain ailments. Swimming is a non-weight bearing exercise, meaning it's perfect for dogs who have joint problems or are overweight and can't walk or run too far without getting stiff or sore. If you have a Lab, it's unlikely you'll find a pool big enough for them to swim in, but owners of smaller dogs will gain this benefit.
They help keep your dog cool in hot weather. Anyone who lives in a hot climate will know how miserable it can be for a dog during warmer months. Sometimes it's too hot to do anything other than sit in the shade. But, getting a doggie pool will help keep your pup cool and let them spend a bit more time out in the yard.
Just for fun. If you have a water-loving dog, a pool's going to be great fun for them. This could be just one extra thing to enrich your dog's life.
Why Pick a Dog Pool Over a Kiddie Pool?
You might be wondering what the difference is between a dog pool and a regular kiddie pool.
Well, the main one is durability. Kiddie pools are only designed to withstand little hands and feet, whereas dog pools are made so that they won't rip, tear or break when confronted with the claws of a 100 lb fur baby.
The other concern is hygiene. If you have a kiddie pool that's currently in use by your children, having your dog soak in there, too could introduce a lot of dirt and bacteria.
However, if you have an old kiddie pool lying around that nobody uses, there's no harm in letting your dog splash around in there, as long as you won't mind if it does get punctured or otherwise damaged by an overzealous dog!
What Should You Look for in a Dog Pool?
If you've decided to go for it and get a dog pool, now's the part where you need to pick just one from all the available options. To help you narrow it down, here are some of the things you should be looking for in a dog pool.
Material
You want a pool that comes in a durable material, especially if you've got a large dog that could do some serious damage to a flimsy pool.
Here are some good materials for dog pools:
Polyurethane. Sometimes called "truckbed liner material," this durable polymer is great at withstanding giant paws.
PVC. Heavy duty PVC is tough but flexible and is perfect for making dog pools that can be folded away.
Metal. When properly coated, metal can be weatherproof and rust-resistant. While there aren't many metal dog pools on the market, some people use agricultural stock tanks.
Size
Knowing the size of your pool is important if you want to make sure your dog will fit comfortably in it.
You'll also need to think about what you want your dog to be able to use the pool for. If you just want them to be able to lie in the water to cool off, the pool won't need to be as big as if you want them to have space to splash around and play.
If you want your dog to be able to swim in the pool, that's a whole other kettle of fish. It's unlikely you'll find a dog pool large enough for a Labrador to swim in, but smaller dogs may be able to swim in pools designed for large dogs.
Some dog pools come in multiple sizes, so you'll need to choose the right one to suit your needs.
If in doubt, measure your dog from the tip of the nose to the base of the tail so you can compare their size to the size of the pool.
Ease of Entry
One concern is whether your pup will be able to easily get in and out of the pool.
Large dogs will just be able to step or hop over the side of the majority of dog pools. However, if you choose a particularly high-sided pool, or if you have a small dog, you might need to install steps or a ramp for them to be able to get in easily.
Questions You Should Ask Yourself
To help you further narrow down your choice, ask yourself the following questions.
How Often Will My Dog Be Using It?
This might help you figure out how much to spend and how durable the pool needs to be.
If you envisage your pup using it every day — at least during the warmer half of the year — you'll want something extremely durable that won't give up the ghost after a couple of years of continual use.
Going for a hard-shell polyurethane or even a galvanized metal pool is your best bet if your dog will be using it frequently.
However, if you think you'll only drag it out a handful of times a year, a cheaper PVC model will do the job just fine. Plus, you'll be able to fold it up and store it somewhere when it's not in use.
Is it for Swimming or Just Cooling Off?
The kind of pool you need if you want your dog to be able to swim in it is going to be extremely different from what you need for just splashing around or cooling off.
Smaller dogs may be able to swim in pools made for large breeds, but you'd be hard-pressed to find a pool sizable enough for a big dog to swim.
If money's no object, you could consider getting a bespoke in-ground pool installed for your dog to swim in. Otherwise, you might have to resign yourself to taking your dog down to the nearest safe body of water if you want them to have a proper swim.
What's My Budget?
You can find dog pools available from anywhere between $20 or $30 to $300 plus. As with most things, you're going to need to spend out more if you want a top of the line item.
That said, even the cheaper dog pools are still fairly durable. While you will get more bang for your buck if you go for the more expensive pools, you shouldn't break the bank just to get a cuter option.
Decide on your budget before you start looking and try to stick to it. Your dog might deserve the best but you don't want to bankrupt yourself over a pool!
Will I Need a Ramp?
As mentioned above, some dogs may need steps or a ramp to get into the pool. Check the specs to find out the height, and then you can figure out if your pup's big enough to get in and out with ease.
If you will need steps or a ramp, you'll need to factor that cost into your budget.
It's always better to err on the side of caution, especially if you have an older dog or one with mobility issues.
Can I Always Be Around to Supervise?
Before you take the plunge and buy your dog pool, think about whether you can supervise your pup when they're in the water.
Much like kids, it's not a great idea to leave your dog in a pool unsupervised. This is especially true if the water's deep enough for your pup to swim in, but there are even dangers with shallow water.
If you're not willing or able to supervise your pup while they're having a paddle, a dog pool might not be right for you.
Best Dog Pools 2019: Our Top 3 Picks
Of course, your final decision will depend on your specific needs, but you can't go too far wrong with any of these four pools.
One Dog One Bone Paw Shaped Play Pool
[amazon fields="B0054SFSOQ" value="thumb" image_size="large" image_link="none" image_]
This pool is basically the little sister of the bone-shaped pool above.
Again, it has a cute shape and is made from durable truckbed liner material. The main difference, apart from the different shape, is the size.
This pool measures in at 6″ x 38″ x 39″ so it's significantly smaller. While a Labrador could just about lie down in it, they wouldn't have much room to play.
The lower edge, however, makes it a much better choice for small dogs. All except the very tiniest of toy dogs should have no issues just stepping over the 6-inch side.
At roughly half the price of the bone pool, it's much more affordable, too.
It doesn't have a drain, but its smaller size means it's quite easy just to tip it up to get the water out.
Click to Learn More / Buy From Amazon
[amazon fields="B0070ZJKEA" value="thumb" image_size="large" image_link="none" image_]
For those on a smaller budget, this splash about dog pool could be an excellent choice.
It's made from tough PVC, which is fairly sturdy, but obviously not quite as durable as polyurethane. However, since it's made from PVC, it does fold down. This makes it much less of a hassle to store it over the winter or when it's not in use.
This pool comes in three sizes. Large is 63″ in diameter and 11.8″ high, which is a good size for a Labrador to be able to lie out in. However, if you have a smaller dog, you could go for medium (47.2″ by 11.8″) or small (31.5″ by 7.87″).
While most buyers seem to be happy with this pool, there have been some reports of leaking seams.

Intex Family Lounge Pool
[amazon fields="B00OTJ5HZQ" value="thumb" image_size="large" image_link="none" image_]
This choice is a little bit different, because it's a pool made for people, but it's extra large and is made from a tough polymer plastic, so it's actually ideal for dogs, too!
Measuring 88″ by 85″ and 30″ deep, it's suitable for even the largest of dogs. In fact, a couple of large dogs could play in there together comfortably.
If you want your dog to have a bit more room in there to wade around and play, this is the pool for you. Small or medium dogs might even have enough space to have a swim.
It has a drain so you can easily empty the pool of water when you're done using it.
If you want durability, look no further. There are several reviews stating the reviewer has owned one of these pools 10 plus years and it's still going strong.
The only downside we can see is smaller dogs will definitely need a ramp or steps to help them in.
Click to Learn More / Buy From Amazon
Conclusion
Now that you've read through this article, you should know all you need to know about dog pools.
Pools are a great way to give a water-loving dog a bit more fun in their life. They're also practical for summertime when dogs need a bit of extra help to cool down.
You'll find all kinds of dog pools on the market to suit different wants and needs.
All that's left to do now is decide which one's right for you and your dog.
Product image credits: © Amazon.com
Please be aware this page contains affiliate links and LabradorTrainingHQ receives a small commission if you make any purchases through any such links. This has absolutely no effect on the eventual price that you pay and we are very grateful for your support.
Save to Pinterest: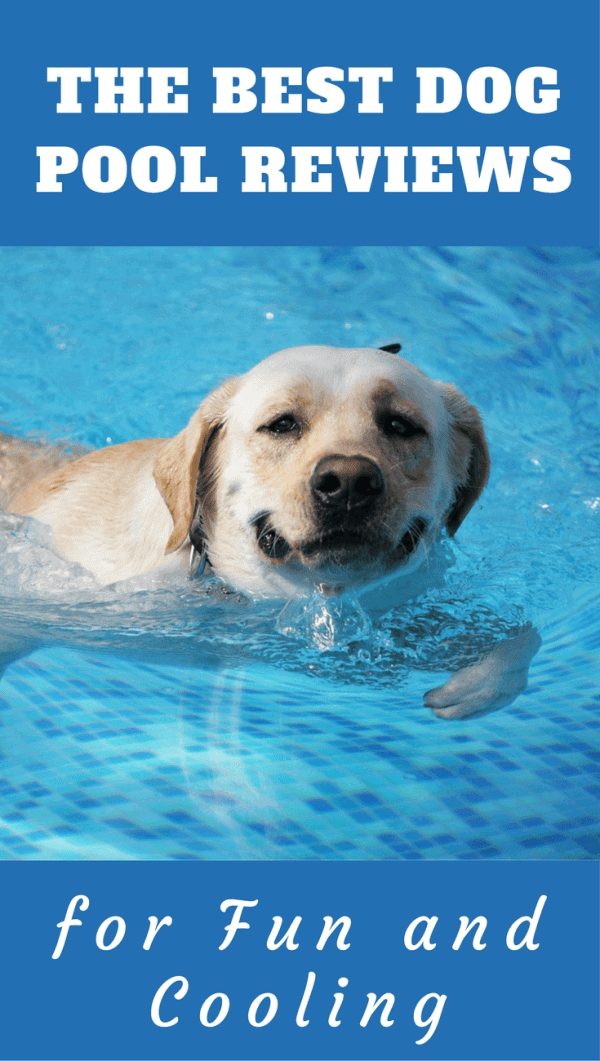 Top Picks For Our Dogs
For a list of all the supplies we get for our new service dog puppies check out our New Puppy Checklist on the PuppyInTraining.com blog.