This post may contain affiliate links. We may earn money or products from the companies mentioned in this post.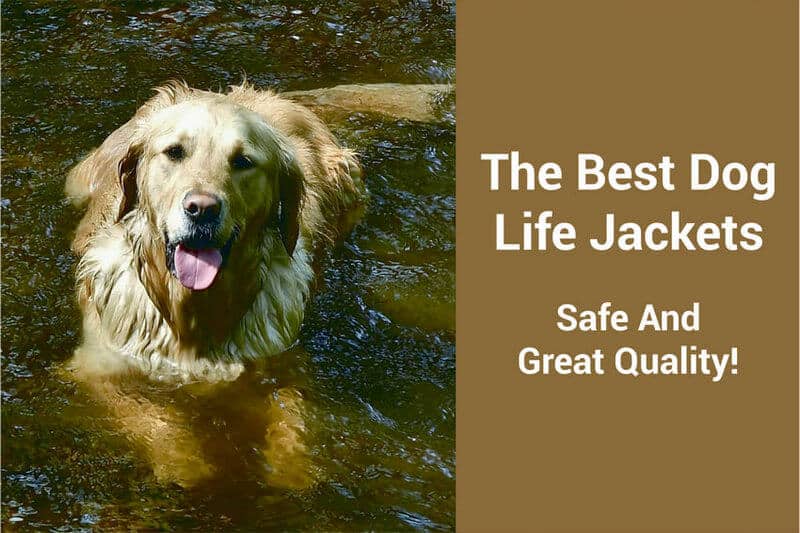 You may have noticed dogs in life jackets when walking your own pooch along a beach or near a lake. Life jackets (or life vests) aren't just used for humans, they're also used for dogs! Whether your dog loves splashing around in the water or hates the idea of getting their paws wet, using a dog life jacket could save you some worry. This is especially true if you own a water-loving dog, a small breed, or if you're planning on taking your pooch on a boating trip.
Are Life Jackets Necessary For Dogs?
Life jackets should always be used if you're going on a boat with your dog. If your dog accidentally falls overboard, then a life jacket is invaluable. Not only will a life vest help your dog stay afloat, but they will also give your dog extra support in the water. Dog life jackets are designed with handles that you can quickly grab onto to pull your companion to safety.
Additionally, even dogs who love the water can become easily tired and are at risk of drowning in fast-moving and deep water. What you think is a shallow stream could turn out to be very deep, so it's a good idea to put a life jacket on your dog for extra safety.
Smaller breeds of dogs should also use life jackets in these situations as fast currents could easily pull them away even in low water. Small dogs tire easily, especially when swimming, so it's a good idea to use a dog life jacket as a precaution.
But what if your dog hates swimming and even runs off at the sight of the rain? Well, dog life jackets can help your dog feel more comfortable and at ease in the water. Dog life vests help balance your dog in the water, which can help them become more accustomed to it.
Your water-hating dog could grow to love water with the added security of a life jacket. Not only can life jackets help dogs who aren't too keen on water, but they can also benefit older pooches and those with health problems that impair movement.
Swimming provides stimulation and exercise for your dog and also helps them cool down in warm weather. That's why hydrotherapy is commonly used for pooches recovering from surgery, as well as those with arthritis, and hip/joint problems. Hydrotherapy helps strengthen muscles, alleviate pain, and increase movement in joints.
Dog life jackets can give you some peace of mind so you know your four-legged friend is safe. They give your dog some added support in the water and provide extra protection from them sustaining injuries.
What Are The Best Dog Life Jackets?
Whether your dog is going to be swimming or on a boat, using a safe and good-quality dog life jacket is vital. This is something you definitely don't want to break or fall apart during a dangerous situation. Here are some of the best dog life jackets you can find to keep your pooch safe and happy in the water.
| Product | Quality | Rating | Pricing |
| --- | --- | --- | --- |
| Outward Hound Granby RipStop Jacket | A | | |
| EzyDog Flotation Device Jacket | A | | |
| Paws Aboard Neoprene Jacket | A | | |
| Kurgo Surf-n-Turf Jacket | A- | | |
| Aquatic Gear Aquatic Jacket | A- | | |
Outward Hound Granby RipStop Dog Life Jacket
This dog life jacket by Outward Hound comes in sizes X-small to X-large, so no matter how little or big your dog is, there's a jacket for them. The life jacket has two handles that you can hold onto in emergencies, as well as a front float pillow that ensures your dog's head remains above the water.
The life vest also includes side release straps that you can easily adjust so the jacket fits your pooch firmly and snugly. There are also reflective accents attached to the life jacket to make your dog more visible.
A couple of faults with this jacket are its poor size measurements and the quality of its straps. The sizing of the life vest is not too accurate or precise, so you may need to measure your dog's body to determine which size they require. The adjustable straps appear to fray and wear out quite easily.
EzyDog Doggy Flotation Device Life Jacket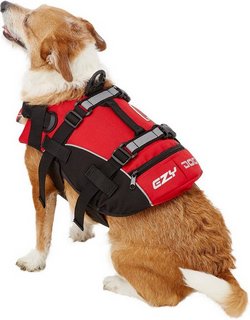 This dog life vest by EzyDog also comes in sizes from X-small to X-large. The life vest is crafted from robust polyester and ultra-buoyant foam that is apparently up to 50% more resilient than other dog life jackets.
There is a handle on the top of the life jacket to make pulling your dog out of the water simple. This dog life vest also includes neoprene buckles that you can adjust to fit your dog accordingly, as well as a ring that you can attach your lead to.
The main negative with this dog life jacket is its inaccurate sizes, especially in large dogs. To counteract this, you may need to purchase a size larger than what your dog usually wears. In addition to this, the life jacket appears to be a bit bulky, which could make it less comfortable for dogs to use over extended periods of time.
Paws Aboard Lifeguard Neoprene Dog Life Jacket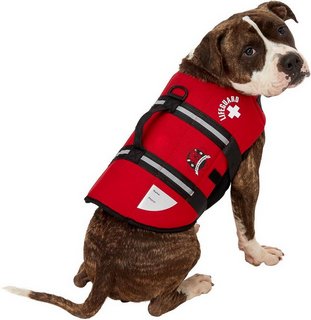 In sizes from XX-small to X-large, this dog life jacket from Paws Aboard is a great choice for dogs on a boat or swimming trip. The underside of the jacket uses breathable mesh to allow for faster drying and more efficient draining, while the neoprene fabric helps regulate temperature.
The jacket comes in a vibrant red color with a reflective strip so there's no worry of your dog being unseen. The adjustable straps are durable and fit snugly around your dog, which means they can't easily squeeze out of the vest. The dog life jacket also has a handle on the top so you can grab your dog easily when necessary.
However, the main issues with this dog life vest from Paws Aboard are its material and inadequate sizing. The Velcro straps on the jacket are not very sturdy and can be problematic with some dogs (especially long-haired breeds!) as the Velcro could catch on their fur. Due to the lightweight material, this jacket might not be as robust and long-lasting for heavy use.
Kurgo Surf-n-Turf Dog Life Jacket
The Surf-n-Turf dog life jacket from Kurgo comes in small, medium, and large sizes. It can be used as both a life vest and a raincoat. The flotation layer can be taken out completely for those days when your dog just needs protection from the rain.
There are two handles on the jacket so you can guide your dog to safety, as well as two metal rings that you can attach your lead to. The life jacket comes in a bright color with a reflective border. The material is rip-proof on the outside and features closed-cell foam on the inside. The life vest is also machine washable.
A couple of downsides with the Surf-n-Turf dog life jacket from Kurgo is its poor-fitting straps and annoyance to active dogs. The jacket might not be as hard-wearing for particularly active dogs and energetic swimmers. The buckles underneath the jacket do not attach to the chest flaps, which means they can easily come off. Additionally, there is no padding on these straps, which could cause discomfort and chafing. However, this jacket is still great enough for less active dogs.
Guardian Gear Aquatic Dog Life Jacket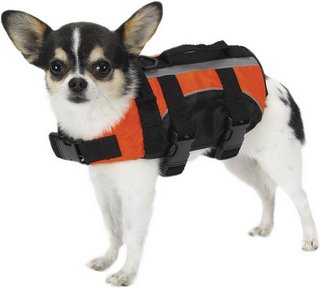 The dog life jacket by Guardian Gear comes in sizes XX-small to medium. The vest is made from hard-wearing and sturdy polyester that doesn't tear easily, whilst the straps are crafted using nylon. The bigger sizes of the jacket also include a third torso strap for extra security.
There are two layers of flotation material to keep your dog afloat, as well as handles behind the neck and across the back of the jacket so you can safely take your dog out of the water. The jacket is available in orange and yellow, and both types include reflective strips to make your dog more visible.
A couple of negatives about this dog life jacket are its inflexible material and non-adjustable straps. This could make the jacket a little uncomfortable to wear for some dogs, as well as ill-fitting. The lack of adjustable straps could make the jacket less secure and more difficult to properly fit your dog.
Final Thoughts
Dog life jackets are a great tool for both you and your dog. Not only will you feel more at ease when your dog wears one while swimming or on a boat, but your pooch will too! They allow for extra support in the water, whilst also helping your dog stay afloat and be more comfortable. In case of emergencies, dog life jackets include handles that you can easily grab onto to pull your companion to safety. For your peace of mind, dog life vests are priceless.
The dog life jackets listed above are some of the best ones you can find for your four-legged friend. They are effective at keeping your dog safe in the water, whilst also being fairly durable and comfortable. You can easily find these dog life vests on places like chewy.com. In the summer months when the weather is warm and sunny, it's great to take your dog with you on a boat and for a swim. Using a dog life jacket will keep your dog safe and happy so their play time can last even longer!
Top Picks For Our Dogs
For a list of all the supplies we get for our new service dog puppies check out our New Puppy Checklist on the PuppyInTraining.com blog.