This post may contain affiliate links. We may earn money or products from the companies mentioned in this post.
Photo Credit: © Depositphotos.com / Chalabala
Dog houses are incredibly valuable and useful products for dog owners, regardless of whether you keep your pooch inside or outside.
As well as providing shelter for 'outside dogs', they can be a homely den space for your pup or even a portable, temporary home for your dog on outdoor adventures.
There are a huge number of dog houses on the market, with a great variety of uses, shapes, sizes and quality, so it's imperative that you decide on your wants and needs before you buy. They can be relatively expensive so it's well worth considering what you want before you invest.
At a Glance: Our Top 5 Choices From the 6 Discussed Below
Note: Some of the links above take you to more information, current prices and customer reviews on Chewy.
The Benefits of a Dog House and Why We Recommend Them
Dog houses are exactly what they say on the tin: a house for your dog. While many people assume they're only useful for owners who keep their dogs outside, we would wholeheartedly recommend a dog house for any dog, regardless of whether they stay indoors or outdoors.
Different dogs and owners will find varied uses for dog houses but there are some universal benefits that every dog can enjoy from these products.
Dog houses:
Provide shelter from the weather outside
Give your dog a space of their own
If portable, can be taken on family holidays and outdoor adventures
Are more aesthetically pleasing than your typical training crate
Are available in lots of different designs and styles that can be chosen to fit your own tastes
The 6 Best Dog Houses for 2019
There are, quite literally, many hundreds of different dog house designs available. With such a wide variety comes wide discrepancies in quality, comfort and overall suitability for the important task at hand.
To help you in your buying decision, we've hand-picked some of the best dog houses to have earnt rave reviews and high customer satisfaction. Read on to discover our top picks: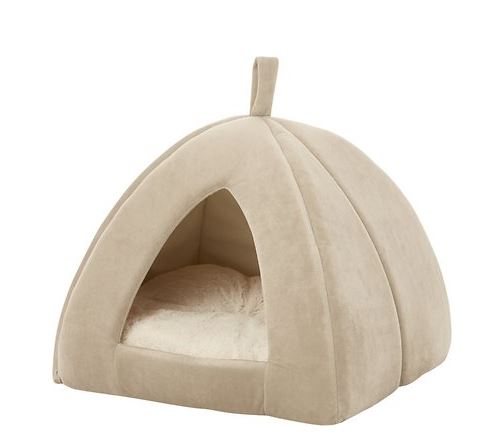 The most striking aspect of the Petmate Indigo dog house is that it looks like an igloo; an unusual look, admittedly, but it's a clever structure that confers many advantages as a shelter for your pet. It can be used either inside or outside.
Pros:
Made with very soft, very comfortable, plush fabric
Very durable and sturdy
Machine washable
Made in the USA
Cons:
SInce it's a fabric tent in a light color, it would get dirty pretty quickly.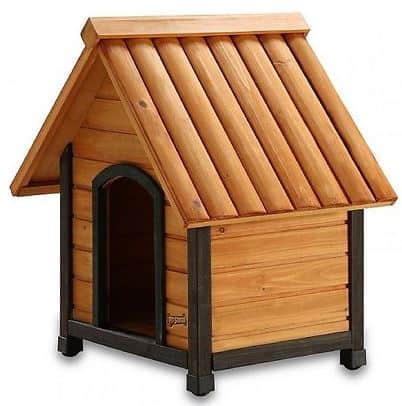 If you're looking for a more traditional looking dog house, this Arf Frame product could be the structure for you. It's weather resistant and designed to be used outdoors, although do note that there is no door.
Made of white cedar, this dog house certainly looks the part, and it sports a variety of features to keep your dog safe and warm in any bad weather. It comes in sizes Extra Small to Large.
Pros:
White cedar wood is naturally weather resistant, pest resistant and non-toxic
A charming, traditional aesthetic
A raised floor so the wood won't rot in wet weather
Durable yet reasonably lightweight and easy to transport
The roof is lined on the inside for a waterproof guarantee
Comes with a 1 year guarantee for material quality and workmanship
Easy to assemble with pre-drilled holes, although you will require a screwdriver
Cons:
The white cedar smell is a little pungent when first unpacked; some buyers chose to air it outside for 24 hours before using
Be careful to go slowly with the screwdriver during assembly: try not to split the wood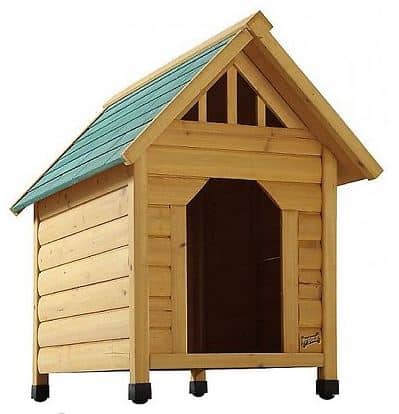 From the same manufacturers as the Arf Frame above, this is another white cedar traditional house that again can be used inside or outside. This version comes with a closing door so it may be more suitable for dogs kept outside overnight.
Again, this has the same weatherproof properties of the previous dog house with a few extra features to keep it fresh and air-vented. It's a very good-looking product that would likely fit in well with many yards around the country!
Pros:
White cedar wood is naturally weather and pest resistant, and non-toxic
Raised floor to delay the onset of rot in wet weather and provide a degree of insulation
Sturdy and durable with a reinforced roof to better resist rain
Closing door that can easily be hooked to remain open
Easy assembly (although does require a screw driver)
Very traditional aesthetics
Window slats to encourage air flow and ventilation, as well as allowing your dog views of the outside
Cons:
The window slats could allow some driving rain to enter the dog house if it's particularly bad weather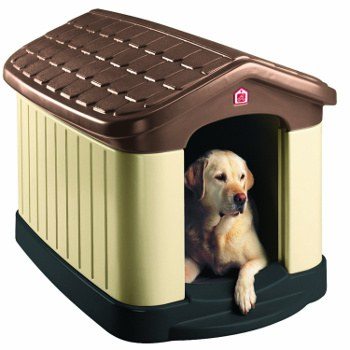 We're back to plastic structures again now with this popular dog house from retailer Brookstone. It actually won a Consumer Digest 'Best Buy Award' thanks to its durability and great features that protect against all manner of different weathers.
It can be used both inside and outside although do note that there is no door on it. This dog house is specifically designed to keep your dog cool in the Summer and warmer in the Winter.
Pros:
A dual-wall construction allows 10 times more insulation that a standard single-walled dog house
Very durable construction and almost totally watertight
Plastic has UV protection and fade resistant color
Easy to clean – you just need to lift the roof off
Easy to assemble with no tools necessary
Made in the USA
Lightweight so easy to transport if you're on the move
Cons:
You may need to secure it to the ground if you're in a particularly high-wind area
This is another beautiful, traditional wooden dog house that would be great for either indoor or outdoor use, and comes with an attachable door flap. It's specifically designed to be a robust foil against all weather types and has an abundance of features to help achieve that.
As well as being cute, it's also suitably sturdy and reinforced where necessary. It's made from kiln-dried cedar wood and is available in four different sizes for dogs up to 140 pounds.
Pros:
A raised floor with adjustable plastic feet and reinforced flooring in the house itself, to protect against wet weather and minimize the risk of rot
Very sturdy and able to hold its own in bad weather
Has an off-center entrance to minimize rain penetration and maximize space inside for your dog to maneuver
There are also slats in the bottom for additional airflow and ventilation
The roof is designed to be waterproof and to drain well, angled at a slant and with a grooved design
The floor can be removed and the roof opened for easy cleaning
Easy to assemble with pre-drilled holes although a screw driver is necessary
Cons:
The hinges on the roof are a little flimsy so take care during cleaning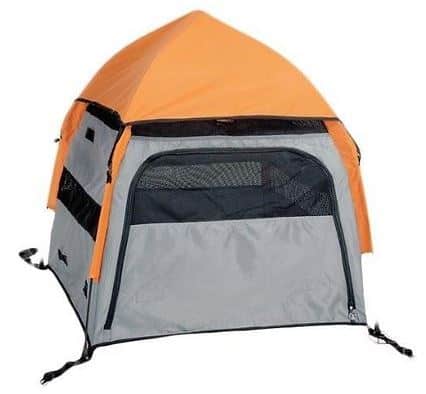 This is a totally different type of dog house than the other ones we've examined so far, but is perfect for owners looking for a tent-like structure for their dog to sleep in while they're taken on outdoor adventures. Of course, you could easily use it inside the home too.
It's actually far easier to assemble than a normal tent – hence the 'one-touch' name – and stakes into the ground like a tent for humans would. This is the perfect solution for owners who want to include their dog in their outdoor activities – whether it's a picnic, camping, time on the beach or a long trek.
Pros:
Portable and super lightweight, and packs easily into its own storage bag
Waterproof, pest-resistant and provides 180 T UV protection
Comes with a bottom pad for some added comfort
Has a mesh air vent to encourage airflow in hot weather
Has a functional door to keep your dog secure
Cons:
Check the measurements carefully – it may be a little small for large dogs
Using a Dog House Outdoors
While most people choose to keep their dog indoors, some owners are forced by circumstance – whether due to allergies, space issues or behavioral problems – to house their dog outdoors. In these cases, a dog house is really a mandatory purchase as they provide your pup with much needed shelter against the elements.
Without such shelter, you could be making your dog vulnerable to fear, illness, predators and even death. A quality dog house will ensure that your dog is kept safe and warm from the outside.
It's important to ensure that outdoor dogs get the human attention and interaction they need and that they are brought inside during particularly bad weather. Also make sure that your yard is properly enclosed, to avoid the risk of attack by another animal.
Portable dog houses are the perfect travel companion for your pup and could empower you to bring your canine companion with you on outdoor activities and holidays. Small and lightweight, these products are great for sheltering your dog during camping trips, long walks and even at the beach.
Why Would I Need an Indoor Dog House?
Dog houses aren't only good for outdoor use. They can easily be put in your home and function as a more attractive version of a crate for your dog. Just like a crate, a dog house will allow your dog to build a den; essentially, they can enjoy their own space while still in the vicinity of their family.
Most dogs have an innate tendency to build a den that harkens back to their ancient, wild dog ancestry. When your pup starts chilling out under your desk or in your laundry basket, that's them building their own den! They like to have a space comfortable to fit their size but still snug enough to make them feel secure and able to watch all around them.
If your dog has already been crate trained, it's likely that they'll take to a dog house quickly and easily. Regardless of any experience in a crate, they'll probably be curious around the new structure at first and then ease into it gently with your encouragement.
What's the Difference Between Indoor and Outdoor Dog Houses?
An outdoor dog house is strictly practical. As it needs to stand up and robustly shelter your dog in all weathers, it should be sturdy, rain and wind-proof and ideally bug-resistant too. It may be aesthetically pleasing, but that should only come second to the practical capabilities of the product.
With an indoor house, however, how it looks is likely to be more important than its sturdiness, as it has no need to provide weather shelter for your dog (hopefully the bricks and mortar of your family home are already providing this!). Of course, all dog houses that are intended to be used for outdoor use will be perfectly fine to be used inside too.
Most owners are likely to choose a dog house that somehow complements the interior design of the family home and that which looks cute and appealing to your dog to curl up in. Some particularly quaint dog houses even mimic popular home designs, like mansions or mock Tudor architecture.
The Different Materials Used for Dog Houses
Material composition is the major feature that differentiates dog houses, and most products on the market can be divided into these three categories:
Plastic – usually weatherproof and of a modern design.
Wood – traditional looking, sturdy and potentially weatherproof.
Canvas –more appropriately known as dog tents, and are primarily used as a portable, temporary shelter for a dog when you're camping or involved in some other outdoor activity.
What to Consider Before You Buy
There are so many dog house options on the market that you should have a clear idea of what sort of product you're looking for before you actually start looking.
Here are the factors to consider before you purchase a dog house.
How Sturdy is it?
A strong and robust structure is one of the most important features to find in a dog house. You should ask yourself whether it's strong enough to stand up to the weight and power of your dog and, if it's to be used outside, whether it can withstand strong winds and rain.
Obviously, some homes will require stronger structures than others, and you should look to buy something suitably sturdy for the weather your home usually experiences. It's unlikely that your average dog house in Albuquerque would be just as suitable for a dog living in the wilds of Colorado, for instance.
If you keep your dog outside, you should also ensure that the structure is strong enough to protect your pup from any wild animals or other potential predators that could enter your yard. A latched front door could be particularly useful here.
Can it Stand up to All Weathers?
Aside from how sturdy the structure is, you should see if the dog house sports any additional features which make it as weather resistant as possible. Not only will a weatherproof house protect your dog, it will also ensure some longevity in the product as it won't be continually battered by the elements.
Ideally, the roof should overhang the entrance to the house to ensure that minimal rain enters through the front door. Some houses also sport off-center entrances, which minimizes rainfall penetration while also allowing your dog some extra room to maneuver inside.
A raised floor is good way to keep the dog house as dry as possible from a wet ground, while any insulation included will keep your dog warm in cooler climates. If there isn't any insulation, you will need to consider if you need to buy additional accessories, like a heating pad.
What's it Made of?
Different materials confer different benefits when it comes to dog houses, and some will be more suitable than others for your dog's particular circumstances.
Wooden dog houses are particularly popular because they're often the most visually appealing and, if of a high quality, offer natural weatherproofing and a degree of insulation. Make sure that you choose one with a raised floor if it's to be used outside, otherwise you'll risk rot setting in quickly with any wet weather.
Owners looking specifically for waterproof dog houses will generally opt for plastic ones. These products are often easier to assemble than their wooden counterparts too; usually they're comprised of just a couple of large pieces that can be snapped together without any need for additional tools or labor.
Canvas is the material to choose for if you're looking for a temporary tent-like structure for your dog and don't require any additional insulation or sturdiness. This is the material you should go for if you want something portable and lightweight. They should also provide shade from the sun and, ideally, UV protection too.
What Does it Look Like?
We know that sturdiness is the most important factor in a dog house, particularly one being kept outside, but its aesthetic value is also important – arguably more so if it's to be kept indoors.
While there are modern 'igloo' style dog houses available, you might want to consider whether you'd prefer a more traditional-looking structure, which many owners consider cute – particularly if it looks like a mini replica of their own house! Ideally, you'll want something that fits in well with your own house's architecture and interior design.
How Big is it?
Probably the most important thing to be sure of before you buy your dog house is exactly how big it is. This can be one of the more difficult factors to gauge when buying such products online, but generally most manufacturers provide measurements and buying guides.
The ideal size for a dog house is one in which your dog can lie down comfortably, as well as stand up and turn around in. You don't want it to be too small for obvious reasons, but you also want to make sure that it's not too big: too much space will mean that your dog won't see it as secure enough to be their sanctuary.
Remember to account for the size of the entrance, as well as the inside of the house. It's no good if your dog is able to fit absolutely fine inside but they can't squeeze their shoulders through to get in in the first place!
Most manufacturers offer a variety of size configurations, but it could be risky to just guess whether your dog needs a Medium or a Large, for instance. Firstly, you should weigh your dog to check that they are within the weight bracket for that particular size, before using a tape measure to accurately gauge their height, length and width.
You should then be able to judge whether your dog is able to fit in the dog house with room to spare for turning and standing.
Conclusion
There are a huge array of benefits to owning a dog house, including providing effective shelter for your dog outside and a space for them to den. Hopefully, you'll feel a little more confident buying the perfect house for your pup after considering all the points in our buying guide.
Product image credits: © Chewy.com
Please be aware this page contains affiliate links and LabradorTrainingHQ receives a small commission if you make any purchases through any such links. This has absolutely no effect on the eventual price that you pay and we are very grateful for your support.
Top Picks For Our Dogs
For a list of all the supplies we get for our new service dog puppies check out our New Puppy Checklist on the PuppyInTraining.com blog.