This post may contain affiliate links. We may earn money or products from the companies mentioned in this post.
Some people are stuck in the past. They refuse to accept that dog's need specialized diets instead of just table scrabs, and they believe that dog's would never be affected by something as menial as allergies.
But that's simply not the case:
Dog allergies are a very real danger to your pup if they have gone unnoticed, so you should pay close attention to figure out if you need to be prepared to deal with doggy allergies.
Does your dog itch constantly? Is she plagued with dull fur and flaky skin?
Skin problems are common in dogs, especially Labradors, and while genetics and environmental factors may play a role, the most common culprit is often food allergies. Dogs can be allergic to any number of food items, leading to poor skin or coat health.
How can you tell if your dog has a food allergy and what can you do about it?
There are a number of hypoallergenic and limited-ingredient dog foods on the market that make dealing with your dog's food allergies easier than ever.
This article will take a look at common food allergies in dogs and the best dog food for allergies commercially available to alleviate the problem.
At a Glance: Our Choice of 4 Best Dog Foods for Allergies
Note: Some of the links above take you to more information, current prices and customer reviews on Chewy.
​
What Exactly is a Food Allergy?
Photo credit: Wikipedia Commons
A food allergy occurs when your dog's immune system over responds to a protein invader. Proteins are present in just about everything your dog eats — meats, grains, and vegetables – and any of these proteins can be a potential food allergen for your dog.
One of the jobs of your dog's gastrointestinal system is to protect them from allergens. It's the center of your dog's immune response system.
Here's how digestion can go wrong because of allergens:
check During the course of digestion, your dog could fail to break down certain proteins into amino acids.
check The immune system will respond with an attack, showing up as symptoms of a food allergy.
check Malnutrition will further exacerbate the problem, affecting the way the immune system and digestive system work together to protect the body.
check Eventually certain foreign proteins will automatically trigger an immune response.
Every time that particular trigger food is eaten, the immune response increases, causing dogs to form a hypersensitivity to that food.
The Most Common Food Allergies in Dogs
Photo credit: Omerlavon / pixabay
Dogs can be allergic to just about any type of protein found in their food, but some foods seem to trigger a greater allergic response in a large number of dogs.
While this is not an exhaustive list, these are foods that have been commonly known cause allergic reactions in dogs:
arrow-circle-right Beef​
arrow-circle-right Dairy
arrow-circle-right Chicken
arrow-circle-right Lamb
arrow-circle-right Fish
arrow-circle-right Corn
arrow-circle-right Wheat
arrow-circle-right Soy
arrow-circle-right Yeast
Symptoms of Food Allergies in Dogs
An allergy is different than a food intolerance, which is a digestive issue characterized by gas, bloating, diarrhea, and vomiting.
The symptoms of a food allergy often seem to be a skin allergy, and can include:
exclamation Skin rashes
exclamation Dry, flaky, or itchy skin
exclamation Hives
exclamation Paw-biting
exclamation Excessive licking
exclamation Dull fur and excessive shedding
While both food intolerances and food allergies in dogs can be improved upon with changes to diet, a food intolerance is an inability to digest a certain food and may vary from brand to brand, depending on the quality of the food and potential contaminants.
A food allergy is an autoimmune response and will manifest itself as a reaction no matter what brand the trigger food is found in.
Remember:
If you have a dog with allergy symptoms, make sure to visit your vet as soon as possible to figure out the best course of action.
How to Trial Dog Food to Isolate Your Dog's Food Allergies
If you suspect your pup has a dog food allergy, the first thing you should do is consult with your veterinarian to make sure they don't have any underlying health problems.
Your vet will probably recommend an elimination diet to target the protein that is causing the problem. If this doesn't work, you will want to try allergy testing your dog.
Start by looking at the food you are using and comparing the list of ingredients to the list of common food allergens listed above.
Next, you should look for commercial dog foods that have a different protein and carbohydrate source than your dog has eaten before. For example, if your dog is eating food containing primarily chicken and corn, switch to lamb and rice.
You can also look for novel protein sources that are considered anti-allergy because they are an uncommon ingredient in most dog foods. These include rabbit, kangaroo, venison, potato, and oatmeal.
Tips for Finding an Allergy-Free Pet Food
[amazon fields="B00YG05OXS" value="thumb" image_size="large" image_link="none" image_]
You may need to trial several different kinds of food before you find one that works, but give each food at least a month before you switch to a food containing another protein source.
Look for high quality foods that list real meat as the #1 ingredient.
Do not buy foods that use meat by-product filler.
For up-to-date information on dog food recalls, check out the Animal Health Foundation's Website.
While your dog is trialing different dog foods, it is very important that you don't feed them treats, cookies, or any people food. These foods may trigger a reaction and skew the results of your trial. If you need to use treats for training or other purposes, use the kibble that you are trialing.
A Note on Hypoallergenic Dog Food
Hypoallergenic dog foods are made with hydrolyzed proteins, which means the proteins are already broken down into pieces that are small enough that they won't trigger an immune response. Not all hypoallergenic dog foods work for all dogs, but it is definitely worth trying to see if it eliminates an allergic reaction in your dog.
Best Dog Food for Allergies that Come Highly Recommended
'Inspired by the diet of wolves' – This Blue Wilderness dog food mimics a dogs natural diet and is made in the USA. Since grains often cause an allergic reaction in many dogs, this is grain-free dog food is a good starting point.
Choose from different proteins including chicken, salmon, or duck to find the right high-quality protein for your sensitive pup.
Also contains sweet potatoes, peas, and potatoes for a mix of complex carbohydrates. Blueberries, carrots, and cranberries provide important antioxidants.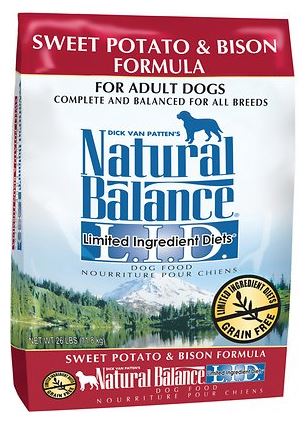 Made with bison and sweet potatoes, Natural Balance food contains no artificial flavors, colors, or preservatives.
Bison is a premium-quality protein source that is rich in amino acids, very lean and because it's a somewhat unique or unusual ingredient, is good to trial for eliminating allergy to more common protein sources.
Natural Balance limited ingredient foods contain no grains, and just a few high quality ingredients to make it easier to eliminate allergens from your dog's diet. This premium dog food will work wonders for many dogs.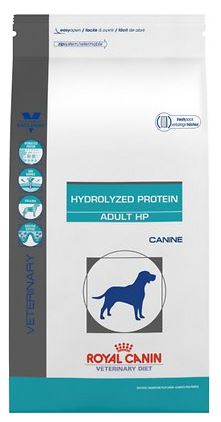 Royal Canin HP is highly recommended by veterinarians for dogs with allergies.
It contains hydrolyzed proteins that won't trigger an autoimmune response, where the proteins are already broken down into amino acids so will not affect your dog's digestive system as might happen with more complex proteins.
This food also contains rice and soy, which are easy to digest forms of carbohydrate. Great for dogs with sensitive stomachs or food intolerances.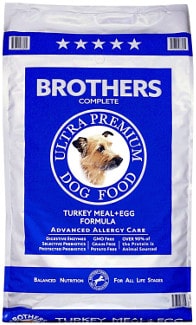 This small, USA manufacturer is committed to solving allergy problems in dogs naturally.
Made with high quality meats and dried whole eggs, and probiotics, this high-protein food has been created to eliminate allergy triggers, reduce paw-licking, itching and other symptoms associated with allergies.
Plus, you won't believe this:
It is a grain-free food, so one of the greatest causes of allergies is eliminated right away.
Final Thoughts on Food Allergies in Dogs
Dealing with dog food allergies can be stressful and frustrating for both you and your pooch, especially if their itching and other skin problems are severe. You might start to think you have to start feeding them a homemade diet, which is a huge undertaking.
Fortunately, finding alternative protein sources in commercial dog food is easier than ever before, and you have lots of options to choose from.
With methodical food trials and lots of patience, you should be able to find a commercial food that will eliminate your dog's allergic reactions, enabling them to lead a long, healthy, and happy life.
Product image credits: © Chewy.com
Please be aware this page contains affiliate links and LabradorTrainingHQ receives a small commission if you make any purchases through any such links. This has absolutely no effect on the eventual price that you pay and we are very grateful for your support.
Disclaimer
All content on this site is provided for informational and entertainment purposes only. It is not intended to be nor can it be considered actionable professional advice. It must not be used as an alternative to seeking professional advice from a veterinarian or other certified professional.
LabradorTrainingHQ.com assumes no responsibility or liability for the use or misuse of what's written on this site. Please consult a professional before taking any course of action with any medical, health or behavioral related issue.
Top Picks For Our Dogs
For a list of all the supplies we get for our new service dog puppies check out our New Puppy Checklist on the PuppyInTraining.com blog.