This post may contain affiliate links. We may earn money or products from the companies mentioned in this post.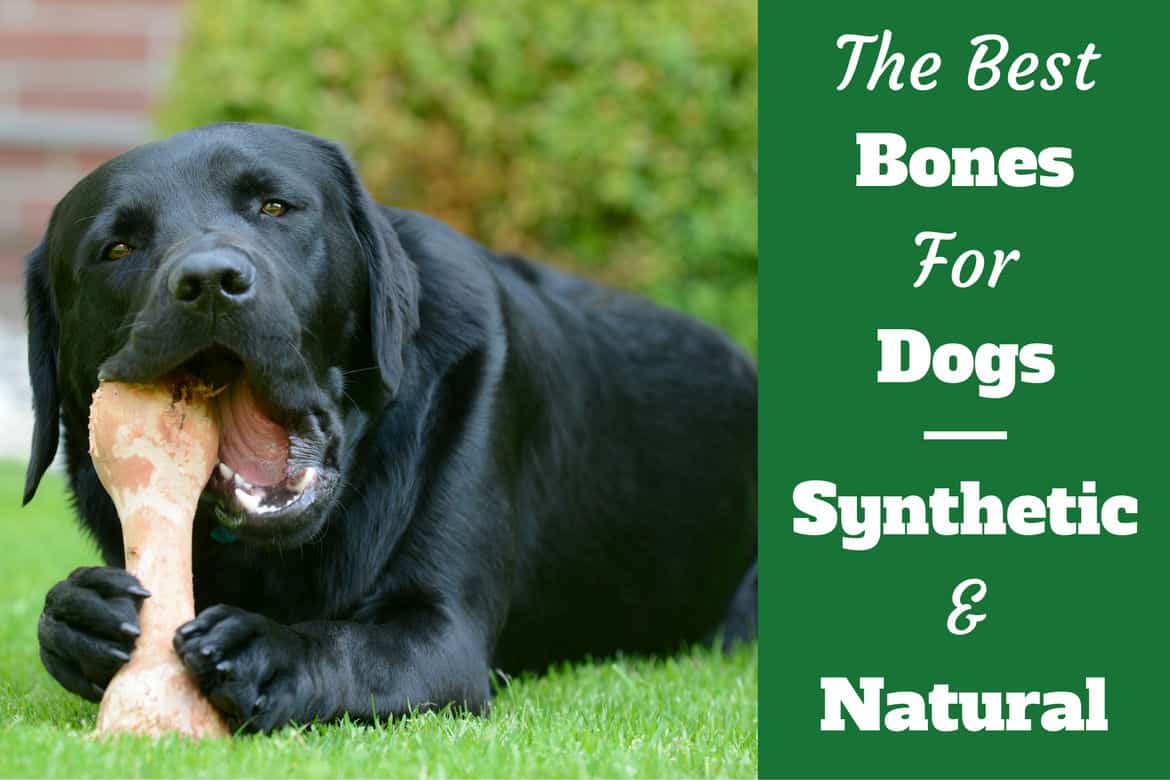 All dogs should be offered a chew regularly to support the health of their gums and teeth, and both natural and synthetic bone chew options are very popular with dog owners.
Not only are they great for oral health, they can also be fantastic training tools, and help stop any unwanted chewing in and around your home.
In this article, we give some buying advice on what to look for and what to avoid, as well as take a look at some of the best dog bones available on the market, to ensure you get the best bang for your buck, and the best bone chew toy for your pooch.
At a Glance: Our Choice of 6 Best Dog Bones – Natural and Synthetic
Note: Some of the links above take you to more information, current prices and customer reviews on Amazon.
Which is Best for My Dog – Natural or Synthetic Bone Chews?
When searching for the best dog bones, it can be hard to decide between the range of natural and synthetic choices on offer. Both sets of products have their own benefits and flaws, so it's down to personal preference when you make your decision about which way to go.
Most dog owners will have heard horror stories about dogs falling ill after being left alone with a bone, but the thing to remember here, is that for the large par, the dog was left alone. Whether the bone is synthetic or natural, the risk to dogs is very tiny, and can often be combated by monitoring the condition of the chews and bones you give them very carefully.
With the biggest part of this decision being down to your preference, to help you decide which would be the best fit for you and your dog, we have rounded up a few of the key similarities and differences for you to consider.
Synthetic Bone Chews:
Are designed specifically for supporting healthy teeth and gums, with no risk of natural bacteria
Come in a wide range of sizes and flavors
Will not stain your carpets or furniture
Don't have the calories of treats, so you don't need to worry about excess weight gain
Without proper supervision, have been known to break off and cause issues for dogs if ingested
Natural Bone Chews:
Are naturally attractive to dogs, especially if cartilage etc. is left attached
Natural bone marrow is full of nutrients that your dog may be missing from their basic diet
Good quality products will have no added preservatives, meaning all the ingredients are entirely natural to your dog's digestive system
Can sometimes cause vomiting and diarrhea, or other issues for dogs who chew them
Once you have decided whether natural or synthetic bones will be best suited to your dog, take a look at our reviews to help you get hold of some of the best options on the market.
A Selection of Some Best Synthetic Bone Chews
This beef flavored chew is really well designed to allow dogs to hold the bone while they chew. Designed to help dogs of all ages, this is a great option for teething puppies, all the way up to older dogs…and everything in between!
What we love:
Coming in a range of sizes, this large option is a great option for adult Labradors
The beef flavor is attractive to dogs, and this product uses a slow release flavor system to help keep your dog interested
The texture is soft and flexible, meaning you can still let your dog enjoy this treat if they're in their golden years
Points to consider:
This is a softer product than some others available, so if you have a very keen chewer, this may not last as long as you might have hoped
For most dogs, bones will be one of their favorite toys; they can hide them, run around with them, and most importantly…they can chew them!
This 'home grown' pet treat focuses highly on the safety of your dog and the quality of materials used. Durability is on the side of this product, meaning you should be heading to the checkout less.
What we love:
Even for keen chewers, this product tends to last longer than some of the other chews available
Made in the USA, you know you can trust the safe sourcing of all the materials used
Broken teeth should be less of an issue with this product, as it is softer than some others available
Points to consider:
As with all chew toys, you should make sure your dog doesn't swallow the material. With this product in particular, check that your dog isn't scraping off small pieces of plastic during chewing, and remember to replace it once it starts to show signs of wear and tear.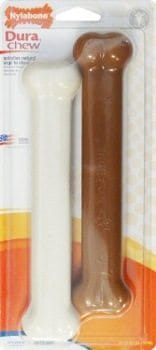 Specifically designed for powerful chewers, this is a great option if you're forever having to replace bone chews! The fact this is a combo pack means you're getting fantastic value for money, and the flavor helps add variety to keep your dog interested.
What we love:
Interesting flavors to help keep your dog occupied
Keen chewers will still be able to enjoy this long lasting treat
The clever design means that bristles help clean your dog's teeth during chewing
Points to consider:
During chewing, bristles will raise up to help clean your dog's teeth – do remember though without proper supervision, chews like this can cause issues if your dog rubs it on their tongue etc. and will certainly cause pain for any unsuspecting owners who manage to tread on them!
Selection of Some Best Natural Bone Chews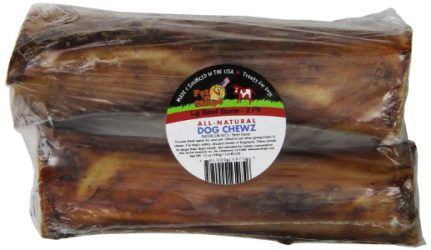 Created with larger dogs in mind, this healthy treat is fully digestible. There are no added preservatives in this product, and it is wheat, corn and soy free! Sourced entirely from the USA, you can be confident you're getting a good quality bone product.
What we love:
Reliable and responsible USA sourcing, from grass fed, free range cows
2 bones are included in the pack, so this offers good value for money
A great option for larger dogs and keen chewers
This product is roasted to make sure your dog gets long lasting, high quality flavor
Points to consider:
As much as the manufacturer wants to achieve a long lasting taste, there's only so much they can do with a natural bone. Obviously the majority of the flavor will sit on the outside, so once chewed for a while, it may seem less appealing to your dog.
If you're fed up with your dog quickly chewing the standard shaped bones, then this is an option worth trying! The knuckle bone shape means dogs can be amused by this for hours, and this particular product still has the cartilage and soft tissue, meaning your dog gets a good teeth cleaning session while they chew.
What we love:
There are no artificial additives, and it's sourced from grass fed cattle
Where many bones will splinter once chewed, this bone tends to crumble, meaning there's less of a health risk for your dog
The shape of this bone makes it great for large dogs and keen chewers – it will take even the most aggressive chewer a while to start to break down this bone
Points to consider:
As with many natural bone products, be careful on carpets and furniture as staining is a fairly common problem
While this product might seem more expensive than an average bone, it's important to notice you get 3 or 4 antlers in each pack, meaning the higher cost is less of an issue than it first appears. Responsible sourcing means only naturally shed antler is used, and every product is from the USA.
What we love:
Each antler chew is sanitized immediately before being packed, meaning there's no risk of contamination
They tend to last fairly well with keen chewers
Unlike some other natural bone products, they're unlikely to cause digestive upset because of how they're sanitized
Points to consider:
Because they're sanitized antlers rather than bones attached to cartilage etc. there is less of a smell from the bone, meaning some dogs may be less likely to go for this product.
Conclusion
The main point to remember here is there is no 'better' option for every dog – you simply need to choose the product you think best suits you and your dog's personality.
The great thing about bone chews is they're fairly affordable. So if you're unsure about what type your dog will prefer, why not give a few different brands a try?
You may end up with a couple of un-chewed bones, but if you can find a product your dog loves, you can say goodbye to chewed furniture and shoes, and hello to great oral hygiene.
Product image credits: © Chewy.com
Please be aware this page contains affiliate links and LabradorTrainingHQ receives a small commission if you make any purchases through any such links. This has absolutely no effect on the eventual price that you pay and we are very grateful for your support.
Save this to Pinterest: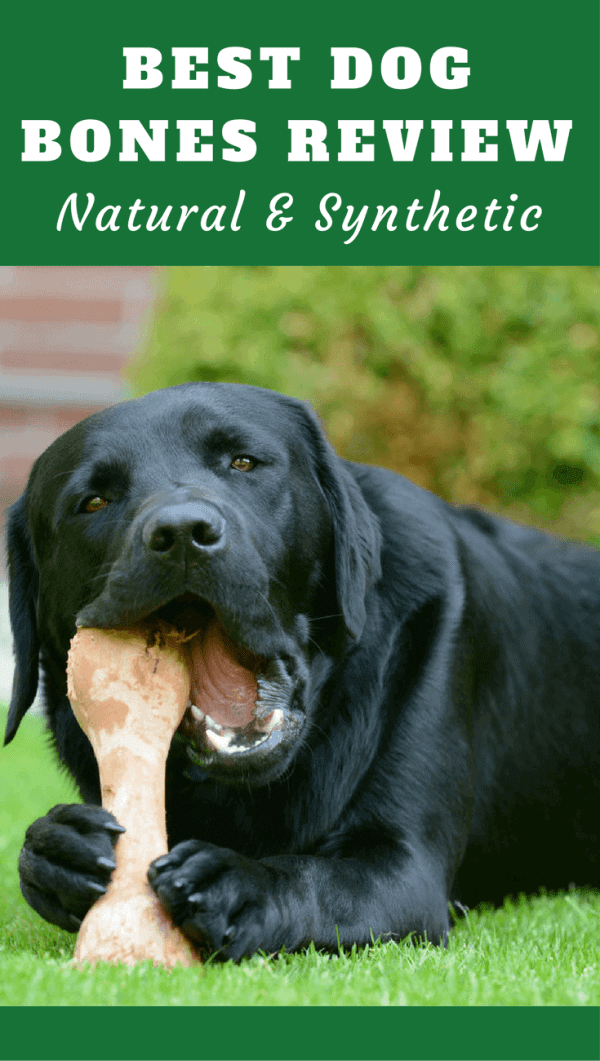 Top Picks For Our Dogs
For a list of all the supplies we get for our new service dog puppies check out our New Puppy Checklist on the PuppyInTraining.com blog.