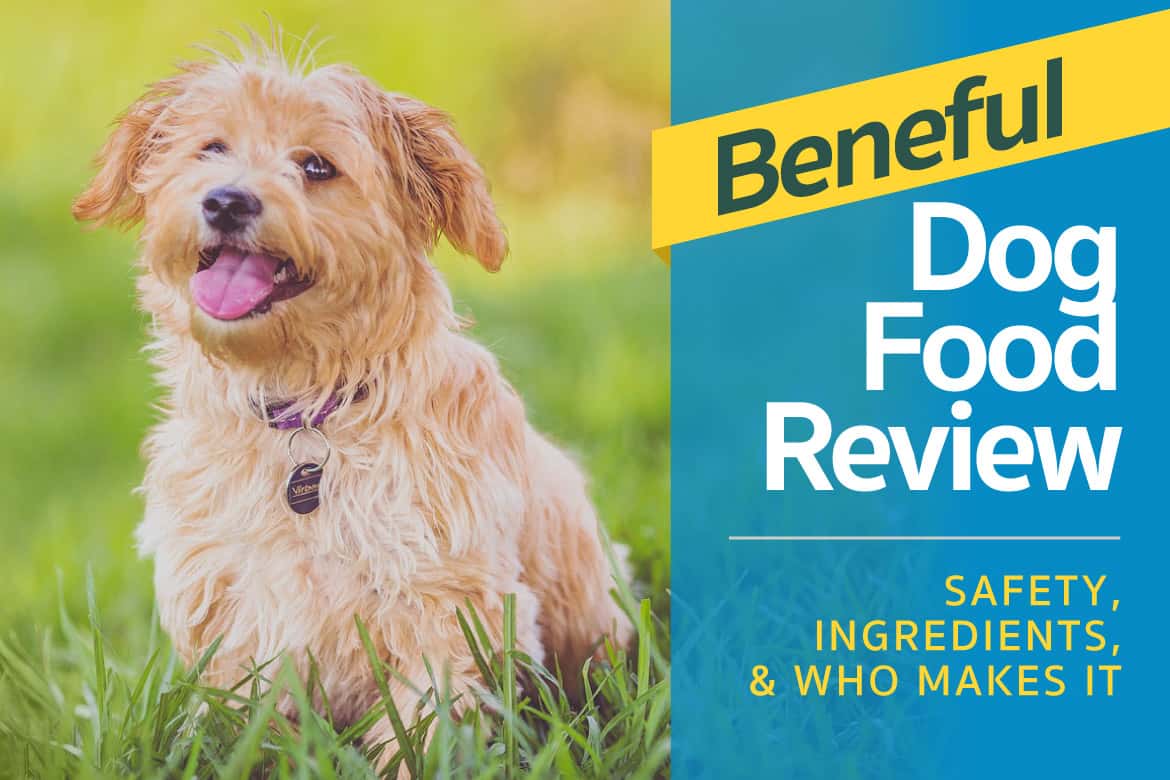 Let's take a closer look at what pups are saying about Beneful!
Contents & Quick Navigation
Introduction
Beneful Dog Food has been a trusted household name in the dog food industry for many years. According to the Purina® website, the history of Purina® dates back to the late 1860s with the formation of the company under the name Robinson-Danforth Commission Company. Later, in 1902, the company changed its name to Ralston Purina and thus began the evolution of what we know as Purina® today and has always produced quality pet food. Ralston Purina began producing food for farm animals and in 1926 began formulating food for household pets.
Throughout the years, Purina® has taken great pride in their studies of the best formulas and ingredients for puppies, adult dogs, and cats. With each new product, the best ingredients are studied and decided upon by a group of expert scientists and nutritionists.
Our Rating
We give this dog food brand a rating of 4.5 out of 5 stars.
Review
Beneful Dog Food has been around for years, with many a pups enjoying the taste of this yummy dog food. Throughout the years, customers have reported many positive reviews stating how much their dog loved the food, and they were super pleased with the price point! Dog food can be expensive, but Beneful is one of the most affordable dog foods on the market today.
There were minimal complaints that included such reviews as mold inside of the dog food bag and undesirable ingredients in the formula. Most customers reported that the negative experiences with the dog food started after a formula change, and their pups definitely noticed the difference!
Overall, clients have been very pleased with Beneful's ingredients and price point! This is a good option at a lower price.
Pros
Price Point​​​​
This is one of the least expensive dog foods out on the market today, and customers definitely notice! The price seems to fit most budgets, and dogs enjoy the taste.
Great Taste
Even with the reported change in formula, dogs still seem to be enjoying the great taste of Beneful! It is hard to please all dogs, but Beneful is doing a good job at providing a great tasting food for all.
Cons
Formula Change
While most dogs are fans of this affordable dog food, some dogs aren't so sure of the formula change in recent years. Some customers reported that their dogs refused to touch the food after the formula change where as their dog used to dig right in at meal time!
Poor Product Quality
A minimal number of customers reported finding mold inside of their dog food bags that they purchased, and they were not aware of the mold until their dogs wouldn't touch the food in their bowls!
Less Grain-Free
Take a look at this awesome product review by "someone" who would definitely know about dog food.
Product Line
​Ingredient Analysis
The ingredients in Beneful Dog Food aren't exceptional, but they're also not terrible. The only thing that is lacking that most dog foods are moving towards on the market today is being grain free. Because grain has been proven to induce allergic reactions in dogs, many companies are opting to use grain free formulas, and dog owners are loving it. Beneful does offer a few grain free options, but the ingredients lists overall are still showing grain used frequently.
The ingredients are about average and comparable to other dog food brands at this price range.
Recall History
There have been no recalls reported for Pure Balance Dog Food in the last 2 years, according to the FDA website.
Wrap Up
For those people who still question is Beneful bad for their dogs, the answer from the research conducted here shows no correlation between Beneful and any negative reports in the media. There have been no more negative reports in recent years, and Beneful continues to sell products every single day! It's always important to check with your veterinarian first before deciding on anything for your pet (ingredients that are best for your pet) as a one-size-fits-all method for anything from dog food to pet medication cannot be applied.
Every single animal is different and will require different types of food, medication, treatment, exercise, environment, etc… while Beneful has been proven to be safe for dogs, it is still important to do your own research and make your own justifications! Beneful Purina Dog Food has been around for many years and will continue to be around and serve pet owners as a budget-friendly and safe dog food choice!
So, the next time you find yourself at the grocery store or pet store checking out the dog food selection, take a good long look at Beneful and decide what is best for you and your pup! If the ingredients work for your dog's health needs (and taste bud desires), then by all means, load it up in your cart! But, if it doesn't fit your immediate needs, just know that it will be waiting for you if you ever need it!