This post may contain affiliate links. We may earn money or products from the companies mentioned in this post.
For the most part, your furry friend's health has a lot to do with nutrition and the feeding regimen that you have for her. However, her general wellbeing can also be affected by environmental factors, often a result of geographical locations and seasons that bring about insects such as mosquitoes and fleas.
Let's face it, seeing our dogs uncomfortable and in distress as a result of a flea infestation, heartworms, or intestinal parasites can be really devastating!
Fortunately, these issues can be effectively dealt with by administering the right treatment option. What's even better for you as a pet parent is the fact that there are drugs/pills that can control and prevent all three of these common doggy health concerns simultaneously.
As you read on, I'll explain what some of these drugs are. I'll particularly delve deeper into Trifexis reviews, just to be sure it's really among the best options to prevent and treat all these issues.
To begin with, let's find out what the drug is capable of.
What Exactly Does Trifexis Do?
Trifexis remains a one-of-a-kind drug because of its ability to kill and prevent flea infestation while also fighting heartworms. That's in addition to treating and controlling other types of worms, including adult hookworms, roundworms, and whipworms.
Let's have a look at some of these conditions individually and how they can be dealt with.
1. Fleas
A flea is a copper brown colored insect that thrives in temperatures ranging from 65-80 degrees Fahrenheit and humidity levels of 75-85 percent. This explains why these pests are a common problem during summer months.
If you live in southern parts of the US, then maybe you have had to contend with fleas all year long as a result of the warmer climate.
Flea infestations in dogs can occur a result of fleas in your environment or when your pooch comes into contact with other flea-infested animals. Surprisingly, fleas do not have wings and therefore cannot fly, but they use their strong hind legs to leap onto their host.
Trifexis for fleas reviews by pet owners give an indication of how convenient and effective this drug is at dealing with that.
If you are among the pet parents who dread the summer season because you know you'll will have fleas to deal with, consider this solution the much-needed help you need.
Spotting Fleas
Spotting fleas on your pooch is fairly easy. You might not even need to look for them, because your pooch might be scratching incessantly. If it is fleas causing the itching, a close inspection under the fur will reveal fleas scurrying around the surface of the skin (they do not burrow into the skin). Or you will spot tiny black specs which are essentially flea poop (ew!).
Dangers Associated With Fleas
Why should fleas be a cause for concern?
Flea saliva and bite are irritating to your pooch and can cause itching

They can cause flea allergy dermatitis

They can lead to hair loss due to scratching

Flea infestation can cause anemia due to blood loss
One of the primary strengths of Trifexis is its ability to rid your pooch of discomfort by killing fleas and preventing further flea infestation. Where as you may find non-prescription solutions such as flea killing shampoos to be effective in the short term, the ease of use, longevity, and the speed with which Trifexis kills fleas sets it apart.
2. Prevents Heartworms
Heartworms can be a fatal condition that affects cats and dogs as well as other mammal species, including foxes and coyotes. The latter are considered to be key carriers of the disease given that they live in closer proximity to urban cities.
The heartworm is about a foot long, and dogs are natural hosts for this parasite. These intruders can live, mate, and produce offspring while living inside your poor pup. If there is no medical intervention, dogs can harbor hundreds of heartworms in their bodies.
Dangers Of Heartworms
It's scary to even think about, as heartworms cause damage to the heart, lungs, and arteries and can significantly alter the quality of your pooch's life. The thought of such a horrible parasite in your pooch justifies the old saying that an ounce of prevention would be better than a pound of cure, in this case.
Mosquitoes are the culprits that spread heartworms from one host to another. This occurs when a mosquito feeds off an infected host such as a coyote and thus carries baby worms. When the same mosquito bites another dog or cat, the infection is passed on.
Symptoms Of Heartworm In Dogs
They include:
Mild persistent cough

Easily fatigued

Reluctance to exercise

Decreased appetite

Weight loss

Eventual heart failure
Trifexis is among the effective solutions that can get rid of fleas and flea infestation while also preventing heartworms.
3. Adult Hookworms, Roundworms, And Whipworms
Hookworms, roundworms, and whipworms are intestinal parasites that your pooch can contract in a number of ways including:
Ingesting feces from other hosts, such as birds, rodents, cockroaches, and earthworms

Paw licking and ingesting contaminated soil

It can also be passed on from mother to puppy or through milk
These intestinal worms can be particularly problematic because of their ability to survive for long periods of time sitting dormant in the soil, just waiting to get attached to a host. Another daunting aspect of them is the recurrent nature with which they keep occurring in your dog.
Symptoms Of Intestinal Worms
They include:
Weight loss

Dehydration

Bloody diarrhea

Anemia

Can result in death in severe cases
Trifexis is formulated to kill adult hookworms, roundworms, whipworms, and to bring swift relief and better health to your pooch. A quick look at Trifexis reviews by pet parents indicates that this prescription drug actually lives up to its promise. It does a remarkable job of addressing all three of these bothersome parasites in one go.
How It Works
Pet parents whose dogs have a flea problem will be glad to know that this drug starts killing fleas within 30 minutes of administration.
The Spinosad component in Trifexis disrupts the life cycle of fleas successfully by killing adult fleas before they are able to lay eggs. Its insecticidal properties can kill fleas through contact, and also when fleas feed off the blood of your pooch, because it contains this effective ingredient.
The success rate of Trifexis at killing adult fleas is placed at 98 to 99.8%, which is truly impressive. In fact, the many Trifexis for dogs reviews on pet-dedicated online stores, like Chewy.com, are a testament to how effective a flea killer Trifexis truly is.
The Spinosad component also allows the drug to quickly alleviate symptoms associated with fleas such as itchiness, scaling, and loss of hair as a result of scratching.
If you have issues with flea infestation on your pooch, it is comforting to know that with the help of your vet, you can access a drug like Trifexis and have fleas eliminated in as quick as four hours. What's more, the drug will continue working for the next 30 days.
In the case of whipworms, hookworms, and roundworms, Trifexis is developed to expel at least 90% of these parasites from your dog, thanks to the Milbemycin Oxime in it.
What most pet parents seem to love about this drug is the fact that while treating fleas and all the above mentioned intestinal worms, Trifexis also offers 100% three-month consecutive protection from heartworms.
The speed and efficiency with which Trifexis kills fleas is one of the major reasons that vets consider it to be the go-to drug. For year-round protection, Trifexis can be administered by giving your pooch one tablet a month.
For this broad spectrum parasiticide to have the desired effects, your puppy or pooch needs to be at least eight weeks old and weigh more than five pounds.
Also worth mentioning is that the Trifexis packaging is color-coded, and each color shows how much each active ingredient is contained in a tablet for the corresponding weight range of your dog.
But what does it mean when you can still see fleas on your dogs after administering this treatment? Watch the video below by Trifexis for answers:
Trifexis Side Effects
After administering this drug, you want to observe your puppies or dog(s). Should they vomit within a one-hour period, it is recommended that you re-administer a full dose.
Vomiting is one of the side effects and is more likely to occur in puppies younger than 14 weeks. Other side effects may include:
Loose, soft, or watery stool

Lethargy

Decrease appetite

Skin inflammation and irritation

Muscle twitching
If your pooch suffers from epilepsy or other allergies, it would be prudent to let your vet know, as this drug may not be the best suitable option.
Trifexis Chewable Tablets For Dogs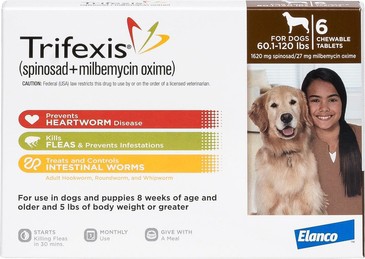 Trifexis is able to treat your pooch for fleas, prevent heartworms, and treat hookworms, whipworms, and roundworms largely because of its formulation. It's available in tablet form, which has various flavors such as beef, making them easier for your pooch to ingest. The tablet can also be broken, ground, and mixed into your dog's food for consumption if needed.
Currently, the formulation is available based on the weight of your dog. In a tablet, the formulation contains 0.2 milligrams of Milbemycin Oxime and 13.5 milligrams of Spinosad for every pound of dog weight. Be sure to check out chewy.com for all the varieties available.
Please note that Trifexis is an anthelmintic drug that can only be obtained through prescription from a qualified vet.
Trifexis has been developed by Elanco, a global brand that specializes in products geared towards helping pets live healthier, longer, quality lives. Trifexis shares almost the same qualities with three other brands by Elanco, namely:
Comfortis

Interceptor

Interceptor Plus
All these brands follow closely after Trifexis in terms of being able to destroy fleas, worms, parasites, and those other little creatures that suck the joy and health out of your pet. They are all available on Chewy.com, just like their counterpart.
Comfortis Chewable Tablets For Dogs & Cats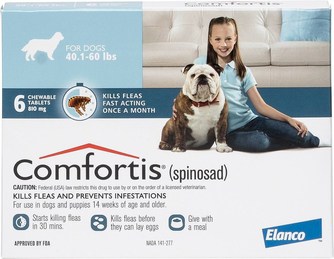 Comfortis is designed to kill and prevent fleas. It comes in the form of chewable tablets. One tablet administered orally, preferably in food, is most recommended. One tablet will ensure that your pooch is rid of the discomfort of fleas, starting from 30 minutes after administering the drug.
Comfortis is a prescription drug, and you would only be able to purchase at the recommendation of your vet with a prescription.
It should be administered with caution if your pooch is epileptic or pregnant. A common side effect is vomiting in dogs.
It's important to know that this medication is also prescribed based on the weight of your dog. Although this drug is safe for your pup, your vet will be best positioned to advise on age and the minimum weight your pup should be for best results.
Interceptor Tablets For Dogs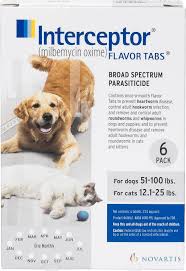 Interceptor tablets are chewable and flavored and can be given as treats or otherwise mixed with food for your pup. Interceptor is formulated to prevent heartworms and treat adult roundworms, whipworms, and hookworms.
This drug should not be administered to dogs less than four weeks old or those weighing less than two pounds.
Please note that that this parasiticide has been known to have some side effects on some pooches, which may include vomiting, lethargy, and drooling. As a result, it is prudent for a pet parent to inform your vet whether your pooch is epileptic and of any other medication that she may currently be on.
Interceptor Plus Chewable Tablets For Dogs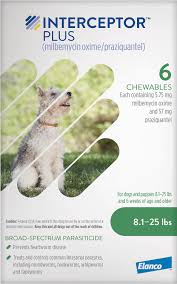 I mentioned earlier that one of the several functions of Trifexis is to prevent heartworms. So, if your pooch is not affected by heartworm but you live in a geography where this parasite is common, Trifexis is a great preventative option. Another option by the same manufacture, Elanco, would be Interceptor Plus.
This drug serves two functions: one is the prevention of heartworms while the other is helping your pooch effectively kill and expel at least 90% of intestinal worms, namely adult roundworms, hookworms, whipworms, and tapeworms.
The medicine is easy to administer, as it comes in the form of a chewable tablet and is prescribed according to your dog's weight. Remember, this is a prescription drug, and you can only obtain it after having a heartworm test done on your furry friend and with a prescription from your vet.
You also need to exercise caution in administering this drug to pregnant dogs or those that suffer from epileptic seizures.
Conclusion
Given the health risks that worms and parasites such as intestinal worms, heartworms, and fleas can bring to your pet, it is better to take a preventative approach. This way, your pooch can be at her best and not be bogged down by the discomfort and unhealthy effects that parasites can cause.
Looking at what Trifexis is able to accomplish, you'll be doing your pet a great service, which is what all great pet parents should do, right? If any of the other tablets seem to fit your pup's needs better, please don't hesitate to give them a try. Trifexis is just the most complete formulation out of all of them.
Just remember that these drugs should be administered based on the weight of your pooch in order to bring about the desired healthy results, and they can only obtained through a prescription.
Top Picks For Our Dogs
For a list of all the supplies we get for our new service dog puppies check out our New Puppy Checklist on the PuppyInTraining.com blog.