This post may contain affiliate links. We may earn money or products from the companies mentioned in this post.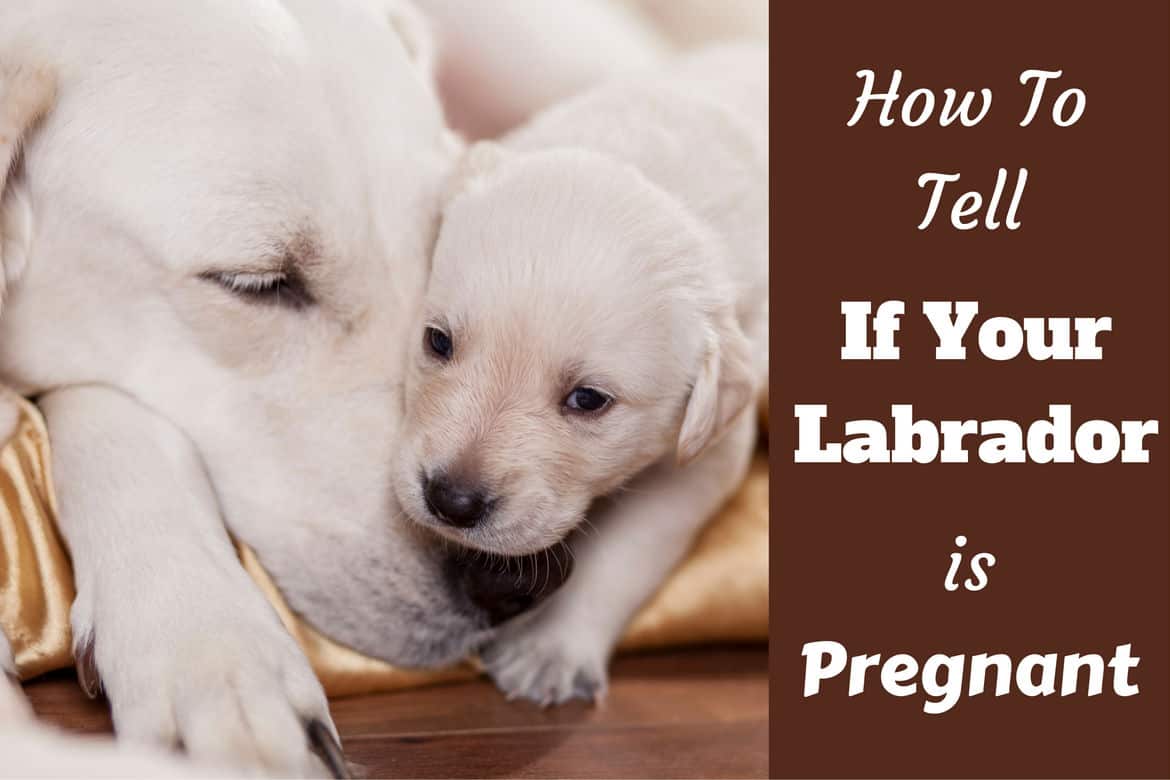 If you own an unspayed female dog, the possibility of a pregnancy is something you should be cognizant of.
Whether you're intending to breed your Labrador, or if the pregnancy is a surprise, you'll want to know as soon as possible so you can prepare for the birth. The arrival of half a dozen or more puppies is not an event you want catching you off guard!
Read on for tips on recognizing a pregnancy.
When Can My Dog Get Pregnant?
Like all female mammals, a dog goes through fertility cycles during the course of a year. This is called the oestrus cycle. A canine oestrus cycle lasts about 6 months. The cycle is divided into four phases: proestrus, oestrus, dioestrus, and anoestrus.
It is during the first two phases that we say a dog is "in heat." Phase one lasts about nine days, and phase two runs about 20 days. It's during those 20 days that a dog is most likely to become pregnant.
Since the entire cycle lasts six months, that means that for 20 days twice a year, there is a chance of pregnancy occurring.
Since the entire cycle lasts six months, that means that for 20 days twice a year, there is a chance of pregnancy occurring.
Can I Tell if My Dog is in Heat?
If you know your dog is in heat, it will make it easier to avoid pregnancy. You simply avoid allowing male dogs to be alone with her.
Of course if you are hoping to breed your dog, knowing she's in heat will help to plan a time for mating.
During phase one of the cycle, proestrus, though a female dog will not be interested in mating, she will give off outward signs of being ready.
The most noticeable is a red discharge from the vulva, which looks like bleeding, but really isn't.
If you're not seeing red spots on the floor, but you notice your dog is spending a lot of extra time licking her privates, then she's likely spotting, but just happens to be a very tidy dog. Wipe with a light colored cloth to check for discharge.
Some dogs will become restless when heat begins, and perhaps a bit aggressive. This is because the hormones are kicking in, but she's not ready to breed yet and wants everyone to back off for the time being.
Technically, a dog cannot become pregnant during the first phase, but since dog sperm can survive for 11 days, mating during proestrus can result in pregnancy.
Once the second phase is reached, the dog will probably began to act "crazy" compared to normal.
She may become difficult to calm down, and may vocalize a lot. She'll show more interest in male dogs, and the red discharge will change to pink or yellow.
Signs a Dog is Pregnant
The gestation period for a dog is only about two months, so you don't have long to see the signs. A remarkable number of dog owners are surprised during the final days of a pregnancy.
In this simple, but charming video, you can see how subtle a dog pregnancy can be until quite close to the end.
Some tell tale signs your dog is pregnant include:
A firm abdomen
Lethargy
Larger nipples
Loss of appetite (early stages)
Increased appetite (later stages)
Increasingly affectionate
Weight gain
Later in the pregnancy you may also be able to observe the tiny fetuses moving around.
And as the big day approaches, your dog will probably begin "nesting," which means preparing a comfy spot for the birth. Look for wadded up pillows and blankets in a cozy corner somewhere.
Morning sickness may also be observed early in the pregnancy.
Since some of these symptoms may be indicative of other medical conditions, it's important to assess the symptoms as a whole.
For example, a firm abdomen with a loss of appetite, but without the enlarged nipples and extra affection, might be pointing towards a digestive issue.
Visit the Vet for Confirmation
If you believe your dog may be pregnant, it's a good idea to take her to the veterinarian for confirmation, and to discuss pregnancy care.
After about day 20 of the pregnancy, the vet can perform an ultrasound to confirm the presence of tiny heartbeats inside the womb. Outlines of the fetuses may also be visible.
After about 3-4 weeks, the vet can also feel for the puppies, known as palpating. Unless you know what you're doing, this should not be done at home.
The unborn puppies are extremely small at this point, each one about the size of a ping pong ball, and can be easily hurt by unintentionally rough hands.
Once the 45-day point has been reached, x-rays can be taken to spot the developing pups. Prior to this stage of their development, the radiation of an x-ray can be potentially dangerous for the babies.
False Pregnancies
Whether or not a dog becomes pregnant, hormone changes take place during the third phase (dioestrus). These changes may be responsible for causing false pregnancies in some dogs.
Remarkably, the signs of a false pregnancy are nearly indistinguishable from those of a real one.
They may even include vomiting, an enlarged abdomen, and engorged and leaky nipples. Symptoms tend to last about a month.
Dogs going through a false pregnancy may seek to act as a surrogate mom to whatever they can find.
This might mean nesting and mothering stuffed animals or other toys. If your dog doesn't give up this behavior readily, it may be necessary to distract her with other toys, or keep her busy with games and walks.
Conclusion
Knowing your dog is expecting early on will allow you to provide the best care possible for her during the pregnancy. It will also give you time to find homes for the litter, assuming you're not keeping them all.
If puppies are not something you want in your future, recognizing the signs of being in heat will help you avoid unwanted male attention. Spaying your dog is actually the best choice in this case.
You will permanently prevent pregnancy, plus help your dog avoid possible infections of the uterus, provide protection against breast cancer, and eliminate messy heats and false pregnancies.
Disclaimer
All content on this site is provided for informational and entertainment purposes only. It is not intended to be nor can it be considered actionable professional advice. It must not be used as an alternative to seeking professional advice from a veterinarian or other certified professional.
LabradorTrainingHQ.com assumes no responsibility or liability for the use or misuse of what's written on this site. Please consult a professional before taking any course of action with any medical, health or behavioral related issue.
Top Picks For Our Dogs
For a list of all the supplies we get for our new service dog puppies check out our New Puppy Checklist on the PuppyInTraining.com blog.