This post may contain affiliate links. We may earn money or products from the companies mentioned in this post.
We all look forward to tasty treats now and then, and our four-legged friends are no exception. In fact, if our Labradors could talk, they'd probably rate eating as one of their all-time favorite experiences.
New flavors, new textures, new possibilities – making your own dog treats is a great way to expand your knowledge in the kitchen and make your dog happy at the same time.
Following homemade dog treat recipes is also lots of fun, especially if you have children who want to treat their favorite four-legged friend. So what are you waiting for?
Why Make Your Own Dog Treats
Once you realize how fun and easy it is to make tasty dog treats at home, you'll never want to stop. Here are a few more reasons to cook for your favorite canine:
You have control of the ingredients

. We want the best for our dogs. By making treats yourself, you can guarantee that there are no additives, fillers, or other unhealthy ingredients, which are common in many commercial brands. Making your own treats is also a great idea if your dog has food allergies.

Your treats will taste better.

Why? Because they are fresh, nutritious, and made with love. It's just a bonus that Labradors LOVE to eat. Whatever you make they'll think delicious.

Your treats will cost less

. Sort of. You can certainly find really inexpensive dog treats at your local discount store, but chances are you've been shelling out for the good stuff. Your homemade treats will cost somewhere between t

he two.
Healthy Homemade Dog Treat Recipes
You want to feed your dogs treats they will love, but also treats  that offer some nutrition.
The following healthy homemade dog treat recipes are chock-full of healthy ingredients and, according to our canine taste-testers, doggone delicious!
Easy Homemade Dog Treat Recipes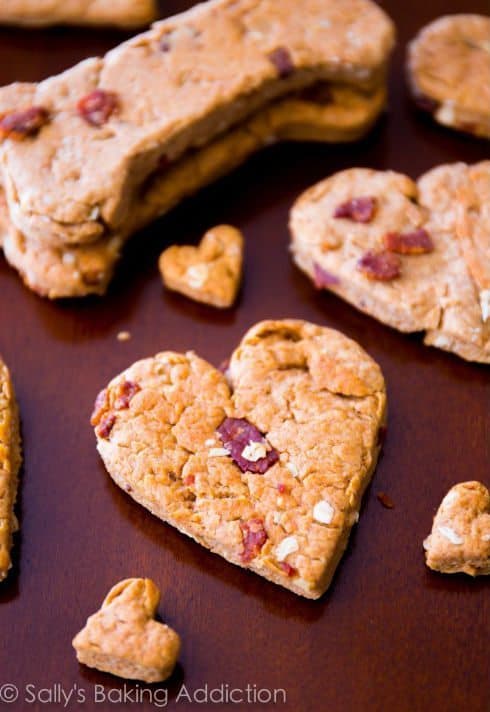 Some days you can barely get dinner on the table for your family, never mind finding time to make treats for the dog.
The following easy homemade dog treat recipes are a snap to make. In fact they're easy enough for your kids to help too!
When you're ready for it, you can also try giving your dogs a break from store-bought food and making them home-made meals.
Homemade Training Dog Treat Recipes
What makes certain dog treats perfect for training? They should be extra yummy, so your dogs will roll-over, play dead, and put their toys away for a nibble.
They should be small so you can dole them out quickly and easily, and they should be fairly sturdy, so they don't fall apart in your treat pouch.
These recipes meet all the criteria, and will entice your dogs to go the extra mile for a taste.
Tuna Training Treats

– With just three ingredients, these drool-worthy treats couldn't be more simple. They're made even easier by using a microwave. You can cut them to any size, but be sure to store them in the fridge.

Liver Bits

– Nothing will make your dog dance like liver. DogAware.com has lots of liver recipes, but the liver bits are perfect for training. Keep these treats in the refrigerator and freeze any that you won't use right away.

Salmon Crack

– Similar to the tuna recipe above, this recipe is sure to get results in your positive reinforcement training. Canned salmon, eggs, and flo

ur – a winner every single time!
People Food to Use as Training Treats
Some of the best dog training treats come ready to eat and you won't find them in the dog-food aisle at the supermarket. These delicious "people" foods make awesome treats for training.
Hot Dogs

– All-beef, chicken, or turkey hot dogs can be sliced, diced, and microwaved for an enticing, rubbery snack.

Popcorn

– Use air-popped popcorn without salt and oil. It's a light, low-calorie snack – perfect for teaching your dog to catch.

Carrots

– Maybe it's the crunch, maybe it's the color, but I've yet to meet a dog that doesn't love carrots. Chop them up and let them dry out a bit on the counter before putting them in your treat pouch.

Cheese

– Cheese is another favorite that works well in a treat pouch. Cheddar, mozzarella, and Swiss are all great choic

es.
What Not to Put in Your Homemade Dog Treats
Just like people, dogs need to eat a well-balanced diet that provides essential vitamins and minerals. For more information about nutritious meals for Labradors, please read our article:
Why You Must Provide a Nutritious Diet for Your Labrador
Treats are treats, of course, and so they don't necessarily need to provide your dog with every single nutrient they need.
You should, however, be mindful of any allergies that your dog may have, and be aware of any foods that could be considered toxic to dogs. The following foods should never be used in treat recipes:
Avocados

Grapes

Raisins

Chocolate

Cherry and peach pits

Sugar

Macadamia nuts

Coffee

Onions

Rhubarb leaves

salt

Walnuts

Xylitol (artificial sweete

ner)
Conclusion
Making your own dog treats can be fun for you and rewarding for your Labrador.
Not only are homemade treats cost-effective, but they can be made without the meat by-products, preservatives, and fillers that are so common in store-bought varieties.
Homemade dog treats will add a little variety to your dogs' diet while providing them with a delicious snack you can feel good about giving them and have fun making.
Related: The best dog treats to use for training
Top Picks For Our Dogs
For a list of all the supplies we get for our new service dog puppies check out our New Puppy Checklist on the PuppyInTraining.com blog.