This post may contain affiliate links. We may earn money or products from the companies mentioned in this post.
If you are looking for an energetic, fun-loving dog you can bring along on all of your outdoor adventures and teach to do amazing tricks, you might be looking for a Labraheeler, a blue heeler, and a Labrador mix.
Both parent breeds are intelligent, energetic, and loving, so you can be sure to get these desirable qualities in this medium-sized crossbreed dog.
Read on as we look at what else you can expect from a Blue Heeler Labrador Retriever mix.
Remember, unlike with purebred dogs, the characteristics of a crossbred dog are never entirely predictable.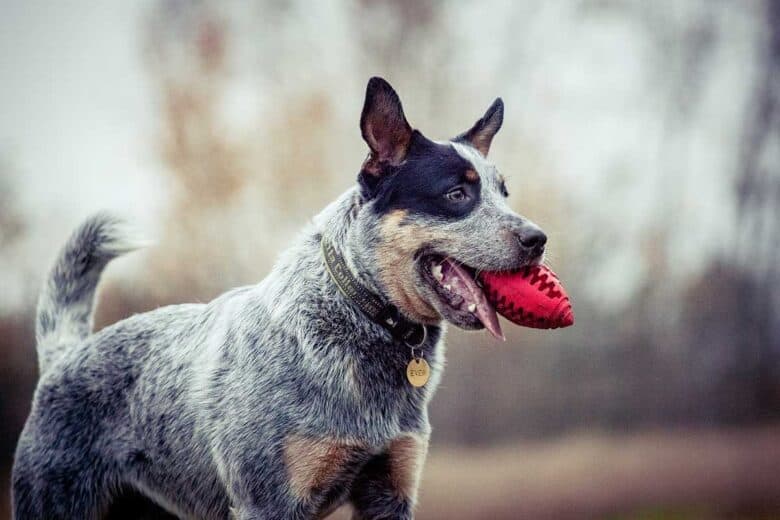 One of the main requirements for a dog breed to be considered "pure" is consistent appearance and personality traits. With crossbreed dogs, the passing on of traits is less consistent. 
While breeders have techniques to control for desirable (and undesirable) traits in crossbred dogs, the reality is that you never know what you are going to get until you take the dog home, get to know them and watch them grow.
Labraheeler: Principal Characteristics
17 to 24 inches tall
35 to 80 pounds
12 to 14 year lifespan
Short double coat, high shedding
High energy, needs at least 60 to 90 minutes of exercise daily
Can't be left alone for long periods
Not suitable for apartment living
Labraheeler: History Of The Breed
Blue heelers were developed in the Australian Outback in the 1800s to help British settlers with herding in the rough local terrain.
The herding dogs brought over from England were known as Smithfields, and they were crossed with wild Australian dingoes, Scottish Highland collies, Salmations, and black and tan Kelpies, eventually evolving into the perfect mix to create the blue heeler.
Today, blue heelers, also often just called Australian cattle dogs, are intelligent, energetic, and independent dogs that learn quickly with appropriate training, but they truly thrive when they are working on their own. They are loyal and protective and can have the tendency to herd children with an occasional nip in the same way they herd cattle.
Labrador retrievers also emerged in the early 1800s after Englishmen visiting Newfoundland in Canada saw the local St. John's dog. They took specimens of the ideal fisherman's mate back to England to develop a retriever dog for working in the British wetlands.
Today, Labradors are considered among the most intelligent and friendly dog breeds. This is why they have become incredibly popular as working dogs, particularly in roles such as guide dogs for the blind, but they are also one of the most popular family pet breeds in the United States.
Labraheeler Size
Blue heelers are sturdy, muscular, and compact dogs that typically measure between 17 and 20 inches at the withers, with the males being slightly larger than the females. They generally weigh between 40 and 55 pounds.
Labrador retrievers are slightly larger dogs that usually measure between 21.5 and 24.5 inches and weigh between 55 and 60 pounds. They have a similar muscular and athletic build, so you can be sure that blue heeler Lab mix pups will have this trait, too!
The size difference means mixed breed pups will almost certainly have a Labrador mother and a blue heeler father. This is necessary to ensure that the mother doesn't have any trouble birthing a pup that is too big for her.
Pups can be as small as a blue heeler or as big as a Labrador, but they generally will be smaller than their mother, even if they are male dogs.
Labraheeler Appearance
Blue heelers tend to have a medium-length pointed muzzle with pointed, upright ears. In contrast, Labs tend to have a broader forehead and a square muzzle with ears that flop downward. It is very difficult to predict which of these characteristics will be dominant in their crossbreed pups and how they will combine.
Labraheeler Coat Color And Texture
Labradors tend to have a short, dense double coat that is highly water-resistant and can keep them warm in winter. It also sheds–a lot! They should be one solid color, such as black, yellow, or chocolate.
Blue heelers have a similar short double coat, but their coloring is very different. Heelers are classified as blue, though red heelers are also common. While they are called "blue," their coat is not just one color.
It is usually mottled or speckled with tan coloring on the legs and chest and white markings and a black patch or mask on both sides of the head.
Interestingly, blue heeler pups are actually born white, with the exception of any solid face markings, and their true coat color only starts to grow in at about four weeks of age.
This inherited trait means that it can be very difficult to tell what color your blue heeler Lab mix will be when they are born, and you'll need to wait a few months to see their dominant colors. Labraheelers can be almost any color, but one thing is certain: they will be high shedders, and regular brushing is required to keep their coat under control.
Labraheeler Temperament
You can be sure that your Lab blue heeler mix will be an intelligent pup, as both of their parent dogs rate among the most intelligent breeds. They are also typically highly trainable. Labradors are known for being eager to please and driven by reward, which makes them easy to train.
Heelers also love to learn, especially if something is challenging, so they will soak up any training like a sponge.
However, while Labs will continue to be obedient once they have received their training, blue heelers are a bit more independent. They are still loyal and obedient, but if they think you are making the wrong call, they may just ignore you and follow their own judgment.
Hopefully, your mixed pup inherits the obedience of their Lab parent but has enough heeler independence to give them a bit of an edge.
Both parent breeds are playful and affectionate and quickly adopt their people as part of their pack. Both breeds love to play with children, but while Labrador retrievers are naturally careful with small ones, Australian cattle dogs can have a tendency to want to herd small children and may give them a nip to get them to do what they want.
This tendency can be trained out of them, but it should be done from a young age for best results.
While Labradors tend to be comfortable with new situations and strange people, blue heelers tend to be cautious and on the protective side.
They might bark at people that they see as threats, making them excellent guard dogs. You will have to wait and see whether your blue heeler Lab pup is laid back like a Lab or more alert like a heeler. Thankfully, neither breed tends to bark for no reason, and this will be true of their pups as well.
While Labs tend to get on well with other animals and want to make friends, heelers aren't actually accustomed to living in packs and can become territorial and have the urge to establish their place in the pecking order.
This tendency can be controlled for with appropriate socialization with other animals from a young age, but hopefully, your crossbreed pup inherits its Lab parent's more friendly attitude.
Labraheeler Energy Levels
Dogs that are bred to work are also bred to have high energy levels. Both Labradors and blue heelers tend to have lots of energy to burn. In addition to needing 60 to 90 minutes of structured exercise each day, they also generally need ample space to keep active throughout the day.
For this reason, they do significantly better in a house with a spacious backyard than in an apartment.
Both breeds and their crossbreed offspring thrive if they can go out on family adventures on a regular basis. Hiking and swimming are ideal activities, and Labraheelers will more than keep up with the rest of the troop. These dogs do best with owners with an active lifestyle. They won't be happy just curling up on the couch with you on weekends.
It is also important to remember that while adult Labrador blue heeler mixes need lots of exercise, it is easy to over-exercise energetic pups. This can lead to abnormalities in the growth patterns that can have painful effects in later life.
As a general rule, exercise pups for just five minutes a day for each month of their age. For example, a six-month-old pup should be getting 30 minutes of exercise a day.
Read more about how much exercise dogs need here.
Neither breed copes well when left at home alone for extended periods of time. Labrador retrievers crave companionship and can become stressed when left alone for too long. This can result in destructive behavior as they try to manage their anxiety.
Blue heelers are intelligent and energetic, which means they get bored easily. If there aren't people and things around to entertain them, they will make their own fun–which can also be destructive.
The result is that Lab blue heeler mixes aren't the type of dogs you can leave at home for hours on end while everyone is at school or at work. They will become frustrated and anxious, and you are likely to end up with a troublesome dog on your hands.
Labraheeler Health Concerns
The hope with mixed breed dogs is that you get a pup that is less likely to be affected by the genetic health problems common to their purebred parent breeds.
This is often the case, but they can still sometimes be susceptible to all the different medical problems that are common among their two parent breeds.
When you have a blue heeler Lab mix, watch out for signs of the following health concerns.
Progressive retinal atrophy – this condition can lead to loss of sight.
Deafness – around 3% of Blue Heelers are deaf.
Hip and Elbow Dysplasia – a painful joint deformity.
Osteochondritis dissecans – abnormal cartilage separating the bone.
Congenital portosystemic shunt – this causes blood for your dog's intestines to bypass the liver.
Hereditary myopathy – a general muscle weakness.
Heart disorders
While your dog may find themselves affected by one of these conditions, Labraheelers are generally considered healthy dogs and have a lifespan of around 12 to 14 years.
Should I Get A Blue Heeler Lab Mix?
Now that we have gone through the main characteristics of a blue heeler Lab mix, hopefully, you know whether this is the right dog for you. If you are still unsure, ask yourself the following questions to make a more informed and responsible decision.
Do I Have Space For A Labraheeler?
Lab blue heeler mixes need to be active most of the day, so they need lots of space to move around at home. Considering they are medium-sized dogs, an apartment generally isn't enough for them. These dogs do best if they have a bit of outside space to call their own.
Do You Have Time For A Lab Blue Heeler Mix?
In order to thrive, these dogs need 60 to 90 minutes of exercise a day, which means lots of short runs and games of fetch. In addition to this, you need to take the time to train them to do new and interesting things on a regular basis to keep them mentally stimulated. Do you have time to commit to that?
Will Your Lifestyle Let You Care For A Blue Heeler Lab?
Blue heeler Labs can't be left alone for extended periods of time if you want a happy dog and your home in one piece. Is there generally someone at home at your place, or is everyone out for most of the day at work and school?
Also, what do you like to do on weekends? These energetic dogs need adventures, and they won't make life easy for you if you want to spend the entire weekend on the couch.
Do You Have A Problem With Dog Hair?
Blue heeler Lab mixes shed a lot, which means no one with an allergy should adopt one. If you generally have a problem dealing with shedding dog hair on a regular basis, you may wish to reconsider adopting one of these dogs.
Do You Have Small Children Or Other Animals?
As a result of their blue heeler traits, these mixed pups can have a tendency to be territorial with other animals and to want to herd young children with a bit of a nip. While these are behaviors you can train and socialize out of your dog with some effort, are they characteristics that you want to deal with?
FAQs About Labraheelers
Are Labraheelers aggressive?
Lab blue heeler mixes are playful and gentle, and they're never aggressive for no reason. However, blue heelers can be protective and may respond to a threat.
They can also have a tendency to want to herd small children and other animals, which might involve giving them a small nip. These behaviors can manifest in Labraheelers and can be misinterpreted as aggression. Proper socialization and training is required to curb these instincts.
Are Labraheelers good with children?
Labraheelers love children and will enjoy playing with them and taking on protective roles. However, they can be a bit challenging with small children. Their energy levels and desire to play can overwhelm small toddlers.
They can also have a tendency to want to herd small children, which often involves nipping at their heels. This can, understandably, scare smaller children.
Are Labraheelers cuddly?
Labraheelers love their humans and will be happy to curl up with their owners–to a point. They have a lot of energy, so it won't be long before they need to get up and do something. Also, as a result of their heeler parentage, they sometimes need their own space and may avoid you for no apparent reason on occasion.
Do Lab blue heeler mixes lick a lot?
Blue heelers have a tendency to lick people a lot as a sign of affection. While this is not common in Labradors, your blue heeler Lab mix may still inherit this excessive licking trait. There is nothing fundamentally wrong with this behavior, but they can be trained not to do it if you're not particularly fond of the germs and slobber.
The Verdict
If you want an energetic companion who can join you on your adventures, then you might want to consider adopting a blue heeler Lab mix. There is no stopping these high-energy dogs; they are highly intelligent and can learn almost anything, so they are the type of dog that can go with you everywhere.
Three main things to remember if you're considering adopting a Labraheeler are:
They need at least an hour of exercise each day, ideally an hour and a half
They don't do well when left alone for long periods of time
They tend to have a bit too much energy for very small children to be comfortable with
The main benefits of the Lab blue heeler crossbreed are that they tend to be healthier than their purebred parents, and you get a dog who is simultaneously a bit warier and protective than a Lab and a bit friendlier than a blue heeler, which many consider the ideal temperament for a household pet.
If that sounds like what you are looking for, why not adopt a Labraheeler?
Do you have any experience raising a Lab blue heeler mix?
Share your thoughts with the community in the comments section below.
Save To Pinterest
Top Picks For Our Dogs
For a list of all the supplies we get for our new service dog puppies check out our New Puppy Checklist on the PuppyInTraining.com blog.