This post may contain affiliate links. We may earn money or products from the companies mentioned in this post.
An increasingly popular designer hybrid, the Rottweiler Lab mix is a cross between the Labrador retriever and Rottweiler dog breeds. Large, full of energy, and protective, this mix combines the best traits of its parent breeds.
If you are looking for a workout buddy, loyal companion, or protective watchdog, please step up! Rottadors make wonderful pets to active people of all ages, including those who are single and families with older kids.
But, although they adapt well to all kinds of living conditions, labrotties aren't for everyone. If you lead a sedentary lifestyle or don't have any experience owning dogs, the Lab rottie mix isn't the dog for you.
Due to their sheer size, strength, and inherited aloofness with strangers, this mix needs an owner who will know how to train and socialize it from a young age.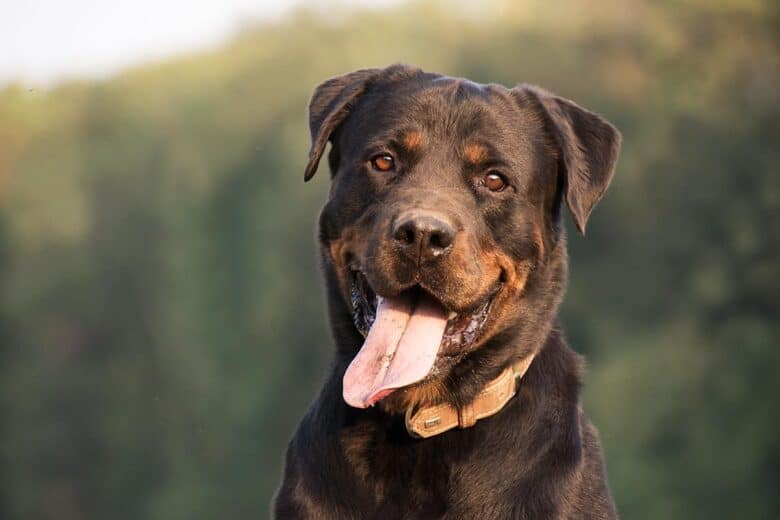 If you believe you have everything it takes to own a labrottie, keep on reading! In this article, I'll tell you everything you need to know before you welcome this designer dog into your home.
Rottweiler And Lab Mix Overview
Size – 24 to 27 inches tall, weighs between 70 and 115 pounds
Coat – Short to medium-long double coat, color varies
Shedding – Moderate to heavy shedding
Lifespan – 10 to 12 years
Temperament – Energetic, protective, loyal, and wary of strangers
Trainable – Highly trainable, responds well to positive reinforcement training
Activity – Highly energetic (needs around two hours of activity every day)
Best For – Active people of all ages, families with older children, and spacious homes
What Is A Rottador?
As the name suggests, the Rottweiler Lab mix is a designer dog breed, created by crossing a purebred Labrador retriever with a purebred Rottweiler. This mix goes by several different names, including rottador, labrottie, labweiler, and rottwador.
Being a designer dog breed, the labrottie isn't officially recognized by the AKC. However, this mixed-breed is recognized by:
American Canine Hybrid Club
Designer Dogs Kennel Club
Designer Breeder Registry
International Designer Canine Registry
Dog Registry of America, Inc.
Rottie Lab Mix Appearance
Like with any other mixed-breed dog, it's hard to say what any Rottweiler and Lab mix will look like. One thing is for sure though, no two labrotties are the same!
Most rottadors are built like a Rottweiler. However, they inherit the head shape, floppy ears, and long muzzle from their Lab parents. Their bodies are almost always well-muscled and ooze strength and power.
However, there's also a chance that your mix will look like their rottie parent, but inherit the Lab's build and body. Mixed-breed dogs are always full of surprises, and this hybrid is no exception!
Keeping that in mind, there are a few things you can expect to see in your pooch, mainly when it comes to size, coat, and color.
Size
Since the rott and Lab mix is still a fairly new breed, there are no set standards when it comes to size. However, as an offspring of a Rottweiler and Labrador retriever dog breeds, you can expect your mix to be a large size dog.
Labrotties are generally between 24 and 27 inches tall and can weigh anywhere from 70 to 115 pounds when fully grown. Males tend to be larger than females, but that doesn't have to be the case.
Color
Although labrotties can inherit the coat color from either one of their parents, they typically look more like a Rottweiler than a Labrador. The most commonly seen coat colors in this mix are black, black and tan, chocolate brown, or gray.
Coat
Both Labs and Rottweilers have short to medium-long double coats, so it's safe to say that their mix will too! There is also a chance that your pup's coat will be waterproof to some extent, depending on how much they take after the Lab parent. Most rottadors have a very dense short and straight coat, but some can have medium-long wavy coats.
Being a double-coated breed means your rott and Lab mix will shed moderately all year round and go through a heavier shed during the shedding season. As a result, this mix isn't the best choice for allergy sufferers and people who aren't keen on vacuuming dog hairs every day.
Rott And Lab Mix Character
Although both are extremely popular dog breeds, Rottweilers and Labrador retrievers have completely different temperaments. Predicting the exact temperament of any mixed-breed dog is very hard, but with a labrottie, it's that much harder.
When you breed a rottie and a Lab, their offspring will most likely be very protective, loyal, friendly, and self-assured.
Naturally protective of the people they love, rottadors are amazing companions and great watchdogs that will guard your family and property. Like their Rottweiler parents, this mix is wary of strangers and will alert you of any suspicious activity.
While your mix might seem standoffish to strangers, they will shower you and your family with love and affection every single day. This mix loves to play and won't fail to put a smile on your face and entertain you with silly antics.
This mix is an offspring of two working breeds. Rottweilers are still used to herd cattle and are regularly employed as police and guard dogs. On the other hand, Labrador retrievers work as guide dogs for the blind and are still used for hunting.
One thing this mix isn't good at is staying at home alone for long periods of time. When alone, this mix can become bored and destructive. The labrottie's preferred way of alleviating boredom is chewing, so make sure you have a variety of tough and durable chew toys to keep your pooch occupied.
Activity Level
Both the Rottweiler and the Labrador retrievers are highly energetic and athletic breeds, so expect your mix to be the same. Labrotties can hardly sit still and they are happiest when their days are filled with fun activities.
If you lead a sedentary lifestyle, the Lab Rottweiler mix isn't the right dog for you. This mix likes to move and play and would become miserable if not provided with the exercise they need.
Caring For Rottweiler Lab Mix
Like all other dogs, labrotties are happiest and healthiest when properly cared for from a young age. To ensure your pup is living life to the fullest, create a care routine that will help keep your mix healthy. Here's everything you need to know:
Exercise
As mentioned previously, labweilers are highly energetic dogs best suited for active homes. A simple walk around the block or a short game of fetch won't cut! This mix needs up to two hours of vigorous activity every single day, regardless of the weather conditions.
Whether it's raining or snowing outside, you'll need to be prepared to take your pooch for a walk and a romp in the park. Rottadors love any type of activity that can get their heart rate up, including running, cycling, hiking, and swimming.
Fun-loving at heart, the labrottie is always in the mood to play and will never say no to a game of fetch, hide and seek, tug-of-war, flyball, or Frisbee. Besides being a great activity, playing can also help prevent boredom and keep your pooch entertained.
Intellectual Stimulation
Being a smart dog, the labweiler can easily become bored if not mentally and physically challenged. Like their Lab parents, rottadors are also very mouthy and will chew everything in sight when bored or left at home alone without access to durable interactive toys that will challenge their minds.
Training and interacting with your pooch every day are also good ways to keep their mind occupied in a good way and provide intellectual stimulation.
Companionship
Loyal and protective of their people, labrotties are affectionate companions and family dogs. They prefer to be involved in all family activities and will happily keep you company on the morning run or a trip to the grocery store.
Being deeply devoted to their owners makes rottadors bad at staying home alone. To prevent behavioral problems such as separation anxiety and destructive behavior, ensure that your dog has company most of the day and don't leave them alone if not absolutely necessary.
Grooming
Although they are moderate to heavy shedders, labweilers are fairly easy to groom. Brush your pup's coat three times a week to remove loose hair and distribute skin oils through the length of fur.
The great thing about this designer breed is that they don't have to be bathed often. Bathe your dog once every two months, or only when they start to smell and look dirty. For baths, use a mild hypoallergenic dog shampoo that won't irritate and dry your dog's skin.
While we are on the subject of grooming, you should also brush your dog's teeth three times a week at least. Make sure to check your labweiler's ears once a week and clean them as necessary using a vet-approved ear cleaning solution.
Also, don't forget to trim your pup's nails once a month or when you hear them clicking on the floor. If you are uncomfortable doing this at home, your vet or a groomer will do the clipping for you.
Diet
An ideal diet for a Rottweiler Lab mix should be formulated for a large dog breed with high energy. Make sure the food you are feeding your dog contains high levels of protein, moderate levels of fat, and all essential vitamins and minerals.
Like most other Lab mixes, rottadors tend to gain weight quickly if overfed, so stick to a regular feeding schedule and don't dole out treats more than necessary. This mix is also at risk of developing bloat, so feed two to three smaller meals a day instead of one big meal.
Furthermore, avoid exercising your pooch at least an hour before and after a meal to reduce the risk of bloat.
Known Health Problems
Rottadors are generally healthy, but they can develop some of the same health problems both Labs and Rottweilers face. Those issues are:
Hip and Elbow Dysplasia: These hereditary conditions are characterized by the malformation of the hip or elbow joint. Depending on the severity of the condition, dogs can show signs of pain, lameness, and even develop arthritis as they age.
Bloat: This potentially life-threatening condition affects deep-chested breeds like Labs and Rottweilers. Dogs that are fed one large meal a day, eat rapidly, or don't chew properly are at risk of developing bloat.
Life Expectancy
The labweiler has an average life expectancy of 10 to 12 years. However, a good care routine, regular exercise, and a healthy diet may extend your dog's lifespan for a few years.
How To Train Your Rottie Lab Mix?
Rottadors are highly trainable dogs, but they can be stubborn at times, depending on how much they take after their Rottweiler parent. This mix reacts well to positive reinforcement training and needs an experienced owner who will stay consistent.
Start training your mix as soon as you bring them home, and continue working with your pooch for the rest of their life. Teaching your dog obedience and basic commands from a young age will help you have better control over your dog when they become big and strong.
Socializing your labrottie is just as important as training, if not more. This mix is inherently wary of strangers so you'll need to expose them to a lot of different people and situations to teach them to distinguish friend from foe.
If not properly trained and socialized from a young age, the rottador's natural protective instincts can get out of control, making them aggressive around strangers. However, you can easily keep your pup's protective side in check thanks to training and socialization.
Who Should Own A Labrottie?
Labrotties make affectionate companions and watchdogs to active people of all ages and families with older children. If you are more into relaxing with a book than going for a run, don't get this dog! The Lab Rottweiler mix is an energetic pooch that needs an active owner who is up for an adventure.
While they might seem intimidating at first, labrotties are gentle souls that love to play and spend time with their families. This mix doesn't do well being left at home alone, so getting a labrottie isn't a good idea if you work long hours.
As long as they are properly exercised, rottadors can live in a house or apartment. Having a fenced backyard can be a huge plus, but it's not a necessity if you are willing to go out and exercise your pup two hours a day. If not, having a fenced backyard is a must and will help your labrottie burn off some steam when you are otherwise occupied.
Buying A Rottweiler Lab Mix Puppy
If you are looking to buy a labrottie, research reputable Rottweiler Lab mix breeders in your area. Good breeders will be able to provide all sorts of certificates, health tests, including hip scores and other important information.
Rottweiler Lab mix puppies on average cost between $450 and $1,000 depending on the breeder, demand, and location.
Please note, although a designer breed, many labrotties end up in the care of animal shelters and rescue organizations. Consider adoption if you think that the Lab rottie mix is the right dog for your family.
Contact your local shelter to see if they have any labrotties for adoption. You can also check with Rottweiler and Labrador retriever breed-specific rescue groups since they often take care of mixed-breed dogs too.
History Of The Breeds
Labrador Retriever
Originally from Newfoundland, the Labrador retriever helped fishermen catch fish. The breed we know today was developed in the United Kingdom and mainly served as a gun dog that retrieved shot waterfowl.
Nowadays, the Lab is America's most popular dog breed that is loved for its trusting, friendly, and kind nature. Highly trainable and smart, Labradors are often used as service dogs, bomb-detecting, and rescue dogs.
Rottweiler
Originating in Germany, the Rottweiler used to herd livestock and pull carts filled with butcher's meat to market. Medium to large in size, the rottie is one of the most popular dog breeds that makes a great family companion and watchdog.
Protective and loyal to their families, Rottweilers are naturally wary of strangers and need proper training and socialization.
FAQs About Rottador
Are Labrotties dangerous?
A properly trained and socialized labrottie isn't any more dangerous than any other dog. This mix is naturally wary of strangers, which is why they make excellent watchdogs. However, early socialization can help your labrottie to become friendlier towards strangers.
How much is a Rottweiler Labrador?
Labrador Rottweiler mix puppies on average cost between $450 and $1,000 from a reputable breeder. Keep in mind, you might end up spending less or more money on a puppy depending on the breeder, your location, and supply and demand.
Conclusion
Extremely energetic and highly protective of the people they love, the labrottie makes a great pet for people of all ages. As long as you are active and can spend two hours a day exercising your dog, the Lab rottie mix will be a loving companion and good watchdog. Labweilers are best suited for:
Active people of all ages
Families with older children
People who can exercise them for two hours every day
Do you have a rottie Lab mix? What's the thing you love the most about your mix?
Tell us and our readers in the comment section below!
Save To Pinterest
Top Picks For Our Dogs
For a list of all the supplies we get for our new service dog puppies check out our New Puppy Checklist on the PuppyInTraining.com blog.