This post may contain affiliate links. We may earn money or products from the companies mentioned in this post.
Created by crossing the Labrador and pointer breeds, the Lab pointer mix is one of the latest designer dog breeds. Smart, devoted, and full of energy, these doggos inherited some of the best traits of their parent breeds.
Pointerdors are very athletic and energetic dogs that need a lot of space to stay active and explore. As a result, these dogs make poor apartment and urban dwellers and are more suited to suburban or country living.
Other than that, they are easy to train, relatively low-maintenance dogs, which makes them a good option for newbie dog parents.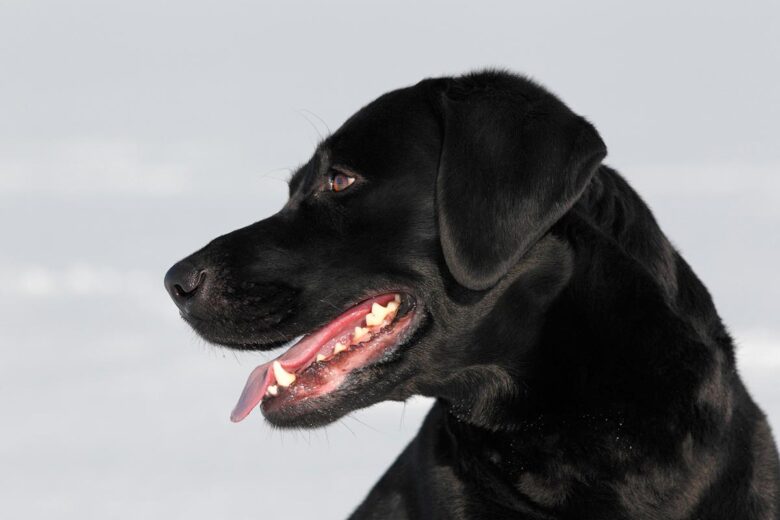 Pointerdors also love children and make ideal playmates to youngsters and are great pets to families with children of all ages.
If you believe a Pointerdor will make a perfect addition to your family, keep on reading! In this article, I'll tell you more about this designer breed, including their temperament, care, grooming, and dietary needs!
Pointerdor Overview:
Size: 22 to 28 inches tall, weighs between 35 to 80 pounds
Coat: Short double coat, color varies
Shedding: Moderate to heavy shedding
Lifespan: 10 to 15 years
Temperament: Athletic, intelligent, affectionate, and friendly
Trainable: Highly trainable, responds well to positive reinforcement training
Activity: Highly energetic (needs up to two hours of exercise every day)
Best For: Active families and singles, first-time dog owners, homes with fenced backyards
What Is A Lab Pointer?
As the name hints, the pointer Lab mix is a mixed-breed dog developed by crossing a purebred Labrador retriever and a purebred pointer.
Also known as a Pointerdor, a Labrador pointer, and a Labrador retriever pointer mix, the Lab pointer isn't yet officially recognized by the American Kennel Club. However, they are recognized by the following organizations:
American Canine Hybrid Club
Designer Dogs Kennel Club
Dog Registry of America, Inc
Lab Pointer Mix Appearance
While there is no way of predicting the exact appearance of any mixed breed, the typical Pointerdor will inherit certain traits from both its parent breeds. Having said that, Lab pointers are typically medium-sized dogs with long and muscular bodies. This mix has a deep chest, a powerful stance, and long, strong legs made for running.
They have broad heads, medium-length muzzles, and wide, floppy ears that hang down to the upper jaw. Their almond-shaped eyes are usually brown, but they can also come in a lighter color.
When it comes to the Pointerdor's size, coat, and color, here's what you can expect!
Size
Since the Lab pointer is a new designer breed, there are no set standards when it comes to size. As a cross between a pointer and a Labrador retriever, you can expect this mix to be a medium-sized dog.
Pointerdors are usually from 22 to 28 inches tall at the withers and can weigh anywhere from 35 to 80 pounds. Males are typically larger than females, but that isn't always the case.
Coat Color
This mix can inherit the coat color from either of its parent breeds or sport a mix of colors. Since both pointers and Labs come in a variety of different colors, there are many color possibilities for their mixed-breed offspring. In most cases, though, the average Lab pointer mix is either white, brown, or black in color.
Coat Texture
The Lab pointer has a short, dense, and waterproof double coat that is relatively easy to maintain. As a double-coated breed, these dogs tend to shed moderately all year round and go through a heavier shed during spring and fall.
If you decide to welcome a pointerdor into your home, you'll also need the best vacuum for pet hair to keep your home tidy.
Needless to say, the Labrador retriever pointer mix isn't a good choice for allergy sufferers. If you or any of your family members are allergic to dogs, research the so-called hypoallergenic breeds and low-shedding dogs like the labradoodle, as they are less likely to cause an allergic reaction in allergy sufferers.
Lab And Pointer Mix Character And Temperament
Predicting the personality and temperament of a mixed-breed dog is never easy! Luckily, in this case, both the pointer and the Lab are members of the sporting dog group and share certain character traits.
There are two sides to every pointer Lab – a devoted family companion and an athletic gundog.
The loving and friendly Pointerdor forms strong bonds with its family and likes to be involved in all family activities. Having said that, these dogs don't like being left alone a lot and can develop separation anxiety as a result. They are best suited for large and bustling families that will include their dog in all indoor and outdoor activities.
As an offspring of two sporting breeds, the pointer Labrador retriever mix is a highly athletic and energetic dog that needs plenty of space to roam around and explore. These dogs can't stay cooped up in an apartment all day and must live in a spacious house with a securely fenced-in yard.
If not allowed adequate space to run and play, this mix will quickly become bored, frustrated, and destructively chew everything in sight, beginning with your shoes and progressing to furniture and other belongings.
These friendly and sweet-tempered dogs get along with everyone, including children of all ages. Not only are these pooches gentle and patient with kids, but they also love to play and will quickly become best friends with any child capable of matching their energy levels.
Activity Level
As an offspring of two sporting dog breeds, the Lab pointer mix is a very athletic and energetic dog that needs a lot of activity, more specifically at least 1 to 2 hours each day. These dogs prefer moving and running to sitting and snoozing, so they won't be a good fit for people who prefer to relax at home with a good book or a movie.
When not provided with the intense exercise it needs, this mix will soon become restless and destructive.
Caring For A Pointerdor
Like any other dog, a pointer Labrador mix will thrive and stay happy when properly taken care of from a young age. To keep your dog happy and healthy, be sure to come up with a consistent care routine as soon as you bring them home and stick to it for the rest of their life. Here's everything you need to know as far as the Pointerdor's care needs.
Exercise
As mentioned before, Lab pointers are very athletic and energetic dogs that need a lot of exercise to stay physically and mentally stimulated.
Ideally, this mix needs up to two hours of intense activity every day to release all their pent-up energy and stay in excellent shape. Activities such as running, jogging, swimming, agility exercises, and games like fetch are all good ways to keep your dog exercised.
Intellectual Stimulation
Lab pointers are intelligent dogs that can easily become bored and frustrated if not exercised or mentally stimulated every single day. Like their Labrador parents, these dogs tend to be mouthy and will chew everything they can sink their teeth in when bored and under-stimulated.
To avoid getting your belongings chewed, invest in tough and durable chew toys, and keep your mix stimulated with interactive and puzzle toys.
Companionship
Loving and loyal, Lab pointers form strong bonds with their owners and make affectionate family companions. They like to spend time interacting with their people and are the happiest when they are involved in all family activities.
While they can spend a few hours here and there alone, Pointerdors don't enjoy it and can easily develop behavioral problems if left alone too often. Because of this, they are best suited to large families or people who spend a lot of time at home and/or work from home.
Grooming
Despite being moderate-to-heavy shedders, Pointerdors are fairly easy to groom. Their short double coats have to be brushed two or three times a week to remove loose hair and dirt. During their yearly shedding season, you'll likely need to brush your mix more often to keep the shedding to a minimum.
Bathe your mix once every two to three months or every time they return dirty from an outdoor adventure. Check their ears for waxy buildup and dirt once a week, and clean them as necessary to prevent painful ear infections. Also, don't forget to trim their nails once every few weeks or when you hear them clicking against the floor.
Diet
An ideal diet for a pointer Lab mix should be formulated for a medium-sized dog with high energy. Their food needs to have high levels of protein, fat, and carbs, combined with all the essential vitamins and minerals your dog needs to stay healthy.
Like purebred Labradors, this mix has a healthy appetite and can easily gain too much weight if you aren't careful. To prevent obesity and all health problems associated with it, avoid free-feeding your dog and stick to a regular and consistent meal schedule.
Known Health Problems
Pointer Lab mixes are generally healthy, but they can be affected by the same health problems that are often seen in their parent breeds. The most common health issues they experience are:
Hip and elbow dysplasia
Bloat
Hypothyroidism
Progressive retinal atrophy
Epilepsy
Life Expectancy
Labrador pointers have an average lifespan of around 10 to 15 years, which is quite healthy for a medium-sized dog. A good care plan, nutritious diet, and a regular exercise regime will help you keep your mix healthy in their senior years.
How To Train A Lab And Pointer Mix
While the Labrador pointer is a mix of two highly intelligent breeds, training them can be challenging, as they tend to be easily distracted and can't stay focused for long. Reward-based training in combination with a firm and consistent approach is the way to go!
Don't forget to praise your mix whenever they obey your commands and keep the training sessions short and sweet.
Besides training, you should also start socializing your mix from puppyhood to help them grow into a friendly, sociable pooch. Introduce your puppy to as many different people, animals, sights, sounds, situations, and places as you can from a young age.
Who Should Own A Lab Pointer Mix Dog?
Labrador pointers make affectionate and loyal companions to active people of all ages and families with children. Sorry to break it to you apartment dwellers, but living in a spacious home with a securely fenced backyard is a must for those wanting to adopt this breed!
Athletically built and full of energy, this mix makes an excellent running buddy or an adventure partner for outdoorsy people of all ages. However, if you are more into relaxing than hitting the trails, this mix probably isn't the right dog for you!
Buying A Lab Pointer Mix Puppy
If you are interested in buying a Lab pointer mix puppy, you should first research the reputable breeders in your area. Legitimate breeders will schedule a visit for you to meet their puppies and will also be willing to provide health certificates, health tests, and hip and elbow scores.
Pointerdor puppies usually cost from $250 to $600 depending on the breeder, lineage, coat color, and supply and demand in your area.
Don't forget that designer dogs like Pointerdors also often end up abandoned and in the care of shelters and rescue organizations. If adoption is an option, contact your local shelter to see if they have any pointer Labs waiting for adoption.
You can also reach out to breed-specific Labrador retriever and pointer rescue groups, as they often take care of mixes, too.
FAQs About The Lab-Pointer Mix
Are pointer mixes good family dogs?
Pointer mixes are generally great with kids of all ages and make wonderful pets for families with children. These active and energetic dogs love playing with kids, and they'll have lots of fun being around kids who can match their energy levels.
Although they tend to get along with children, you should still socialize your pointer mix from a young age and also teach your kids how to safely and respectfully play with and pet a dog to prevent injuries to both parties.
Do pointer mix dogs shed?
All dogs shed to some extent, and pointer mixes are no different. While pointers don't shed as much as many other dog breeds, their short and fine coat still sheds. Exactly how much a pointer mix shed also depends on the other parent breed used to create the mix.
Conclusion
If you are looking for an energetic family dog that will be eager to play with your children and go on daily runs with you, step right up! The Lab pointer mix may be a newer designer dog, but they make wonderful family pets and companions to people of all ages. If you decide to adopt a Pointerdor, you'll need to:
Exercise them for up to two hours every day
Start obedience training from a young age
Live in a house with a spacious, fenced backyard
Do you own a Labrador pointer mix? What is the thing you love the most about your dog? Share your experience living with this mix with us and our readers in the comment section below!
Related Article
Save To Pinterest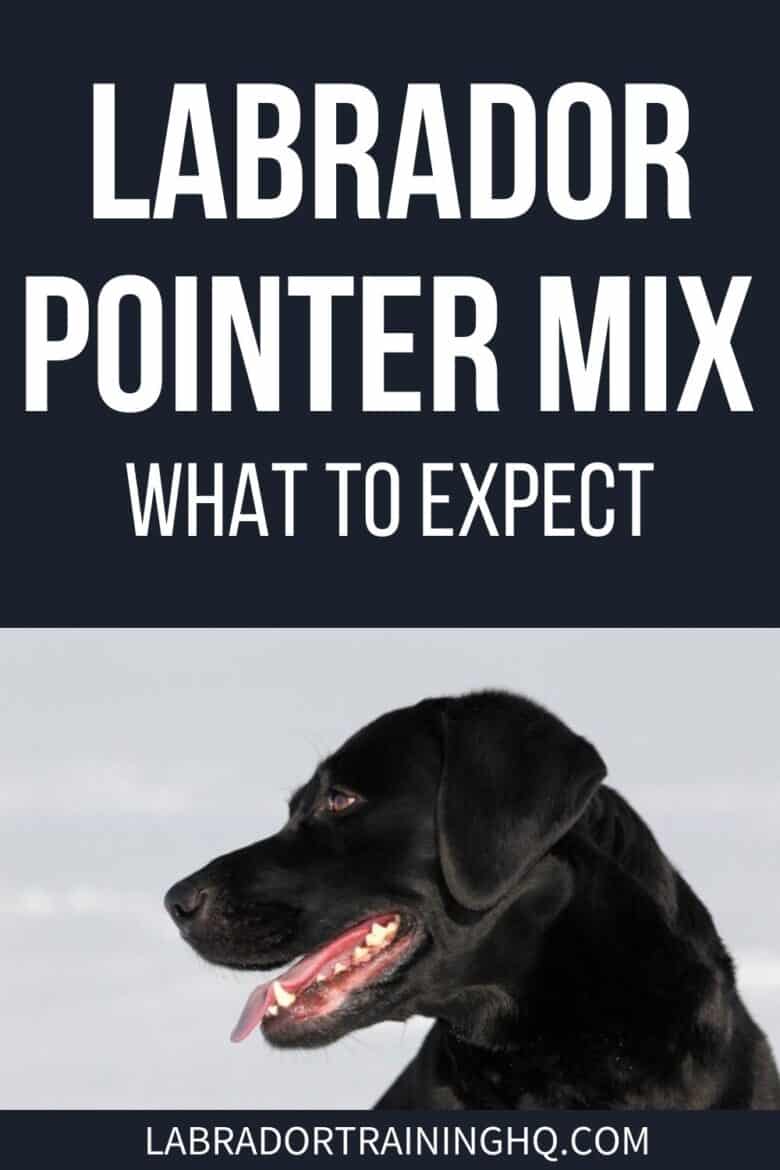 Top Picks For Our Dogs
For a list of all the supplies we get for our new service dog puppies check out our New Puppy Checklist on the PuppyInTraining.com blog.