This post may contain affiliate links. We may earn money or products from the companies mentioned in this post.
If you are after a big dog with a friendly disposition, then a Great Dane Labrador retriever mix might be exactly what you are looking for!
You will discover that these crossbreed dogs are gentle giants that are also highly intelligent and family-oriented. They do extremely well in homes with children and even other animals.
However, as well as being big dogs, they are also pretty high energy and need lots of love and affection. Make sure you have enough time to commit to loving one of these dogs before you take them on.
Read on to learn everything you need to know about Great Dane Lab mixes, also known as Labradanes, so you can decide if this amazing dog is the right fit for your family.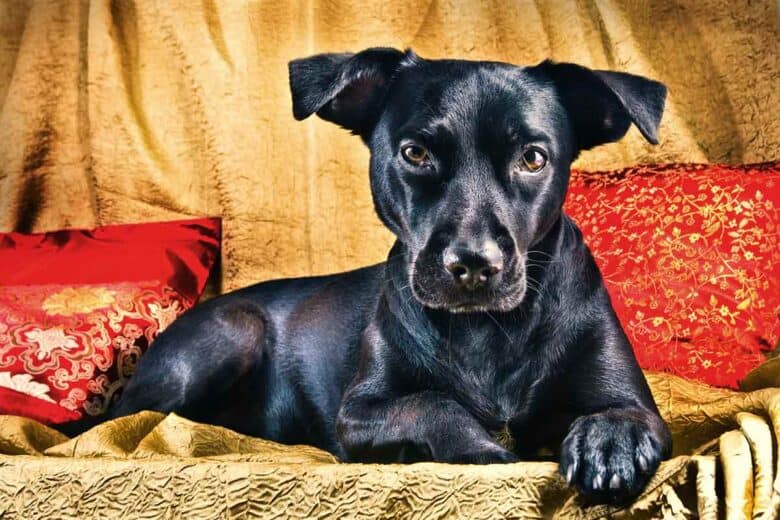 A word of caution: Unlike purebred dogs, the appearance and temperament of crossbred dogs can be unpredictable. While we can tell you what to expect, there are always exceptions.
Labradane Main Characteristics
23 to 35 inches tall
100 to 180 pounds
8 to 12 year lifespan
Friendly demeanor
Intelligent
Playful
Energetic
Medium shedding
Labradanes: History Of The Breed
Breeders started to mix Great Danes with Labrador retrievers in the 1980s when designer crossbreed dogs became popular. The original intention seems to have been to make smaller versions of the Great Dane rather than larger Labradors.
Labrador retrievers are retriever gun dogs that were initially bred in the United Kingdom from pups imported from Canada. They are intelligent and eager to please, which has always made them great working dogs, especially near water, since they love to swim.
Over the last 50 years, they have often been utilized as working dogs, especially in roles such as disability service. They are ideally suited for this because of their intelligence, energy, and naturally friendly nature. They are one of the most popular pets in the United States.
Great Danes, also known as German mastiffs, have been around since the Middle Ages and are one of the largest breeds in the world. They were used for bear, boar, and deer hunting, but they were also popular companions for their masters. They eventually became more commonly kept as pets when hunting practices changed with the introduction of firearms.
They are tall, long-legged dogs with a sleek, muscular physique and the ears of a classic hound. They are highly friendly, gentle, and loving dogs despite their large size.
Size
While Labradanes aren't as large as Great Danes, they are still big dogs, typically weighing between 100 and 180 pounds. Exactly how large they will become as adults depend on the sizes of their parents.
Labradors usually measure between 21.5 and 22.5 inches tall and weigh between 55 and 80 pounds. Great Danes are much larger, usually measuring between 28 and 35 inches tall. They typically weigh between 110 and 190 pounds.
The mother of the crossbreed is always the Great Dane, as the mother needs to be larger in order to protect against birthing complications. The smaller the Labrador father, the smaller your mixed breed Labradane is likely to be.
Labradane pups tend to be on the heavier side, since Great Danes are already large and Labradors have a stockier build, so they can be a bit heavier than they look.
Appearance
It can be very difficult to know whether a crossbreed Labrador retriever Great Dane will primarily carry on the characteristics of their Labrador retriever parent, their Great Dane parent, or a mixture of both.
Generally, they can either have the long face and distinctive jowls of a Great Dane or the smoother face of a Lab. However, most pups tend to have gorgeous floppy ears. Still, don't forget that this means their ears need regular cleanings. When the ear canal is covered, it can become a breeding ground for bacteria.
The coat of a Labradane can be black, brown, golden, or white, and they are usually the same solid color all over, but you will occasionally see Lab Great Dane mixes with distinctive patterns. Their coats tend to have a high gloss finish and can be quite oily. It is important to consider this when choosing a shampoo.
In terms of texture, Labradanes' coats tend to be short and dense. While they usually shed less than a Labrador retriever, they are still moderate shedders and should be brushed at least twice a week to keep their shedding under control.
Despite the thickness of their coats, they actually do just as well in hot weather and in the cold, though you should always bring an appropriate amount of water when taking them out on warmer days and look out for signs of heat exhaustion. If you are feeling hot, chances are they are as well, and it's time for a break.
Intelligence & Trainability
Both Labradors and Great Danes are highly intelligent, which means they can learn commands quickly. They are also good at picking up on what is wanted from them in new training situations.
However, while a Labradane can always learn new things, the boisterous nature of Great Danes means that sometimes, they might just not want to, and they might prefer to play rather than learn.
This means they can need quite a bit of firmness in their training and commands so they know you are serious and that training sessions are time to obey rather than play. Training them properly from a young age will help them know the difference and make them much more controllable as adults.
Because of their size, these dogs tend to benefit from crate training, and they certainly shouldn't be left to roam the house alone when you aren't around or are asleep.
You can read our complete guide on crate training puppies here.
Energy Levels
The size of these dogs means they will struggle in a small apartment. In confined spaces, a Labradane will tend to feel cramped, and they can sometimes forget just how big they are and be a little on the clumsy side.
At the same time, though, these are pretty high-energy dogs that need to be taken out on walks (or for a run) at least twice a day. If you are a runner, they will have no problem keeping up with you. Between 40 and 60 minutes of dedicated exercise, each day should be sufficient to keep them healthy.
In addition to this, your Labradane will thrive if they have at least a modest amount of space to move around and play in, so they are happiest in a home that has a spacious, fenced-in backyard they can roughhouse in.
Sociability
Both Labrador retrievers and Great Danes like being with people and bond quickly with their families, so you can expect the same from their crossbred pups.
Labradanes make great family pets who will love playing with children and will even take a protective attitude towards them. Just remember not to let small children play unsupervised with any dog, regardless of how familiar they might be. This is especially true with Lab Great Dane mixes, as they can forget just how big and strong they are, and accidents can happen.
Your Labradane might certainly scare intruders away with their size, but don't expect them to make great guard dogs. They might give a playful bark of excitement if a stranger shows up, but they typically aren't raising the alarm or taking down intruders.
They get on well with other animals and tend to respond playfully rather than aggressively. This means they do particularly well in houses with other pets, as long as they are properly socialized, which is important whenever you introduce a new animal into a home that already has pets.
Because they enjoy the company of people, they can only tolerate solitude for short periods of time. Your Labradane will struggle if they are left at home by themselves often while everyone is out at work or if they are left to mind the fort when the family goes on holiday.
It is a good idea to think about how your lifestyle is compatible with this breed before getting a Labradane pup. They will love to go on adventure holidays with you and usually enjoy long road trips, too.
Don't forget that Labradanes love to swim! You can always take them out on the water with you. Just don't forget their doggy life jacket.
Great Dane Lab mixes enjoy physical closeness with their humans, and they will love to curl up on the couch or into bed with you if you let them. Still, make sure they also have a space to call their own at home so they can retreat if they're feeling shy or tired.
Health Risks
Labradanes are generally considered to be quite healthy, but like many large dogs, they can be prone to elbow and hip dysplasia. Dysplasia is a deformity in the joints which occurs when different parts of their bodies grow out of proportion. Not only is dysplasia painful, but it can also cause mobility issues. The best treatment is prevention through a healthy diet and an appropriate level of exercise when they are growing.
Remember that, despite their high energy, it is possible to over-exercise pups. Until larger dogs are fully grown, they should only have about five minutes of exercise per day per one month of their age. So, a six-month-old pup only needs around 30 minutes of exercise per day.
The deep chest of these dogs also means that they can be prone to bloating, so it is important to watch their diet. It is best to feed them smaller, spaced-out meals more often rather than letting them engorge themselves in a single meal. Avoid dog foods with potential irritants such as artificial additives.
Great Dane Lab mixes also love their food, and they will overeat and quickly gain excess weight if you let them. It is up to their parents to strictly control their diet to make sure they stick to the right calories intake. Never feed them human food, or worse, food off your own plate, or they will pick up the bad habit of asking for your food.
Should I Adopt A Lab Great Dane Mix?
So, are you excited by the idea of bringing a Great Dane Lab mix home? If so, here are some questions to ask yourself when deciding whether these amazing dogs are likely to make a good fit for you and your lifestyle.
Where Do You Live?
These dogs are big, so they need plenty of space to be happy and comfortable. Your Labradane won't do well in a cramped apartment, and they will be far happier if they at least have some outside space to play around in when they can't get out and about.
Are You Normally At Home?
Great Dane Lab mixes are very personable. While this makes them great family pets, it also means they struggle when left alone for long periods of time. Will there be someone at home most of the time to keep them company, or will they be left alone for hours at a time while everyone is at work?
Also, consider how often you take vacations. Will you be able to take your dog with you? If not, is there someone familiar that you will be able to leave them with while you are away?
Are You Active?
These dogs need quite a bit of exercise, and they will be happier joining you for a run rather than a slow stroll around the park. Will you have the time and energy to take them out for around an hour of high-energy play every day?
Labradanes will also love to join you for adventures such as hikes and swims on the weekend. Are you an outdoorsy type, or are you more of a couch potato?
Do You Have Experience With Dogs?
Great Dane Lab mixes are intelligent, which means they are relatively easy to train, but they also need a firm hand. They are boisterous and big dogs, which means they need an owner or trainer with the confidence to train them and keep them under control.
If you are a first-time owner, it is worth considering whether or not you are confident enough for this task. If you aren't familiar with dog training, getting professional training for your pup at a young age can be of great assistance.
Can You Afford Their Care?
Labradanes eat a lot, so maintaining their upkeep is a huge financial commitment. They are also likely to need other somewhat pricey items such as crates. Bigger dogs are generally more expensive to care for than smaller pups.
FAQs About Labradanes
How big will a Great Dane Lab mix get?
Great Dane Lab mixes can be as big as a purebred Great Dane, often reaching 35 inches and weighing up to 180 pounds. However, they are usually much smaller thanks to their Lab parent and can be anywhere from 28 to 35 inches and 100 to 180 pounds. Look at the size of their parents for a general idea of how large your pup is likely to grow.
Are Great Dane Lab mixes good dogs?
Yes, Labradanes are excellent dogs in that they are intelligent and friendly and are often a great choice if you want a larger dog. They are excellent with children and get on well with other animals, but they also require a big commitment from you. They are energetic and need lots of exercise, and they also can't tolerate being left alone for extended periods of time.
When are Labrador Great Dane mixes fully grown?
You will notice your pup grows very quickly in the first six months of their lives, but they will be far from fully grown at that point. Most Great Dane Lab mixes will continue to grow until they are between the ages of 12 and 18 months. The form of their body will also change at the time, gradually taking on a leaner and more muscular appearance.
How much does a Lab Great Dane mix cost?
As a designer dog, you can expect to pay at least $300 to $500 for a Great Dane Lab mix from a breeder. Prices can go up even further if the demand in your area is high, and the best breeders also tend to charge a bit more.
Alternatively, you may find one of these great dogs in a shelter, but there are few shelters that specialize in this particular crossbreed. Start by looking at shelters that work specifically with Labradors or Great Danes to find the dog that you are looking for.
The Verdict
If you love large dogs and want a friendly, family-oriented dog, then a Great Dane Lab mix might be just the pup that you are looking for. These gentle giants will love being part of the family and will fit in immediately, even with children and other animals.
Bear in mind, however, that they do need lots of love, exercise, and attention, meaning you need to make a commitment to them. In return, the unconditional love you will receive from your Labradane pup is well worth the investment.
Do you have experience with Great Dane Lab mixes?
Share your thoughts with the community in the comments section below.
Save To Pinterest
Top Picks For Our Dogs
For a list of all the supplies we get for our new service dog puppies check out our New Puppy Checklist on the PuppyInTraining.com blog.