This post may contain affiliate links. We may earn money or products from the companies mentioned in this post.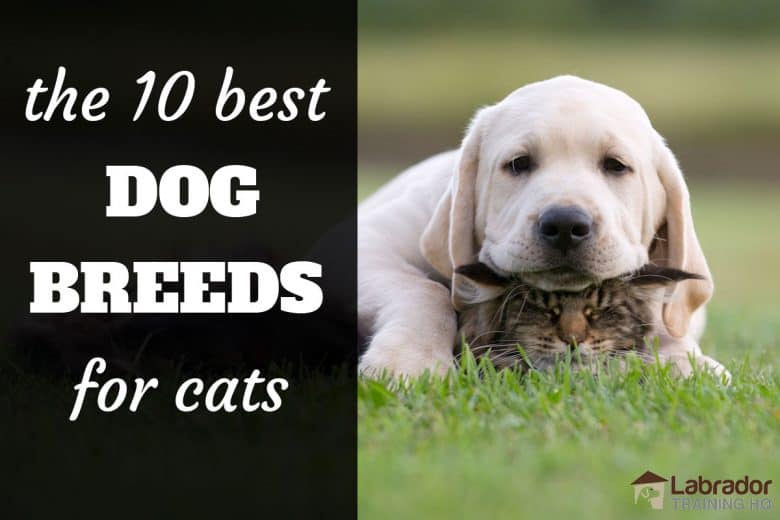 So, you think that you would like to introduce a dog into your family, but you are reluctant, because your house is already home to a cat.
Anyone who has seen any cartoon ever knows that having a dog and cat under the same roof can be a recipe for disaster. However, you probably also have friends that have both dogs and cats that seem to have no problem getting along at all.
It is entirely possible to have a family with both canine and feline members.
The important thing is to choose a dog breed that is likely to get on with your cat – there is no such thing as a cat breed that gets along with dogs; each has a mind of their own.
Then, you need to train and socialize your dog in such a way that they understand the cat and know how to behave around them.
In this guide, we will give you a list of the top 10 dog breeds that are predisposed to get along with cats, and therefore, make great pet choices for cat households.
We'll also share a few breeds that should be avoided at all costs! Finally, we have some tips and advice on how to train your dog to behave in a cat-friendly household.
As you might have suspected our favorite, the Labrador Retriever did make the cut!
Top 10 Dog Breeds For Cat Households
While all dogs are different, and how well they will get along with cats depends on their individual personality and experience, some breeds are more predisposed to be friendly with cats than others.
In general, dogs that have been bred to be companions or carers are good choices as they have a friendly nature.
Intelligent dogs are also a good choice as they are easy to train to leave your cat alone and will figure out their games before too long.
Dogs that love attention, and maybe get a little lonely when you are out of the house, will enjoy having a feline companion to keep them company.
Playful dogs will also enjoy the extra playmate. You don't have to worry too much about size as most cats are intelligent enough not to let themselves get hurt.
But here are ten of the best breeds to consider.
1. Basset Hound
While most hunting hounds are recommended for cohabiting with cats as they may set off their hunting instincts, Basset Hounds are an exception.
Unless they've been trained to go after cats as game, these dogs are mild mannered and friendly. These social animals are likely to form a fast bond with both human and feline members of the household.
2. Bulldog
Bulldogs tend to be friendly and easy going, so they won't let having another four-legged creature zooming around the house bother them.
More than that, they are a little bit lazy, so probably won't bother to chase a cat. If your cat decides to pick on them, they are tough enough to hold their own, even against the feistiest of felines.
3. Cavalier King Charles Spaniel
There dogs are highly adaptable, so they will quickly figure out how to make any living situation work.
They are also pretty fearless and won't let the occasional hiss put them off making a new friend. These dogs don't like to be left alone for long periods of time, so will actually probably enjoy having another playmate in the house.
4. Collie
While Collies are herders, and therefore, might make a game of herding any cats in the household, they are also attention freaks and will love the attention of anyone, including your cat. Intelligent and obedient, you shouldn't have any problems showing your Collie the correct way to behave around the household cat.
5. Dachshund
These spirited little dogs will find a great play companion in a cat, and because they aren't much bigger than most cats, they aren't likely to accidentally hurt them when play gets a little rough.
These dogs tend to be pretty laid back, so are unlikely to be ruffled by cats entering their space.
6. German Shepherd
These dogs are sporty herders, so while their natural instinct will be to herd any cats in the vicinity, they are highly intelligent and easy to train to break this habit.
More than most these dogs take their cue from their owner. If you say that cat is OK, they'll be happy with that.
7. Golden Retriever
These dogs are both intelligent and friendly, which makes them great companions for both humans and cats.
They will figure out how to keep the king (or queen) of the house under control pretty quickly. They docile nature engenders trust, and you may well find your cat sharing their bed before too long.
8. Labrador
Like Golden Retrievers, Labradors are both intelligent and friendly and will have no problem learning how to handle a cat and also start to enjoy their time together.
These are two animals that you are likely to discover curled up together when you aren't at home, even if they leave each other alone most of the time.
9. Poodle
Incredibly intelligent and friendly, and bred specifically to be companions, Poodles have the temperament to make friends with anyone, regardless of breed, and they are smart enough not to let any particularly feisty cats mess with them.
10. Pug
Pugs are another breed that love attention, all the time, no matter where it comes from. They will enjoy having a feline companion around when you are not at home.
Companion dogs, they know how to make friends with anyone and won't cause your cat any problems. They also aren't likely to be bothered if your cat decides to get playful with them.
Breeds To Avoid
With a few exceptions, some of them listed above, dogs that have been bred to hunt, chase, or herd are generally not a good choice to have around cats, as these are likely to set off their instincts.
For example, Hounds are hard-wired to chase and probably won't leave the cat in peace. Terriers were bred to hunt vermin and will probably put your cat into this category.
Herders like to herd the humans in the household, they will definitely want to do the same with any cats. But unlike the kids, the cats are unlikely to put up with it.
There are always exceptions to rules. What did Captain Barbossa from Pirates of the Caribbean say? These are more guidelines than actual rules.
In fact our Border Collie mix, a herding dog got along famously with our cat, Mischief.
Also, our dog Linus was part Australian Shepherd and we've seen him herd our nieces and nephews. His best friend was my sister's cat, Lulu.
Train Your Dog To Live With A Cat
Regardless of the breed of dog you have, cats are likely to set off their hunting and chasing instincts.
This means that left to their own devices, dogs can often engage in behaviors that irritate cats and result in a bit of a chaotic household.
As with everything, you need to train your dog how to behave around the household cats, and show them what behavior you expect.
Ideally, socialization should take place when both animals are young and more able to take on new behaviors, such as when the dog is three to fourteen weeks, and the cat is three to nine weeks.
While this is the ideal time, socialization training can, of course, happen at any time.
Learning The Scent
Training should start by letting the two animals learn each others' scents. This requires having both of the animals in the house, but separated, perhaps in different rooms.
Don't worry, both cats and dogs have a strong sense of smell; that is close enough for them to know that the other is there.
Keep the two separated for a few days and observe their behavior. If the dog obsessively digs at whatever is separating them, such as the door, this is a sign that they are not ready for more interaction.
If the dog constantly stares at the barrier and is very difficult to distract from this behavior, this is another sign that they are not ready for more.
If the cat stops eating and drinking, they are stressed and probably aren't yet ready for the next step.
If the animals do not break this behavior within a few days, it may be that the two are not compatible, and that professional training help will be required.
Introductions
Once both animals seem comfortable with the other being nearby, in a segregated area of the home, it is time to make introductions.
Place the cat in a crate, and put your dog on a leash. Place in the cat crate in the room and then lead the dog in on the leash.
Your goal is to get the dog comfortable in the room, relaxed somewhere like a dog bed, and not lunging at the crate.
If your dog's lunging and barking at the crate seems uncontrollable and excessive, it may be that they are not ready for this step.
If they are naturally interested in the crate, use the leash and your body to block the dog from accessing the crate and encourage them to sit quietly in another part of the room.
When they are calm and waiting, give them rewards at regular intervals in order to show them that they are behaving correctly.
Here are some of the best dog treats to use during training.
This exercise will probably need to be repeated for 20 to 30 minutes per day for three to ten days. When the dog seems generally tranquil and leaves the cat crate alone, they are ready for the next step.
The next step is to continue these sessions but to open the cat crate. Don't, at any point during this training, allow the dog to sniff around the crate, as this will just cause the cat stress.
Wait for the cat to decide that it is ready to come out and wants to get a look at the dog.
Again, it is your job to keep the dog calm when the cat is in the vicinity, using the leash and your body to stop the dog lunging at the cat.
When the dog remains calm and interacts with the cat appropriately, continue to reward the behavior.
Again, these sessions where your dog and cat are allowed to socialize under supervision, should be repeated for a week or so, until they seem familiar with each other and when they both know what is expected of them.
Unsupervised Play
Finally, the dog and cat are ready to pass time together unsupervised. Until this point, when you are not at home, they should always be confined to separate areas in the home.
Now you can leave them in the same area, but make sure that you do not leave them alone for too long without checking on them.
Also, make sure that the cat always has an escape route available for them if things don't go well. If the cat feels confined, they will also feel more stressed, which will make the interaction more difficult.
At this point, if both animals have the temperament to accept the other, you may find at these times that they pretty much leave each other alone or that they play together.
With some animals, after a little bit of time, you might find that they are best friends, even curling up to sleep together.
However, no matter how friendly they are, the two things that should always be kept in separate areas of the home are their food bowls and litter boxes!
QUICK TIP: Dogs are well known to love eating cat poop. So, it is highly advised that your follow the rule of keeping the litter box out of the reach of your dog.
The Verdict
It is a myth that dogs and cats can't get along. You will come across some that are the best of friends and love to play together and even share a bed. But this is not true of all dogs and cats.
With cats, you need to look at the personality of the individual cat to tell if they are going to be able to share their space.
The same is true of dogs, but breed also gives a good indication of whether they are likely to be well-disposed to a feline housemate.
Intelligent dogs that have been bred as companions or carers are better at sharing their space with other animals, including cats.
Their friendly nature means that they are more likely to see the cat as a potential playmate than prey.
Smart dogs pick up on behavior training quicker and will also understand the games that cats play with more ease.
Dogs that have been bred to hunt, chase, or herd can all find it difficult to live with cats as they way they move around just sets off their natural instincts.
This is when you find yourself with two furry bodies barrelling through the house, breaking everything in site.
But as with everything, you cannot expect a dog to just know how to behave around a cat; you have to show them.
This takes training. Take the time to properly introduce your dog and cat to one another, and use positive reinforcement to show them the behavior that you would like.
Before you know it, you will all be one big happy family.
How about you guys?
Do you have both a dog and a cat?
If so, what dog breed do you have and does he/she get along with your cat?
Tell us your experiences in the comment section below.
Save to Pinterest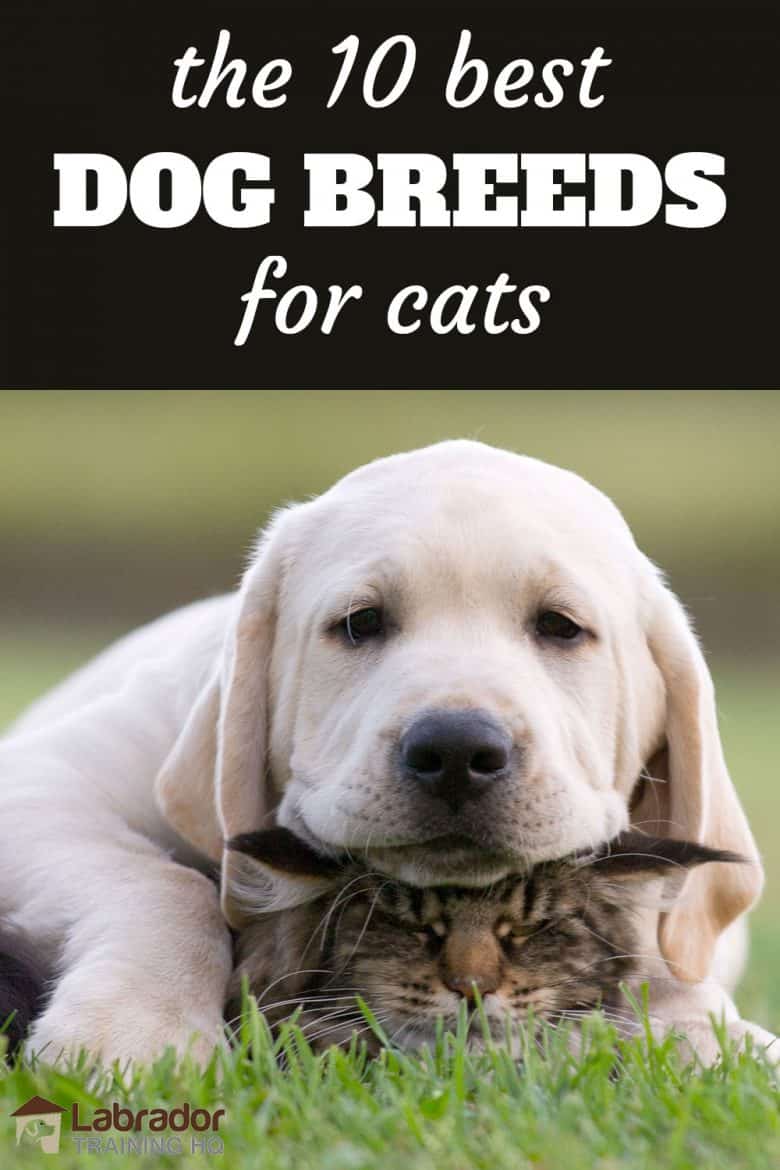 Top Picks For Our Dogs
For a list of all the supplies we get for our new service dog puppies check out our New Puppy Checklist on the PuppyInTraining.com blog.