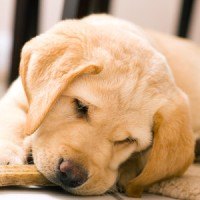 There are many methods of house training, some more effective than others.
So although using a crate as part of your house training process isn't essential, I do recommend it because it's EXTREMELY effective at speeding up the process and undoubtedly makes it easier…and cleaner!
This article discusses why a crate is so useful, how to use a crate to house train a puppy as well as offering a few pointers on what NOT to do when using a crate during house training.