This post may contain affiliate links. We may earn money or products from the companies mentioned in this post.
Are you curious to find out about your dog's true ancestry? Maybe you were told that your pup was a pure breed, but after having them for a while, you start to notice some traits or characteristics that belong to other breeds.
Or, maybe you're just concerned about any hereditary diseases that your dog might be susceptible to developing one day.
Either way, these 4 dog DNA test reviews are the answer that you've been looking for. They're an informative and fun way to learn more about who your pooch truly is.
Plus, they can also help you develop a proper health care plan for your doggy's future.
How Dog DNA Tests Work
You might think that dog genetic testing is going to be a complicated process. But, it's actually a lot simpler than you would think.
All you have to do is swab the inside of your dog's cheek with the test strip, place the swab in the sealed container provided with your kit, and mail it back to the manufacturer in a prepaid envelope.
Then, in a matter of weeks, you'll receive a comprehensive report that explains the results of your dog's genetic makeup.
Different tests may provide different results, but in general, you'll be able to see a percentage breakdown of the breeds that make up your dog, as well as some health-related information about their risk for developing certain hereditary diseases.
The Best Dog DNA Test Reviews
In the following article, we've chosen a few of the best dog DNA tests and given you all the information, explaining what you'll be able to learn from each one. All tests are simple at-home cheek swab tests; however, each one will differ in the results that you'll receive.
To pick the best product for you and your furry friend, you're going to want to consider the following factors:
Your budget and price
Why you want to administer the DNA test (ancestry and/or health reasons)
User reviews
How fast you need results
Comparison Chart
Embark Breed & Ancestry Identification, Trait & Health Detection Dog DNA Kit
While this may be the most expensive DNA test on our list, it offers both breed and health dog genetic testing information, so you get to know practically everything there is to know about your furry little friend.
In fact, this DNA test will provide you with a comprehensive breakdown all your dog's genetic ancestry from over 200 breeds, as well as screening them for more than 165 genetic health conditions that they may be at risk of.
In other words, you'll be able to learn about why your furry friend is the way he is, as well as learning how you can better tend to his specific health needs.
Another positive feature with this test is that it will generate a comprehensive Vet Report, which you can print off and submit to your vet to help them stay on top of your four-legged friend's overall well-being.
You can really trust the results provided by this test since it was designed and developed by researchers at the Cornell College of Veterinary Medicine to examine 200,000 genetic markers, which is about 100 times more than most other genetic animal tests on the market.
One other thing that makes this DNA test stand out is the fact that it provides a wider range of information about your dog's traits. This includes an abundance of information about your dog, ranging from the color of its coat through to its ability to adapt to certain altitudes.
So, unlike most other tests, which only explain what breeds make up your dog's, the Embark Breed and Ancestry Identification test explains the genetic reasons for why your dog looks the way it does.
Wisdom Panel Breed and Health Identification Do​​g DNA Test Kit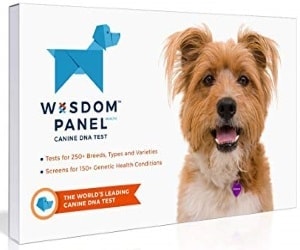 The next DNA test on our list is the Wisdom Panel Breed and Health Identification DNA test. This test provides you with both ancestry and health information about your pup, and traces its DNA back 3 generations across 250 of the breeds that are recognized by the American Kennel Club (AKC)
One distinct feature about this DNA test is that you get to choose whether the test is run to screen your dog as a purebred, a designer, or a mixed-breed dog. The test's results include a predicted weight profile, as well as explains some of the most common traits exhibited by your furry friend's breed.
Also, the test will screen your pup for more than 140 genetic mutations known for causing disease. It will include a detailed description, as well as a risk indication of the disease's severity.
Wisdom Panel 3.0 Breed Identification Dog DNA Kit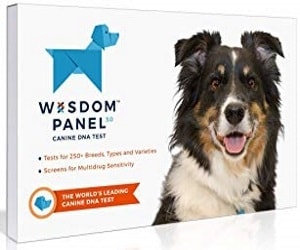 This dog genetic testing kit is very similar to the previous DNA test by Wisdom Panel, except for the fact that this test only checks for breed identification and won't screen your dog for any potential genetic health concerns.
Like the other tests on our list, this test is also performed as a simple cheek swab. The main difference here is that this test goes a little more in-depth into examining the genetic ancestry of your dog, as opposed to its health concerns.
Just like the results of the Wisdom Panel Breed and Health Identification, the 3.0 Breed Identification test will also provide you with a predicted weight profile. However, this test also screens your dog for the multidrug resistance 1, also known as the MDR1 genetic mutation, which may cause adverse effects to some of the most common prescription canine drugs.
Again, you also get to choose from a purebred, designer, or mixed-breed test.
The purebred and designer DNA tests will compare your dog to others of the same breed, whereas the mixed-breed test will test from a wider range of breeds to learn about your dog's genetic composition.
Furthermore, the purebred test's results also include a Homozygosity Profile, which measures certain predetermined genetic markers.
DNA My Dog Breed Identification Test Kit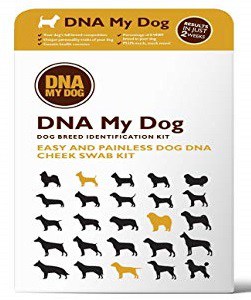 The final and most affordable DNA test on our list is the DNA My Dog Breed Identification Test Kit. Just like any of the other tests, the DNA MY Dog test will help you learn more about the genetic makeup of your dog.
After swabbing your dog's cheek and sending the sample in for analysis, you'll receive your results explaining the history of your dog's breed, their physical and behavioral traits, recommended exercise levels, as well as a bunch of more information to get to know your dog on a whole new level.
The thing I liked the most about this test is that DNA MY Dog provides results in about 1 week, compared to the 2 to 3 weeks with most other tests. Faster results make this test excellent for those whose dog may be sick and who may need results sooner rather than later.
Also, with this test, you'll get a custom photo certificate of your dog's breed composition, a detailed report explaining your dog's dominant breed makeup in percentages, a list of behavioral traits and potential health concerns. Plus, you'll also get a DNA My Dog's Life Plan, which includes recommendations on how to better care for your dog throughout each stage of their life.
Choosing the Best Dog DNA Kit
While all the DNA tests that we've talked about today are excellent for learning more about your dog, it's important to remember that not all DNA tests are built the same.
So, to choose the best DNA test for your dog, you're mainly going to want to consider what type of results you're looking for.
For example, if you're only looking to learn about your dog's genetic ancestry, you might be better off trying the Wisdom Panel 3.0 Breed Identification test. However, if you want to learn about their genetic ancestry AND what health conditions they may be susceptible to, you might be better off going with one of the other tests on our list.
Also, remember that going with the most expensive DNA test doesn't necessarily mean you'll get any better results. The first two tests in our review had significantly different costs, however, they provide almost the exact same results.
With that being said, it's important to shop around and learn about what each DNA test has to offer. Then, consider the reasons as to why you want to administer the test, and that should give you a good idea of which test is best for your four-legged best friend.
Top Picks For Our Dogs
For a list of all the supplies we get for our new service dog puppies check out our New Puppy Checklist on the PuppyInTraining.com blog.