This post may contain affiliate links. We may earn money or products from the companies mentioned in this post.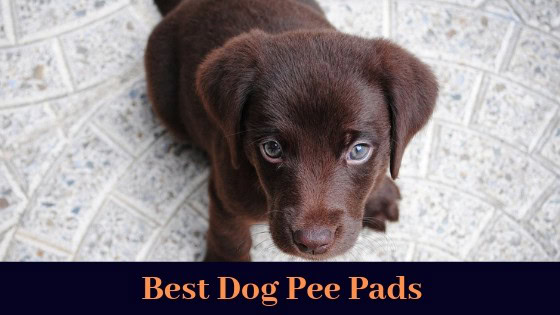 Not so many things match the joy of raising a puppy. If you've ever done it, then you know how exciting it can get, not to mention the happiness pups bring to the whole family.
But let's face it, when she gets messy, the experience can be a little frustrating. Potty training can definitely help with that and what's even better is that the process doesn't have to be long, tiring, and involving or one that requires plenty of time, patience, and persistence.
Dog pee pads have made things a little bit easier. Now you don't really need to be at your home or dedicate all the attention to your little friend just to avoid those unfortunate accidents on your carpet.
Instead, the pee pads will take the hit where you would have dealt with unpleasant odors and stains stuck in your rug. In fact, if used properly, the pads can greatly assist to toilet-train your pet.
Nowadays, we have so many varieties designed to match the needs of your puppy as well as your expectations as a pet parent. I'll be looking at them in detail shortly. But first, I'll show you how to identify an option that is right for your dog.
Products
Breed Size
Construction
Odor Neutralizer
Rating
Wee-Wee Puppy Pee Pads for

Larger or Multiple Dogs

Large & giant
5 layers
Unscented
Frisco Training & Potty Pads
Toy, extra small, small, medium, large & giant
5 layers
Unscented

American Kennel Club Fresh

Scented Extra Large Training Pads

Small, medium, & large
6 layers
Scented

All-Absorb Training Pads

Small, medium, & large
5 layers
Unscented

Hartz Home Protection Gel Dog Pads

Small, medium, & large
6 layers
Scented
What To Consider Before Buying Dog Pee Pads
In case you've not made up your mind yet on whether you need pee pads for your dog, it would be great to note they are great for several situations, besides housetraining your puppy.
Here are some of them:
Helping an aging or sick dog
For traveling purposes, say, to protect your seats or avoid making stops
When you live in an apartment or any other place without a private garden
Where your pup may not be able to access the outdoors on time
That said, it would also be helpful if you also spared some time to learn how to use a dog pee pad properly. I found a great video by Chewy that explains it well:
Once you've figured all that out, now proceed to look into each of these factors as you hunt for a dog pee pad that will fit your pet:
Absorbency rate – Make sure the pad is highly absorbent. Find out how much liquid it can actually hold (a minimum of 3 cups would be great). If it's the type that gets wet and begins to drip after one bathroom break, that's definitely the wrong option.
Resistance To Wear And Tear – Because pups tend to be playful while some are aggressive chewers, it would be great to identify a pad made from a material that is not easily destroyable.
Leak-Proof – Nearly all pee pads have some form of a waterproof feature. However, some tend to be more effective than others. If possible, check out the reviews to see what other pet parents are saying. Also, consider brands that have a 100% leak-proof guarantee.
Odor Neutralizer – Odor control is where the pad has a mechanism that prevents the smell of urine from spreading. Some dog urine pads tend to be better than others at this. You will also encounter some that come complete with a fragrance designed to mask those unwanted smells.
Attractants – Attractants are elements that have been added to the pads to make them attractive to your pet. They include things like pheromones, ammonia and the like. Thus, your pup is more likely to move towards the pad than to your rug.
Quick-Drying Surface – Look out for pads that have a quick-drying top layer as this helps to prevent things like urine-soaked paw prints.
Dog Potty Pads Reviews
Now let's see what makes these five options special and worth a try.
American Kennel Club Fresh Scented Extra Large Training Pads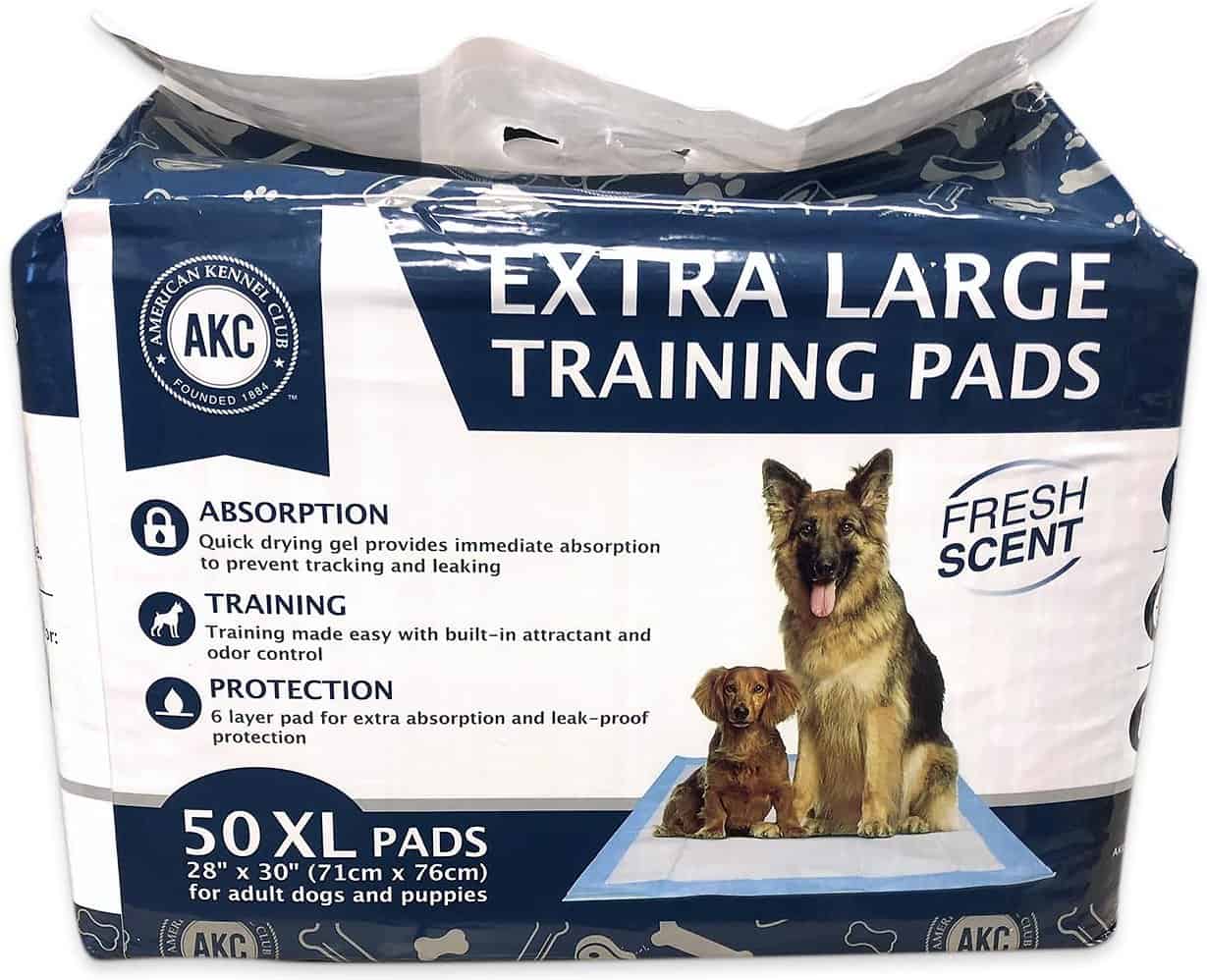 American Kennel Club Fresh Scented is the ideal pee pad that will rescue you from having to clean up your doggie's potty mess on your carpet or sofa and dealing with the resulting odor. In case you are wondering how helpful this pee pad really is, these features tell it all.
For starters, this particular variety is extra-large, measuring 30 inches and 28 inches. So, you can be sure that it will be spacious enough for a pup(s) or an adult dog.
Secondly, it is constructed with a 6-layer composition that has absorbent gel for superior absorption. This sort of construction is not only effective in absorbing but crucial for preventing leaking and tracking.
Key Features
Extra large

6-layer composition for better absorption and comfort

Absorbent gel
As for the pros and cons, here's what to expect:
Pros

Cons

Super absorbent

Antibacterial and odor resistant

Freshly scented

Great for the house and traveling

Not washable and pee pad has to be disposed of once used up
Wee-Wee Puppy Pee Pads for Larger or Multiple Dogs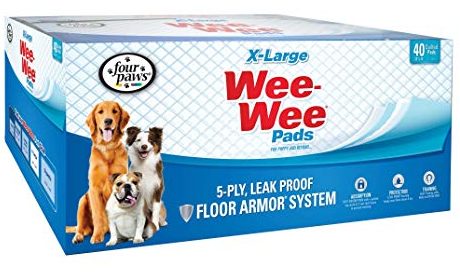 Of the many things that make the Wee-Wee Pee Pads special, the 5-ply leak-proof Floor Armor System seems to be the most loved since it allows dogs to pee as they want without messing up your rugs or seats.
Although potty training is not rocket science, you will have an easier time doing it with the help of this pee pad because it is treated with a special additive that attracts your pooch when it's time to pee.
Knowing how much pet parents loathe the stench of urine in the house, Fours Paws also equipped this pee pad with a quilted top that locks away moisture and neutralizes odor. Plus the liner is an effective floor armor that helps to keep your carpet safe.
Also, the construction design of the Wee-Wee Pad makes it leak-proof and being extra-large makes it able to provide plenty of space for potty business.
Key Features
100 percent leak-proof

5 layers of effective absorption

Leak-proof liner that ensures your floor stays dry
Pros and cons include:
Pros

Cons

Made of two reinforcing layers that see to it all liquid is pushed under the top surface

Polymer core locks in liquid

The top layer does not shred and stays in place without clinging to your dog's paws

The 5-ply leak-proof feature ensures absorption is effective

You may have to buy frequently as these pads are disposable
Frisco Training & Potty Pads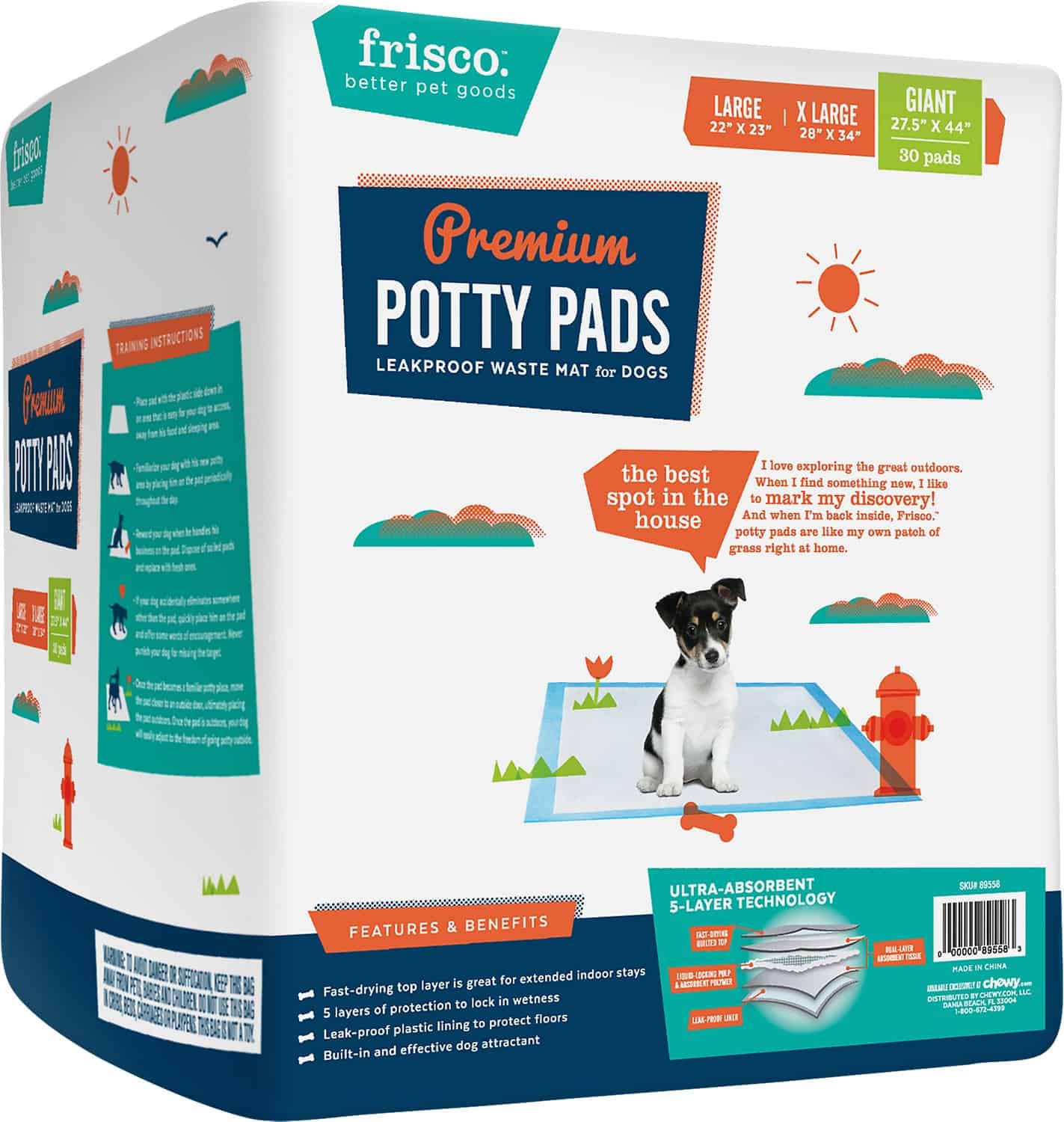 Top on the list of things that make Frisco Training Pads highly-rated is the fact it has been infused with an attractant that helps your pooch to get used to the pad quite quickly without belabored and lengthy trainings that leave you exhausted.
And with its good retentive composition, your floor will definitely stay dry with no leakages or wet paw marks. Just remember to give your furry pal a treat during the training phase for encouragement whenever she has to pee on this pad.
Key Features
5 layers of protection to lock in wetness

Effective retention ability

Infused with an attractant

Leak-proof plastic lining
As for the pros and cons, here's a summary:
Pros

Cons

The quilted top layer is fast-drying and prevents tracking

Highly absorbent for extended indoor stays

The attractant makes it easy to potty train

Ideal for crate protection in the house or in the car during transportation

If you are looking for disposables, this pad will be great, but certainly not recyclable
Hartz Home Protection Gel Dog Pads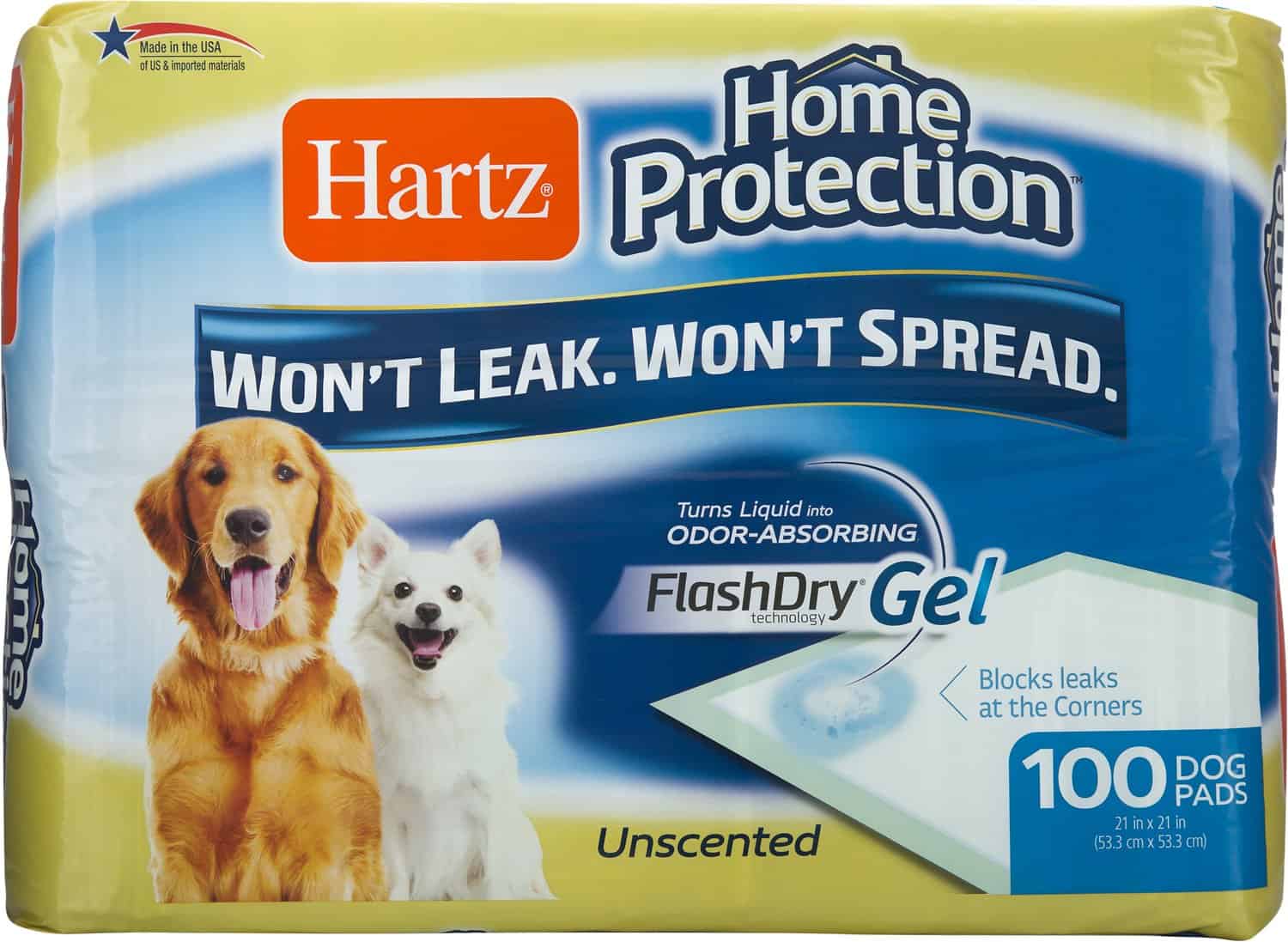 If you ever bought a pee pad for your dog and ended up experiencing run off and tracing, it means the construction of that product was not thorough.
Because it was made with such an eventuality in mind, the Hartz Home Protection Gel Pads pride themselves in being pleasantly effective at absorption, thanks to the unique flash-dry technology that promptly turns urine into gel. This automatically solves issues such as runoff and wet paw marks every time your pup does his potty thing.
From experience and based on what fellow parents admit, masking odor seems not to be as effective as neutralizing it. Well, this pee pad neutralizes odor, meaning the potty area will be kept as fresh as possible for longer.
Also, this pee pad is versatile as it can be used for the house potty, crates, or as a car seat protector when traveling with your furry buddy.
Key Features
All-around leak protection

Flash dry technology

Neutralizes odor
Pros and cons include:
Pros

Cons

Turns urine into gel instantly thereby preventing tracking and runoff

Odor is kept under control by being neutralized

It's lavender scented

Flash dry system creates small urine spots allowing your dog to easily find a fresh spot on the pad with ease

As disposables, this will get the job done. However, you will need to buy frequently as they are not recyclable
All-Absorb Training Pads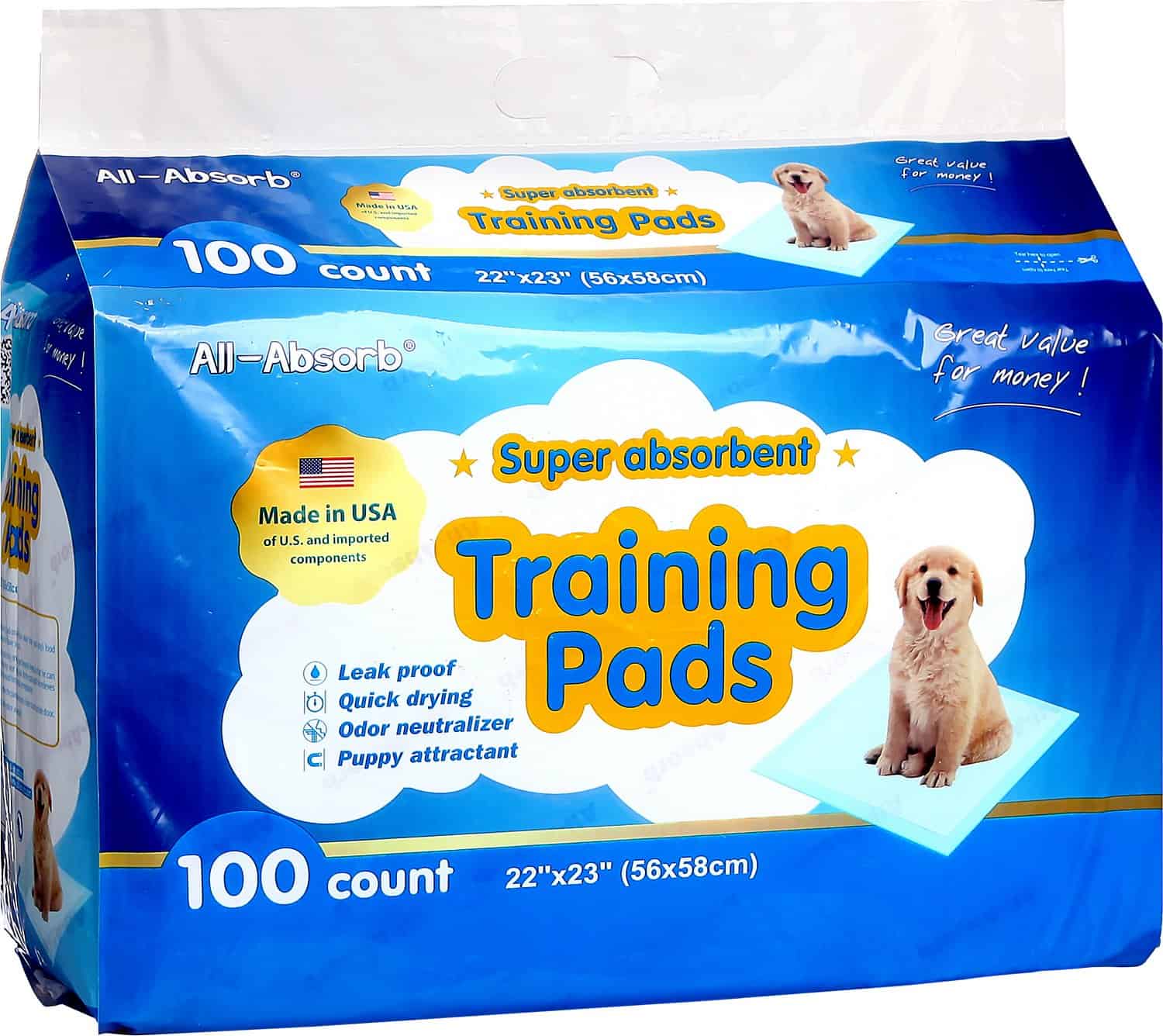 All-Absorb Training Pads boast of multiple effective features that combine to make them great at taking care of your dog's potty mess. Like most of its close competitors, this pee pad has an attractant in them, making it ideal for potty training.
You will be excited to know that the underside of the pad is 100-percent leak-proof while its 5-layer pad, which is super absorbent and highly retentive, ensures that there's no runoff.
Amongst the five layers, you will find baking soda, fluff pulp as well as a polymer core. This combination of materials ensures absorption, retention, and zero leakages.
You can use this pee pad in a variety of ways, including in your pet's crate, potty, or car seat during transportation. Also, at 22 inches by 23 inches, that's enough surface space for your pooch to take care of her potty business.
Key Features
Quick drying surface

A gel that effectively arrests and holds the urine thus preventing runoff

Built-in attractant and odor neutralizer
Pros and cons include:
Pros

Cons

100 percent leak-proof

100 percent leak-proof

Easy to use due to the presence of an attractant

Instantly turns urine into gel and neutralizes odor

These work amazingly well if disposables are what you are looking for. However, they are not recyclable.
Conclusion
As a pet parent, I have to admit that I find dog urine pads as a basic need for my furry friend. You could use anything else, say a rug or piece of newspaper, but then it wouldn't be as absorbent, protective of the floor/rug, and comfortable for your dog as a pee pad would.
Yet that's not even all you will gain from a pee pad. You've probably identified other benefits from our reviews and guide, which means now you have more than enough reasons to give it a try.
For a few dollars, you can get a pad you and your dog will live to love. Please don't deny her this awesome item. Better still, placing your order for any of the great pee pads I've reviewed is as simple as clicking the buy button.
Top Picks For Our Dogs
For a list of all the supplies we get for our new service dog puppies check out our New Puppy Checklist on the PuppyInTraining.com blog.