This post may contain affiliate links. We may earn money or products from the companies mentioned in this post.
This Kirkland Dog Food review will leave you wondering where this brand has been hiding for so long—a comprehensive look at the dog food that's been flying under the radar (but not for long).
Introduction
It's no surprise that large franchises are capitalizing on the pet food market and Costco is no exception. Kirkland Dog Food is made and distributed by Costco, a bulk store here in the USA. Many pet owners have questioned is Kirkland Dog Food good for their pup and we're excited to look into this question to determine whether or not this dog food is of top quality. With grain-free recipes and probiotics infused in each recipe, Kirkland Dog Food has great benefits to offer your furry friend.
Our Rating
We give Kirkland Dog Food receives a super premium 4.5 out 5 stars rating.
At a Glance: Our Choices for the Kirkland Dog Food
Review
This is not your typical dog food brand on the market and it is clear that customers like this dog food as well as the well-known brands out there. From a customer review standpoint, Kirkland brand dog food reviews show that pups are happy and healthy with this dog food. Many customers reported their dogs looking healthier after eating this particular brand (healthier skin and coats, better weight, etc.). When you take a look at the ingredients, you will see that chicken is one of the top ingredients. While this is a quality ingredient, it can be a trigger for some dogs' allergies so it's not the top choice for ingredients. However, there is a drawback with this product: you can really only purchase Kirkland brand dog food at Costco. Amazon.com does have one product available for online ordering, but that is it. Overall, when you ask how good is Kirkland Dog Food for your pup, you can rest assured this is a good choice for your pup, and your pup will certainly thank you.
Pros
Healthier Pups
Customers reported that their dogs were healthier after switching to Kirkland brand dog food. Their pups were at a healthier weight, had better skin and coats, and seemed to have an overall boost in energy.
Perfect Price
Obviously when you buy anything from a bulk store, you are going to get a great value. Kirkland brand dog food is no exception here. Customers were very happy with the price of the pet food and the quantity of dog food they received for the price.
Great Taste
Furry friends all over are enjoying the great taste of this dog food every day! Reviews on Kirkland brand dog food show that picky eaters are no longer picky anymore; they're gobbling this kibble right up.
Cons
No Easy Transition
Some customers reported that the transitioning process for their pup was not an easy one. Reports of gastrointestinal issues were reported along with upset stomachs for some dogs. This was not a common theme; however, so it is fair to say that these were isolated incidents.
Not Easily Accessible
Because Kirkland brand dog food is sold at Costco exclusively, this is not an easy brand to find regularly. Amazon.com does sell one product from this line, but for the most part you have to travel to a Costco to get the food! Kirkland brand dog good reviews show that this is a bit of a problem for many customers.
Product Line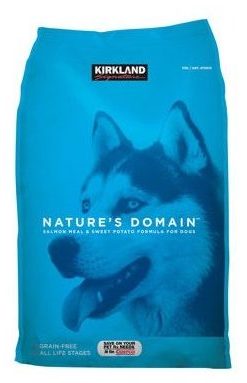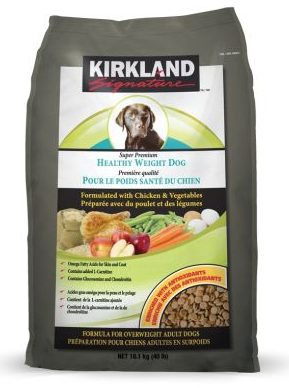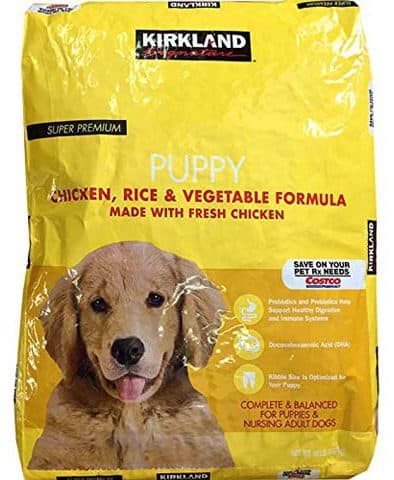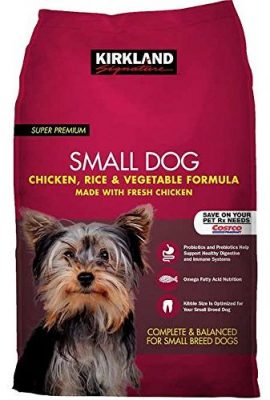 Ingredients Analysis
One of the key elements to be noted in the ingredients is the use of mostly meat products. There is a great deal of meat used in the ingredient list and this a really positive thing for your dog! What that means is that your dog will receive more meat and less fillers like grain. There are not many recipes offered that are grain free, which means the recipes have rice, wheat, soy, etc. These grains are known for causing issues for pups with allergies. The ingredient list does show that ingredients are above the average ingredient list for comparable dog food, which is a really positive thing for this relatively unknown dog food.
Recall History
According to the FDA's website, there are no recalls listed for Kirkland brand dog food and subsequent products in their line.
Video
Conclusion/Wrap Up
It seems that Kirkland brand dog food reviews are proving that this is an underdog in the dog food market. Not too many people know that Costco has dog food, especially not this type of quality of dog food! If you have a Costco around your city, it is worth giving Kirkland brand dog food a shot—your pup might just think you're the best thing since sliced bread.
Top Picks For Our Dogs
For a list of all the supplies we get for our new service dog puppies check out our New Puppy Checklist on the PuppyInTraining.com blog.