This post may contain affiliate links. We may earn money or products from the companies mentioned in this post.
Freshpet Review – Should I be Feeding My Dog Freshpet Dog Food?
Freshpet has firmly established themselves in the pet food market as one of the best sources of fresh, natural food for your dog. But is their food really better for your dog than standard dog food, and is it worth the extra expense?
The short answer is that we think that it is!
We believe in the mantra that just like you, your dog is what it eats. Therefore, it is worth investing in fresh food that contains as few chemicals, preservatives, or other nasties as possible to ensure that they thrive.
Just like we know that it is good for us to eat fresh meals made from quality fresh ingredients, the same is true for our pets.
Freshpet, however, is just one of several companies that is trying to meet demand for this type of canine nutrition by cooking up fresh, short-life, preservative-free dog food daily and shipping it out on the same day.
However, Freshpet differs from other services, such as The Farmer's Dog, Nom Nom Now and My Ollie, which are running delivery services that send direct to customers within certain catchment areas.
Freshpet is making their products available for customers to buy in the refrigerated food sections of certain stores, such as Whole Foods and Safeway.
If you live near one of these stores that stock the product, Freshpet offers a great way to give your dog the best quality food.
But let's take a closer look at exactly how Freshpet's food is different from standard dog food, why it is better for your dog, and what exactly goes inside their recipes.
Freshpet Philosophy
Freshpet works on the philosophy that our dogs should be eating fresh meals made from quality ingredients, just like we do. So, the two main things for Freshpet are ingredients and freshness.
Ingredients
For Freshpet, quality ingredients means farm-raised meat and never including animal meal or animal by-products in their recipes.
It also means using fresh fruits and vegetables that we humans would be happy to eat ourselves.
Finally, it means ensuring that all of their foods are free from artificial colors, flavors, and preservatives and anything else nasty that our dogs should not be eating.
Eliminating artificial ingredients and chemicals from a dog's diet has been shown to reduce skin ailments and allergies, digestive problems, and provide better immunity and a longer life as they are getting higher quality nutrients in their diet.
Freshness
Many dog food companies have embraced the need to use quality ingredients and are now following an all-natural philosophy.
What sets Freshpet apart is that they also believe that food should be prepared and eaten fresh and not stored away in a sack or can for several months.
Therefore, ​Freshpet prepares fresh meals in their kitchens every day, from ingredients that have also been delivered fresh on the day. This food is then immediately shipped off to supermarket chains that make it available to customers in their refrigerated foods section.
The result is fresh food, similar to what we ourselves eat, but with particular storage needs and a short shelf-life.
Fresh foods that have not been heavily processed have also been shown to give dogs more energy, better digestion, and a longer lifespan.
Freshpet Dog Food Basics
Freshpet makes their dog food on the basis of some simple principles.
Fresh Quality Meat
First, although dogs are omnivores, they need a lot of meat-based protein in their diet, and fresh meat should form the base of every meal.
Most dog foods follow this principle, listing a named meat as their first and, therefore, most plentiful ingredient, and then topping up their protein content with animal meal or animal by-products.
Animal meal and animal by-products aren't necessarily bad for your dog. They are what is left over after the butchering process, and these include organ meat, bone, skin and hair. It is actually not bad for your dog to eat these things, as they would form a natural part of their diet in the wild.
The problem with meals and by-products is that you never know what exactly is in them, and it is possible that infected meat or other debris has made its way into the mix.
Furthermore, while it is healthy to eat these parts of the animal, they should be supplementing the muscle meat that should form the main part of your dog's diet.
When foods are heavy in meals and by-products, your dog may just be getting too much of these other animal proteins.
Freshpet only uses named meat to make their dishes. Aware that dogs benefit from eating organ meat as well, they will often add kidneys into the mix, but this is clearly stated.
So, with Freshpet, you can be sure that your dog is getting the kind of high-quality animal-based protein that you would probably be happy to eat yourself.
Fresh Fruit And Vegetables
Freshpet couples this meat with fresh fruits and vegetables, which are a great source of essential vitamins and minerals for your dog, just as they are for you.
Freshpet only sources fresh local produce that is grown in the United States, that again, you would be happy to have on your own plate.
Nutrient Pack
There aren't actually as many fresh fruits and vegetables in Freshpet's recipes as I would like to see. Certainly not enough to give your dog all the vitamins and minerals that they need.
To compensate for this, all Freshpet meals are enriched with a Freshpet Nutrient Pack that is designed to make sure that your pet is getting all the nutrients that they need.
This practice is in line with all major pet food companies and considered a safe and effective way to give your dog a well-rounded diet.
Among other things, the Freshpet Nutrient Pack includes zinc, iron, copper, magnesium, sodium, calcium, folic acid, and vitamins E, B12, and D3.
While we would like to see our pets getting these essential nutrients from fresh sources, this type of Nutrient Pack can help put the mind at ease.
Controversial Ingredients
While overall Freshpet puts together a very good meal using quality ingredients, there are a few controversial ingredients that are included in their recipes.
The first is carrageenan. This is a thickening agent commonly used in wet foods that is derived from seaweed and has previously been declared safe for animal consumption.
However, researchers are now seeing evidence that carrageenan triggers an immune system reaction, which can lead to gastrointestinal inflammation. Prolonged inflammation from eating this regularly can be a precursor to more serious diseases.
The jury is currently out of carrageenan and how safe it is for dogs, but we would like to see dog food companies phasing it out, just to be on the safe side.
Freshpet's dry recipes also often contain rice bran, an ingredient that is considered by some to be a superfood, and others a danger. Rice bran is what is left when you remove the outer layers of brown rice in order to create white rice. It contains many important macronutrients and a good amount of dietary fiber.
Rice bran can be considered a superfood as it is low in calories but high in fiber, iron, magnesium, selenium, manganese, and B vitamins. However, rice bran is also high in fat, which is not overly concerning from a dietary perspective, but does mean that it has a tendency to go rancid.
Eating rancid rice bran could, of course, make any dog ill. Researchers have also suggested that some sources of rice bran are high in arsenic, which can also cause serious health issues if eaten in sufficient quantities.
Since Freshpet's meals are cooked fresh and have a short shelf-life, they are unlikely to contain rice bran that has gone rancid. This suggests minimal risk to your pooch, but is something to be aware of.
Freshpet Lines
Freshpet makes several different products, each with a different consumer in mind.
Freshpet Select – this is Freshpet's core line, made according to their basic principles of quality ingredients prepared and made available fresh.
Freshpet Vital – in addition to being freshly made, the Vital line uses only non-GMO, all-natural ingredients sourced from the United States.
Fresh Treat – Freshpet's treats line makes small treats ideal for training and follow the same fresh principles.
Nature's Fresh – this is another fresh line, but specifically made with CAP-certified poultry – this means ethically sources and humanely raised poultry as certified by the Global Animal Partnership.
Deli Fresh – this line has been created by Freshpet specifically for Costco, following their same principles.
Homestyle Creations – this line lets you mix your own meals. It starts with chicken or beef patties, all made with human-grade USDA-certified meat. These can be given to your pup as a meal on its own or you can stir in a mixer, which is a selection of specially chosen fruits and vegetables.
The first three of these are Freshpet's most popular lines, so let's take a look at what exactly is inside.
Freshpet Select
Freshpet's main line is their Select line, which uses only fresh, farm-raised meats and promises to contain no artificial colors, flavors, preservatives, or other nasties.
1. Grain-Free Chicken Roll Recipe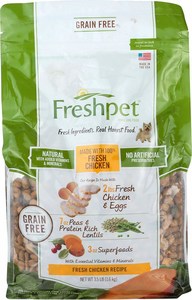 Freshpet's Select line for dogs includes a number of rolls of fresh ingredients that you can keep in the fridge. You simply cut off an appropriate portion at meal time depending on the size of your dog.
Freshpet's grain-free chicken recipe is one of their most popular rolls and a good example of what you can expect from the product.
It starts with farm-raised chicken as its first, primary ingredient, which is cooked in chicken broth and along with chicken liver to ensure maximum animal-based protein, the primary thing that your pet needs to thrive. There is also some egg added to the recipe as an additional source of animal protein.
Potatoes are used to thicken the recipe, and spinach and pea-fiber add some essential vitamins and minerals. However, most of the essential vitamins and minerals in this recipe aren't from fresh fruits and vegetables, but rather Petfresh's vitamin and mineral pack. This is very normal with all dog foods, including high-end dog foods, and is one of the best ways to ensure that your dog is actually getting all the nutrients that they need.
As this meal is cooked fresh and shipped out to stores directly, there are no nasty preservatives added. The food simply needs to be refrigerated and used in a timely manner. However, it is worth noting that the recipe contains carrageenan.
Also available:
Chunky Beef Recipe
Chunky Chicken & Turkey Recipe
Multi-Protein Chicken, Beef, Egg & Salmon Recipe
Puppy Roll
2. Multi-Protein Complete Meal: Chicken, Beef, Egg & Salmon Recipe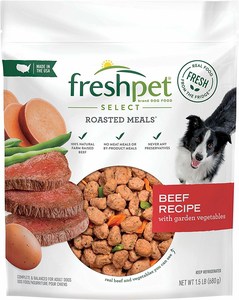 This is an example from Select's dry food range, which unlike wet food, you can leave out for your dog. Compared to most of the dry foods that you find on the market, this is full of high-quality meat-based protein.
This particular recipe contains fresh farm-raised chicken, beed, beef liver, and salmon. The dish is thickened with sweet potatoes, ground oats, and rice bran. Carrots, green beans, pea fiber, spinach, and celery powder provide some fresh vitamins and minerals, and the meal is also enriched with Freshpet's Nutrient Pack.
Also available:
Home Cooked Chicken Recipe

Grain Free Chicken Recipe

Tender Chicken Recipe
3. Stews Grain-Free Beef & Pumpkin Recipe
​Freshpet's select line also includes a number of stews, with fresh pieces of meat in a tasty gravy.
The beef variety stew starts with beef and beef liver in beef broth, though it also contains chicken and eggs as additional sources of animal based protein. The recipe is thickened with pumpkin and lentil flour and enriched with spinach, peas, sunflower oil, cherry juice powder, and celery powder as well as the Freshpet Nutrient Pack. The recipe does also contain carrageenan as an additional thickener.
Also available:
Grain-Free Chicken Recipe
Freshpet Vital Line
​Freshpet's Vital line starts with the same great base as their Select line, but also uses only non-GMO natural ingredients that are made locally in the United States.
1. Grain-Free Beef & Bison Recipe
​This beef and bison recipe is an example of the rolls from the Vital line, which you can keep in your fridge and cut off portions as required.
This recipe starts with beef, beef liver, and bison as its primary ingredients, and it is mixed up in beef broth. It then also contains fresh nutrients from spinach, cranberries, blueberries, peas, celery, and fish oil, plus it is enriched with Freshpet's Nutrient Pack.
Like all of Freshpet's wet foods, it also contains carrageenan, which is an approved ingredient for dog food, but has recently been questioned by some experts.
Also available:
Balanced Nutrition Chicken Recipe

Balanced Nutrition Turkey Recipe

Grain-Free Multi-Protein Recipe

Grain-Free Salmon & Ocean Whitefish Recipe

Grain-Free Small Breed Multi-Protein Recipe

Grain-Free Small Breed Poultry Recipe

Grain-Free Turkey Recipe

Puppy Grain-Free
2. Grain-Free Beef Recipe with Lamb
The Vital line also has a selection of recipes, which is their version of kibble, of which this beef and lamb recipe is an example.
It starts with beef, beef liver, and lamb in beef broth, and then adds lentil flour, egg, peas, cranberries, sunflower oil, spinach, and fish oil along with the Freshpet Nutrient Pack. The only ingredient that I am not keen to see on the list is carrageenan.
Also available:
Grain-Free Chicken, Beef, Salmon & Egg Recipe

Grain-Free Small Breed Chicken Recipe
3. Fresh Cuts Chicken Recipe
​The Vital line also contains a fresh cuts recipe, which is basically shredded chicken with a few added ingredients, including sweet potato, carrots, peas, green beans, cranberries, fish oil, and spinach. On top of this, it is enriched with Freshpet's Vitamin Pack but also contains carrageenan as a thickening agent.
Fresh Treats
What is the point of feeding your dog the best possible food only to undermine it with treats that are full of preservatives, sugar, and other nasties that your pet doesn't need.
That is why Freshpet also makes a treats line.
1. Dog Joy Chicken Treats
​Freshpet's Dog Joy line of treats are made with real meat as its main ingredient, baked into a snack that is low in calories but high in taste.
This chicken recipe starts with chicken and chicken broth as the main ingredients, mixed up with ground oats to give the treats that desired texture. The recipe then adds naturally flavors to create a barbeque taste that dogs find irresistible.
Also available:
Turkey & Apple Bites Treats

Turkey Bacon Treats
2. Dognation Chicken Snack Stick Treats
​Freshpet's Dognation treats are a bit different in that they also include natural supplements to promote healthy joints. So, when you give these treats to your dog, you can feel like you are doing something good for their health, as well as their smile.
This recipe again starts with chicken as its first ingredient, mixed in with a little bit of beef to get the desired flavor, along with salt, evaporated cane juice, and celery powder.
The recipe also contains rice bran, which as discussed, is considered by many a superfood because it is high in fiber and nutrients but low in calories.
The recipe also includes glucosamine hydrochloride, chondroitin sulfate, and dried pediococcus acidilactici fermentation product. These all sound a bit unusual, but they are natural ingredients that are not unusual to see in dog foods.
Also available:
The Verdict
At the moment, we are looking at a bit of a pet food resolution. Gone are the days when we didn't really consider what went into the dry biscuits or potent smelling meaty mixes that we gave our pets.
As awareness of the impact of good nutrition of our health is spreading, many dog owners are now putting a lot more thought into what goes into their dog's bowls.
Several years ago this resulted in dog food companies improving the ingredients that they put in their meals.
They started removing artificial ingredients and started looking for natural ways to preserve and flavor food.
Some also began to skip the animal meal and meat by-products in favor of better quality meat. These foods have quickly taken over the market.
The next revolution in dog foods is to deliver food to dogs while it is still fresh, rather than letting it sit in a bag or a tin for months on end.
Freshpet is just one of a series of new companies that are trying to meet this need.
Most of these new companies are setting up delivery services that send fresh food direct to the owner's door.
Freshpet is doing something a bit different in that they are making their foods available in the refrigerated isles of several major supermarkets, including Whole Foods, Safeway, and Costco.
If you life near a supermarket that stocks this food, then Freshpet is a convenient and affordable way to start feeding your dog high quality fresh food.
Save to Pinterest: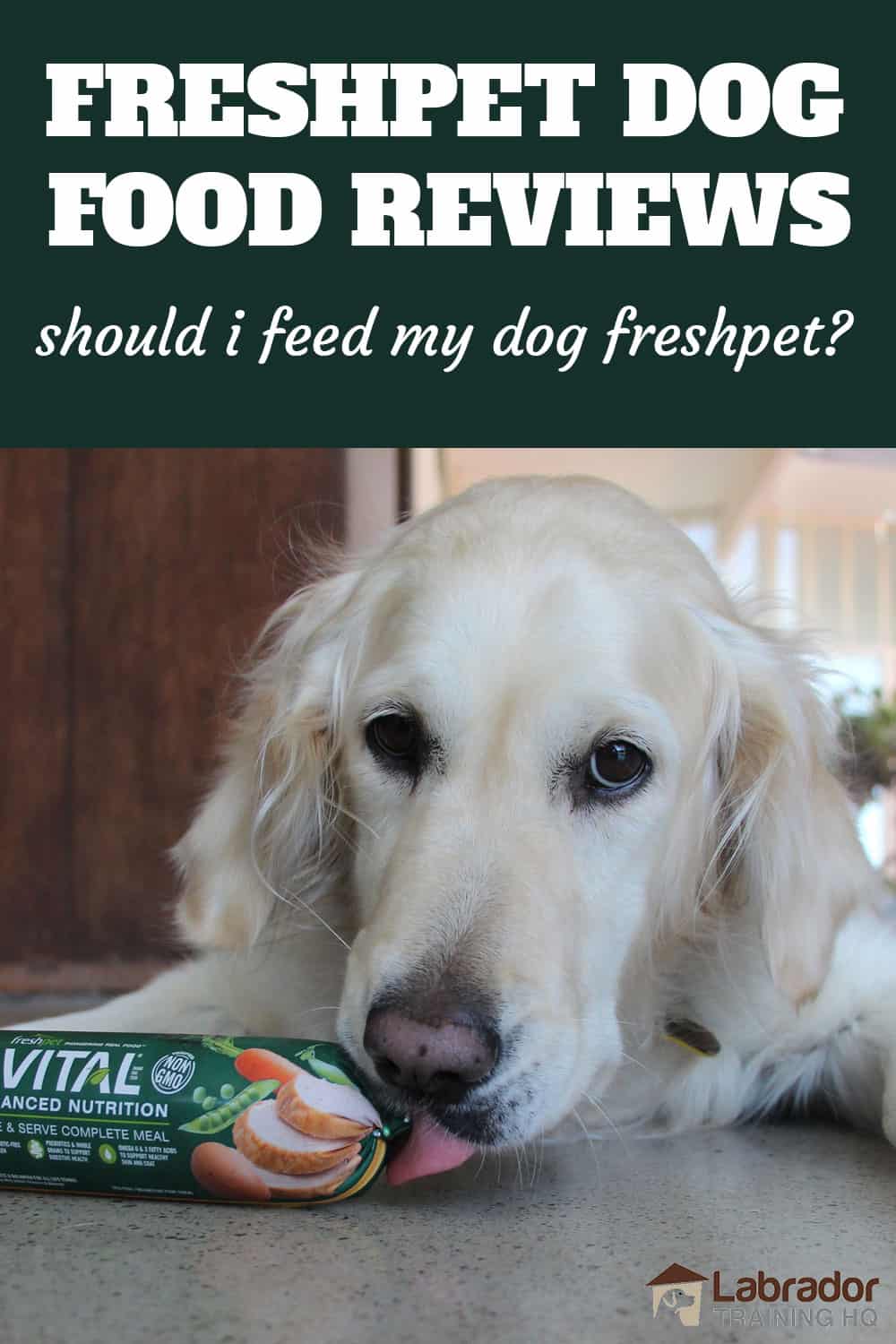 Freshpet Reviews – Should I Feed My Dog Freshpet Dog Food?
Top Picks For Our Dogs
For a list of all the supplies we get for our new service dog puppies check out our New Puppy Checklist on the PuppyInTraining.com blog.