This post may contain affiliate links. We may earn money or products from the companies mentioned in this post.
Best Whistles For Dogs
Some dogs are barkers; it is in their nature. Someone rings the doorbell, and the barking begins; someone passes by the fence, and the barking begins; a cat enters the garden, and the barking begins; a dog passes by, and the barking begins.
But just because we love our dog doesn't mean that it isn't a bit annoying when they are barking away. The situation only gets worse when we have to raise our voice to get their attention.
Before you know it, we are all barking, and neighbors that might have been put out by a barking dog are now well and truly annoyed. Fortunately, dog whistles offer a great, silent mechanism for training your dog not to bark.
How exactly can something silent stop your dog from making noise? Don't worry, we'll explain the science below in our buyers guide, as well as how to train your dog to respond to the whistle and how to use the whistle.
We'll also point you towards the five best dog whistles that you can get right now to bring law and order back to your home.
It is worth noting before we start that not all dog whistles are silent, and that dog whistles can be used for a wide variety of training, not just anti-barking training. They are a particularly common tool for working dogs, such as sheep dogs and hunting dogs.
Spoiler alert! Our favorite dog whistle is the Acme 535 Silent Dog Whistle. It is inaudible to humans, and you can adjust the frequency to suit different dogs or to give your dog multiple commands. This whistle is ideal for anti-barking training at home, as you won't be adding more noise into the mix.
5 Best Dog Whistles
1. Acme 535 Silent Dog Whistle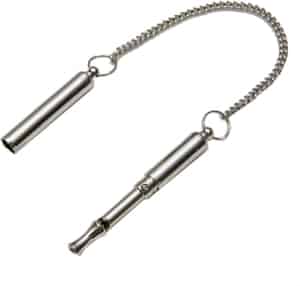 When it comes to a silent whistle for training your dog at home, you probably can't do much better than the Acme 535 silent whistle. It has an adjustable frequency of between 5,400 and 12,800 Hz, which is important as not all dogs have the same level of hearing. This whistle can be heard by dogs up to 400 yards away and is inaudible to the human ear.
Made from solid brass with nickel plating, this whistle should also hold up against the test of time, no matter how much wear and tear it goes through. According to the manufacturer, it can also be used for training dolphins and whales, if that is something you are interested in doing.
However, this might explain the pretty hefty price-tag that accompanies this item.
Dog whistles are a great training tool, especially if you want to be able to send your dog silent commands. But the whistle is just a tool and not a magical weapon against barking. It is only effective as the dog training that accompanies it. But if you are looking for a whistle to train your dog, we love the .
Pros
Adjustable frequency
Long range
Durable
Cons
If you are looking for a dog whistle for training your dog at home, then this silent whistle from Acme will let you get your dog's attention, but not the neighbours.
2. forePets Professional WistCall Bark Control & Obedience Training Dog Whistle
If you are looking for a more affordable alternative to the Acme, then consider this whistle from forePets. This is another silent whistle that features an adjustable tone, which means you can find the ideal ultrasonic frequency for any pooch.
The designers of this whistle were thinking about you as well as your pooch and the likelihood of whistles getting lost.
This whistle comes with an innovative special locking nut, snap cover, and lanyard to be sure the whistle stays on you. The only reason this whistle comes lower down on our list than the Acme is that once a frequency is set, it does not always stay in place, so it needs to be checked regularly.
Pros
Adjustable frequency
Affordable
Anti-loss features
Cons
Requires regular frequency adjustment
If you are looking for a whistle that is silent, frequency adjustable, and affordable, than forePets is an excellent option.
3. Acme 210.5 Dog Training Whistle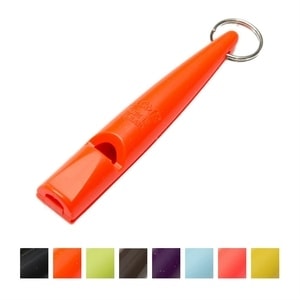 This is probably the most affordable and simple dog whistle that you can get. It comes with just one frequency, 59000 Hz, which both dogs and humans can hear, so that everyone knows that the call has been issued.
The whistle is compact in size and is made from high-impact symonite plastic that won't get damaged, even if your dog manages to get it between his teeth. The small size is good for carrying on you and it has a ring, so that it can be attached to a lanyard or key-chain.
Pros
Cons
One frequency only
Human-audible
This whistle will work for anyone just looking for the basics to let them train their dog and doesn't want to be bothered with a lot of features.
4. Acme 575 Shepherds Mouth Nickel Plated Brass Dog Whistle
This whistle, designed specifically to use with working dogs, is ideal for anyone who wants to keep their hands free. Made from nickel-plated brass, you insert it in your mouth and manipulate it with your tongue to produce a range of different pitches.
This dog whistle is audible, so both you and your dog can hear that the command has been given. The material that the whistle is made from is shatter proof and bite resistant, so it shouldn't come apart in your mouth or if it makes it into your dog's. It is also pretty affordable, so it won't leave you out of pocket.
Pros
Hand-free
Affordable
Durable
Range of pitches
Cons
If you are planning on doing the type of training with your dog for which it would be beneficial to keep your hands free, then this professional moth whistle is what you need.
5. SportDOG SAC00-1175 Roy Gonia Competition Dog Whistle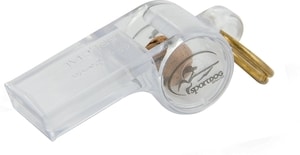 If you need a whistle for training your dog over long distances or larger spaces, then this competition whistle from SportDOG will suit your needs. It uses a lower-pitched sound than many other whistles, which means that the sound carries further, but it is also human-audible.
Nevertheless, trainers won't need to worry about the health of their own ears, as the whistle is specially designed to send sounds forward, towards your dog and away from your eardrums. The whistle also features an easy blow design, so you shouldn't find yourself feeling blue in the face after a full day of training.
Pros
Longer range than most whistles
Projects forward to protect eardrums
Easy blow design
Cons
If you need to be able to send your dog training signals at a distance, then the lower pitch of this SportDog whistle will help significantly.
How Do Dog Whistles Work?
Before getting into the details of how dog whistles work, there are a few myths to bust.
First, dog whistles don't need to be silent; whistles that you can hear can also do the job, but silent whistles are preferred when you don't want to bring more sound into the home.
The silent whistles also aren't silent, they are just at a frequency that our human ears can't hear but the more sensitive ears of our dogs can.
Humans can generally hear up to 20 kHz, but silent dog whistles will emit higher sounds in the ultrasonic range from 23 to 54 kHz. Most dog whistles are actually adjustable and can be used to make both human-audible and canine-only sounds.
Secondly, there is nothing special about the sound of a whistle that will naturally or automatically get your dog to stop barking. It is simply a training tool: your dog needs to be shown what kind of behavior is expected when they hear the whistle.
It is often a preferred training tool when we don't want to introduce more sounds, like voice commands, into the environment.
This is why it is commonly used with hunting dogs, to alert the dog of what to do, without getting the attention of their prey.
The whistle does work by breaking your dog's attention. Usually a dog starts to bark because something has grabbed its attention.
A passer-by or another animal. The sound of the whistle, which should not hurt your dog in anyway, ​but it breaks their focus and captures their attention.
This gives you the opportunity to show them what behavior is desirable in this situation, and reward them when they respond correctly.
After the have been trained, the sound should remind them of what behavior is expected in association with the sound.
I say that dog whistles should not hurt your dog's ears, just like normal whistles should not hurt human ears.
But just like with whistles that humans can hear, the whistle should not be blown too loudly, for too long, or too close to your dog's ears. This is when damage can be done.
Training Your Dog To Respond To The Whistle
But getting your dog to quiet down is not a simple matter of just blowing on a whistle. They need to be trained what to do when they hear the noise. There are a few steps involved in the training process.
​First, identify scenarios that cause your dog to bark, such as the doorbell ringing, people walking by the house, or other animals entering the yard. You can find some other common triggers here.
Next, you need to recreate the triggering situation. This might be as simple as ringing your doorbell. But your dog may be too smart for that, and you may need to get someone to actually ring the bell from the other side. Dogs can be surprisingly crafty!
When your dog begins to bark, give a single sharp blow on the whistle. You may need to do this more than once if they do not respond. However, avoid doing this repeatedly, and avoid long whistle blows. You want your dog to learn to respond immediately.
When your dog does respond with the correct behavior by falling silent, you need to reward them with a treat or praise. You'll find ideas for appropriate treats here. Repeat this many times, both in a training situation and also when something causes your dog to bark spontaneously.
In time, your dog should learn to associate the sound of the whistle with a call to stop barking, and the correct response with a tasty reward. You may even be able to use the whistle to train your dog not to bark at certain trigger situations without the intervention of the whistle.
The Verdict
Dog whistles are a great training tool, especially if you want to be able to send your dog silent commands.
But the whistle is just a tool and not a magical weapon against barking. It is only effective as the dog training that accompanies it. But if you are looking for a whistle to train your dog, we love the Acme 535 Silent Training Whistle.
​Have you guys every used a whistle when training your dog?
Was it effective and did you use it to stop your dog from barking?
Tell us about your experiences in the comment section below.
Save to Pinterest
Best Dog Whistles To Control Barking
Top Picks For Our Dogs
For a list of all the supplies we get for our new service dog puppies check out our New Puppy Checklist on the PuppyInTraining.com blog.