This post may contain affiliate links. We may earn money or products from the companies mentioned in this post.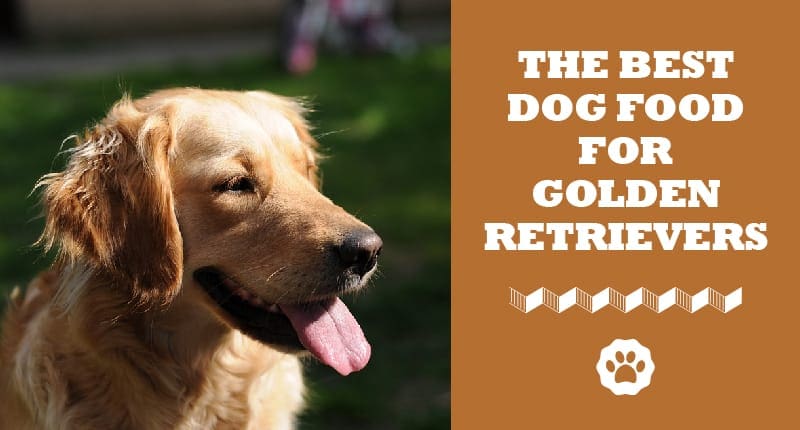 ​Golden Retrievers are like golden orbs of sheer delight. From the moment they're born, the Golden Retriever puppy is a sweet and silly ball of concentrated fun. They're friendly, incredibly smart and love being with other animals, adults, and children. This large breed is easy-going and a pleasure to have around but they do have special dietary requirements that need to be taken into account.
The Golden Retriever puppy is a rambunctious pooch with a voracious appetite, and goes through puppy food as soon as you put it down in front of him. However, as they get older their energy levels drop but their appetites remain the same, which is why a lot end up overweight or even obese.
The right diet for this large breed, from the Golden Retriever puppy phase to full-grown adult, will help keep your dog lean and active, and prevent, or at least slow down, hereditary joint problems like hip and elbow dysplasia.
At a Glance: Our Choices for the Best Dog Food For Golden Retriever
DOG FOOD

DETAILS

OUR RATING

​Royal Canin Golden Retriever Breed Health Nutrition Puppy

The core ingredients are chicken by-product meal, brewers rice, wheat gluten and corn
Suitable for golden retrievers between 8 weeks and 15 months
Features an exclusive combination of antioxidants that support your puppy's natural defenses
The small kibble size, texture and shape increase yourpup's appetite

Taste of the Wild Pacific Stream Grain-Free Dry Dog Food By Taste of the Wild

The key ingredients include salmon, ocean fish meal, sweet potatoes and peas
Rich in natural antioxidants from the fruits and vegetables
Fortified with prebiotics obtained from dried chicory root as well as a proprietary strain probiotic
Manufactured under strict standards in advanced U.S. facilities

​Primal Beef Formula Nuggets Grain-Free Freeze-Dried Dog Food​

Made of beef hearts, beef livers, ground beef bones and organic kale
Contains about 6314 kcal per kg
Best wholesome raw-food diet for your golden retriever
Made of only fresh ingredients including real beef that's void ofantibiotics, steroids and hormones
Supplemented with vitamin E and taurine. Vitamin E serves as an antioxidant while taurine maintains your mutt's retinal health

​Natural Balance L.I.D. Sweet Potato and Fish Adult Formula

It has sweet potatoes, salmon, salmon meal, canola oil and potato fiber
Provides about 350 kcal per cup
The grain-free recipe is ideal for golden retrievers that have food sensitivities
Supplemented with flaxseed that provide omega-3 fatty acids for a shiny coat

​Eukanuba Senior Lamb & Rice Formula Dry Dog Food By Eukanuba

Made of lamb, brewersrice, corn meal, chickenby-product meal, ground whole grain sorghum andfish meal
Formulated specifically forsenior Golden retrieverssince it has reallamb and zero fillers
Enriched with DHA for a healthy brainand vision
Features 3D DentaDefenseto help with cleaning your dog'steeth
The trickiest thing when it comes to the correct diet for Golden Retriever dogs is his changing needs. Also, the breed is prone to developing allergies to any foods in their diet and these can include protein or grains found in pet food. More often than not, these allergies show up as skin irritations.
Gastric dilation and volvulus are also common. This is a serious condition that needs immediate veterinary intervention and while the causes are unclear, the risks can be cut by feeding your pup smaller portions two to three times a day, rather than one big meal. Making sure your dog waits at least an hour before he does any exercise, avoiding elevated food dishes and moistening his food can also reduce the risk.
Because his diet is dependent on his age, our list of recommended dog food for Golden Retrievers includes something for every stage.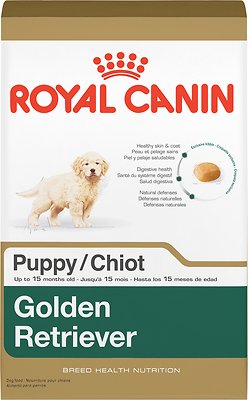 Golden Retrievers, like all large-breed puppies, are disposed to malnutrition and developmental orthopedic diseases, including osteochondrosis (OCD), hip dysplasia, hypertrophic osteodystrophy (HOD), and panosteitis. Although there is a definite genetic element to these conditions, there are nutritional risks that play a large role during the puppy years. These include an excess of calcium intake and rapid growth.
It's essential that large-breed pups are fed a diet that prevents these issues, which is why we think the best dog food for Golden Retriever pups is Royal Canin Golden Retriever Breed Health Nutrition Puppy. Everything about this formula meets the needs of this awesome breed.
The mineral balance and calorie content are ideal for preventing joint and bone issues and the kibble is even designed in such a way to suit Golden Retrievers' teeth. They have what's called a "scissors bite," with a long snout and mouth. Royal Canin kibbles are thin and square-shaped for optimal digestion and chewing.
Because they're a slow maturing breed, it's recommended to feed Goldens this food until they're around 15 months old.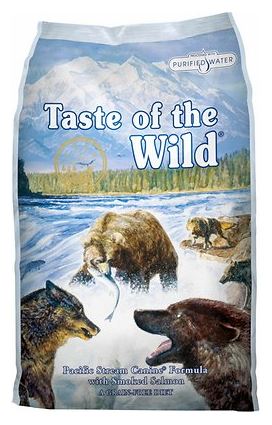 Taste of the Wild is often featured on lists because of the excellent quality of their food. This particular recipe is an excellent pick for Golden Retrievers because of its macronutrient breakdown. It's 25% protein and 15% fat and the protein source is salmon and ocean fish meal, which are less likely to cause allergic reactions. And, of course, the salmon makes it extra tasty too.
The fat content comes from canola oil, a healthy source that's low in saturated fats and high in omegas-3s. Having said that, there are fewer fatty acids when compared to other foods, which makes this one a little less well-balanced. Taste of the Wild contains fruit and vegetables, which is great for Goldens, as the antioxidants are crucial for their overall health and well-being.
Because it doesn't include any supplements or ingredients for joint health, it's recommended to include a supplement for your pooch, or if he suffers from arthritis or hip dysplasia, then it might be better to opt for a different recipe.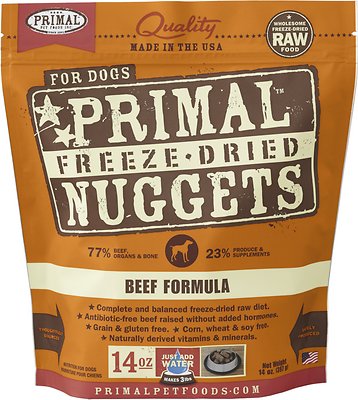 We always like including a product you might not be aware of, which is why Primal Beef Formula Nuggets Grain-Free Freeze-Dried dog food is on the list. Not only is it different to all the other products featured here, it's also a good alternative to a raw diet.
This formula is not wet or a kibble, instead it's a freeze-dried raw food that is hydrated to make it almost wet. If you're keen to try a raw diet for your dog, this is probably the most hassle-free way of doing it. The food is 77% beef and 23% supplements and plant-based foods, so there's very few fillers or unhealthy additives. With the beef, there is also fruit and vegetables including kale, broccoli, apple, blueberry, and yam. And the plant foods are organic, so there are fewer pesticides
If you're new to this type of dog food, the biggest challenge will be in preparing it correctly. We've included a quick clip to show you how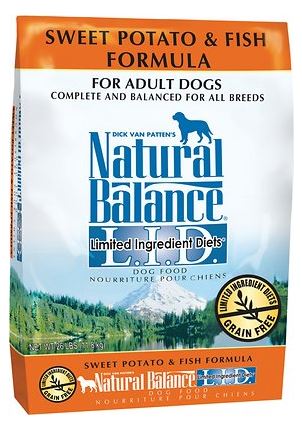 The best dog food for Golden Retriever dogs that are active, of an average weight, and in good condition is Natural Balance L.I.D. Sweet Potato and Fish Adult Formula. It's an excellent choice for adult Retrievers that are over 15 months old up to 7 to 8 years of age.
Because they're prone to itc​​​​hy, dry skin caused by inhaled allergens or atopic allergens, the Limited Ingredients Diet from Natural Balance with fish and sweet potato sup​​​​​​​​port a healthy coat and skin. The salmon and omega-3 fatty acids will reduce any skin irritations too.
If your vet suspects your pup has a food allergy, this isn't the best choice for an "elimination diet" type diagnosis.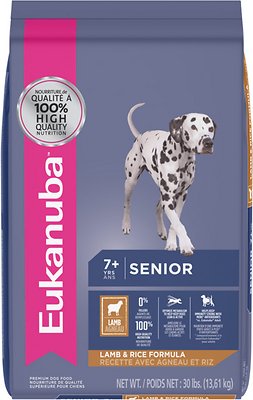 By 8 years old or thereabouts, Golden Retrievers are already considered senior dogs and their dietary requirements change.
Their joints begin to ache and their mental function deteriorates, which is why getting dog food with certain active ingredients is important.
The Eukanuba Senior range of dog foods have high levels of antioxidants that support cell functioning and reduces tartar buildup on their teeth by up to 46%.
Conclusion
Unfortunately, no food alone is going to prevent aging and the issues that come with it.
As thoroughly explained by Chelsea from PupsNPaws.com, the key factors for your Golden Retriever living a long, healthy life include insuring they are in good physical condition, are fed the appropriate life-stage food, and have regular veterinary visits.
A good nutritional diet coupled with the right love, exercise, and care will keep your best friend around a lot longer.
Top Picks For Our Dogs
For a list of all the supplies we get for our new service dog puppies check out our New Puppy Checklist on the PuppyInTraining.com blog.