This post may contain affiliate links. We may earn money or products from the companies mentioned in this post.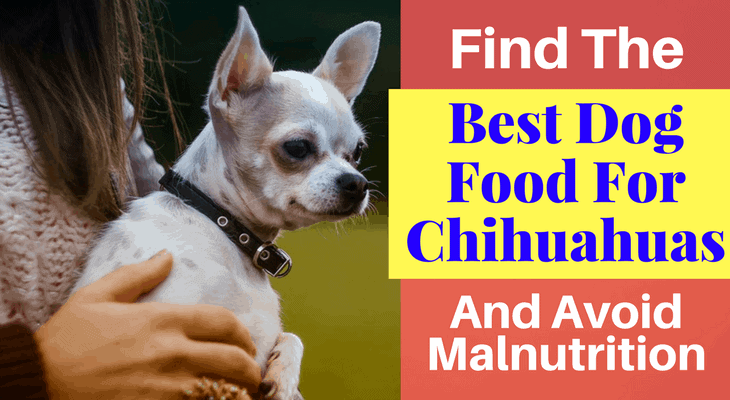 What dog food brands are ideal for Chihuahuas?
What ingredients should one be looking for to find the best dog food for Chihuahua? This article provides guidelines for your Chihuahua's diet.
Introduction
The Chihuahua is a sassy little dog and also one of the smallest dog breeds in the world. It is one of those dogs regarded as a must-have pet and is particularly popular among the affluent. Thanks to its petite size, the Chihuahua is not only good for keeping around your home but also traveling with it. After all, it requires minimal maintenance.
Chihuahuas are cute and very lovable; they prefer that their owners carry them around or have them sit on their laps all day. But to maintain their high-spirited character, a Chihuahua needs to be fed—and, no, I'm not referring to conventional pet products.
The big mistake that pet owners make is to select a one-size fits all feeding approach. These individuals fail to understand that a Chihuahua has very different nutritional requirements compared to, say, a Yorkshire Terrier. We have outlined the top-rated dog foods for Chihuahuas:
At a Glance: Our Choices for dog food for Chihuahua
DOG FOOD

DETAILS

OUR RATING

​Designed specifically for Chihuahua puppies
Some of the ingredients include chicken by-product meal, brewers rice, chicken fat, corn, wheat gluten, and dried plain beet pulp
Ideal for stimulating your dog's appetite

Key ingredients include deboned turkey, turkey meal, chicken meal, potatoes, peas, and dried ground potatoes
Grain-free nutrition solution
Manufactured in the USA
Supplemented with antioxidants and Omega fatty acids

The ingredients include chicken, chicken by-product meal, corn meal, ground whole grain sorghum, and brewers' rice
Perfect for adult Chihuahuas
Features 3D DentaDefense™ system
Supplemented with antioxidants
Also contains L-carnitine

Specifically formulated for small breed dogs
Has 7 types of protein with the core ingredients being chicken, chicken meal, and turkey
The best choice for senior Chihuahuas—can be fed to Chihuahuas at all life stages
Has complex carbohydrates instead of fillers

​Castor & Pollux Organix Dry Dog Food​

It is the best organic food choice for your Chihuahua
The first ingredient is organic and free-range chicken
Absolutely grain-free
Prepared in organically-certified USA kitchen
Reviews of the Best Dog Food for Chihuahuas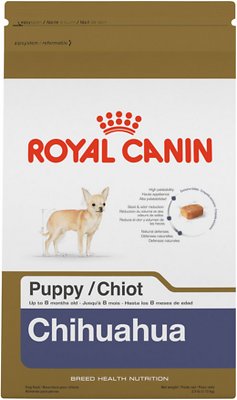 As its name suggests, Royal Canin is the best dog food for Chihuahua puppy.
Our Rating
We gave the Royal Canin dog food for Chihuahua puppies a rating of 4.9 out of 5 stars.
Review
When gathering information regarding names of the best dry dog foods, Royal Canin always ranks at the top. Consequently, it is not surprising that it also makes the best brand for your Chihuahua pup.
What we like most about Royal Canin is that it has unique flavors and aromas that match your Chihuahua's taste buds. Also, the product has small-sized kibble, making it perfect for small dog breeds as the Chihuahua.
Meanwhile, this product is filled with easily-digestible proteins, fibers, and carbs. These nutrients also help in reducing the fecal smell and volume. With the Royal Canin puppy formula, your Chihuahua will end up with one of the shiniest and smoothest coats, thanks to the omega-3 & omega-6 fatty acids. The manufacturer recommends this product for Chihuahuas between the age of 8 weeks and 8 months.
Pros
A wealth of quality nutrients
Aids in eliminating bad breath
Supports your pup's coat beauty
Promotes proper digestion
Cons
The beet pulp, a new ingredient in this product, can be a turn off for your dog
Wellness does not like to leave any stone unturned. This is evidenced by the high-quality of pet foods that it manufactures. The Wellness Core Natural Dog Food is perfect for Chihuahuas that have sensitivities.
Our Rating
Based on the efficiency of these ingredients, we gave this product a rating of 4.8 out of 5 stars.
Review
This dog food is ultimately grain-free, which means that it has absolutely no soy, no artificial flavors, and no additives. Most importantly, it is loaded with high-quality protein sources that come from deboned turkey, turkey meal, and chicken meal.
All in all, feeding the Wellness Core to your mutt helps to improve his skin & coat, digestive system, eyes, teeth, gums, energy, and immune system. In addition, this dog food also contains probiotics, prebiotics, and fiber. These are incorporated to provide a healthy intestinal tract.
Pros
Energy-boosting thanks to the tons of carbohydrates
Filled with antioxidants from various fruits and vegetables
Comes with high levels of protein to beef up your Chihuahua's muscle mass
Live and active probiotics and prebiotics
All-natural
Cons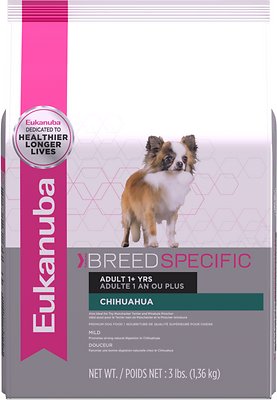 Judging by its composition, this dog food has nutrients essential to the healthy development of your Chihuahua is his adulthood.
Our Rating
We gave the Eukanuba Chihuahua Adult Dog Food a rating of 4.7 out of 5 stars
Review
The Eukanuba is known for manufacturing top-notch dog food tailored for specific breeds. This product is designed specifically for Chihuahuas. One feature that set it apart is the 3D DentaDefense™ system that has been scientifically proven to minimize the buildup of tartar.
Also, the Eukanuba Chihuahua Dog Food has premium fiber obtained from natural beet pulp and prebiotic FOS. These products are essential in promoting the absorption of other nutrients.
If you notice that your Chihuahua has gained excess weight, feeding him a bag of the Eukanuba Adult Dog Food can help. It contains a unique compound known as L-carnitine that helps your dog to burn fat naturally.
Since this is an example of a dry dog food, you should always remember to provide your Chihuahua with fresh, clean water. Also, given the balanced composition of this product, there is no need of giving your pup additional vitamin or mineral supplements.
Pros
Features a balanced composition of all the nutrients
Promotes nutrient absorption
Rich in antioxidants to boost his immune system
Cons
Some Chihuahuas may not like the flavor of the Eukanuba
You can check out a more detailed review of the Eukanuba Chihuahua Dog Food by Chewy.com on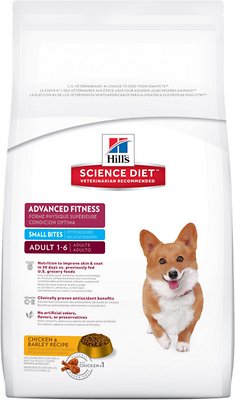 Artemis has a reputation as one of the top producers of dog food. Established in 1998, this company relies on ingredients sourced from the USA.
Our Rating
We gave the Artemis Fresh Mix a rating of 4.5 out of 5 stars.
Review
All the pet foods offered by Artemis constitute a blend of proteins, fat, carbs, vitamins, and minerals. The Artemis Fresh Mix can be fed to Chihuahuas at any life stage—whether a puppy, adult, or senior.
One feature we like about the Artemis is that it's designed with small dog breeds in mind. As such, it has small-sized kibble, making it ideal for Chihuahuas that have petite mouths. Your Chihuahua can comfortably chew the kibbles with his small teeth. Also, his stomach will be able to process the tiny bite-sized pet food.
Artemis Fresh Mix also has adequate amounts of carbohydrates. You will notice that after the protein sources, the next ingredients are mostly carbohydrates. They include barley, oatmeal, millet, and potatoes.
Pros
Manufacturer provides large sample bags to test if your Chihuahua likes the product
Features only high quality and natural ingredients
No meat by-products, corn, fillers, or beet pulp
Cons
May not be available in local pet stores—you'd have to keep an eye on your inventory and place an order online before it runs out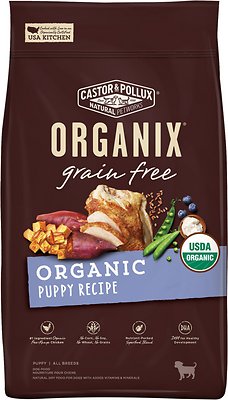 Since it was launched back in 2003, ORGANIX has been the leading organic pet food company. In 2017, this brand improved its standards to become USDA organic. The Castor & Pollux Organic is a highly recommended food for Chihuahuas, especially for those who prefer organic food.
Our Rating
We gave the Castor & Pollux dog food a rating of 4.6 out of 5 stars.
Review
Organix offers a vast assortment of dry and wet foods. This product is made solely from certified organic ingredients, which are grown and raised in the absence of chemical pesticides, synthetic fertilizers, and growth hormones.
The Castor & Pollux has been rigorously tested and evaluated to the highest levels of quality and safety. It means you will never have to worry about your Chihuahua falling ill.
Pros
Ingredients are entirely natural
Regulated: made in the USA
Cons
Slightly pricier than other dog foods
Conclusion
Based on AKC registration statistics, the Chihuahua is constantly ranked as one of the 25 top breeds (http://www.akc.org/content/news/articles/most-popular-dog-breeds-full-ranking-list/). Sometimes, he gets a bad rep for being too aggressive and yappy.
But, with proper training and diet, the Chihuahua can serve as an excellent family pet. For the best nutrients, consider the dog foods in our review. You can opt for Royal Canin—the best dog food for Chihuahua puppy or the Artemis Fresh Mix, which can be fed to Chihuahuas in all life stages.
Related Article
Top Picks For Our Dogs
For a list of all the supplies we get for our new service dog puppies check out our New Puppy Checklist on the PuppyInTraining.com blog.