This post may contain affiliate links. We may earn money or products from the companies mentioned in this post.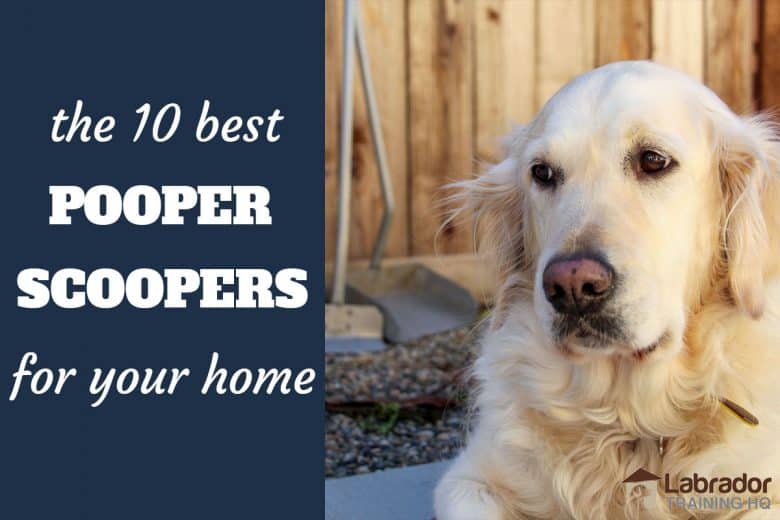 There are few things worse than heading out into the yard and then catching "that smell." You pick up your foot and look at the bottom of your shoe. Yep, you've stood in dog poop!
For dog owners, keeping your space clear of poop is an ongoing, daily battle. Luckily, there are lots of pooper scoopers out there to make the work as easy and clean as possible.
In this article we have pulled together a list of the 10 best pooper scoopers for dogs, perfect for keeping around the house. We've listed the pros and cons of each so that you can choose between them.
We have also put together a comprehensive buying guide, full of everything you never knew that you wanted or needed to know about pooper scoopers.
Our list is focused on pooper scoopers for the home, rather than when you are out and about, when something more compact is needed.
SPOILER ALERT: if you want an easy to use rake and fin scoop, check out the Petmate Clean Response System. For a one-handed jaw scooper, start your search by looking at the Nature's Miracle Jaw Scooper.
If you need help house training your dog to do their business outside, start here with our comprehensive guide on how to house train a puppy.
Product Quick Links
10 Best Pooper Scoopers For Your Home
1. Petmate Clean Response Waste Management System Swivel Bin & Rake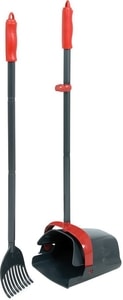 This rake and bin style pooper scooper from Petmate is easy to use, and it has a swivel bin, giving you a secure place to temporarily store waste while cleaning.
It's large capacity makes it especially good if you are dealing with multiple canine culprits! There is also no need to fiddle around with transferring poop from bin to bag, as standard-sized plastic grocery bags fit right into the bin and can then be easily removed to throw in the trash.
The rake has been designed within minimal curve and wide teeth set close together, which means that it is usable both on grass and hard surfaces.
Made from durable plastic, this model is easy to clean as there are few small spaces were dirt and debris can get trapped and fester. The rake also snaps onto the bin for easy storage, and it is also designed to hand on the wall.
The adjustable three-foot long poles and easy grip handle means that you shouldn't feel aches and pains, no matter who much work there is to do, even though this is not one of the lightest models on the market. You will need both of your hands free to scoop with this one.
Pros
Swivel bin for easy disposal of waste
Works on grass and hard surfaces
Adjustable poles
Easy to clean
Cons
Not as light as it could be
Requires two hands
If you are looking for a functional and tidy way to deal with dop poop at home, then the Petmate rake and bin really is one of the best in class.
2. Nature's Miracle Jaw Dog Poop Scooper

If you are looking for a one-handed tool for scooping poop, you need a jaw scooper like this model from Nature's Miracle. Held in one hand, just pull on the lever, a little bit like you would on the brake handle of a bike, to open and close the jaws around the poop.
The form of the jaws, with miniature prongs, has been designed to work well on both grass and hard surfaces, so you only need this one tool for your entire home.
This non-stick plastic tool also features a special microbial coating that will help ensure that you tool stays as clean and odor free as possible for as long as possible.
This model is a great height for most adults, but not adjustable if you are on the tall or short side. Also make sure you always have your disposal bin available, as once you have scooped, there isn't anywhere to store poop as you move onto the next offense.
Pros
Easy to use with one hand
Made from non-stick plastic
Odor-fighting microbial coating
Designed to work on both grass and hard surfaces
Cons
Height not adjustable
No place to store poop if you are cleaning up more than one mess
If you are looking for an easy-to-use, one-handed tool for managing your dog's business, then this jaw scoop from Nature's Miracle is an excellent choice.
3. Four Paws Spade Set

One of the most affordable pooper scoopers on our list, this is a simple rake and shovel model made from stainless steel that is highly resistant to retaining odors.
The single, flat, stainless steel plate of the spade makes this scoop better on hard surfaces than on grass. You can certainly use it on the grass, but you may find yourself leaving little bare patches in your lawn.
This model is great for the squeamish as its extra long handle means that there is no need to get close to any mess. The stainless steel is also easy to clean, making every part of the process as tolerable as possible.
Both the spade and bin feature hooks for hanging storage, but the two don't clip together.
Pros
Affordable
Made from odor-resistant stainless steel
Extra long handle so no bending down
Easy to clean
Cons
Better on hard surfaces than grass
Two parts do not clip together
If you are looking for an affordable but effective way to clean up dog poop, especially on hard surfaces, then this Four Paws spade set is an excellent choice.
4. Dogit Jaws for Grass Dog Waste Scooper

This time looking at an affordable jaw clamp option, this model from Dogit features jagged teeth ideal for lifting mess up off grass and gravel.
While some of these one-handed scoopers can be challenging to use if you have a weaker grip, the soft, contoured rugger pad that forms part of this handle means that it should be both usable and comfortable.
This tool is made from light but durable plastic, and it is easy to rinse off with the house after use – no messy clean up.
Bring your bags with you as you scoop, as there is nowhere to store one batch of mess as you move onto the next – since there never is only one!
Pros
Affordable
Made from durable but lightweight plastic
Comfortable and usable handle
Easy to rinse off after use
Cons
Not as effective on hard surfaces
Nowhere to store poop if cleaning more than one area
If you are keen on a one-handed tool, especially for grass and gravel, then this jaw option from Dogit should tick all the boxes.
5. Frisco Rake and Spade Set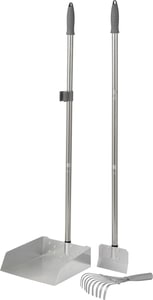 One of the more expensive pooper scoopers on the list, this Frisco rake and spade set comes with options. One of the biggest challenges with choosing a scoop is finding one that works well on both grass and hard surfaces.
Frisco solves this by giving you two different heads, a rake for grass and a spade for concrete. This means that you only need one tool, though you do have to change the heads manually, which can be a pain if you are cleaning both grass and hard surfaces at the same time.
The open bin is large enough that you should be able to gather all you poop in one go, and then it is just a matter of transferring it to an appropriate bin bag.
The long handles are ideal for most adults, including taller adults, and come with hooks for wall mounted storage. There is also a handy clip for keeping your spade and bin together.
Made from stainless steel and aluminum, this tool won't hold on to nasty scents, and it is easy to clean, without the need to get your hands dirty.
Pros
Ideal for both grass and concrete surfaces
Made from stainless steel and aluminum that won't hold onto scents
Easy to clean without the need for scrubbing
Extra long handles 
Cons
Expensive
Need to change the heads manually
If you are looking for a tool that works equally well on both grass and hard surfaces, then this tool from Frisco comes with all the options that you need.
6. Nature's Miracle 2 in 1 Rake 'n Spade Dog Poop Scoop with Pan

The cheapest option on this list is from Nature's Miracle and it also comes with both a rake and a spade, so it is ideal to use on both grass and hard surfaces.
While the heads do need to be changed manually, which can be a pain if you are doing both surfaces at the same time, the head that you aren't using handily clips onto the rod for easy storage.
Made from Nature's Miracle's non-stick plastic, which has been treated with an antimicrobial coating, this tools should stay clean, fresh, and usable for a long time.
The bin is big enough to carry all but the mess of the biggest dog families, ready to be transferred to a bag for disposal.
The posts are designed for wall storage, and all the pieces clip together so there is no chance of important pieces getting separated and lost.
Pros
Affordable
Made from non-stick, antimicrobial plastic
Easy storage system for all the moving parts
Good sizes scoop bin
Cons
Need to switch the spade and rake heads manually
No particular ergonomic design in the handle
If you are looking for the most affordable scoop, but also want one that does it all, then Nature's Miracle has you covered with this rake and spade for both grass and hard surfaces.
7. Arm & Hammer Claw Scoop Back Yard Waste Pickup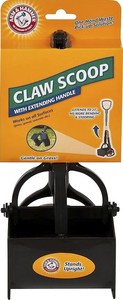 Arm & Hammer have long been a leading name in car waste disposal, and now they are looking at dogs with this highly usable jaw pooper scooper made from durable and lightweight plastic.
One thing that sets this scooper apart from some of the other jaw scoopers on the list is that the handle, which extends to 27 inches, also folds right down for compact, upright storage. The handle mechanism for opening and closing the jaws is also highly usable and easy to operate with just one hand.
The spacing between the teeth on this model is best used on grass and gravel, and it is a bit less effective on concrete.
As with all the jaw options on this list, the main downside here is that there is no place to store poop between scoops. This means if you are scooping multiple patches, you need to dispose of poop after each scoop.
Pros
Trusted brand
Made from durable and lightweight plastic
Compact storage
Easy to operate jaw mechanism
Cons
Limited effectiveness on hard surfaces
Nowhere to store poop between scoops
If you always place faith in brands that have built a reputation for quality, then this scoop from Arm & Hammer will suit your priorities.
8. Precision Pet Products Little Stinker Heavy Duty Poop Scoop with Rake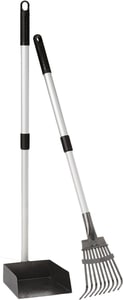 For taller pet parents, or anyone that likes to keep the maximum distance between them and poop, this rake and scoop from Precision Pet Products has extra long handles, 44 inches long!
This one is a little bit more expensive than others on the market, but the durable zinc plated steel should last and last, and it should not pick up and give off lingering smells.
Designed in a garden rake style, this scooper will work better grass, gravel, and similar uneven surfaces than it will on concrete. However, the hard lip of the bin means that you shouldn't have too much trouble on hard surfaces as well.
Pros
Extra long handles
Durable zinc plated steel
Won't retain nasty smells
Cons
Expensive
Not great for hard surfaces
If you would benefit from extra long handles, and don't mind paying a bit more for quality, then this scooper from Precision Pet Products should definitely be on your list.
9. Dogit Waste Scooper and Rake

Another great product from Dogit, this is their rake and bin option. Available in both small and large sizes, the shape of the rake is designed to corral waste effortlessly, and the lip of the bin sits smooth with the ground to make sure everything goes in first time. While this model will work better on grass than on hard surfaces, there is no need for a second tool for the occasional concrete lean up.
One of the more expensive options on this list, this is down to the rust-resistant coated metal, which is both sanitary, and it will last and last.
The scooper is easy to store with a hanging attachment, and the two pieces also snap together in a satisfying way.
Pros:
Use on both grass and hard surfaces
Made from rust proof metal
Comes in a variety of sizes
Cons:
Expensive
Does not integrate with bin bags
If you are looking for a simple rake and scoop tool that will work on a variety of surfaces and will last for years, then this model from Dogit is a great option.
10. Bodhi Dog Complete Poo Pack
Bodhi Dog offers another classic jaw scoop made from durable and lightweight plastic. What sets this scoop apart is that it has a handy attachment for plastic bags, so you should never find yourself without a bag to hand when it comes to disposal.
You can also scoop poop directly into the plastic bag, making for cleaner, easier work. The downside to this is that this works best with the brand's specialty bags, so no using leftover plastics from the supermarket.
While the handle on this scooper is shorter than on a lot of options, the ergonomic handle and highly usable jaw mechanism means that it is still very easy to use.
If you are keen to avoid the need to get too close to poop in any circumstances, this scooper is small enough to take out on walks, if you are so inclined.
Pros:
Comes with poop bag attachment
Can scoop poop directly into the plastic bag
Lightweight and durable plastic
Small enough to take out on walks
Cons:
Works best with specialty poop bags
Handle shorter than one some options
If you know that you always forget to have a bag at hand, take the guesswork out with this highly functional jaw scooper from Bodhi Dog.
Pooper Scooper Buying Guide
Features Of A Good Pooper Scooper
There are two main styles of pooper scoopers out there, the jaw clamp and the bin and rake. These are pooper scoopers designed to be used in the home, rather than taken out on walks with you, where you will also need to scoop your dog's poop.
While laws differ from state to state, pretty much everywhere it is required that if your dog poops in a public place, you clean it up. For this, you need a portable way to scoop that poop.
Jaw Clamp pooper scoopers are designed to be used with one hand. You just use the mechanism to open the mouth of the device and lower it over the offending material. You then let the jaws snap shut, picking up the business.
While these scoopers are clean and easy to use, the downside is that you need to empty the jaw container between each scoop, which can be frustrating if you have quite a few patches of poop to deal with.
Also, they aren't usually height adjustable, and they can be difficult for some people to use, for example, if a person has arthritis.
Bin and Rake pooper scoopers are much simpler, and they work pretty much like a long handled dustpan and brush.
These are quick and easy to use, especially if you want to give the whole garden a clean in one go as you can pick up multiple pieces of debris and then throw them away together. 
Some options will come with a swivel bin for temporary storage of poop. Many models snap the two pieces together for convenient storage, and they can also have adjustable handles for comfort.
Once your have decided on a style, there are lots of individual features to consider:
Flat or Teeth – Scoopers will generally have a scooping section that is either flat or toothed. Which one is right for you depends on where you are going to be using it most often. If you will most often be scooping off grass, then teeth work best to pull it out of the greenery. If you will mostly be scooping off concrete, a flat base is a better option to scrape the poop off the floor.
Ease of Cleaning – Pooper scoopers come into contact with poop, not to mention dirt and mud, and transfer happens. They do need to be cleaned pretty regularly. The last thing you want to be doing is scrubbing in small crannies of the device where some smelly waste has become well and truly lodged.
Make sure to go for something that is simple to clean with something like the garden house. A non-stick coating can help a lot with this.
Weight – For the occasional scoop, a pretty heavy scooper probably won't bother most people. But if you have a large property to cover, you don't want something that is heavy enough that it will start to feel like a burden.
Adjustable Handle – If you suffer from back issues, even the small amount of bending over required for regular poop scooping can exacerbate your condition over time. If you struggle with your back, make sure you get something with an adjustable handle.
Handle – If this is a tool that you are going to use every day, you want it to feel comfortable in your hand. Wooden handles that feel splintery can irritate your hands over time. Many models and comfort designed handles to alleviate this problem.
Mechanism – If you go for a jaw clamp scooper, it will feature a mechanism for opening and closing the jaws. You don't want a mechanism that is too stiff or difficult for you to use. This is especially important if you suffer from anything like arthritis.
Why You Need A Pooper Scooper
With so many things to consider when it comes to choosing the right pooper scooper, you might wonder if it is all worth it, and whether you can just deal with dog poop using plastic bags and whatever you have around the home.
While you certainly can, there are a couple of good reasons why you should invest in a fully-fledged pooper scooper.
Dog waste can actually contain a lot of health threatening elements. One gram of dog waste can contain up to 23 million fecal coliform bacteria, which are known to cause cramps, diarrhea, intestinal illness, and serious kidney disorders in humans. The EPA estimates that two or three days worth of poop from 100 dogs would be enough to have to close a bay for swimming and fishing for a 20 mile radius.
Dog poop also commonly carries parasites that you don't want infecting you, other animals in your home, or your dog – since dog's are known to eat their own poo. They often carry hookworms, roundworms, tapeworms, and Salmonellosis.
Leaving your dog's waste on your lawn is also not a viable option. Aside from it being smelly, unsightly, and killing your grass, in 1991 it was labelled a non-point source pollutant by the EPA, which puts it in the same category as insecticides and acid drainage from abandoned mines.
It also seems that weeds and algae thrive on dog poop, so leaving it lie can quickly see your garden overrun by unwanted weeds.
Disposing Of Dog Poop
Consider what we have said about the dangers of dog poop, what is the best and safest way to dispose of it? Popping it in a plastic bag and throwing it in the bin is not the best option.
What you end up with is tons of dog poop in landfills, unable to properly biodegrade within their plastic prisons.
For that reason, the best things you can do are:
Use biodegradable poop bags, giving your dog's poop a better chance at breaking down once it does get to landfill.
You can also flush your dog's poop down the toilet, either directly or using flushable dog bags, that will also biodegrade in the water. This way your dog's waste will be dealt with in the same way as your own.
Get your hands on a water digester. These are a small bucket that you bury in your backyard. Dispose of poop directly into the bucket, and add water and a special enzyme once a week to break down the poop and return it to the earth.
If you compost at home, add your dog's poop into the mix. But make sure not to use the resulting compost in any plant beds that contain edible plants.
The Verdict
For dog owners, cleaning up dog poop in your space is just a daily fact of life. Pooper scoopers were designed to make that daily, let's admit it disgusting, task a little cleaner and a little easier.
With a good pooper scooper, there is no need to break your back bending over to pick up poop several times a day, and there is also no need to get too close to the offending material.
Pooper scoopers generally come as either a rake and bin or a jaw clamp scoop that closes around poop to lift it away. Both are effective options, and which is best depends on you.
If you are looking for a rake and bin, then the best on the market is surely the Petmate Clean Response System, which allows you to scoop waste directly into your disposal bag (make sure to get one that is biodegradable).
If you prefer a one-handed jaw scoop, then check out the Nature's Miracle Jaw Scooper.
A quick tip from our house to yours. Try to make it a habit to pick up the poop at least once a day. The more you let it pile up the more you'll dread going out to pickup even with the best pooper scooper.
We actually love and use the simple four paws spade set and pickup Raven's poop right after she does her business. Quick and easy peasy lemon squeezy!
What about you guys?
What kind of pooper scooper are you using with your dog?
Tell us if you love it or hate it in the comment section below.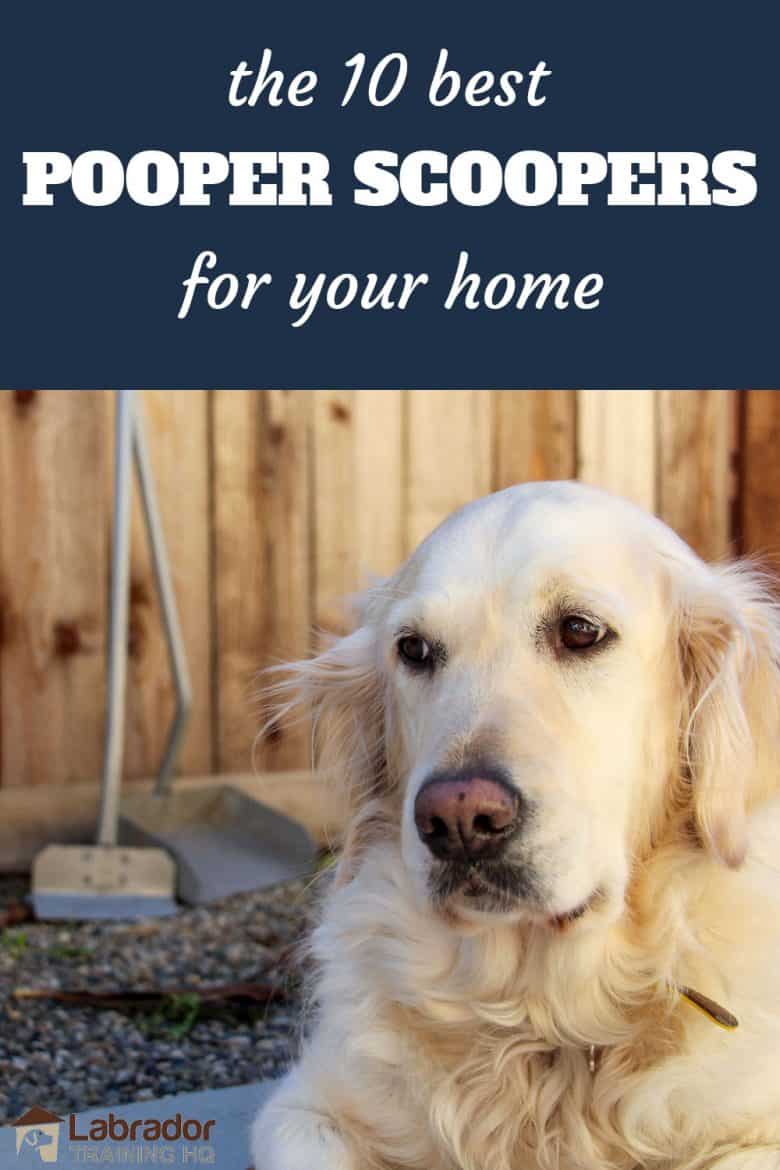 Top Picks For Our Dogs
For a list of all the supplies we get for our new service dog puppies check out our New Puppy Checklist on the PuppyInTraining.com blog.