This post may contain affiliate links. We may earn money or products from the companies mentioned in this post.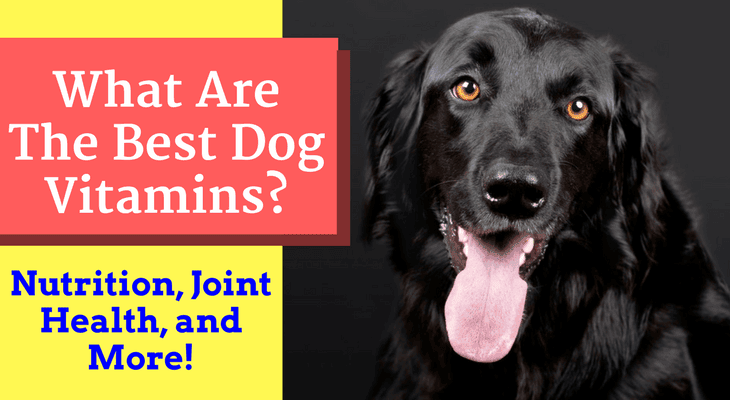 Best Dog Vitamins (Our Top 3 Choices for 2018!)
Introduction
Just like humans, a dog's diet can often lack the necessary vitamins and minerals that are needed for proper nutrition. Also, there are vitamins that target specific ailments such as joint health and itchy skin, as well as dietary needs and can also help with digestion, improve the condition of your dog's coat and skin as well as improve his overall health.
If you're looking to supplement your best friend's dog food diet, it's important to consult your vet beforehand. They will tell you if dog supplements like fish oil, essential fatty acids, B-complex vitamins and other vitamin supplements, glucosamine, and probiotics are actually necessary and will advise you as to which the best vitamins and vitamin supplements for dogs are in general and which would be the best for your pet. We need to add that human vitamins aren't necessarily good for your dog, so avoid sharing them.
At a Glance: Our Choices for the Best Dog Vitamins
DOG FOOD

DETAILS

OUR RATING

Grizzly Omega Health Omega-3 Dog & Cat Supplement

Good dose of EPA and DHA for your dog
More than 15 omega 3s, 6s and arachidonic fatty acids to improveoverall well-being
The product is all natural and the extraction process keeps the oil away from air
100% salmon oil from Alaskan Salmon

Tomlyn High-Calorie Nutritional Gel

A gel-form supplement that eventhe fussiest of eaters enjoy
Available in puppyand adult dogformulas
Includes vitamins, carbohydrates, fats andproteins to maintain overall health

Pet Naturals of Vermont Daily Multi-Dog Chews

Chewable tablet withdelicious taste
Each tablet containsover 25 nutrients
Good balance of vitamins and minerals
Best Products
The challenge isn't finding vitamins or multivitamins as there's a multitude to choose from—it's knowing which are the best. So, how do you decide? Your vet knows if your dog has any special needs, is lacking in nutrition or has any conditions specific to the breed.
While most vitamin supplements and nutrients will benefit your pet in some way or another, there are those that stand out for various reasons. The best multivitamins for dogs will have all the essential minerals and vitamins that might be missing from their diets, like omega oils for a healthy coat and skin. If, for example, the breed of dog you have has any hereditary health issues, a supplement that addresses it is a good idea.
Our list features three of the best dog vitamins we recommend. It's by no means a definitive list, and there are other products that might be better suited to your dog, but we think this is a good place to start.

Grizzly Omega's salmon oil provides your pup with a bear-size dose of EPA and DHA. The dose you give him is according to his weight so you know he always has the right amount of essential Omega-3 fatty acids in his system.
The supplement has more than 15 omegas-3s, omega-6s, and arachidonic fatty acids that benefit your pup in a number of ways and improve his overall well-being and health. We especially like that the product is all natural and the extraction process is done in such a way the oil stays away from air until it's added to the food. Because it's natural there might be a difference in color from one batch to the next. This is completely normal and doesn't affect the quality of the supplement.
Pet owners looking for the very best for their dogs will be pleased to know that the 100% pure salmon oil is sourced from Alaskan Salmon only and the trace vitamins and antioxidants in Grizzly Omega Health supplement are also from salmon. To sum it all up, this is an excellent product that's gentle on your dog's system and offers a multitude of health benefits.
This video will give you more information and show you why a Grizzly Omega Health pup is a happy pup:


Dogs that burn more calories than they consume are at risk of developing health issues, which is why Tomlyn High-Calorie Nutritional gel is recommended. The gel form supplement is available in puppy and adult dog formulas and it's a fairly easy way to ensure your dog is getting the additional nutrition it needs. Besides the minerals and vitamins, fat, carbohydrates and protein are included to help animals maintain a healthy body.
Even the pickiest of eaters will enjoy the flavor and there are pups that enjoy it as a treat. Having said et sgo kebe td equal. Some websites offer ne new.p you motivated anoalsre you do your research d this, the main ingredient is corn syrup, which might be met with resistance by some dog owners; however, when it's used occasionally as a supplement rather than daily, there shouldn't be any adverse reactions—but check with your vet first.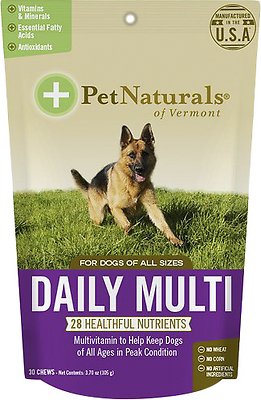 Pet Naturals multi-chews are chewable tablets and are one of the most popular because of their flavor. The tablets have been formulated by vets and each tablet has over 25 nutrients. There's a good balance of minerals and vitamins and there are no harmful ingredients used.
There's no denying the list of ingredients will intimidate all-natural dog food advocates. Some preservatives and chemicals have been added to prolong the product's shelf-life but, to date, there have been no reported side effects. Out of all the vitamins, these seem to be the most delicious enjoyed the most by the test subjects.

Ingredients Analysis
While ingredients vary from one supplement to the next, the best dog vitamins should always include the following:
Vitamin B12
This is important for development and cell growth, making it necessary for growing pups.
Vitamin A and E
Both of these help your dog burn calories. This is necessary if your dog is overweight or is maybe prone to obesity. They're also effective antioxidants and slow down the aging process. Vitamins A and E are also recommended for eye and skin health.
Vitamin C
Dogs need vitamin C for the same reasons we do: for a healthier immune system, and faster healing.
Vitamin D, Phosphorus and Calcium
Together vitamin D, phosphorus, and calcium work to strengthen teeth and bones. They're as equally important for pups as they are for adult dogs.
Potassium
Potassium is found in carbohydrates and improves the condition of your dog's heart. Any good supplement will have it in their ingredients.
Iron
Iron improves the quality of your dog's blood, which, in turn, improves the transport of oxygen through his body. If your pet is on a raw meat diet the chances are good he's getting the recommended amounts of this essential mineral from his food.
Conclusion
As loving and responsible pet owners, we all want to do the right thing when it comes to our canine companions, which is why it's important to have all the information needed, and to ask professionals questions when necessary. The best dog vitamins will benefit your pup but there are some vitamins like A, C, and D that can result in vitamin toxicity.
Our vitamin review is a good place to start, as is speaking with your vet. Sometimes, our best intentions aren't necessarily good for our pet, which is why you need to do what's right.
Top Picks For Our Dogs
For a list of all the supplies we get for our new service dog puppies check out our New Puppy Checklist on the PuppyInTraining.com blog.