This post may contain affiliate links. We may earn money or products from the companies mentioned in this post.
Sometimes, no matter how hard you try, there is no avoiding your dog picking up fleas! Without proper treatment, a couple of fleas can quickly turn into a colony, and your dog can turn into an unhappy mess left to scratch all day. Not to mention the risk of your canine companion introducing fleas into your home.
There are a lot of ways that you can try and prevent your dog getting fleas, and a lot of ways that they can be treated: you can read our full flea treatment guide here. But once you have a flea issue, we think that the fastest and most effective way to give your dog immediate relief is with a good Dog Flea Shampoo.
There are a lot of Dog Flea Shampoos on the market, which all claim to kill fleas and prevent them from spreading. But they are not all equal. We have scoured the market to find the seven best Dog Flea Shampoos that should work well for any pooch.
We have also put together a complete buying guide so that you know what you should be looking for in a shampoo, as well as some tips on how best to use the shampoo to keep your dog happy and flea-free.
Spoiler alert! We think that the best Dog Flea Shampoo on the market is Adams Plus with Precor. It is highly effective at killing adult fleas, their larvae, and eggs, and will also kill ticks and mosquitoes. However, if you are wary of chemicals and would prefer an all-natural formula, then try out the dog flea shampoo from Richard's Organic, which is almost as effective as its synthetic counterparts, but with none of the nasties.
At A Glance: Our Top Choices For The Best Dog Flea Shampoos
7 Best Dog Flea Shampoos
Let's start with the shampoos themselves. We have come up with a list of seven effective, reliable, and safe shampoos for removing fleas from your dog. Remember, when you use a shampoo, fleas may at first try to flee the body, making it appear like your dog has more fleas, but this is just part of the process. Also, remember that once you have used the shampoo, you will need to comb your dog to remove dead fleas, larvae, and eggs.
Our list mostly includes medicated shampoos, which means insecticides, though we have only recommended medicated shampoos that have been approved as safe for dogs. We have also included a few natural shampoos, which tend to be a bit less effective but are great if you aren't keen on treating your dog with chemicals.
1. Adams Plus Flea & Tick Shampoo with Precor

Adams is an insecticide-based flea and tick treatment that uses Pyrethrins and S-Methoprene as its active ingredients. The resulting formula is highly effective because it kills not just the fleas but also their eggs and larvae, which means your dog could be flea free after just one wash.
It also claims to protect your dog against reinfestation for up to 28 days using an insect growth regulator. However, as with all shampoos, it is best used in conjunction with other preventative treatments.
This shampoo also deals with the itchy and raw skin that can often accompany fleas by adding oatmeal, coconut extract, lanolin, and aloe, all of which help soothe and moisturize the skin. It can also help treat loose dandruff and scales that may occur as a result of fleas.
If you aren't a fan of chemicals, then the ingredient list for this shampoo probably won't appeal, but it is certainly more effective than natural alternatives. It is also worth noting that this is one of the more expensive Dog Flea Shampoos on our list, but that is because it is one of the most effective.
Pros
Kills adult fleas, larvae, and eggs

Can repel fleas for up to 28 days

Soothing ingredients

Leaves a shiny, healthy coat
Cons
You can use Adams Flea Shampoo on pretty much any dog and expect it to be effective and leave their coat shiny and healthy. It ticks all the boxes in terms of an all-rounder.
2. Richard's Organics Flea & Tick Shampoo
If you are looking for a natural and effective alternative to deal with your dog's fleas and ticks, without having to resort to chemicals, then Richard's Organics offers a great alternative. It uses a range of natural flea killing agents, including peppermint oil, clove oil, cinnamon oil, and rosemary oil.
You will also see Sodium Lauryl Sulfate among the list of active ingredients. This is not artificial sulfate, bur rather a naturally derived plant ingredient that helps the formula penetrate the hair cuticle to do its job. The recipe also contains no artificial colors and is safe to use with pretty much any dog, 12 weeks and up.
As dog's skin tends to be irritated when they are suffering with fleas, largely as a result of all the scratching, this formula also contains Vitamin E and cedarwood oil to help calm and repair the skin. The resulting scent is also pretty mild, so it shouldn't irritate your dog. The scent should also repel fleas and mosquitoes for a limited period of time after use.
While natural flea shampoos like this one are generally less effective than insecticide based shampoos, this one is strong enough to deal with all but the worst flea infection and mild enough to use regularly to get (and keep) your pooch flea free.
Pros
Organic treatment

No artificial ingredients

Soothing ingredients
Cons
Not as effective as some treatments
If you are keen to rid your dog of fleas without resorting to chemicals, then Rirchard's Organics has come up with a viable solution.
3. Hartz UltraGuard Rid Flea & Tick Oatmeal Dog Shampoo
If you are looking for an affordable Dog Flea Shampoo that is still effective, then Hartz is an excellent choice. A Phenothrin-based formula, it is effective at killing fleas and ticks and uses oatmeal to soothe and moisturize your dog's skin, which may be irritated from scratching.
Hartz claims that this shampoo can also be used as a preventive measure to repel fleas if used to shampoo your dog on a weekly basis. However, this would transform this from a highly affordable shampoo to a bit of a commitment to use regularly. Also, as part of this, the shampoo leaves behind a fragrance, which won't bother some dogs, but is likely to be disconcerting for others.
Unlike most of the shampoos on this list, which can be used on puppies as young as 12 weeks, this formula should only be used on puppies six months and older.
Pros
Affordable

Kills adult fleas, larvae, and eggs

Soothing ingredients
Cons
Not all-natural

Not suitable for puppies

Leaves behind a distinctive scent
If you are looking for an affordable way to deal with your dog's fleas, Hartz offers a great option.
4. Sentry Flea & Tick Oatmeal Hawaiian Ginger Shampoo for Dogs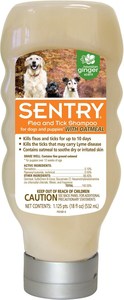 Sentry is both a great shampoo and a great flea treatment. It works quickly to rid your dog of fleas by killing fleas, ticks, and flea eggs and preventing new fleas from taking up residence on your dog for up to 10 days after each wash.
Its active ingredients are Permethrin and Piperonyl Butoxide. This won't tick boxes for anyone looking for something all natural, but it is highly effective.
Thanks to the inclusion of oatmeal and a formula that is pH balanced for the skin of dogs, this formula is also designed to soothe and deodorize your dog's skin and leave their coat healthy and shiny. The deodorizer does leave behind a ginger scent, which won't both some pooches, but will leave others rubbing up against everything as they try and rid themselves of the strange scent.
Pros
Kills adult fleas, larvae, and eggs

Soothing ingredients

Leaves coat shiny and healthy
Cons
Not all-natural

Leaves behind a distinctive scent
If you are looking to deal with your dog's fleas without sacrificing the health of their coat, then Sentry offers both protective flea treatment, and just an effective shampoo.
5. PetAG Fresh 'n Clean Flea & Tick Conditioning Dog & Cat Shampoo

This is another Pyrethrins and Poperonyl Butoxide-based formula that is highly effective against fleas and ticks and should offer your dog instant relief. This shampoo is also very nourishing for your dog's coat, as it contains coconut extract that helps keep their skin and coat in tip-top condition – there will be no need to apply conditioner after using this formula.
The shampoo can repel fleas from your dog's coat for up to two weeks but also leaves behind a scent for that period. While that may not bother some dogs, others will be in a hurry to try and rub it off.
Pros
Quickly eliminates adult fleas, as well as their larvae, and eggs

Added ingredients to soothe irritated skin

Leaves coat soft and conditioned
Cons
Does not use all-natural

After scent may not appeal to all dogs
If the condition of your dog's coat is a priority, this flea shampoo is both effective against fleas and leaves their coat strong, soft and healthy.
6. TropiClean Maximum Strength Natural Flea & Tick Dog Shampoo
One of the more expensive Dog Flea Shampoos on this list. This maximum-strength formula is good when you want something that is all natural, but still extremely strong.
The formula is free of chemicals and instead uses clove oil, lemongrass oil, cedarwood oil, cinnamon oil, and sesame seed oil to kill fleas, including their larvae and eggs, ticks, and mosquitoes. To ensure that this potent formula leaves your dog's skin feeling good, it also contains cocoa to soothe irritated skin. It is safe for bathing puppies from as young as 12 weeks.
While you will probably find this formula slightly less effective than alternatives that use pyrethrin or permethrin, it is strong enough for all but the most serious flea infestations. Also, while the formula is all natural, it is strong, and some more sensitive dogs may just find it a bit much for them.
Pros
Uses organic ingredients

No artificial additives

Soothes inflamed skin from scratching
Cons
May as effective as medicated treatments

Extremely potent
If you are after maximum strength but all-natural ingredients, then TropiClean is the perfect choice for treating your dog, chemical-free.
7. Veterinary Formula Clinical Care Flea & Tick Shampoo
This is a strong formula based on Pyrethrins, Piperonyl Butoxide, and N-Octyl Bicycloheptene Dicarboximide. This does mean treating your dog with chemicals, but they are all safe, highly effective, and recommended by professional vets! The formula is safe to use on puppies as young as 12 weeks, but it should not be used more than once a week.
This shampoo will kill ticks, fleas, their larvae, and eggs, as well as exfoliate and soothe the coat with lanolin. It deodorizes and does leave behind a pretty strong smell that lasts a week or so, which can be a negative, depending on your dog.
Pros
Veterinary recommended ingredients

Formula kills both adult fleas, and their larvae, and eggs

Formula soothes irritated skin

Formulated to condition coat
Cons
Contain chemical ingredients

Lingering smell may irritate some dogs
If you are looking for the peace of mind that comes with something vet approved, then this Veterinary Formula shampoo is for you.
Buyers Guide: Dog Flea Shampoo
Dog Flea Shampoo should be one of the many tools in your arsenal when it comes to keeping fleas off your dog! When it comes to prevention, shampoos aren't as effective as spot-on treatments or medications, but when it comes to killing and removing fleas that have already made your dog's coat their home, bathing your dog in a Dog Flea Shampoo should be the first thing that you do.
Dog Flea Shampoos, as well as cleansing your dog just like any other dog shampoo, will also contain active ingredients that will kill any fleas that are on your dog. These fleas then need to be removed with a comb. Shampoos will also generally repel fleas from your dog's coat for a certain period of time.
While this is great, exactly how long the repelling force of the shampoo will be effective depends on a lot of behavioral and environmental factors. It is generally safer to use a more consistent spot-on or oral treatment in prevention.
The active ingredient in Dog Flea Shampoo will be either insecticidal or herbal. When it comes to insecticides, the most common active ingredients are permethrin or pyrethrin. For herbal shampoos, common ingredients include clove oil, lemongrass oil, cedarwood oil, and cinnamon oil. These aren't quite as effective as the insecticidal ingredients, but when combined in the right way, they can be effective enough to deal with all but the worst flea infestations.
The main things to consider when selecting a Dog Flea Shampoo are:
Effectiveness
Obviously, the point of the shampoo is to kill fleas! Naturally, all Dog Flea Shampoos will tell you that they are effective at killing fleas, but it is best to check their marketing by looking at online reviews to ensure that others who have bought the product have generally been happy with the results. We have done that for you in the case of our seven recommended Dog Flea Shampoos.
Active Ingredients
Dog Flea Shampoos will need to have an active ingredient to kill fleas. If you are happy to use an insecticide based shampoo, those with Pyrethrins are generally the best at killing not only fleas, but also their larvae and eggs. This means that you might be able to get them all in one go, rather than killing adult fleas, and then waiting for their eggs to hatch to administer the treatment again.
If you aren't so keen on dousing your dog in chemicals, natural Dog Flea Shampoos will generally contain a mix of naturally active ingredients to ensure maximum effectiveness. Therefore, it is not uncommon to see a list that includes several different oils. Be aware, however, that just because a formula is natural does not mean that it is not strong. If you dog has sensitive skin, they may still object to these shampoos.
Ingredient lists on natural shampoos will also often include something called Sodium Lauryl Sulfate, which can seem strange, as we are often told that sulfate is one of those nasty ingredients that we should be avoiding. However, this is not an artificial sulfate but rather a sulfate naturally derived from plants. This particular ingredient helps the formula penetrate the hair follicle, allowing the shampoo to do its job.
Soothing Ingredients
If your dog is scratching a lot as a result of fleas, it is likely that they also have raw, irritated skin. For this reason, Dog Flea Shampoos also often contain soothing ingredients designed to reduce itching and help rebuild damaged skin. Look out for ingredients such as oatmeal, Vitamin E, honey, tea tree oil, rosemary, and chamomile.
Scented
Just like human shampoos, dog shampoos are often scented. But while most humans like a nice waft of scent when they shake their heads, many dogs don't like a scent that is not their own hanging around too closely. It is always a good idea to go with a non-scented shampoo for your pooch or at least a shampoo with a light scent that will cause them the least irritation possible.
How To Use Dog Flea Shampoo
When it comes to giving your dog a bath in their flea shampoo, make sure you cover their entire coat and don't leave fleas anywhere to hide. However, do avoid getting the shampoo in their eyes as it can cause irritation. Massage the shampoo in for between 10 and 15 minutes so that the active ingredients have time to take effect. You then need to thoroughly rinse out the shampoo as if left in it can irritate their skin.
After shampooing, it is time to comb your dog. This is to pull out the now dead fleas and their eggs to leave your dog clean.
You will probably want to wash your dog with Dog Flea Shampoo more than once in order to get any fleas that may have survived and ensure that they are fully eradicated. Your chosen flea shampoo will tell you how often it is safe to use the shampoo; however, as a general rule, you should never use a Dog Flea Shampoo more often than once per week.
Preventing Further Fleas
Once your have rid your dog of fleas, you are going to want to take steps to prevent them coming back. While most Dog Flea Shampoos claim to repel fleas for a period of time after shampooing, this is not generally a promise that you should rely on.
This is because the repelling residue will last for different periods of time depending on your dog's environment and behavior. For example, if you live in a hot area, your dog may well sweat it off. Yes, dogs sweat, even if it is not obvious like human sweat. If your dog is a big swimmer or likes to rub up against things, maybe to get rid of the smell of their Dog Flea Shampoo, it will also likely not last as long.
A better way to protect your dog against fleas is to give them a topical treatment or medicated treatment that generally lasts for about 30 days at a time. However, also make sure that you read the label of your shampoo to ensure that they are safe to use in conjunction with other flea treatments.
You will also want to make sure that your dog does not re-infest themselves from fleas that they have brought into the home. You will also want to treat key problem areas for fleas, in particular, your dog's bedding. Usually washing their bedding in a flea treating soap will be sufficient, but if the infestation has been very bad, you may need to consider trashing and replacing their bedding.
The Verdict
While prevention is certainly the best offence when it comes to dealing with fleas, once your dog has already been infested, a good Dog Flea Shampoo will give the fastest and most effective relief. While there are lots of excellent options on the market, we like Adams Plus. This shampoo is good for pretty much all dogs. It is strong enough to instantly kill fleas, their larvae and eggs, but also gentle enough to be used on a regular basis. It is an insecticide based formula, which won't appeal to some pet parents. If you would prefer something all natural, then try Richard's Organic, which is almost as effective and contains all natural ingredients.
Top Picks For Our Dogs
For a list of all the supplies we get for our new service dog puppies check out our New Puppy Checklist on the PuppyInTraining.com blog.