This post may contain affiliate links. We may earn money or products from the companies mentioned in this post.
I used to drive with my dog unbelted. A few weeks ago, my pooch jumped out of the window while I was driving at fifty. That was really traumatizing for me as I thought she was badly injured.
After the incident, I discovered that it was not wise to have your dog roam freely in the back seat. In fact, I will term it as courting a date with your maker. I decided I never want to go through such an experience again.
This is where my search for a gadget that would keep my canine tethered started. After comparing various products such as seat harnesses and crates, I decided to give dog seat belts a try.
I can honestly say I was more than impressed with the products. When using a dog seat belt, I noticed my dog was now more comfortable. She was no longer squirming and whining. The trip to the vet was now safer for me and her.
I could tell that my dog was more comfortable and she felt more secure. Even though she is the anxious type, she now seemed to enjoy the car rides.
However, one of the challenges I faced was choosing the right brand. I realized there were brands that were not safe for my pet in case of a crash while there were others that dogs would easily un-clip using their paws.
But after a lot of research, digging through reviews, and watching crash test videos, I was able to come up with a list of the best dog seat belts.
My Top Choice Product
After trying various dog seat belts, I can confidently say that the Mighty Paw Safety belt is my favorite. What blew me away was the fact that it attaches to the vehicle latch bar just like a child's car seat.
Quick Links
| Product Name | Special Features | Rating |
| --- | --- | --- |
| | Added elastic inserts | |
| | Tangle-free nylon strap | |
| | Attaches to the vehicle's latch bar | |
| | Metal buckles | |
| | Swivel action | |
Now let me explain in detail why I chose the products in the above table.
1. WINSEE Dog Seat Belt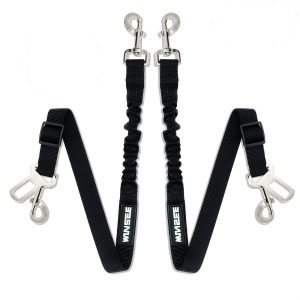 One of the features I was looking for in a seat belt was the safety and security of my furry friend. One product that met this threshold was the Winsee dog seat belt. The dog restraint product is made of Nylon fabric and the buckles and connectors are made of high-quality metals that makes them durable.
The majority of customers say the web straps are adjustable and when they put them on the longest settings, their dogs are able to move around in the backseat. They can even perch on the console between the two front seats without touching people when driving.
This means the seat belt offers their dogs the freedom to stand, sit, or lie down without endangering them. The adjustable setting makes the seat belt a suitable choice for small, medium, and large breeds of dogs.
Features
Made of high-quality nylon
Swivel snap feature
Elastic buffer design
Adjustable length
To use the best dog seat belt, simply clip it on your dog's harness and snap the tab into the seat belt. Avoid attaching it directly to the dog collar as this may compromise your dog's safety. It works perfectly well just like the best dog leashes.
Pros
Made of nylon that is un-chewable
The elastic buffer design protects your pet when the car brakes suddenly
The adjustable length enables the dog to move around freely
The swivel snap feature enables you to use the seatbelt as a dog leash when walking your pooch
Cons
It can release when the dog steps on the buckle
Verdict: After trying out the Winsee Dog Seat Belt, I can say it is one of the most effective and easy-to-use pooch seat belts on the market today. It is definitely worth the money.
2. Bwogue Dog Safety Seat Belt
When choosing a leash, you should ensure that you pick something that is tangle-free. This also applies to a dog seat belt. One of the features that set the Bwogue dog safety seat belt apart is the fact that it is attached high in the car, reducing the chances of tangling.
The large dog seat belt is made of a nylon strap that easily attaches to the headrest of your car. Customers say they work perfectly well in keeping their furry friend secured. The adjustment features offer their dog the freedom to turn, lie down, or move in their seat while preventing canines from climbing on their owners.
It also works well for different sized dogs. Even if you have a 70-pound Doberman, it will still hold him securely, safely, and comfortably. It is easy to install the pooch belt as all you need to do is to attach it around the headrest of the rear seat.
Features
Strong and tangle-free nylon fabric
Swivel snap that is made of premium zinc
Adjustable strap length
Anti-rust hook and clip
The Bwogue dog safety seat belt is strong enough to ensure that your pet remains in place even in the event of a sharp turn or sudden braking. When going shopping, you can use the seatbelt to secure your pet to a post.
Pros
The anti-rust hook and clip ensures the seat belt is durable
The adjustable strap length makes it suitable for different sizes of dogs
The high-quality zinc alloy swivel snap enables your dog to move around
Can also be used as a hand-held dog leash to walk your furry friend
Cons
<p ""="">With a little force, the length of the strap changes
Verdict: If you would like to tame the behavior of your pet when driving, the Bwogue pet car seat belt can help you do that. I would recommend the product for dog owners who are looking for something to secure their large dogs at the back of their cars. This is a product that is worth trying, especially if you have a large dog breed.
3. Mighty Paw Dog Seat Belt
Like we have already noted, the issue of dogs unbuckling themselves by stepping on the buckle button is a common limitation of some of the dog seat belts. Luckily, the Mighty Paw safety belt has been designed to overcome this challenge.
The product has been designed with features that are similar to children car seats. The safety belt has been made with a latch hook that is easy to use and is directly connected to the vehicle's frame to enhance security.
One of the things customers love about the Mighty Paw safety belt is that it is made of all-metal and has a thick nylon strap.
Features
All-metal construction with no plastic

Adjustable tri-glide attachment

Secure hook that attaches to the vehicle's latch bar

Made of thick nylon
This seatbelt will comfortably restrict your pooch without compromising on his safety. It should be used in combination with a harness.
Pros
The all-metal hardware and thick nylon makes it durable
The extra-strong carabiner that protects your dog in case of a crash
Adjustable straps that enable you to choose your desired length
Cannot release accidentally as it is attached to the vehicle's latch bar
A tangle-free attachment that enables your pooch to rotate and even move around without tangling
Cons
Unsuitable for dogs that chew
Not crash-tested
Verdict: One thing that is clear is that the Mighty Paw safety belt is a great product with a truly great design. It is quite sturdy and I loved the hooks that attach to safety bars.
4. Vastar Dog Seat Belt
The Vastar Dog Seat Belt has a latch that clips on the dog's harness while the seat belt clip snaps into the belt buckle of your car. It is also made of strong nylon that looks like a normal dog leash. You can adjust the strap to suit the size of your dog.
The metal adjusters slide easily and do not adjust unnecessarily. This is unlike some of the products I tried where the strap would adjust when a little force was exerted.
Customers say with this dog seat belt, their pooches are able to stand, sit, and lie down comfortably. They say they can even use it as a harness for walking their canines.
Features
Made of high-quality nylon
Zinc alloy swivel snap
Metal buckles
Hassle-free seat belt clips
What is even better is that the majority of dogs seem quite comfortable while using the Vastar Dog Seat Belt.
Pros
The high-quality nylon guarantees extra durability
The seat-belt clips enable it to easily latch into the vehicle
Can be adjusted from sixteen to twenty-seven inches
Cons
Unsuitable for some car models
Has not been crash-tested
Verdict: The Vastar Dog Seat Belt comes with a tab on the seatbelt. It is advisable to check the buckle size for compatibility. However, with its affordable price and effective functionality, this is a dog safety belt that is worth the money.
5. Kurgo Seatbelt Tether for Dogs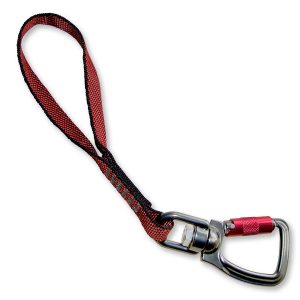 If your pooch loves moving around, the Kurgo Seat Belt Tether is a great choice. This is because the tether has a swivel action feature that protects your pooch from getting caught up in the safety restraint when moving around.
The puppy seat belt is compatible with different kinds of car harnesses. According to the manufacturer, it has a swivel tether that has been proven to support 4,500 pounds of force.
Not only is the carabiner made from strong metal but it will remain hooked on the harness of a dog even in a crash incident. Customers say they do not have to worry about their pup lunging forward and freeing themselves from the seat belt in case of sudden braking.
Even if you have several cars, you do not have to buy different pooch safety belts as it is a universal car safety belts for pets. Customers also love the fact that they can easily adjust it to fit the size and length of their canine.
Features
Strong and rugged materials
Carabiner attachment
Universal sizing and fit
Swivel to improve mobility
The small dog's seat belt uses a mechanism that looks like that of a seatbelt and this makes it easy to unhook your pooch from it. While this is beneficial to you, it also means the dog can do the same.
Pros
Made from a durable carabiner
Suitable for small dogs
Easy to clip in
Lifetime warranty
Cons
Dogs can easily unhook themselves
<p ""="">Incompatible with Ford and Volvo autos
Verdict: With a lifetime warranty on this safety belt, you can rest assured that you are buying a good quality product. It is a great choice if you are searching for a way to secure your furry friend using a rugged and durable seat belt.
Best Overall Product
Of all the five products I reviewed, the BWOGUE Dog Safety Seat Belt is definitely the best product. The majority of users love the fact that it is made of tangle-free nylon. It also attaches to the headrest of your car, making your dog restrained but comfortable.
Best Value Product
With its affordable price and effective functioning, the Vastar Dog Seat Belt is without a doubt the best value product.
Effectiveness Of Seat Belt For Dogs
Are dog seat belts effective in keeping your pet safe during accidents? If it is made of high-quality material, it can definitely keep your pooch safe. However, they are not all made equal and some will cause your dog to fly off the back seat in case of an accident.
How To Choose The Best Seat Belt For Dogs
There is no doubt that seat belts for dogs can help to keep your dog safe in case of an accident. But in order to do that, you will need to make the right choice of a safety belt.
When choosing the above dog seat belts, there are a few factors I considered. Remember to also consider them when making a buying decision. These are:
Adjustability
If you have more than one dog, one of the key considerations you will need to make is on the adjustability of the safety belt. The goal of a safety belt is to ensure that your pooch does not move from one area to the other.
If you pick a safety belt that is non-adjustable, it may be impractically long for small dogs or restricting for the big breeds. Even though there are some brands that are available with different size ranges, a good option is to choose the adjustable dog seat belts.
Durability
If your dog is like mine, he will definitely pull and tug on the safety belt, especially in the early days of use. To ensure that the seat belt doesn't break, choose one that is made of durable materials. This applies for all parts of the belts, including the swivels and hooks. The safety belt should also withstand chewing and biting by the pooch.
Safety
The goal of any dog seat belt is to keep your dog safe in case of an accident or swerving. According to the American Veterinary Association, pet in vehicles should be restrained using seat belts just like human beings. This is why it is important to choose a safety belt that works perfectly to secure your pooch and to prevent him from moving around.
Setup
The way the safety belt attaches to your car is also an important consideration. The majority of seat belts usually buckle straight into the car. This is not only helpful but can reduce the setup time. Many dog seat belts wrap around the headrest.
Ease Of Use
In most cases, your dog is unlikely to remain in a single place when you are trying to secure him to a seat. This is why it is important for your puppy to stay in one place as you try to secure them in place.
Conclusion
One of the things I discovered is that when you drive with an unsecured pooch, you are endangering your life as well as that of your pet. This is because an unbelted pooch can decide to jump out of the moving car, jump into the front seat to greet you, or even stick his head out to enjoy the cool breeze.
To make matters worse, if you happen to break suddenly, the dog will come tumbling forward, causing a potential injury to him or even the front-seat passenger. You do not have to wait for these misfortunes to happen for you to act.
Get yourself a dog seat belt and you will have sorted out the potential risks. By going through this dog seat belt review, you will realize that the BWOGUE Dog Safety Seat Belt is the overall winner.
Top Picks For Our Dogs
For a list of all the supplies we get for our new service dog puppies check out our New Puppy Checklist on the PuppyInTraining.com blog.