This post may contain affiliate links. We may earn money or products from the companies mentioned in this post.
Best Puzzle Toys For Your Dog
Sometimes it can be difficult to keep up with an energetic dog; therefore, it can be great to have toys that involve puzzles for them to solve and can keep them occupied independently.
However, the best puzzle toys for dogs aren't just about giving your a break. They are a great way to ensure your dog's mental and physical health, not to mention stimulate their happy hormones and make them more trainable.
But not all puzzle toys for dogs are equal, and there are so many on the market that it can be difficult to know which is best for your dog.
That's why we have put together a guide to tell you everything you need to know, starting with why they are necessary and the benefits to your dog.
We have also gone through how to choose the right kind of puzzle toy for your particular dog and how to teach them to engage with the toy. Finally, we have come up with a list of the four best puzzle toys that pretty much all dogs will love.
While all the toys on our list are excellent, the one toy that pretty much all dogs will love is the Kong Wobbler.
Your dog has to figure out the best way to push, pull, and squeeze the toy to have it release treats, so it stimulates their brains and also works their teeth and gums.
It comes in a variety of sizes and '​softnesses', so there is an option for every dog. If you don't already have an interactive toy for your dog, this is a great place to start.
Top 4 Puzzle Dog Toys
We have experimented with a variety of different puzzle toys to find the best ones for most dogs.
While the best toy for your dog will depend on their personality, size, and activity levels, for most dog owners, these four toys are a great place to start.
1. Kong Wobbler Dog Toy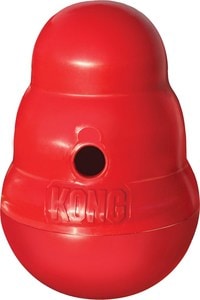 Unsure where to start with puzzle toys, the Kong Wobbler is a good general toy that will work for most dogs.
Made from durable plastic, this chew puzzle toy comes in a variety of different sizes and strengths, which means there is something appropriate for pretty much every dog, even big, heavy chewers.
The Kong Puppy version is great for light chewers with soft teeth and gums, and the Kong Senior is also softer for more sensitive, older teeth. The smallest of the six sizes is ideal for dogs as small as five pounds, while the extra large is safe for pooches over 85 pounds.
The toy can be filled with food to make it into a fun game or it can be filled with a full meal for your dog to eat throughout the day when you are out and about, as this toy is relatively safe to leave with your dog without supervision.
It naturally sits upright until your dog nudges it, when it will spin and roll, releasing food as it hits the right angles. The resulting movement is unpredictable, which means that it is always stimulating for your pet.
Overall, this is a pretty easy puzzle for your dog to solve, but the movement and chewability of the toy will maintain their attention. It is dishwasher safe, so is easy to clean when it starts to smell.
Just make sure you get treats of the right size for the size of toy you get. The larger toys have a larger opening that is not ideal for small pieces of food, as they will pour out too easily for your dog to really enjoy the toy.
This toy is better for medium to large dogs, as some smaller dogs can find even the smallest size a little heavy to use.
Pros
Extremely durable; will stand up under the most intense chewing
Comes in a variety of sizes and strengths for different dog breeds
Can be filled with treats or a full meal to dispense food
Dishwasher safe, so easy to clean
Cons
The food dispensing hole on the larger sizes is a little big
Small size can be slightly heavy for small dogs
The Wobbler is probably the best basic puzzle toy on the market, especially if you are looking for something that they can use unsupervised.
Many years ago we did a KONG Wobbler Review including a video of Stetson's first time using the Wobbler. We loved the Wobbler and after Stetson learned to use it properly he loved the treat dispensing puzzle toy.
2. Trixie Activity Flip Board Interactive Toy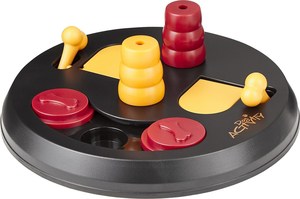 If you are looking for intellectual stimulation for an older, less active dog, then the Trixie Board is designed for you.
Made from durable plastic with a rubber floor grip to keep it in place while your dog plays, this Trixie toy has multiple compartments where treats can be hidden, giving your dog potentially hours of entertainment as they try and find them all.
Don't worry if they slobber all over it in the process; the toy is also dishwasher safe and easy to clean.
This toy is probably better for older pups that have learned about problem-solving and less active dogs, as they can pretty much stay in one place while engaging with this toy.
While the toy comes in a variety of sizes for different dog breeds, it is not ideal for extreme chewers, as there are lots of pieces for them to take apart. This means that your dog really does need to be supervised while using this toy.
Pros
Can keep your dog entertained for hours while you are busy with other things
Ideal for older, less active, but more experienced dogs
Cleans quickly and easily in the dishwasher
Cons
Does have small pieces that chewers are likely to break off
If your dog loves to sniff out a puzzle, but isn't keen to running about the house, then this activity board will give them the intellectual stimulation that they crave.
3. Outward Hound Hide A Squirrel Plush Toy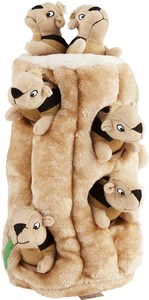 If you are looking for a product to stimulate your pooch that does not rely on treats, then try the Outward Hound Hide A Squirrel toy.
Rather than relying on treats, this toy pulls on the irresistible urge that most dogs have to seek out something that squeaks.
While the toy has a lot of moving parts to it in general that your dog will enjoy, you can up the entertainment factor by hiding a squeaking squirrel inside the trunk of the toy tree and leave it for your dog to retrieve.
This toy comes in a variety of different sizes to suit different dogs. Nevertheless, it is not the best choice for serious chewers.
While these plush toys are tough, a big dog determined not only to get to the squeaking squirrel, but also the squeaker itself, will leave this in shreds.
Luckily everything inside the toy is pretty safe for dogs, so if they do find some of it in their mouth or digestive system, they aren't in any real danger.
Pros
Intellectual stimulation without the need for treats
Intellectual stimulation without the need for treats
Made from dog-friendly materials
Variety of sizes to engage different sized dogs
Cons
Chewers can make short work of this toy
As a plush toy, it will need regular cleaning
If you are looking for a way to stimulate your dog intellectually without the need for treats, then this plush toy from Outward Hound is a good choice.
4. Pet Zone IQ Treat Ball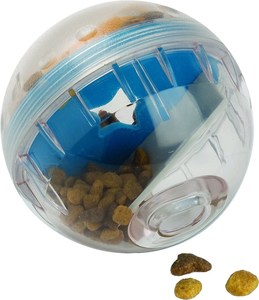 If you are looking for a puzzle toy that will adapt as your dog learns, then the IQ Treat Ball is designed for you.
Made from durable plastic, this ball moves erratically and dispenses treats as your dog moves it around, in very similar fashion to the Kong Wobbler.
What sets this toy apart is that it has a variety of difficulty levels, so as your dog gets better at figuring out how to release the treats, you can make it harder, so they never get bored.
This toy is designed for small to medium dogs, with only two sizes, three or four inch diameter.
It is also designed to take pretty small dog treats, so should accommodate whatever it is that you prefer to feed your pooch. While the design looks complex, and that is part of the fun of the game; you can take it apart and pop it in the dishwasher to keep it clean, though be careful that your dog doesn't figure out how to take it apart as well.
If you are looking for your first dog puzzle toy and you want something that is a safe bet for most dogs, then try the . Once they have mastered this, you can upgrade them to more challenging and sophisticated puzzle toys.
Pros
Variety of difficulty levels so the game can get harder as your dog gets more experienced
Suitable for small treats so you can limit your dog's calorie intake
Easy to clean
Cons
Not generally suitable for larger dogs
Dogs may learn to take the toy apart
If your dog is a fast learner and you need a toy that will keep up with them, then the IQ is the ideal puzzle toy.
​Linus loved the IQ Treat Ball. Linus wasn't treat motivated and could care less whether he got treats out of the ball (Stetson would scoop up any that came out).
What Linus loved doing with the IQ Treat Ball was pouncing on it shooting it across the room so he could chase it down and do it again. Although not it's intended purpose Linus loved playing this game with his Treat Ball. To each his own. :)
Why Invest In Dog Puzzle Toys
Dog puzzle toys generally work by getting your dog to solve problems in order to gain rewards, usually in the form of food or treats.
You will come across interactive dog toys that don't make use of food or treats, but these don't trigger your dog's predatory instinct to hunt for food in the same way.
For most dog owners, there is one clear reason to invest in puzzle dog toys: keep your dog occupied while giving yourself a break.
Though a word of warning: while puzzle toys are designed to entertain your dog without much input from you, in most cases, dogs should be supervised while using their toy.
This is because the toys do have a tendency to break apart over time and they can represent a hazard to your dog if they swallow small pieces.
But keeping your dog distracted while giving yourself a break is just one of many good reasons to invest in dog puzzle toys. Other benefits of puzzle toys for dogs include:
Exercise
Sadly, most of us don't have the time or energy to take our dogs out and play with them enough to give them the kind of exercise that will wear them out.
Dog puzzle toys can act as one more tool in your box for giving your dog the exercise that they need, letting him play away, and you can supervise him while getting on with other things like the laundry or preparing the evening meal.
Happiness
Most dogs actually prefer to work for their food by hunting for it like they would in the wild rather than just eat out of their bowl (most dogs – there are definitely some lazy ones out there).
This is because sniffing out their food releases Dopamines in their brains, which help them feel happy and relaxed.
The effect of these Dopamines last long after the game is over, so these kinds of toys can help you have a happier, more relaxed dog in general.
Trainability
The kind of cognitive skills that dogs exercise when engaging with puzzle toys are the same cognitive tools that they use to learn new skills.
Puzzle toys also reinforce for dogs the principle of completing required tasks to receive rewards, which is the underlying principle of most training.
In this way, puzzle toys help boost their skills in this area, which in turn, makes them more trainable when it comes to the important stuff.
Fights Boredom
Just like kids, dogs get bored. And just like kids, it is usually when they are bored that dogs get into trouble. An engaging puzzle toy will distract your dog from other potential toys, such as your favorite pair of shoes.
Choosing A Dog Puzzle Toy
There are four main things to consider when selecting a puzzle toy for your dog: size, durability, difficulty level, and safety.
1. Size
It might seem to go without saying that the size of the toy you need depends on the size of your dog, but I have seen many pet owners get the wrong sized toy and then be perplexed why their dog can't play with it.
Bigger dogs need toys that are big enough for them to maneuver with their mouths and also don't feature small parts that can break off (and probably will break off eventually) and be a swallowing hazard.
Smaller dogs need a toy that is small enough for them to engage with. For example, some weighted toys that your dog needs to push over in order to release treats can just be too heavy for small dogs to use.
2. Durability
If your dog enjoys their puzzle toy, it will need to be durable, as it will go through quite a bit of wear and tear. But durability does not always mean going with the hardest plastic or similar material on the market.
Many puzzle toys will require your dog to engage with their mouth, and for some dogs, such as older dogs with sensitive teeth, this can be painful and even damaging.
You need to find a balance between durability and what is comfortable for your dog. In some cases, especially if your dog is a chewer, it is worth accepting that if they enjoy the toy, it won't last forever. As long as they got good use out of it, that's OK.
3. Difficulty Level
Finding a puzzle toy with the right difficulty level for your dog can be a matter of trial and error, but you should also have an idea of whether your dog is the kind of pooch that can sniff out anything or has trouble retrieving a ball when you throw it.
You don't want a toy that is too easy and that your dog gets bored, or manages to eat all the treats within the space of five minutes.
However, you also don't a toy that is so difficult that your dog becomes frustrated when they are unable to solve it after a long period of time. This kind of frustration can also result in some behavioral issues.
4. Safety
While you should be supervising your dog while they are engaging with a puzzle toy, you still want to pick something that is generally safe for them to play with.
We have already mentioned the problem of small parts that can break off and become a swallowing hazard.
However, you also need to consider what is inside the toy. If it is a plush toy that contain nutshells of polystyrene balls, both of which are dangerous, then it shouldn't be on your buying list.
It is also important to make sure that the plastic or other outer material that the toy is made from is safe for dogs. For example, rawhide, while fine for some, is not safe for all. If you aren't sure, best avoid it.
A Word On Treats
As already said, puzzle toys work by getting your dog to solve problems in order to be rewarded with edible treats.
But it is well known that feeding your dog an excess of treats can lead to weight problems especially with Labs. There are some simple things to do to ensure your pooch doesn't gain excess pounds because of this toy.
First, choose the right kind of treats. They should be small and low in calories. It doesn't matter if the treats they receive are very small, as it is the frequency of the reward rather than the size that will get your dog excited.
You can find our recommendations for the best treats for training and puzzle toys here.
You don't need to fill the toy with treats; you can fill it with their regular food, which is generally lower in calories.
Your dog will work for this too! Remember, whatever food your put into their toy you need to subtract from what you put in their bowl in order to maintain their calorie intake.
The same goes with treats. Whatever calories they are consuming through treats needs to come out of their overall calorie intake.
Teaching Your Dog To Use A Puzzle Toy
If the puzzle toy that you are using contains your dog's favorite food or treat, then you probably won't have much trouble getting them to engage with it.
Remember, dogs have a sense of smell significantly better than ours, so while the toy may not smell very strongly to us, to your dog, it smells pretty darn good.
Depending on the type of toy, simply supervising your dog as they explore the toy might be enough. If it is one they have to knock over in a certain way to get treats out, they will probably figure this out on their own fairly quickly.
If it is a more complicated toy, you might need to take some time to show them just how it works. Show them the solution by batting it or pushing it over to demonstrate how it works.
But don't do this too much. You want them to learn how they can get treats out of the toy, not that they should hound you to get treats out of the toy for them.
Remember that dogs should pretty much never use puzzle toys unsupervised, as they can have small parts that can be health hazards if your dog gets a little too excited.
This means that you need to introduce the toy as something that you bring out at acceptable times and then put away. Don't leave the toy out all the time.
The Verdict
Puzzle toys are a great way to keep your dog physically and intellectually stimulated when you don't have the time to play catch or for a game of tug.
Dogs that receive sufficient stimulation of this type are generally happier, thanks to a dopamine being releases, and easier to train, as the toys help reinforce the idea of working for reward.
When choosing a puzzle toy, the main concerns are choosing something that is safe for your dog, so no small breakable parts and also it should be usable.
This means that it is the right size and also the right difficulty level.
You don't want something that is so easy that they will figure out how to get at all their treats within the space of five minutes, but you also don't want something that is so difficult that they will become frustrated.
If you are looking for your first dog puzzle toy and you want something that is a safe bet for most dogs, then try the Kong Wobbler.
Once they have mastered this, you can upgrade them to more challenging and sophisticated puzzle toys.
What about you guys?
​Do you have a favorite puzzle toy for your dog?
Tells us about your experiences with stimulating your dog's mind in the comment section below.
Save to Pinterest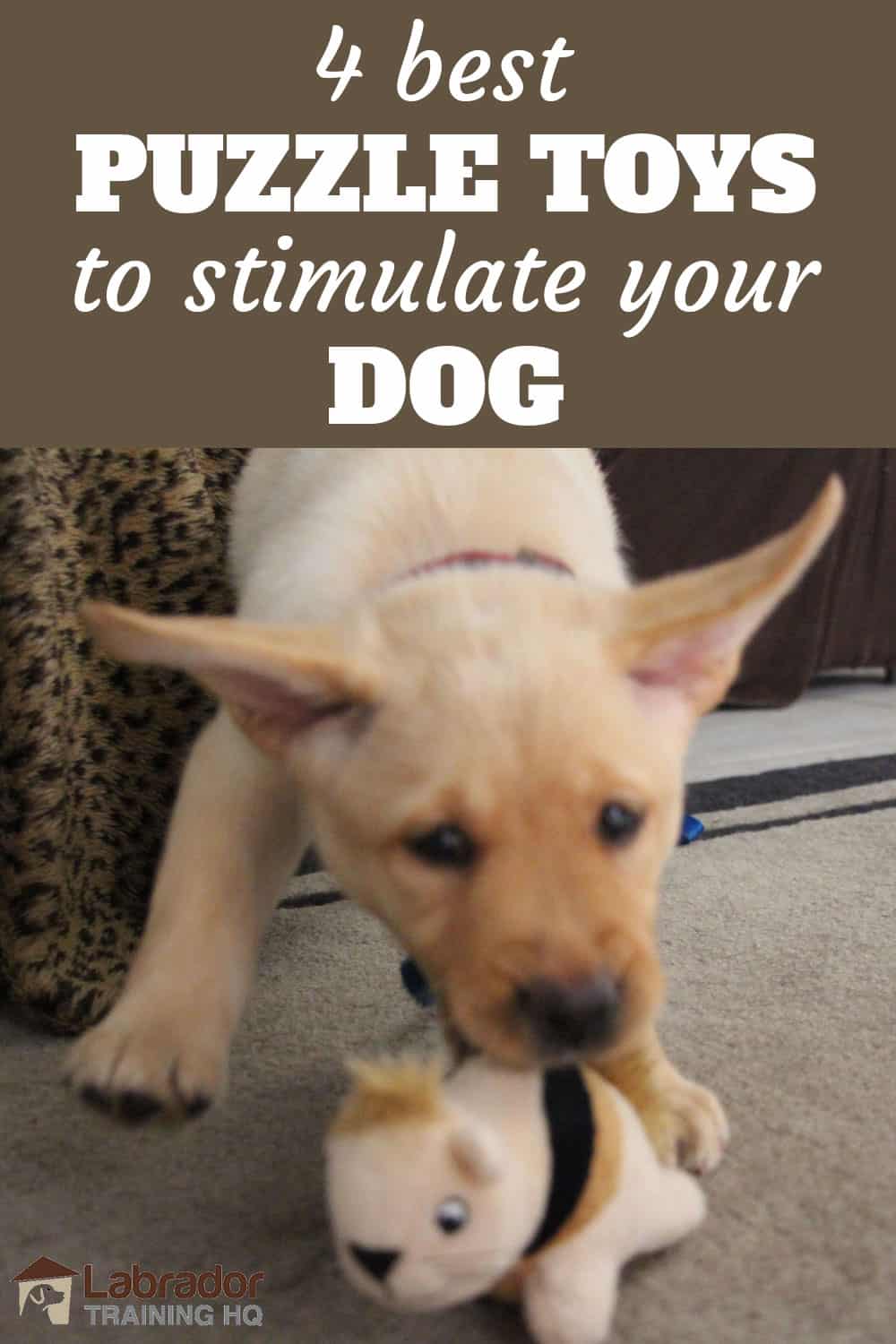 Best Puzzle Toys For Your Dog
Top Picks For Our Dogs
For a list of all the supplies we get for our new service dog puppies check out our New Puppy Checklist on the PuppyInTraining.com blog.