This post may contain affiliate links. We may earn money or products from the companies mentioned in this post.
Do you always dread the day that you have to cut your dog's nails? Or worse, does he start backing away the minute that you approach with the clippers?
It is so easy to make mistakes when cutting your dog's nails. Cutting too low into the cuticle can be very painful and messy. Plus, one bad experience can turn this routine task into a moment of fear for both you and your dog.
The best way to avoid this is to ditch the clippers and start using dog nail grinders.
Dog nail grinders are a safer and more effective way to look after your dog's nails. Instead of snipping, where a slip or miscalculation can end in disaster, you grind away excess nail in a way that gives you more control.
Read on for our list of the seven best nail grinders for trimming your dog's ever growing claws; however, our top pick is the Dremel 7300-PT Dog and Cat Nail Grinder Kit comes with more than one speed option, rechargeable batteries, and no cords. Plus, it is relatively quiet!
We have also put together a comprehensive buying guide so that you know exactly what to look for in a nail grinder.
You will also find tips on how best to approach trimming your dog's nails to minimize the likelihood of causing pain to your dog.
Quick Product Links
Seven Best Dog Nail Grinders
1. Dremel 7300-PT Dog And Cat Nail Grinder Kit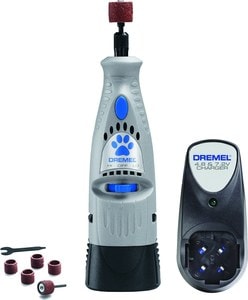 Dremel nail grinders are so good that many people simply call nail grinders Dremels, after the brand.
This grinder has two settings, 13000 RPM so that you can cut through the outer parts of the nail quickly, and a slower 6500 PRM, so you can work with more care near the quick.
Some people might think that this speed seems a bit slow, but unless you are a professional and you know what you are doing, you won't want it to be going much faster.
This grinder is cordless, which means you and your dog don't have to worry about navigating cords as you find a comfortable position for both of you. This model is also quieter than many of the others on the market, which means that it's sound is less likely to set your pooch on edge.
This grinder is on the expensive side, but it's removable and rechargeable battery could save you money in the long run, plus it comes with a two-year warranty.
As well as the charger, you get a variety of sanding cylinders to deal with different densities of doggy nails.
Pros
Multiple speeds
Rechargeable battery
Cordless
Relatively quiet
Cons
Expensive
Faster grinders available
This Dremel grinder is a high-quality product from a trusted brand, and you do have to pay for the quality and trust. But this is the kind of grinder that will last you and your dog a lifetime.
2. Wahl Ultimate Corded Pet Nail Grinder
By far the most expensive grinder on this list, twice the price of the Dremel, which was not cheap. This is a premium, professional nail grinder and probably more machine than most people need.
At twice the price of the Dremel, this Wahl grinder is the premium product. It has a lot of comfort-of-use features, such as being lightweight and ergonomically designed for finger grip, comfort, and control. This was created with the professional in mind, who will be using the tool for hours each day.
You will find a variety of speed options up to 13000 RPM, and there is no need to be restricted to just two speeds, but despite that, it is surprisingly quiet. It also comes with a large sanding drum with three different sanding wheels, so you have lots of options depending on the state of the dog's nails.
On the downside, aside from the price-tag, this model is not cordless. While this is not a problem, it is just one more thing to keep an eye on while working.
Pros
Quiet
Lightweight
Ergonomic design
Variable speeds
Multiple use options
Cons
While this model probably is not worth the price-tag for occasional home use, when it comes to professional nail trimming, there are no better options.
3. Hertzko Electric Dog And Cat Nail Grinder With USB Charger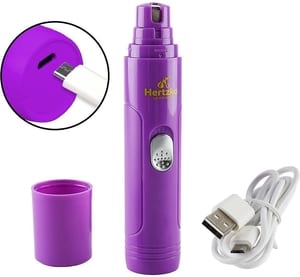 If your pooch has particularly tough nails and you are looking for something durable, this Hertzko grinder uses a diamond bit grinder, which provides a smooth and safe grinding experience, and it will last and last. But as one should expect whenever the world diamond is involved, this grinder is not cheap!
Like the Dremel, this Hertzko is cordless, so you can focus on the task at hand without worrying about cords. While cords can be particularly problematic if your dog decides to spook, this is less likely with the Hertzko than some other brands, as it is blissfully quiet.
The grinding machine comes with three different size openings, appropriate for different sized paws, which means that a single machine can effectively service a multi-pet household.
USB rechargeable, the higher price than some of the cheaper models should quickly even itself out as you save on battery replacement. However, you may find yourself out of pocket if you need to purchase new bands for the grinder, as they are not included, but these diamond bands should last and last.
Pros
Quiet
Usable with different sized animals
USB rechargeable
Cordless
Cons
Does not come with replacement bands
Limited speed options
This grinder is high quality but does not score higher on the list, as it comes with limited options when it comes to speed and coarseness levels. Nevertheless, this is a durable grinder that should more than do the job.
4. ConairPRO Professional Dog Nail Grinder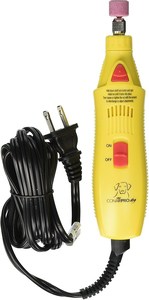 The ConairPRO is another model that is marketed as whisper quiet in order not to spook your dog. In reality, this is a basic model for those who want something functional, but don't want to spend a lot of time learning how to use the tool.
It comes with just one speed, so there is no adjusting as you go, but you are protected from doing harm to your dog's quick by the safety guard, which should stop you before you go to deep. The guard will also catch nail grind as you work for easier clean up in the end. While the speed is not adjustable, it does come with multiple attachments, so you can adjust to a rougher surface if your dog's nails prove particularly tough to cut through.
This model is lightweight and ergonomically designed for easy use, but it is a corded machine, so you do need to be close to a outlet while working and ensure that your dog doesn't decide that the cord is also a toy.
Pros
Quiet
Easy cleanup
Safety guard
Multiple attachments
Cons
One speed only
Not cordless
If you are looking for a basic model that does the job, but doesn't have a lot of fancy settings for you to learn, then you will appreciate the ConairPRO.
5. Andis 2-Speed Pet Nail Grinder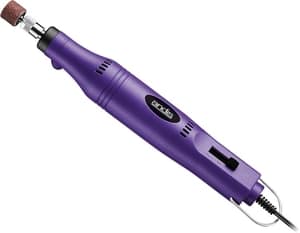 This is another two-speed grinder, though it is slightly different from other models with a low speed of 7,000 RPM and a top speed of 12,000 RPM. It also comes with a lot of options in terms of tools, including a large sanding drum with three sanding wheels, a small sanding drum with two sanding wheels, and a finishing stone.
That is a lot of pieces to keep track of, so it also comes with a handy case for keeping everything together.
This grinder is a little on the expensive side, in the same region as the Dremel, but the main downside is that it is corded, so you do need to keep your eye on what is happening with the cord while you are working.
Pros
Multiple speeds
Multiple sanding options
Case for keeping kit together
Cons
If you are looking for a home-model grinder that still comes with lots of different options and lets you achieve a professional finish, then the Andis is a good choice.
6. FURminator Nail Grinder For Dogs And Cats

If you are looking for a more affordable grinder, but still want to be assured of a high-quality product, then check out the lightweight FURminator.
Another two-speed grinder, use the top speed to quickly cut through the thick outer nail, and then switch to the lower level to work in the delicate area around the quick. Again, there are faster models out there, but unless you are very experienced with a grinder, you probably don't want anything much faster than this.
This model also offers a number of additional safety features to protect against quick-related accidents. These include a nail guard to ensure that your dog's fur does not get caught in the grinder and an LED light to help you get a clear look at what you are doing.
The main problem with this model is that it runs on AA batteries. While it comes with four batteries included at purchase, along with two grinding pads, you will find yourself needing to replace those batteries before too long. Over time, this can add up to a significant additional expense.
Pros
Affordable
Lightweight
Automatic LED light
Multiple speeds
Safety features
Cons
Uses disposable batteries
Faster grinders available
This grinder is both one of the more affordable and one of the safer options on the market, perfect if you are a bit nervous when it comes to nail trimming time.
7. Oster Gentle Paws Premium Dog And Cat Nail Grinder
The Oster is another pretty affordable nail grinder that comes with a lot of safety features to help take the stress out of trimming your dog's nails. It is also one of the quietest grinders out there, so the noise is unlikely to alarm your dog and get them agitated before you even start working.
Another two-speed model, you can adjust your settings based on your confidence and which part of the nail you are working on. It also comes with a coarse stone, fine band, and two coarse bands, so you can adjust the band as well as the speed based on your needs.
You will notice just how quiet this grinder is when you are using it, and many people appreciate the additional safety features. Specifically, it comes with an adjustable safety guard that you can use to stop yourself from cutting further down the nail than you want. The guard also catches nail while grinding, making for more convenient cleanup.
The main downside with this option is, again, that it uses disposable batteries, the expense of which can quickly add up over time, especially considering that batteries are not included with the purchase!
Pros
Quiet
Easy cleanup
Safety features
Multiple speeds
Various coarseness
Cons
Uses disposable batteries
Initial batteries not included
If you lack confidence when it comes to trimming your dog's nails or you hate cleaning up nail debris, you will appreciate the features of this Oster nail grinder.
Nail Grinder Buying Guide
First things first, nail grinders are pet grooming tools that allow you to file down your dog's (or cat's) nails as an alternative to clipping them. Grinders are often also called Dremels, named after the leading brand of the grinder. 
Dremel is well-known for selling power tools, and nail grinders are pretty similar in design and function to the grinding tool you might use for home improvements, but they generally run at slower speeds for safer use.
Grinders are considered especially beneficial for dogs that have extra thick nails, nails that are difficult to cut with clippers, or dogs with dark nails which make it difficult to distinguish between the nail and the quick, and for owners that are nervous about hurting their pets by excessive cutting or an unsteady hand.
While a grinder will certainly be more expensive than a pair of clippers, they also comes with a lot of advantages:
Reduces Fear – Nail clipping time can be a scary experience for your dog, especially if there have been problems before and they have already suffered a painful, deep cut to their quick.But it can be a scary experience for owners as well, since no one wants to be responsible for hurting their canine buddy by accidentally cutting too deep. This is significantly less likely to happen with grinders as you can work slowly and monitor your progress.
Steady Hands – Often, when accidents happen it is because our hands are unsteady or we don't have a firm enough grip on our dog's paw and they move, bringing their quick into the line of fire. While you will still want to control both your own hands and your dog's paws while working with a grinder, you can afford to work with a little bit less precision.
Smooth Edges – When clipping nails, you can often end up with sharp edges, which can be more dangerous and destructive than the long nails that you are trimming in the first place. Grinders make it easier to achieve a smooth edge, much like you do with your own nails when using a nail file
However, just because grinders are a better alternative to clippers does not mean that there aren't drawbacks:
Noise – Grinders, even the ones that claim to be whisper quiet, are pretty noisy. This can be annoying for you and a source of fear for your dog.
Odor And Dust – The grinding of sandpaper against nail can cause a pretty unpleasant smell, not to mention let off quite a bit of nail dust, which you don't want to be breathing in, and it is definitely a cleanup task when your work is done.
The Quick Is Still At Risk – While a grinder makes it less likely that you will accidentally cut into your dogs' quick, they offer no guarantee. If you work too quickly or you aren't paying enough attention, you can still find yourself going too far. If you start seeing a small dot in the middle of your dog's nails, you have hit the quick.
What To Look For In A Dog Nail Grinder
Once you have decided to switch to a nail grinder, who do you know which of the many options on the market are right for you? There are a number of key things to consider:
Speed – The faster your grinder rotates, the quicker you will be cutting through nails and getting the job done. But if you work too fast near the quick, this is when accidents are likely to happen. Ideally, you will want a grinder with multiple speeds, at least two: a fast speed for the thick outer nail and a slower speed for the more detailed work. In general, two speeds will work at 6,500 and 13,000 RPM. Some people think that the lower rate is a bit too slow, but unless you really know what you are doing with nail cutting, you don't need anything faster.
Grinding Options – Just as you want different speeds to cut through different layers of the nail, you will want different grinding surfaces. Coarser surfaces are good for starting the process, and you will want something finer to finish off. A good nail grinder will come with multiple attachment options.
Power Source – Grinders need power to work. They will either use disposable batteries, a rechargeable battery, or main power.
Disposable Batteries – have the obvious drawback of needing to be replaced regularly, which can add expense to your tool over time. If it runs off mains power, your grinder will have a power cord. This is not a problem per se, but it does mean that you have to keep an eye on the cord to make sure your dog doesn't get caught up in it.
Safety Features – Grinders will often come with additional safety features to make them easier to use. The most common is a nail guard, which you can set to prevent you grinding further down into the nail that you wanted. Other common features include an LED light to give you better visibility.
Cleanup – Grinding dogs' nails leaves behind nail dust, which is pretty disgusting and needs to be cleaned up. Some grinders will come with a feature designed to catch much of the nail dust, limiting its distribution around your home, and making clean up a bit easier.
Noise Levels – While all grinders make noise, some are noisier than others. Grinders make the kinds of noises that can put dogs on edge, much like the vacuum cleaner. If your dog is skittish about noise, best to go with a quiet model.
Price – There are some pretty high-quality grinders out there that come with all the bells and whistles and also a hefty price tag.
If you are a professional dog groomer, or you have multiple dogs, this might be a valuable investment for you. But if you are trimming one dog's nails once every one to two months, you can probably go with something a bit more affordable.
Tips For Grinding Dog Nails
Of course, whatever nail grinder you go with, you need to use it properly for it to be effective.
The first thing that you need to do is introduce your dog to the tool, just as you introduce them to anything new that you would use with them.
Start by showing them the grinder and giving them a reward, so that they learn to associate the grinder with positive things.
After that you can place a treat near the grinder, and give your dog an opportunity to sniff around the tool and become familiar with it themselves.
Once they seem happy with that, hold the grinder in your hand and turn it on and off quickly while sitting with your dog, giving them a reward for staying with you as you do.
This helps them become accustomed to the sound of the grinder. Gradually keep the grinder on for longer periods of time until your dog seems generally happy with the tool.
When you are finally ready to start grooming your dog's nails, start slow and only grind away a small amount of your dog's nail at a time. Support your dog's toe in your hand, but be careful not to grip it too tightly.
Start by grinding across the bottom of the nail, and then carefully work in from the tip of the nail.
Only hold the grinder against the nail for a second or two at a time, as both the grinder and the nail will get hot quickly.
Also, remember to stay aware of your dog's hair, and don't let it get caught up in the grinder, as this can be quite painful.
Dogs generally need to have their nails trimmed every one to two months.
However, it can be better to do a small amount of grinding on a regular basis rather than doing long sessions, which expose your dog to the sound and discomfort for long periods of time.
The Verdict
Switching from nail clippers to a nail grinder to trim your dog's nails is generally much safer, as you are much less likely to accidentally cut into your dogs quick, which is very painful for them.
Because of this, the popularity of nail grinders is on the rise and there are lots of options on the market, so finding the best one is the next big challenge.
If you are looking for a reliable brand that you can trust for doing your dog's nails at home, then you can't go wrong with a Dremel.
These grinders are so good and so popular that dog nail grinders are often simply referred to as Dremels. 
If you are looking for something more professional for dealing with multiple different dogs, consider upgrading to the Wahl Ultimate.
It is expensive, but it has everything that you need to deal with any dog nail issue with ease.
Whatever grinder you choose, remember that the tool is only as good as the person using it.
Take the time to learn how to use the grinder with your dog in order to avoid any of the unpleasant accidents that can still happen when you switch from clippers to a grinder.
How about you guys?
Do you use a nail clippers or a nail grinder?
Tell us a little bit about what you use in the comment section below.
Save To Pinterest
Top Picks For Our Dogs
For a list of all the supplies we get for our new service dog puppies check out our New Puppy Checklist on the PuppyInTraining.com blog.