This post may contain affiliate links. We may earn money or products from the companies mentioned in this post.
Best Dog Collars For Your Dog
Dog collars are an essential piece of dog kit! They let other people know that your dog has a home, plus they are necessary for attaching your dog's leash, licence, ID, and rabies vaccination tags.
They can also be used for training, to ward of fleas, or protect them from injury. It is something that they wear all the time, so it is also an essential part of their personal style.
Since it is something that they use all the time, you are going to want the best collar for your dog, but how do you know what are the best dog collars?
What kind of dog collar you need depends very much on your dog – their size, activity level, and training needs – and what you will be using the collar for: is it just decoration for your teacup pooch or are you training your Labrador to walk on the leash?
With so many options on the market, it can be difficult to know which of the many good dog collars out there is best. But don't worry, we have you covered.
We have put together a complete buying guide telling you everything you need to know about dog collars and how to pick the right one.
We have also come up with a list of the five best collars for dogs, which should have something for everyone.
SPOILER ALERT: We love the Soft Touch Collars Leather Collar (our top choice), which is both stylish and functional, with extra padding around your dog's neck.
HONORABLE MENTION: But if you are looking for something a bit more affordable, or for smaller dogs, then the Blueberry Pet Classic Collar is our top choice for small dogs.
5 Best Dog Collars
1. Soft Touch Collars Leather Two Tone Padded Dog Collar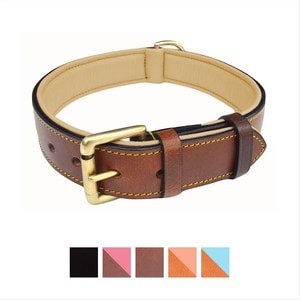 If you are looking for a stylish leather collar for your dog, soft touch collars are both attractive and functional and is ideal for medium- to large-sized dogs.
Made from genuine leather that is both stylish and will feel good against your dog's skin, the inside is lined with soft, padded sheepskin leather that also prevents chafing and irritation. In addition to using naturally tough material, the collar is constructed with sealed edges for increased durability and a solid brass buckle that is lacquered to prevent rust.
The ring for hanging identifying tags is also made from durable lacquered brass. This collar is on the expensive side compared to the others on this list, but it should last and last; in fact, the company offers a lifetime guarantee.
This collar comes in four different sizes, ranging from 11-inch necks to 25-inch necks. This does mean that you won't be able to find a size appropriate for smaller dogs. It comes in five different color combinations.
For medium and large dogs, our favorite is the , which is comfortable, durable, easy to clean, and also looks great. However, if you are in the market for something a bit less expensive, or a bit less substantial for smaller dogs, then the is our next top choice, as it combines functionality and style, all without breaking the bank.
Pros
Padded inner to prevent chafing and irritation

Durable design and clasp

Variety of sizes for medium to large dogs

Variety of color combinations available
Cons
Expensive

Not suitable for smaller dogs
QUICK NOTE: When it comes to medium to large dogs, there is not a more comfortable or stylish collar.
2. Mighty Paw All-Metal Hardware Reflective Dog Collar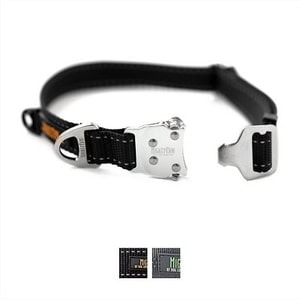 If you prefer something in nylon, then the Might Paw nylon collar with all-metal hardware is a good choice.
While many nylon collars use plastic quick-release snaps, the Might Paw comes with all-metal hardware that is strong but also lightweight, so your dog won't feel like they are dragging around a ball and chain. The collar also features a heavy duty D-ring for attaching your dog's leash, so that there is no question of them breaking away.
As an additional safety feature, the collar has reflective stitching, making it easier for you, and others, to see your dog in lower light. Everything about this design has been well thought through. It even includes tag silencers to stop your dog's tags from jingling.
This collar is a little on the expensive side, but that is hardly surprising considering its durability and design. A greater drawback is that its smallest size is appropriate for an 11-inch neck, which again makes it too big for small dogs, and there are only a limited number of colors available.
Pros
Lightweight

Durable clasp

Reflective stitching

Tag silencers
Cons
Relatively expensive

Limited number of color and size options
Nevertheless, if you are looking for a durable nylon collar that will keep your dog secure while on the leash, the Might Paw is an excellent choice.
​QUICK NOTE: ​​While we love that Mighty Paw has an innovative metal buckle we did notice that it was more difficult to undo the clasp then what we were used to with the simple plastic buckle that you find on many of today's collars including what you get on our next selection.​​​
3. Blueberry Pet Classic Solid Dog Collar
If you are in the market for a more affordable collar that is still highly functional, then check out the Blueberry Pet.
Made from a durable nylon fabric with high-density webbing, it matches this up with a quick-release clasp and adjusters made from recycled plastic, and a nickel-coated D-ring for leash attachment. The plastic attachments are less durable than metal alternatives, but are sturdy enough to last the lifetime of the collar, which will be a bit shorter than some of the sturdier models. The collar is also machine washable, so it is super easy to keep clean.
The Blueberry comes in a huge range of colors, making it the ideal choice for fashion conscious pets and their owners. It also comes in a range of sizes from as small as 7.5 inches, up to 26 inches, though this collar might feel a little insubstantial on the largest of dogs.
Pros
Affordable

Durable nylon

Range of sizes and colors

Machine washable
Cons
Plastic attachments

Not ideal for larger dogs
If you are looking for something affordable, stylish, and functional, then the Blueberry Pet offers a huge range of options.
QUICK NOTE: We've used our Blueberry collar for many years ​and we haven't had any issues with the plastic buckle wearing down. We love the simple design of these collars and if you're not looking for anything flashy then Blueberry might be the collar for you.
4. Max and Neo Dog Gear NEO Reflective Dog Collar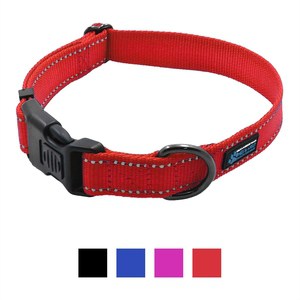 For a lightweight collar for outdoor adventure dogs, but which doesn't come with all the bells and whistles, then the Max and Neo Collar represents good value for money.
The collar itself is made from an ultra-wearable, soft nylon that is both durable and will feel soft and comfortable against your dog's skin. It is made with reflective stitching to ensure the visibility of your dog in lower light conditions. The plastic quick-release clasp has an additional push tab that will prevent it from accidentally unclipping at the wrong moment and a gunmetal finished clip for attaching tags and other essentials.
The collar comes in a range of sizes from 8.5- to 25-inch necks and four different colors. Pet owners can also feel good about buying this collar, as for every collar bought, at a pretty reasonable price, another is donated to a dog in need.
Pros
Affordable

Reflective stitching

Additional push-tab on clasp

Variety of sizes

For every collar purchased another is donated
Cons
Plastic attachments

Limited additional features
This collar is both affordable and stylish for any dog owner who wants a basic but functional collar for their four-legged adventurer.
QUICK NOTE: We'd also like to mention that it's always a good idea to have a reflective collar if you walk your dog at night. We actually also carry a flashlight and use a ​Puplight Safety Colla​r on our night walks.
5. Frisco Solid Martingale Dog Collar With Buckle
If you are in the market for a Martingale collar, you can't go wrong with the affordable option from Frisco.
The nylon fabric is high-quality, and the design of the collar itself snug yet comfortable, with a side release plastic buckle so that there is no fumbling under your dog's chin. The D-ring is functional but discreet, so it does not feel like your dog's collar is over cluttered.
It comes with a highly affordable price tag and a range of sizes, though it is not suitable for smaller dogs with a neck smaller than 14 inches. It also comes in four different color options.
Pros
Affordable

Side-release clasp

Variety of sizes and colors

Minimalist design
Cons
Plastic attachments

Not suitable for smaller dogs
If you are in the market for a basic Martingale collar, then Frisco has come up with something functional and affordable.
QUICK NOTE: We use martingale collars along with easy walk harnesses when training our service dog puppies. You can see the basic setup in the picture of Archer at the beginning of this article.
Types Of Dog Collars
The first thing to know when it comes to choosing a dog collar is that there are a lot of different types, all of which serve different purposes.
Below you will find a list of the main types of dog collars, but there are many more!
Flat Collar
This is pretty much your standard dog collar that you secure with a buckle or quick-release snap, and it usually has a ring for hanging things like identification tags.
Flat collars generally offer the most variety in terms of color and style for the fashion conscious pooch.
You can also attach a lead to this collar, but you might want something else for walking if you are training your dog or they tend to pull on the lead.
Harness
Bigger dogs that like to pull on their lead and get a bit playful while out and about will need something more substantial for attaching their lead, like a harness.
These are safer as they distribute pressure across your dog's body. Harnesses come either clipped at the front or the back.
Front clips are generally better, as when your dog pulls, they will be pulled back towards you, allowing you to control them more easily.
This is not something that your dog will wear all the time, but rather something that you will bring out when you are going out.
For that reason, we haven't included any harnesses on our list. But you can check out our list of the best harness and solutions for dogs that pull.
Martingale
These collars have been designed for escape artists! They consist of a length of material with a metal ring at each end, and a separate loop of material passes through the two rings.
The leash attaches to a ring on this hook and, if your dog tries to back out of their collar, it tightens around their neck. However, it has a limit to how tight it should go, and it can be adjusted so that it will never choke your dog.
Head Collar
These collars look a little like a muzzle, with one strap forming a loop around your dog's muzzle, and the other around the neck and sits high on your dog's head, behind the ears.
This is used for dogs that grunt or pull, as having the collar around their muzzle means that they are unable to pull on the leash with their full weight.
It also means that you should not pull on the leash as it can cause them distress. Many dogs will object to wearing this kind of collar at first and will require training to become accustomed to it.
It can also increase fear of your dog on the street as others may think that ​your dog needs a muzzle because ​he bites.
Averse Collars
Averse collars is an umbrella term for collars used to train difficult dogs using discomfort or pain to correct undesirable behaviors.
These include choke chains, which pull tight around your dog's neck when they pull on the lead, choking them and prong of pinch collars, which place a series of fang-shaped metal prongs near your dog's neck, which can dig in when your dog pulls on the leash, or you do.
There are also shock collars, which can pass a mild electric current through your dog. These are often used with electric fences to let your dog know the limit of where they can roam.
All of these collars pose potential health risks to your dog, choking them or damaging their necks.
They are also not the most effective training tools, as they punish bad behavior, but do not show your dog the expected behavior.
These are not recommended unless you have a very difficult dog and are using them under the guidance of a vet or training specialist.
It goes without saying that none of these collars feature in our top five.
For more information on dog training and why punishment doesn't work, check out our introduction to dog training methods and techniques.
Specialist Collars
There are also a number of other specialists collars available:
Flea and tick collars – that use chemicals to deter these pests from making your dog's fur their home.
Vibration collars – which get your dog's attention like electric shock collars and are often used for training deaf dogs.
Elizabethan collars – those cones that prevent your dog from being able to gnaw at wounds or stitches.
There are lots of situations where you might want to use one of these specialist collars, but again, we haven't included any of these in our top five as they are for special use.
Things To Consider When Choosing A Collar
When choosing the right collar for your dog, there are lots of things to consider and lots of features to look at to distinguish a quality collar from something that won't hold up under regular use.
Collar Use
The first thing to consider when choosing the best dog collar for your dog is what kind of use it will see.
If the collar is mostly for identification purposes and walking a smaller dog or an older dog, then you don't need more than a standard flat collar.
For larger dogs, you probably want a harness for walking, but you might also want a more substantial flat collar for the occasions when you need to use it to attach a lead for a quick walk or keep your dog safe for a few minutes.
If your dog is an escape artist or has a small head like a greyhound, you might need a martingale collar to ensure that they don't slip out.
Make these considerations the first step in your decision making process.
Materials
Collars need to be durable, so that you dog doesn't take it apart while playing, and comfortable, so that it doesn't rub against your dog's skin and irritate them.
The best materials for this are leather or nylon. Leather collars offer a sturdier material for larger dogs, and leather is naturally soft so it should not chafe against their skin.
Nylon collars come in a wider variety of shapes and sizes, and are similarly strong, but shouldn't irritate your dog's skin.
The main problem with these collars is that they tend to smell pretty quickly and need to be washed regularly.
Metal collars are, of course, more durable, and if they are well designed, they should not cause your dog any problems.
They can be a bit heavier, so they aren't ideal for small dogs.
Size
Of course, collars should also be properly sized for your dog so that they can't slip out easily and they also aren't uncomfortably tight.
You shouldn't buy oversized collars assuming that you can size them down, even for puppies.
The extra material just gives them something to play with, which will get dirty, smelly, and may make it easier for them to wriggle their collar off.
You should be able to fit two fingers between your dog's collar and their neck, less than that and it is too tight.
Clasp
In general, collars are clasped either using a buckle or a quick release clasp. Owners of larger dogs often prefer buckles as they are a little bit sturdier than clasps.
Similarly, leather buckles are sturdier than plastic ones, but they also have a tendency to rust and wear out more quickly.
The most important thing with the clasp is to ensure that it does not catch on your dog's hair, as that can be painful for them.
Dye
Some dogs can be allergic to or sensitive to the dyes used to color collars, especially if the dye comes off onto their skin.
If your dog does have an issue with dye, it is better to avoid nylon collars and go for something in a natural leather.
Also, be aware that in some rare cases dogs can develop allergies to nylon. If your dog is having problems with their collar, this is something else to investigate.
Final Word
As a final word, it may be useful to think of your dog's collar like you think about your toothbrush; it is not something that you share with other people. All of your dog's should have their own collars that is for their exclusive use.
Dog's like having their own things that smell like them and won't enjoy donning the collar of another dog.
Sharing collars is also a fast way to spread any problem that one dog might have, such as fleas, to other dogs.
Finally, like your toothbrush, accept that it is going to get a lot of use and will need to be replaced pretty regularly.
The Verdict
While collars might seem like a pretty basic bit of kit that it is hard to get wrong, remember that it is something that your dog will use every day, day in and day out, so it pays to get it right for the sake of their comfort and safety.
This involves choosing a collar that is appropriate for what you intend to use it for, something made from a comfortable yet durable material, and which is sized correctly.
For medium and large dogs, our favorite is the Soft Touch Collars Leather Collar, which is comfortable, durable, easy to clean, and also looks great.
​However, if you are in the market for something a bit less expensive, or a bit less substantial for smaller dogs, then the Blueberry Pet Classic Collar is our next top choice, as it combines functionality and style, all without breaking the bank.
So, what about you guys?
Do you have a favorite dog collar?
In your experience, what is the best dog collar?
Tell us your thoughts in the comment section below.
Save to Pinterest
Best Dog Colalrs
Top Picks For Our Dogs
For a list of all the supplies we get for our new service dog puppies check out our New Puppy Checklist on the PuppyInTraining.com blog.