This post may contain affiliate links. We may earn money or products from the companies mentioned in this post.
While dogs will always need collars, it has become clear that the best way to walk your dog is not to attach a lead to their collar. If they pull or jump, they can seriously hurt themselves as pressure is applied around their neck.
Harnesses are a better alternative for controlling your dog while out and about, but to use one correctly you have to know how to put a harness on your puppy.
A harness gives you more control over your dog, as you have more points of contact to utilize. It is also safer for your dog as it distributes the pressure across their chest rather than around their necks.
Harnesses tend to be much more complicated to put on your pup than a collar, though, and if they get overly excited it can feel like quite an ordeal. With that in mind, in this article, we have provided a complete guide to putting a harness on your puppy.
You'll also find tips on choosing the right harness for your dog and our recommendations for some of the best harnesses that you can buy today.
Benefits Of A Harness Over A Collar
There are many reasons why harnesses are becoming an increasingly popular option over collars when it comes to walking dogs.
First, dogs that pull on their leash may risk increasing blood pressure to their eyes, straining or spraining their neck, or breaking their larynx or trachea because of the pressure that the collar puts on their throat. This is especially dangerous for breeds already prone to breathing issues.
Moreover, it is more difficult to control a dog on a collar than on a leash, which can increase the chances of accidents or losing control of an overly excited dog. This is because a collar only provides a single point of control, whereas a harness provides multiple points of control.
Looking for a collar for identification? Read our guide to the best collars here.
How To Put A Harness On A Puppy
While every harness is slightly different and will have different buckling methods, this step-by-step guide, combined with your instruction manual, should give you all the information you need to get your dog into their harness.
Let Your Dog Get Used To Their Harness
Dogs tend to be wary of anything new getting too close to them until they have had a good chance to examine it, and the same is true for their harness. Before you start trying to slip this foreign object over his head, let him figure out that it is harmless.
Leave the harness in a place where they can investigate it in their own time. When they seem satisfied that it is not a threat, you can move on to the next step.
Calm Your Dog
If your dog is anything like mine, this will be the hardest part of the process. She starts jumping in excitement as soon as she sees the leash and likes to nibble on it as I pass it over her head.
It can be hard to put a damper on this kind of enthusiasm, but if you have a large or strong dog it can be necessary for getting them into the harness.
As with most things, this is a matter of training. Teach your dog the behavior that you would like to see when you get the harness out by showing them standing or sitting calmly in a certain spot, and then rewarding them for compliance.
If you are consistent with show and reward, they should figure out what to do pretty quickly.
As already mentioned, this is most important for large dogs who need to cooperate, rather than smaller dogs that you can manhandle into a harness if necessary, but it is good for your dog's socialization and mental stimulation to get them to behave properly regardless of their size.
Assume The Position
The easiest position to be in when putting a harness on your dog is standing, sitting, or squatting behind them, with them standing or sitting (calmly) in front of you. It can be a good idea to have a place in the home where you put the harness on so that your dog associates the right behavior with that spot.
It is also a good idea to have already organized your harness and have it in the right position for putting on your pup before you call them over. An excited dog can only be asked to sit still for so long, so minimize waiting times.
Put On And Buckle The Harness
Every harness is slightly different, so you need to read the instructions for how exactly to use yours. Generally speaking, they will either be harnesses that you slip over your dog's head or harnesses that they need to step into.
Many dogs don't like having things passed over their heads and will complain or try and bite the harness as it passes around their mouth. Again, you can train them to put up with this by rewarding them when they are cooperative, but if they really don't like it you can look at a step-in harness.
Adjust To Fit
No matter how meticulous you are with your measurements, every harness will require a little adjustment to be perfect for your dog. You should be able to slip two fingers under the harness at any point. If you can't, the harness is too tight and will cause your dog discomfort.
It is also important to check that it is not so loose that they can get out. This is often a problem with slim dogs, especially if they have a small head, and with dogs with short legs, like a Dachshund, since they can sometimes free their own legs.
Make sure to keep an eye on the fit of the harness while you are using it, rather than assume you got it right the first time. Watch for chaffing, especially under the front legs. Make sure that buckles are in sensible places and aren't likely to hurt your dog when they flop down somewhere.
Just look out for general signs of discomfort. At first, it might just be that they don't like the harness, but remember that it could be genuine irritation and investigate accordingly.
Reward Your Pup
When your dog is getting used to the harness, make sure you reward them for cooperating with you and helping you get them ready. Soon you won't have to do this, as going out generally tends to be a rewarding treat on its own.
What To Look For In A Dog Harness
As you look for a harness for your dog you will probably realize that there are scores of different options on the market, but there are some things to bear in mind that can help you make the right decision.
Clip Type
The first thing to consider is whether you want a front-clip, back-clip, or dual-clip harness. This refers to the location of the D-ring to which you will attach the leash.
A back-clip harness has the D-ring between the shoulder blades, and this is most like the placing with a collar. It offers less control than the other two options but is fine for smaller or more cooperative dogs. You might find that a large dog after their prey might be able to break free.
On a front-clip harness, the D-ring is on the front of your dog's chest. These are sometimes called no-pull harnesses as you have more control over your dog's forward motion.
These are ideal for dogs that pull, jump, or just generally get distracted and walk off; however, this is not the best choice for dogs with serious behavioral problems, as you can get even more control with a dual-clip harness.
Read our complete guide to no-pull harnesses here.
A dual-clip harness will have D-rings on the front and back, and possibly at other points in the harness as well.
This obviously gives you more points of control when needed to control your dog; however, they are only recommended for the most badly behaved pups as they can be expensive and uncomfortable for your dog, and really you should rely on training rather than these harnesses to control your dog's behavior. They are only recommended for short-term use.
There are also a number of other "specialty" harnesses designed for specific purposes. For example, mobility harnesses are designed to support dogs with diminished mobility, allowing you to lift, maneuver, and generally assist them in comfort.
You can also get a tightening harness that tightens when your dog pulls. The idea is that the discomfort will teach your dog not to pull. These are generally considered controversial and not recommended by the majority of trainers.
Style
Not all dogs have the same body type, and different types of harnesses will suit different breeds of dogs best.
The step-in harness is probably the simplest. On the ground, the harness looks like a figure eight that your dog just steps into, with one foot in either opening.
The harness is then lifted up and strapped around their back. These are almost exclusively made for smaller dogs, as they tend to be less substantial than other types of harnesses.
Roman harnesses are a bit more substantial with two strips, one that runs along the chest and another that fits around the shoulder blades. These tend to be a bit more challenging to fasten on your dog, with more complicated straps.
Durability
You are going to want a harness that will be able to cope with your dog's active lifestyle, especially if your dog is a puller or a chewer.
You will generally be able to choose between a single-ply or a two-ply harness, which simply means that it is made with either one or two layers of material. The two-ply harness is more durable, but not necessary for all dogs.
Size
Getting the right size matters, so make sure you measure your dog using a tape measure and consult the manufacturer's size chart. What constitutes a small or a medium can be very different depending on the brand.
The most important measurement will be the girth of their chest, which should be taken at the widest part of their rib cage about an inch behind the front legs. The tape should be flush against their skin but not tight.
You may also need a measurement for their lower neck, which should be taken at the thickest part of your dog's neck.
Some size guides may also refer to your dog's chest width, which can be measured across the front of your dog's mid-chest over their breastbone down to about an inch behind their legs. Some guides may also use weight as an additional measure to help you find the right fit.
Good Dog Harnesses
If you are looking for a harness for your dog, the following options from Chewy are all great quality choices. Deciding which is right for you depends on what you need for your dog.
If your pup is fairly cooperative and you only need a basic harness, then this affordable option is an excellent choice.
While it may seem quite substantial, it is made from a breathable mesh fabric so your pup won't overheat. The harness is a step-in style with a back clip and is secured with both a fuzzy fastener strap and a snap buckle.
Available in a variety of sizes and colors.
This is a fairly substantial harness with four rust-proof buckles, but it is easy to put on and take off your dog due to its clever design. It is a dual-clip harness, so you can attach your leash at the front, back, or both, depending on what your dog's current training needs are.
The reflective trim is a nice touch for keeping your pup safe in lower lighting.
Available in a variety of sizes and colors.
This front-clip harness also has a handle on top for safely controlling your dog in all situations. The chest strap is padded for comfort, and the harness uses 3M reflective material to enhance visibility.
Available in a variety of sizes and colors.
This is another front-ring harness that uses an O-ring at the front to give you greater control over your dog. There is also a D-ring at the back of the harness for a more traditional leash attachment. It is an over-the-head design made from high-quality nylon webbing that is durable and breathable.
Available in a variety of sizes and colors.
This is a premium, weather-resistant dog harness with dual clips so that you can control your dog in the way that is best for them on the day and depending on what you are doing.
It has been carefully designed not to restrict shoulder movement while your dog is busy enjoying themselves. It is highly adjustable, and there is a padded handle at the back for when you need to catch your dog in busy environments.
Available in a variety of sizes and colors.
FAQs
At what age can you put a harness on a puppy?
It is generally recommended to wait until eight weeks to start using a harness with a puppy. By this time, they have absorbed all the calcium they need from their mother for relatively strong bones, which means they are more prepared for the challenges of a harness.
Why does my puppy bite when I'm putting him in a harness?
If your dog doesn't like his harness, he may bite at it when you are putting it in him, or later. This could be that the harness is not properly fitted to them and you need to make some adjustments; however, it can also just be that they don't like wearing it since dogs aren't really accustomed to wearing clothes.
They should get used to the harness with time and positive reinforcement that the harness is associated with going out and having fun.
The Verdict
Harnesses are both a safer and more effective way of controlling your dog when you are out together enjoying life. You have more points of contact to focus your dog's attention, and they are less likely to inadvertently hurt their necks when jumping or pulling than if they are using a more traditional collar.
While harnesses are designed to be user-friendly, they aren't always easy to get on your pup when they are excited about getting out of the house with you. Hopefully, our complete guide to putting a harness on your dog has given you some tips and tricks to make it an easier process.
Do you have any recommendations for using a harness with your dog?
Share them with the community in the comments section below.
Save To Pinterest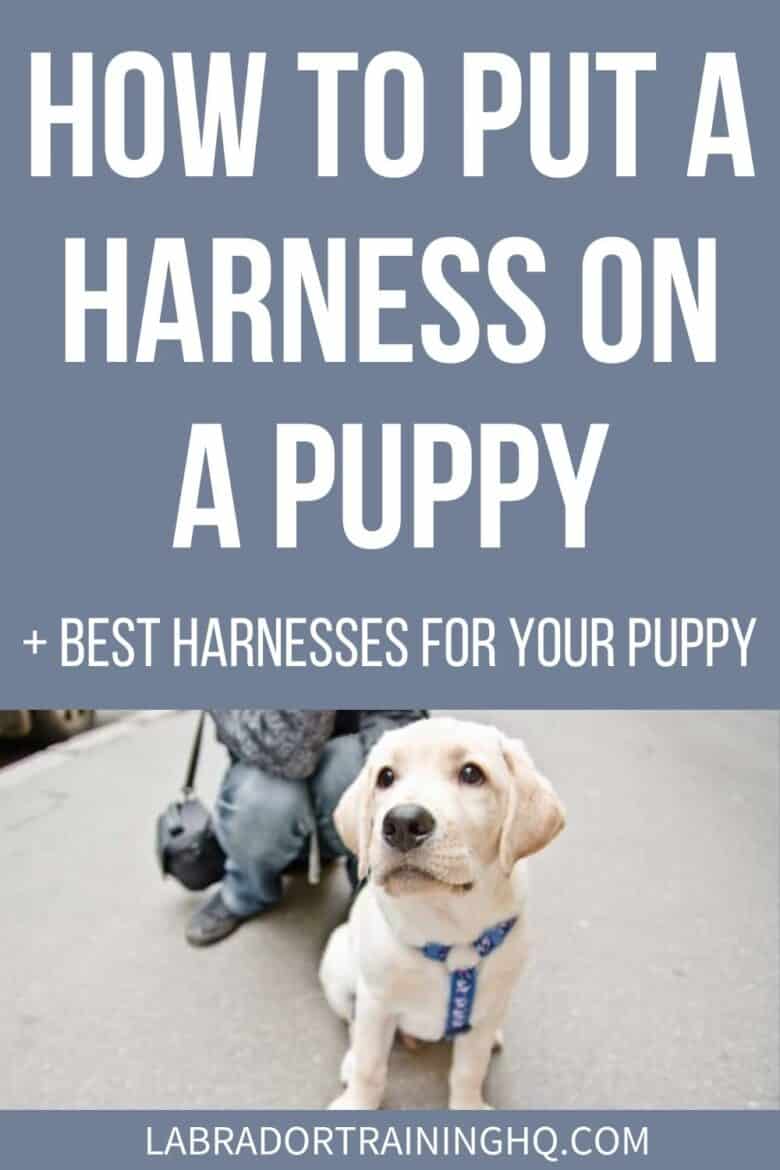 Top Picks For Our Dogs
For a list of all the supplies we get for our new service dog puppies check out our New Puppy Checklist on the PuppyInTraining.com blog.