This post may contain affiliate links. We may earn money or products from the companies mentioned in this post.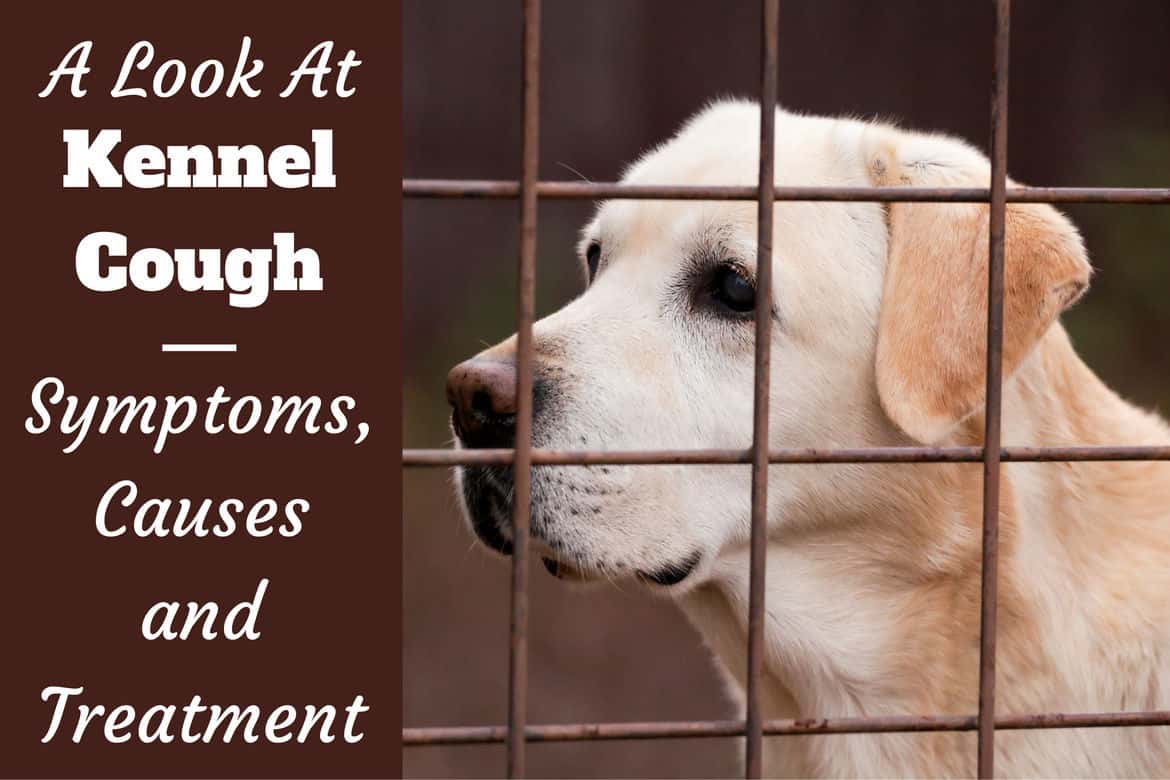 I always find it interesting to think how little most of us know about some very common occurrences.
Example: you know thunder is the noise that closely follows a lightning strike, but what causes it? Another: microwave ovens warm up food, but how? (I'm sure some of you trivia buffs have the answers!)
And almost every dog owner knows that a hacking pooch probably has "kennel cough." But ask them to explain what it is, and…
Well, I was in the same boat, once upon a time. So please allow me to answer this question for you:
What Is Kennel Cough?
More properly known as infectious canine tracheobronchitis (you can see why "kennel cough" is the more popular term!), it's a respiratory disease caused by one or more of several possible pathogens.
Kennel cough is very common, found the world over, and is not breed or gender specific. Sad to say, most dogs will experience at least one case of this disease. (Including my own black Lab when he was just a pup.)
Causes of Kennel Cough
There are several possible causes of and contributors to kennel cough, and some dogs are infected by more than one at a time. Possible causes of kennel cough are:
Bordetella bronchiseptica bacteria
Canine parainfluenza virus
Canine adenovirus type 2
Mycoplasma (a bacterial parasite)
Reovirus
Canine herpes virus
Bordetella bronchiseptica is one of the most commonly found bacteria in dogs suffering from kennel cough, which is why many vets refer to the condition as bordetella. The parainfluenza virus is also commonly seen.
Some of the other pathogens on this list possibly contribute to the disease by weakening the immune system, making it more vulnerable to infection.
Normally, a dog's respiratory system is capable of trapping and eliminating bacteria and viruses that are inhaled.
When the mucus lining the system has been weakened, perhaps by exposure to cold, poorly ventilated air, or stress, pathogens are able to take hold and cause infections.
All of these infectious agents are highly contagious, especially among dogs living in close quarters with one another.
This is where the term "kennel cough" comes from: dog kennels are highly prone to tracheobronchitis outbreaks. (Sadly, so are 'puppy mills' which is why so many unsuspecting dog owners bring home sick puppies.)
It's important to know that your Lab can contract kennel cough without ever visiting a kennel! The condition is so contagious, it can be caught from any infected dog you might come in contact with.
When a sick dog coughs, the bacteria and/or viruses become airborne, ready to be inhaled by another dog. They can also be transferred via a shared water or food bowl.
When Should I Suspect My Dog Has Kennel Cough?
Symptoms of kennel cough will begin to show anywhere from 3 to 10 days after exposure, though the shorter end of the time frame is most common.
The most obvious symptom of the disease is a dry, hacking cough. The cough can be so bad that it may be followed with dry heaving, or retching. In some dogs, the cough actually sounds a lot like a honking goose.
Other symptoms to watch for include nasal discharge, loss of appetite, listlessness, fever, and lethargy. Extreme cases can lead to pneumonia and even death.
Having said that, the majority of dogs will show no signs of ailing outside of the cough itself. Only those with highly compromised immune systems will likely experience any of the more severe indicators.
Diagnosing Kennel Cough
If you suspect your Labrador is dealing with kennel cough, visit with your vet as soon as you can.
Diagnosis is generally based on simple observation (and your suspicions will probably be correct), rather than any tests or blood work.
It's possible the doctor might order tests, just to be certain of the precise cause of the disease.
Should initial treatments be unsuccessful, more tests might be in order to get at the underlying cause of the cough. These tests could include urinalysis, chest x-rays, and blood cell counts.
How Is Kennel Cough Treated?
The great news is this is a highly treatable condition from which most dogs recover fully. Here are some things you can do for your kennel cougher, and courses of treatment your vet may prescribe.
Have Some Alone Time
Your first step is to isolate your dog from any other dogs. No walks in the neighborhood, or visits to the dog park.
If you have another dog in your home that does not seem to have picked up the disease, this would be a good time to have it go and stay with some friends! (Preferably ones without dogs, just in case.)
Even after the condition has been cleared, the virus and/or bacteria are still being expelled from your dog for as long as 2 weeks, during which time they can infect other dogs.
Continue to keep away from other dogs until you're completely in the clear.
Hands Off Approach
If your Lab has a mild case, it's possible your vet won't prescribe anything at all. An otherwise healthy dog can fight off the disease on it's own, and the condition should clear up in a week or two.
You can still help things along with a humidifier to ease breathing, and avoiding collars around the neck that might irritate the throat. Keep your dog hydrated and on a healthy diet, and let him take it easy.
Prescription Meds
There are a number of beneficial medications your vet may offer, depending on the nature and severity of the infection.
Antibiotics can reduce the severity and length of the disease, if bacteria are responsible. However, a viral infection will not be cured with antibiotics.
Symptomatic treatment may be administered to help ease your Lab's discomfort as its body fights the infection.
Bronchiodilators can open up the airways to ease breathing, and cough suppressants will, obviously, control coughing and allow your dog to function more normally.
Severe cases may benefit from antibiotics (since bacteria are likely involved, even if they aren't the direct cause), and anti-inflammatory drugs may be used to reduce swelling in the trachea and larynx.
Extreme cases of kennel cough may require hospitalization in order to closely monitor the dog's condition, especially if pneumonia sets in.
Can Kennel Cough Be Prevented?
There is currently no way to 100% eliminate the possibility of your dog contracting infectious canine tracheobronchitis. There are, however, ways to greatly reduce the risk.
If your Lab is a puppy, try and avoid areas of heavy dog traffic, such as boarding kennels, dog parks, dog shows, and the like.
It's best to wait until all juvenile vaccinations are administered, and the immune system has a chance to develop.
As you may have guessed from the previous paragraph, vaccinations will help lessen the chance of catching kennel cough by providing protection from some of the viruses that may contribute to the disease.
For example, standard vaccinations will guard against adenovirus and parainfluenza.
There is also a vaccine to ward off Bordatella, delivered via a nasal spray. Apparently, the antibodies lurk in the nasal passage, just waiting for Bordatella to show up.
The effects are temporary, lasting between 6 months to a year, depending on the particular vaccine. An oral version of the vaccine is also available.
Is Kennel Cough a Danger to People?
Not so long ago, the answer to this question would have been "no." That answer would also have been wrong.
Generally speaking, kennel cough in all its variants poses no danger to a normal, healthy individual human being.
It has been shown recently, though, that humans with suppressed immune systems (due to age, illness, or medical treatment like chemotherapy or immunosuppressant drugs) are at risk of contracting respiratory disease from an infected dog.
This doesn't mean you need to shun your dog, however. Simply wash your hands after coming in contact with a sick dog (no matter the illness), and keep your shared environment clean.
Some Final Thoughts
For many dogs, kennel cough is pretty much the canine equivalent of the common cold in humans: a nuisance, but not a serious issue.
Your best approach is to treat it in much the same manner: bed rest, plenty of fluids, and medicine for any particularly aggravating symptoms.
When my puppy had kennel cough, I was a newbie to dog ownership. We muddled our way through it, and our special guy is none the worse for wear.
Use your common sense, consult your vet and take care of your furry friend, and you'll both pull through, too.
Disclaimer
All content on this site is provided for informational and entertainment purposes only. It is not intended to be nor can it be considered actionable professional advice. It must not be used as an alternative to seeking professional advice from a veterinarian or other certified professional.
LabradorTrainingHQ.com assumes no responsibility or liability for the use or misuse of what's written on this site. Please consult a professional before taking any course of action with any medical, health or behavioral related issue.
Top Picks For Our Dogs
For a list of all the supplies we get for our new service dog puppies check out our New Puppy Checklist on the PuppyInTraining.com blog.