This post may contain affiliate links. We may earn money or products from the companies mentioned in this post.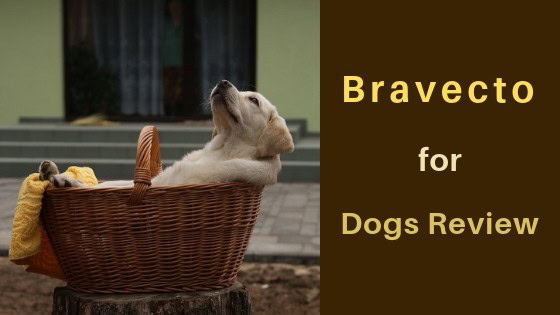 Every dog owner knows that fleas and ticks are bad news for a beloved pet. Without regular protection, your dog can quickly become infested with these pests that can bite and transmit diseases to your dog and your family.
A flea infestation on your dog can quickly become a big problem for your home environment. Fast breeding and difficult to stamp out, the key to ensuring your home doesn't become a haven for fleas is to not allow them to live on your dog.
Bravecto for dogs is a chewable tablet that delivers 12 weeks of flea and tick protection. In this review of Bravecto for dogs, I will go over how the product works, side effects, safety concerns, where to buy it, and whether or not I give this product "Paws Up or Down."
Bravecto Rating
Bravecto for Dogs
Bravecto is a unique product in flea and tick protection because its chemical makeup kills active infestations and prevents future infestations.
Bravecto contains fluralaner, an active ingredient that kills adult and juvenile fleas as well as a variety of ticks including the black-legged, brown dog, American dog, and Lone Star.
Unlike Bravecto, most flea and tick medications only work to stop the reproduction of fleas and ticks rather than to kill fleas and ticks already on the dog.
Bravecto is a prescription medication so in order to get it, you must have approval from your vet. Many veterinarians recommend and prescribe Bravecto for one simple reason: it works.
When I started looking into the reviews for Bravecto for dogs, a common thread among pet owners is how easy the product is to administer; as a chewable tablet, dogs readily gobble it down.
The chewable is so much better than a topical product. I have used the so-called "spot on" products in the past and it was always a mess and has an unpleasant smell!
If I can manage to get my dog to stay still for long enough to squirt all of the treatment onto the right spot between the shoulder blades, invariably she shakes right after and sends the liquid running down the ridge of her back.
Naturally, she follows that up laying on her back in her bed or on the carpet, wiggling around to scratch the offending tickle and the treatment gets rubbed off.
I also wonder how effective the product will be when she has wiped so much of it off. Worse still, I have young kids in the house and I don't want them touching her and getting the treatment on their hands or bodies.
Many of the reviews for Bravecto flea and tick protection also highlight the convenience of the dosing which lasts 12 full weeks. Having to provide a dose every 3 months instead of every single month is very nice and can save you money, too.
Bravecto can be used in dogs as young as 6 months old weighing at least 4.4 pounds and is considered safe for pregnant, breeding, and lactating dogs. Speak to your vet about a flea and tick solution that would work best for your smaller or younger pup.
Like all flea and tick medications, Bravecto is prescribed to your dog in the appropriate strength based on your dog's weight. The heavier your dog, the higher the concentration of the active ingredient present in the drug.
Bravecto and corresponding concentrations of Fluralaner are broken down in the following dosage categories:
If you miss a dose of Bravecto all you have to do is give the chew to your dog right away. Mark your calendar for the next dose to be given 12 weeks later rather than sticking to the old schedule.
When checking out Bravecto flea and tick reviews I noticed that many dog owners began using this product after a yard or pet infestation was in full swing. When your dog is being attacked by fleas or ticks in large numbers, it is miserable for every member of the family and you want relief, fast.
Bravecto kills greater than 98% of active fleas, both adolescent and adult, on your dog within 12 hours. It kills 100% of ticks on your dog within 12 hours.
We all know that flea bites itch and can make sensitive dogs break out in rashes and hot spots and that both fleas and ticks carry some really nasty diseases that you all want to avoid. Bravecto reviews state that the product starts working really fast, helping to get an infestation under control quickly.
For a period of 12 full weeks after treatment with Bravecto, you can expect your dog to have a 98.8% reduction in fleas. Those are some seriously impressive results and a big relief to an infested dog and her family.
It's important to note that in the case of yard or home infestation, you will have to seek the assistance of a pest control company to get rid of the problem. If you only treat your pet, your house and yard can remain infested which is a health concern to you and your family.
Is Bravecto Safe?
Bravecto is considered safe for most dogs. Vets everywhere recommend this flea and tick solution because it is safe, effective, and easy to use.
Bravecto has been approved by the Food and Drug Administration (FDA). This means that the drug has been tested and that the benefits of the medication outweigh the risks in taking it.
A field study was also conducted on 294 dogs to determine if Bravecto is safe. In that study, the most common side effect experienced was vomiting and no serious adverse reactions were reported.
Given that some dogs have experienced seizures as a side effect with Bravecto, it is very important that you tell your vet if your dog has any history of seizures. With a history of seizures, it would be best to use a different flea and tick solution.
There are not any known adverse interactions between Bravecto and other drugs. Nonetheless, it is always best to tell your vet of all current medications your dog is taking before starting a new one.
Bravecto Side Effects
As with nearly any medication, there is a risk of some side effects. Bravecto has been studied extensively to receive FDA approval but the following side effects have been reported with the use of Bravecto:
Flatulence
Vomiting
Diarrhea
Increased thirst
Decreased appetite
Lethargy/weakness
Seizures
Obviously, seizures are serious and the risk of this side effect cannot be overlooked. If your dog experiences seizures after taking Bravecto, take them to the vet immediately.
The other side effects are unpleasant but certainly not life-threatening. If your dog has any of these milder side effects after taking Bravecto, talk to your vet and get a recommendation.
Where Can I Get Bravecto?
You must have a valid prescription from your dog's vet to buy Bravecto. This flea and tick medicine can be purchased directly through your vet or through a specialty pet retailer like Chewy.com.
In some Bravecto reviews, consumers mention that this medicine is priced higher than its competitors. Bravecto only has to be applied every 12 weeks, not every month, so over time it can actually cost less, especially if you take advantage of sales and discounts with online retailers.
Bravecto for Dogs: Paws Up or Down?
I gave Bravecto 4 stars and a big "paws up!" The product is FDA approved, very effective, fast-acting, and easy to administer, but it has a higher initial price tag than competitors.
Pros

Cons

Fast-acting
Lasts 12 weeks
Easy to give to your dog
Widely available
FDA approved
Can be used to end active flea and tick infestations

Known to rarely cause seizures
May cause vomiting and other gastrointestinal issues
Higher price point than competitors
Final Word
Bravecto is unique in that it gives dog owners a solution to active flea and tick infestations in an easy-to-administer, convenient, 12-week dose. Although some side effects have been reported, that is true for any drug, and studies have shown that the drug is safe for most dogs.
If your dog has a history of seizures, Bravecto is probably not the best choice for you. For most dogs, however, this drug is safe and very effective at ridding your dog of fleas and ticks.
If you are interested in Bravecto for your dog, talk to your vet to see if the medication is a good fit. Vets everywhere recommend Bravecto to stop fleas and ticks in their tracks.
Top Picks For Our Dogs
For a list of all the supplies we get for our new service dog puppies check out our New Puppy Checklist on the PuppyInTraining.com blog.