This post may contain affiliate links. We may earn money or products from the companies mentioned in this post.
What on earth is a Bassador?
A Bassador, also known as a Bassetdor or a Basador, is a hybrid dog combining the popular Basset Hound and Labrador Retriever breeds.
Overall, Bassadors are fiercely loyal, loveable, cuddly, and delightfully dopey-looking dogs.
Ranging from medium to medium-large in size, the Bassador is a strong dog that has plenty of energy for hiking, going on walks, running around the garden, and following you around while you do your chores.
It's also worth noting Bassadors are notoriously stubborn and can be difficult to train, which means they are not for everyone.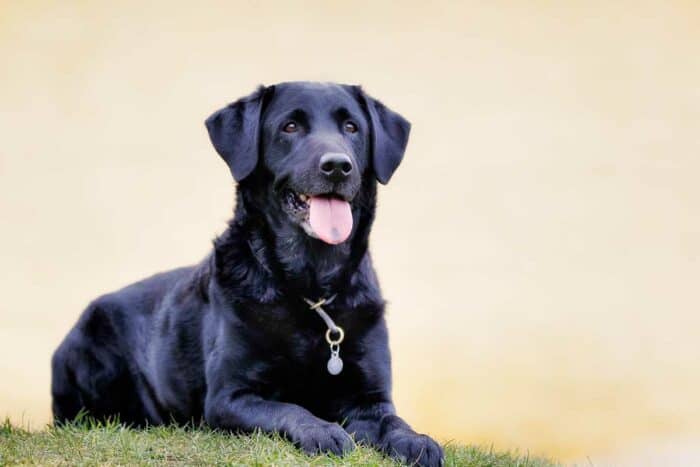 Let's take a closer look at the Bassador breed to help you decide whether it is the dog for you!
Bassador Main Characteristics: Overview
Height: 13 to 20 inches at the shoulder
Weight: 40 to 70 pounds
Size Classification: Medium to medium/large dog
Lifespan: 10 to 13 years
Coloring: Brown, white, and/or tan
Pro Key Characteristics: Super friendly, loyal to a fault, very active
Con Key Characteristics: Stubborn, strong prey drive, year-round shedding
A History Of The Bassador's Parent Breeds
Like I briefly covered earlier, the Bassador is a combination of the Basset Hound and the Labrador Retriever.
To understand the uniqueness of the Bassador, you need to understand the history and the overall profile of its two parent breeds.
Basset Hound
Basset Hounds hold a special place in many dog lovers' hearts, as they have a dopey appearance, a big chest that produces a distinct and resounding bark, and one of the most loveable natures in the canine world.
The Basset Hound is a medium-sized dog that stands no more than 14 inches tall at the shoulder.
They have a very heavy bone structure, a large skull, and large paws, which gives them an incredible amount of heft and strength for their size.
Their trademark dopey facial expressions can be attributed to their highly domed skulls, long floppy ears, wrinkly foreheads, sad-looking eyes, and, of course, their drooping, wobbly jowls.
The Basset Hound breed originates from France and Belgium. The word "basset" actually means "low" in French, which describes this low-slung dog perfectly.
This breed was originally bred to be a hardy hunting partner that had an incredibly accurate nose for scenting prey and doing long distance tracking of deer and other wildlife.
Labrador Retriever
The Labrador Retriever is the most popular dog breed in the United States of America. It is no wonder, as Labradors are kind and easily trained, have loveable natures, and are always willing to please.
The Labrador Retriever originates from Canada and was bred to be a retriever for fowl hunters and fishermen by chasing down ducks, swimming after fish, and retrieving them for their humans.
Because it is such a popular breed, the Labrador Retriever is a dog that is commonly cross bred with other dog breeds for their friendliness, spunky personalities, and loyalty. 
If you're thinking a Labrador hybrid is the right dog for you, have a look at my article where I talk about another beloved example of a perfect Labrador Retriever cross: the Goldador!
Bassador
The Bassador was first developed in the 1990s and 2000s. The goal of this crossbreeding was to produce an adorable Basset Hound-shaped dog with the intelligent, eager-to-please personality of a Labrador Retriever.
The Bassador can be any combination of the two parent breed's physical and temperamental characteristics.
Bassador puppies from the same litter can end up looking vastly different and have completely different personalities from one another.
Therefore, you never truly know what your dog will grow up looking like or behaving like until they are out of their puppy years.
However, you can be assured you will have a unique-looking medium-to-large dog that loves you no matter what!
Bassador: Appearance
Bassadors typically have the long, low body of the Basset Hound and the coloring of the parent Labrador Retriever.
However, this is definitely not a rule, and in many cases, they may be taller and have the tan, black, and white coloration of their Basset Hound parent.
Bassadors usually have the long, floppy ears of their Basset Hound parent. While they won't be quite as long as a Basset Hound's ears, they will definitely give you plenty to rub, tie up, absently stroke, and giggle at as the tips grow past their jaw lines.
You can also expect a typical Bassador to have large, strong paws with a powerful chest, which can enable them to swim very well, hike long trails with you, and run around for ages.
Bassador: Temperament And Personality
As I mentioned earlier, the Bassador's temperament can be difficult to predict based on its parentage.
However, in general, Bassadors are non-aggressive, sociable, fun-loving, affectionate, and loyal dogs. Below, I'll touch on a few of the Bassador's key personality traits.
Independence
Bassadors love their humans and will be very happy to sit at your feet, lay on the couch, cuddle up in bed, or walk around the home with you.
They adore human connection and do not do well with being left alone for long periods of time.
If you work from home or have someone at the house most days, then the Bassador could be the dog for you. However, if you are going to leave them alone for hours on end, then they could suffer from separation anxiety.
Friendliness
Bassadors love humans, especially children! A Bassador will be your young child's shadow, partner in crime, and best friend.
Bassadors will usually bond with a specific family member they prefer over the rest and come to rely on that person for reassurance and love.
Bassadors are also sociable with other animals that are of equal size or larger than them. However, socialization from a young age is essential.
Trainability
Having a Labrador Retriever as a parent should make the Bassador very trainable, and that is the case…sometimes.
However, most of the time, Bassadors are mildly to very stubborn–like their Basset Hound parent–and will resist training attempts.
You will need endless patience with them to get them to diligently and reliably follow commands and a routine.
It is certainly possible to train them and get them to accept training, although they may not be consistent in their follow through of commands and tasks.
Prey Drive
Bassadors have a high prey drive thanks to both of their parents being bred as hunting buddies.
They have a tendency to chase small objects around, which is fun for play time, as they love playing fetch. However, keep in mind they are more likely to chase smaller pets as well.
With a lot of patience and socialization, you may help them control their prey drive when it comes to other pets in the home.
Energy Level
Even though Bassadors may look dopey and lazy, they are anything but! Bassadors have a lot of energy and love exercise.
It is essential for them to get at least an hour of exercise a day split up into two or three sessions. If they do not get enough exercise, they may suffer from joint issues and obesity.
Bassador: Grooming Requirements
Basset Hounds and Labrador Retrievers both shed a lot of hair throughout the year. Bassadors double down on this!
Your Bassador will shed every single day and require daily brushing to avoid a compacted coat and skin infections.
As they have long ears and wrinkles on their faces, they will also need to have their ears cleaned everyday (or at least every other day) to prevent dirt build-up, which can lead to infections that can be painful and even fatal.
Bassador: Common Health Concerns
Bassadors are hardier than either of their parents because they are a hybrid breed, which means there is more genetic diversity at play.
However, it is always good to be aware of the health conditions that may come up in their lives and understand where they come from.
In particular, bloat is one of the most common health issues in both of the Bassador's parent breeds. Bloat happens when the abdomen swells up with trapped gas. It is a deadly disease that needs to be treated as soon as it's noticed.
In addition to bloat, there are several other health issues that the Bassador can inherit from either its Basset Hound or Labrador Retriever parents.
Health Issues Inherited From The Basset Hound Parent
The Basset Hound has several health concerns that it can pass on to the Bassador. Be on the lookout for:
Ear Infections: Their long ears trap a lot of dirt
Ectropion: Their droopy eyelids can cause serious eye problems
Spinal Issues: Their low-slung backs can buckle as they age
Health Issues Inherited From The Labrador Retriever Parent
The Labrador Retriever also has several common health problems that it can pass on to its Bassador offspring. Be on the lookout for:
Moderate Separation Anxiety: Careful training is essential from a young age to avoid this
Hip Dysplasia: Most large breed dogs have issues with their hip and elbow joints
Glaucoma: Issues with the eyes are fairly common, especially after any form of surgical or medical intervention for another issue
Is The Bassador Right For You?
When considering a dog breed to bring home, you need to be able to answer a couple of questions honestly to see if they are a good fit for your home and your lifestyle.
Before bringing a Bassador home, ask yourself the following questions.
Can I Manage Daily Grooming Care?
Bassadors require a quite intensive grooming regimen to stay healthy.
For starters, your Bassador will require daily brushing with a slicker or shedding brush. They will need to have their ears and wrinkles cleaned three times a week to avoid infection.
You will also need to brush their teeth once a day to prevent gum disease and rotten teeth.
Daily grooming doesn't have to be seen as a chore. Even 10 to 15 minutes a day where you bond with your dog and help them feel better in their own skin can make a huge difference in their health.
If you can commit to this, honestly, then the Bassador may be the one for you!
Do I Have Allergies Or Asthma?
As the Bassador sheds a lot and requires a strict grooming schedule, this breed is not appropriate for someone who has allergies or asthma. They are definitely not hypoallergenic dogs!
Do I Have Enough Space?
Bassadors love having a lot of space to roam around, stretch their legs, and investigate their surroundings.
While they can live in apartments, they prefer to live in larger homes with constant access to a garden where they can run around and smell things.
FAQs About Bassadors…
How much does a Bassador cost?
Bassadors are considered a fairly new designer breed, which means there are few breeders dedicated to breeding them. The Bassador could cost you $700 to $1,000 from a breeder or much less from an animal shelter.
It is important to remember that you will also need to include the costs of veterinary visits, vaccinations, sterilizations, and training in your Bassador.
Are Bassadors good emotional support dogs?
Bassadors are incredibly loveable and loyal. However, their stubbornness and difficulty in training can make them unsuitable for a role as an emotional support animal.
However, they will give you wonderful hugs and cuddles at the end of a long day at work or school.
What dogs are similar to the Bassador?
The Basset Hound passes on a lot of its key characteristics when it is bred with large breed dogs.
Other hybrid dog breeds similar to the Bassador include:
Basset Retrievers: A mixture of the Basset Hound and the Golden Retriever.
Aussie Basset: A mixture of the Basset Hound and the Australian Shepherd.
Basset Shepherd: A mixture of the Basset Hound and The German Shepherd Dog.
Rolling Over On The Bassador
By now, you should have a good idea of the Bassador as a dog breed. Once you get over their unique, adorable looks and get to their friendly and loyal natures, there's not much left to do but fall in love with this hybrid species.
Let's recap the basics of the Bassador:
Height: 13 to 20 inches at the shoulder
Weight: 40 to 70 pounds
Size Classification: Medium to medium/large dog
Lifespan: 10 to 13 years
Coloring: Black, brown, white, and/or tan
Pro Key Characteristics: Super friendly, loyal to a fault, very active
Con Key Characteristics: Very stubborn, strong prey drive, year-round shedding
Don't forget that while they are friendly and loyal, they can be a lot of work, as they are stubborn and require daily grooming!
Save To Pinterest
Top Picks For Our Dogs
For a list of all the supplies we get for our new service dog puppies check out our New Puppy Checklist on the PuppyInTraining.com blog.