This post may contain affiliate links. We may earn money or products from the companies mentioned in this post.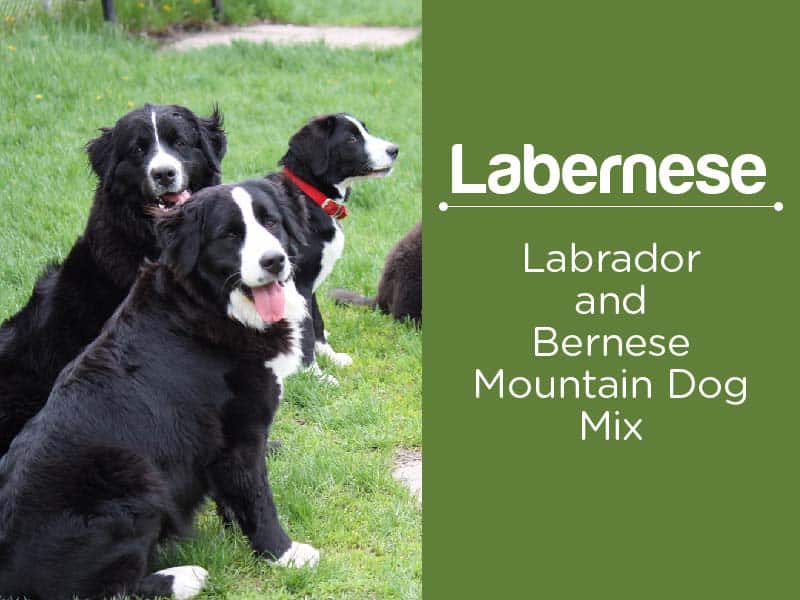 Labernese image via mixbreeddog.com
Two of the most popular working breeds, the Bernese mountain dog and the Labrador retriever, have recently joined forces to create a new breed that is pretty hard to resist.
The labernese or Bernese Labrador is a large to giant breed of dog that is known for its loyalty and excellent work ethic.
Let's delve deeper into the Bernese mountain dog lab mix.
Is there controversy surrounding this new breed?
What is their temperament, health, and life span?
And most importantly, how can you, the discerning dog lover, find a labernese dog to add to your family?
Controversy Surrounding the Labernese and Other Designer Dogs
There is plenty of controversy surrounding so-called designer dogs, and the Bernese Labrador mix is no exception.
There is a popular myth that purebred dogs are healthier and more desirable, and that they are bred by trained geneticists whose goal is to protect the genetic diversity and health of pedigree dogs.
In truth, both pedigree and mixed breeds can be bred intelligently, with an emphasis on health and good genetics, but according to the Institute of Canine Biology, purebred dogs are more likely to have shorter lifespans or develop serious health issues due to inbreeding.
The health of a dog depends largely on their genetic makeup and the environment they are raised in.
Whether you are looking for a Bernese lab mix, or any other puppy, the most important consideration is a reputable breeder that is breeding their dogs for health and genetic diversity, not popular physical traits that will make them a quick buck.
History of the Bernese Mountain Dog and Lab Mix
Both the Bernese mountain dog and the Labrador retriever are loyal dogs who have been bred specifically throughout their history to work alongside humans.
The ancestors of Bernese mountain dogs were brought to Switzerland thousands of years ago by invading Roman soldiers.
These gentle giants worked as draft dogs and multipurpose farm dogs, but they weren't officially recognized by the American Kennel Club until 1937.
The Labrador retriever, who has claimed the title for the AKC most popular dog breed for more than 10 years, is known as the most gentle of family pets, as well as a prized hunting dog.
More recently, labs have been used extensively for guide work, and are trained to lead the blind, perform detection work, and aid children with autism.
As the name suggests, the lab's modern ancestors originated in the province of Newfoundland and Labrador in Canada.
The labernese mix was originally created in the 1990s by the Mira Foundation in Canada as a service dog for the disabled, blind, and visually impaired.
The foundation firmly believes that a healthy Bernese-Lab mix will combine the best traits of both breeds to create dogs who are calm, highly trainable, intelligent, and obedient.
Physical Characteristics of the Bernese Lab
Both breeds are known for their large size and strength, so you can assume that your hybrid will be big, possibly even giant.
Average weight will be between 75 and 115 pounds, and they will generally reach between 25 and 28 inches at the shoulder.
As for looks, your labernese could take after either parent, with a medium to long coat and colors ranging from pure black or black and white, to yellow, tan, or brown. Bi-color and tri-color labernese are common.
Temperament of Bernese Mountain Dog and lab mix
Both the Labrador and the Bernese mountain dog are known to be gentle, intelligent, and good with kids, so there's a great chance that your labernese will be a fabulous family pet.
Labernese puppies are easy to train, and the high-energy of the Labrador is often tempered by the Bernese mountain dog's laid-back attitude.
Because labernese are extremely loyal, they thrive when they can integrate fully into family life. Dogs who are left alone for long periods may not get the human interaction that they need and could become destructive.
Labernese Health Considerations
As with any dog, purebred or mutt, genetic make-up and environment will play a huge part in the health of your Bernese mountain dog and lab mix.
Finding reputable labernese breeders who pay careful attention to breeding healthy dogs is critical. You can find more about finding a responsible breeder from the Humane Society of the United States.
Common health disorders in Labradors include hip, elbow, or shoulder dysplasia, joint problems, obesity, cancer, progressive retinal atrophy, and ear infections.
Bernese mountain dogs also suffer from many types of cancer, along with hip and elbow dysplasia. They are also prone to heart problems, epilepsy, and autoimmune diseases.
The life expectancy of your labernese could be anywhere from 6 to 12 years old, depending on their overall health, size, and genetic makeup.
Labradors generally live between 10 and 12 years, and Bernese mountain dogs have a life expectancy of 6 to 8 years.
Caring for Your Bernese Mountain Lab Mix
These gentle giants have beautiful coats that should be brushed often to keep up with their heavy shedding. Invest in a good vacuum to keep up with the accumulation of hair throughout your home.
Baths won't generally be appreciated, and should be given sparingly to keep your dog's skin and fur from drying out.
The labrador in your dog is susceptible to ear infections, so be sure to check your pup's ears weekly to look for signs of infection.
Bernese Labradors appreciate a good meal, no matter when it is offered, but because they are prone to obesity, they should be fed a high-quality, dry dog food twice daily.
How much food will depend on the age and size of your dog.
Labernese, and especially labernese puppies, are active dogs who aim to keep you on your toes. They benefit from regular exercise, and generally love fetch, running, and playtime with other dogs.
Not only will a good romp make them happy, but it will also go a long way toward better behavior.
Training and Socializing your Labernese
And speaking of behavior, your labernese is extremely intelligent and eager to please, which makes training a breeze, as long as you are consistent.
It's important to start training and socializing your labernese puppy at a young age.
An untrained furry pup isn't the end of the world, but a untrained adult can wreak havoc on your household and knock you over in an instant.
Because labernese pups can grow to be huge, it's particularly important to teach them leash and house manners early on.
Labradors and Bernese mountain dogs both respond to positive reinforcement training use food as a reward. Puppy obedience classes are a great way to help them socialize with other dogs.
Is a Labernese Right for Your Home and Family?
Labernese dogs will need plenty of room, inside and out. Apartment living isn't really their thing, nor is soaking up the sun on a tropical island.
Labernese have thick coats, and both parent breeds were developed in northern regions of the world.
These dogs will need plenty of exercise and room to run. If you can give them a job, they will really show you what they're made of.
The Bernese lab mix should be an excellent family dog, as they are known as gentle giants who are fond of children.
Remember though, that each labernese is different, and they will have a secret mix of lab and Bernese mountain dog traits.
If you can handle the uncertainty of a mixed breed, and are willing to put in the time to train and exercise a labernese, you will find that their loyalty and loving personality will reward you a hundred times over.
Labernese Puppies: How to Find and Pick Your New Best Friend
While labernese puppies are becoming more popular, they aren't easy to find without a thorough search. Be sure to look for a reputable breeder with stellar credentials.
Many shady breeders are getting into the designer dog market, hoping to make some fast cash. The last thing you want is a dog bred by someone without any scruples!
Look for a labernese puppy with a clean bill of health who has been raised with the mother until at least 8-weeks of age.
Parents should have be healthy, with documentation showing positive results from hip, elbow, and eye screenings.
Ideally, you should visit the breeding facility to ensure cleanliness and meet the breeder in person before agreeing to purchase a puppy.
A labernese puppy from a reputable breeder will probably cost more, but you will save yourself lots of headaches and heartaches by choosing the best breeder, not the cheapest.
Pros and Cons of the Labernese Mix
If you have your heart set on a Bernese-lab mix, you're not alone. Before you make your decision, though, be sure to do your research. Here are the most compelling reasons for and against the labernese:
PROS: Easy to train, gentle, good with kids, great working dog, loyal
CONS: You will get a surprise mix of lab and Bernese mountain dog traits, short life span, prone to hip and elbow problems, needs lots of exercise, may be too big for a small house or yard
Do You Have a Labernese?
We'd love to hear about your labernese experiences.
Which parent does your dog take after?
Did you find your labernese easy to train?
Please share your story in the comments below.
Top Picks For Our Dogs
For a list of all the supplies we get for our new service dog puppies check out our New Puppy Checklist on the PuppyInTraining.com blog.