In North America, pet owners spend roughly $15.25 billion on veterinary care each year. As such, it makes sense for all dog owners to get pet insurance for their canine companions.
One of the biggest reasons why people don't insure their dogs is because they don't fully understand pet insurance. They think it will be too much hassle and there'll be all sorts of hoops to jump through.
The good news is, pet insurance is actually very simple once you understand the basics.
This post will help you learn how pet insurance works, so you can get your dog the coverage they need.
Step 1: Finding a Policy
The first step to getting your pet insured is finding the right policy for you. There are a few important factors to consider in regards to this, which we'll talk about below. We'd recommend shopping around for your insurance policy to get the best deal.
Choose a Coverage Level
Most insurance companies only offer a few simple policies, which should be fairly easy to understand. While different insurance companies might give them different names, these are the main coverage levels offered.
Third-party or accident-only.

Accident-only policies will only cover vet bills related to accidents (not illnesses). Third-party policies will cover any bills or legal fees that arise from your dog doing damage to a person or property.

Annual.

Annual policies will cover accidents and illnesses up to a certain dollar amount (which varies depending on the policy). However, any condition treated one year will be counted as a pre-existing condition the next year and will not be covered.

Lifetime.

Lifetime policies differ from annual ones inasmuch as they allow conditions to roll over to the next year. So, if your dog develops a chronic condition, they'll keep paying out for it indefinitely, as long as you keep paying your policy.

Comprehensive.

Some insurance policies offer comprehensive plans, which also cover routine checkups, vaccinations and so on.
Some policies let you choose from a few different maximum payment levels. For instance, you may get to choose whether you want insurance to cover $3000, $5000 or $10000 worth of vet bills per year. Of course, the higher the payment, the higher your premiums will be.
Choose a Deductible and Reimbursement Amount
Most insurance companies will let you set your own deductible and reimbursement amount — often from a few set options.
A deductible is the amount that you pay before your insurance company starts covering the vet bills. Some companies offer an annual deductible, whereas others offer a per-condition deductible.
A reimbursement amount refers to the amount of the bill the insurance company will cover. You can get policies will 100 percent reimbursement amounts (meaning the insurance company will cover the full cost). But, these will be more expensive than those with a lower reimbursement amount.
Step 2: Paying Your Premiums
Once you've sorted out the details of your policy, all you need to do is pay your premiums.
Some companies offer you the option of either paying an annual lump sum or splitting it into monthly payments. But, watch out, because sometimes it's cheaper to pay it as a lump sum. So, if you can afford to do so, this may be the best option.
That said, if you do pay annually, make sure not to forget to pay your next annual payment, as you don't want your dog's cover to lapse.
Step 3: Going to Any Licensed Vet
Most Americans have felt the frustration of trying to find a doctor that takes their insurance. Luckily, pet insurance doesn't work like this.
All pet insurance policies can be used at any veterinary clinic.
So, you can take your dog to any licensed vet when they need treatment. So there's no problem if you change practices or need to go to a vet in a different area for any reason.
Step 4: Paying Your Vet Directly
In the United States, most insurance policies require that you pay your vet up front and then the company reimburses you.
However, in some cases -- for instance, if your bill is very large -- your vet may agree to wait for payment until you've been paid by the insurance company. This is something you'd have to arrange on a case by case basis, though.
In other countries, this may work differently. For example, in the UK most insurance companies will pay your vet on your behalf, if you prefer. So, all you need to do is pay the deductible.
Step 5: Submitting Your Claim
The good news is, submitting your claim is usually very easy. In fact, your vet will probably do most of the work for you.
In most cases, you simply have to fill out part of a form with your pet's details and the details of your insurance policy. Your vet will fill out all the technical details pertaining to your dog's illness or injury. They'll usually even send off the paperwork on your behalf, too.
So, all you need to do it sit back and wait for your check.
Conclusion
Now that know a little bit more about how pet insurance works, we hope getting your dog covered is the obvious choice.
There are various types of policy, so you can find one that makes sense for you and your dog. Plus, you have the peace of mind knowing that your precious pup is covered should something bad happen.
---
This post may contain affiliate links. We may earn money or products from the companies mentioned in this post.
Top Picks For Our Dogs
For a list of all the supplies we get for our new service dog puppies check out our New Puppy Checklist on the PuppyInTraining.com blog.
Summary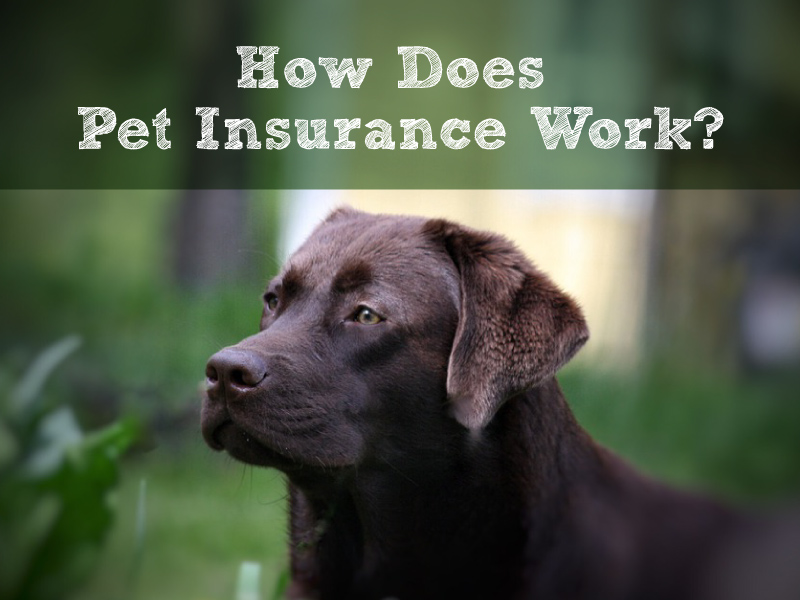 Article Name
How Does Pet Insurance Work? An Overview of The 5 Basic Steps
Description
1. Finding a Policy 2. Paying Your Premiums 3. Going to the Vet 4. Paying the Vet Up Front 5. Submitting Your Claim
Author
Publisher Name
Publisher Logo