One of the most confusing things about pet insurance can be figuring out what it covers.
The problem is, there's no one size fits all answer, as it varies between policies.
However, the majority of policies are fairly similar. This means we can give you a relatively accurate picture of what you'll be getting if you insure your dog.
Before finalizing your policy, talk to your insurer to make sure they cover everything you want them to.
Illnesses and Injuries
Most insurance policies will cover both injuries and illnesses. Whether your dog presents with a limp, has been vomiting or almost anything else, you'll be able to claim the vet bills on your insurance. You do have to look at the small print regarding cancer, however. A few insurance companies offer separate cancer cover, meaning it won't be included in your basic policy. Since cancer is relatively common in dogs and cancer treatment can be ongoing and costly, we'd definitely recommend getting a policy that includes cancer cover.
Injury-Only
Some policies only cover accidents and injuries. So, no types of illness will be covered. It tends to be much cheaper than illness and injury policies, but you get what you pay for. If your dog contracts a chronic or long-term illness, you could be saddled with piles of vet bills your insurance won't cover.
Breed Specific Conditions
You might not realize the majority of breed specific or hereditary conditions are completely covered by pet insurance. So, just because your Labrador is genetically predisposed to hip dysplasia, it doesn't mean you can't insure against it.
That said, this can differ between insurance companies or there may be provisos. For instance, Healthy Paws Pet Insurance only covers hip dysplasia if you sign your dog up to their insurance policy before the age of six. So, always check with the insurance company first if your dog is predisposed to any breed-specific conditions.
Chronic Conditions
Should your dog develop a chronic or ongoing condition, you want them to be covered. If you take out a policy with lifetime cover, any condition will be covered indefinitely. There is usually a cap in place, meaning the insurance company will only pay out up to a fixed amount, either per year or per condition. But, as long as you don't exceed that cap, you'll be fine.
You do, however, have to be careful, as not all policies cover chronic conditions. These are known as annual, or time-limited, policies. This type of cover will only pay for each new condition up to the end of your annual policy. The following year onwards, it will be counted as a pre-existing condition and won't be covered.
Routine Procedures
It's a fairly new concept, but some insurers are now offering policies that cover almost everything. This includes routine procedures, such as neutering and vaccinations. This type of policy is usually called comprehensive cover or a wellness plan.
Bear in mind that most policies don't cover any of these things, though. So, if you don't opt for a wellness plan, you'll still have to pay for routine treatments.
It may or may not be worth your while, depending on how much more you pay for the wellness plan on top of your regular cover. If you're unsure, compare the cost of the wellness plan to the individual cost of these treatments at your chosen veterinary clinic.
Behavioral Therapy
Again, this is something that not all insurance policies offer, but some do.
A policy that covers behavioral therapy would cover the costs of seeing a specialist behaviorist to work on issues such as dog reactiveness or separation anxiety.
These bills can mount up fairly high, so it's worth looking for a policy that covers behavioral therapy if you think your dog may need it in the future.
Alternative Therapies
Some policies cover alternative or holistic treatments if recommended by your primary vet. These may include acupuncture or hydrotherapy. If you're a fan of alternative therapies, this is something to look out for.
What Isn't Covered by Pet Insurance?
Pre-existing conditions.

We've yet to find an insurer that will cover any pre-existing conditions. This means, it's unwise to change policies if your dog is currently undergoing treatment for a condition that's covered by their current insurance, as it will no longer be covered if you switch.

The full vet bill.

Your insurance policy will have a set deductible and reimbursement rate. This means you'll still be responsible for covering part of the bill.

Inhumane treatments.

Even if you have a policy that covers routine treatments, they won't pay for anything deemed inhumane. This usually includes procedures like tail docking and ear cropping.
Conclusion
While there are set things that the majority of insurers covers, it varies between companies and between policies.
As such, it's always advisable to read all the small print. You can always ask someone at the company for clarification if you're unsure of anything.
---
Ready to go shopping for an insurance provider? Check out our reviews of APSCA and Trupanion.

Lauren Corona lives in Oxfordshire, UK with her kooky canine companion, Nola. She has written about dogs and other animals for such websites as The Daily Puppy and Paw Nation. You can follow her on Twitter
@lozbearwrites
.

Latest posts by Lauren Corona (see all)
Summary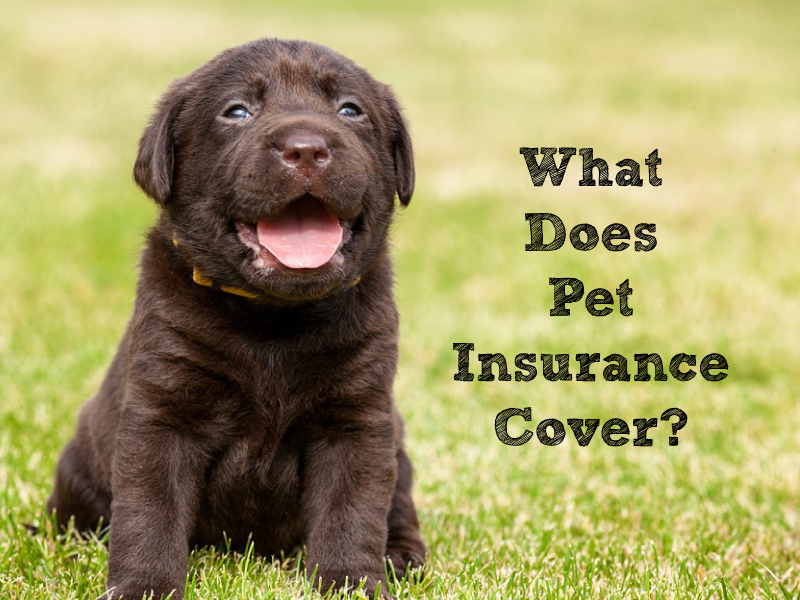 Article Name
What Does Pet Insurance Cover? The 7 Options You Want for Your Lab
Description
Here are some options that your labrador can get covered for: Illnesses and injuries, Injury only, Breed specific conditions, Chronic conditions, Routine procedures, Behavioral therapy, and Alternative therapy
Author
Publisher Name
Publisher Logo