A common question on the subject of insurance is, "How much does pet insurance cost?"
It's natural that pet owners would ask this question, but it isn't an extremely easy one to answer.
The truth is, the cost of pet insurance can vary wildly, depending on a number of factors, including your dog's age and breed.
You're never going to know exactly how much pet insurance will cost for your dog until you get a quote. However, this article will help you understand that factors affecting the cost of pet insurance, as well as a little bit about average costs.
What is the Average Cost of Pet Insurance?
In the United States, the average cost of pet insurance is roughly $492 per year, or $41 per month.
As we've already noted, this amount can vary considerably depending on a range of factors. We'll go over these later in this post.
It's worth noting that pet insurance premiums rise as your pet ages. Therefore, you'll start out paying less when your dog is younger and end up paying more as they get older.
An Overview of Pet Insurance Cost
This video gives you a brief introduction into the factors influencing the cost of your pet insurance. It also touches on what you should consider if your premiums seem too high or too low.
What Factors Affect the Cost of Pet Insurance?
Let's take a look at the various factors that will affect the cost of your pet insurance.
The insurance company.

According to the Pearl Veterinary Group, the insurance company you choose to go with can make a significant difference in the price of your premiums. Every pet insurance company will have its own algorithm or way of determining the cost of an animal's premiums, and these can be based on fairly arbitrary factors. As such, one insurance company may charge you far more for the same level of cover compared to another. That's why it's worth shopping around to get the best deal or using a price comparison site.

Where you live.

Your geographic location can greatly affect the cost of your pet insurance. The cheapest state in which to insure a dog is Kansas where average premiums are $33 per month. By comparison, New York is the most expensive state for dog insurance, where the average is $48 per month. The difference in price between states isn't just random, however. It's based on the average cost of veterinary fees in your area, so it does make sense when you think about it that way.

The type of pet you have.

Since you're here, we're going to assume you're looking to insure a dog. Unfortunately, that means your premiums will be higher on average than if you were insuring a cat. The reason being, dogs are more likely to need veterinary treatment and the cost of treatment is higher than it is for cats.

Your dog's breed.

Some breeds of dog are more predisposed to getting certain illnesses or ailments. If the type of dog you own has a lot of breed-specific conditions that they could contract, your premiums are likely to be higher. That's why, as a rule, mixed breeds are cheaper to insure than purebred dogs.

Your dog's age.

Unfortunately -- just like humans -- dogs are more likely to get sick as they get older. So, insurance companies will put your pet's insurance up as they age. On average, your pet insurance should go up between 5 and 10 percent each year due to your pup's increasing age. However, you may occasionally see an annual hike in your premiums that's much larger.

The deductible.

If you've dealt with human health insurance you probably already know what a deductible is. For the uninitiated, a deductible is the amount that you have to pay out of your own pocket before your insurance company starts covering the cost of treatment. The higher the deductible, the lower your premiums will be. However, choosing a high deductible can work out as false economy, as you'll have to pay more to the vet yourself.

The reimbursement rate.

The reimbursement rate is the percentage of the bill that your pet insurance will cover. So, if you have a 100 percent reimbursement rate, your insurance will cover the full vet bill (minus the deductible). But, if you have an 80 percent reimbursement rate, you'd be expected to pay 20 percent of the vet bill on top of the deductible. If you choose a lower reimbursement rate, your premiums will be lower.

Your coverage level.

Different insurance policies offer different levels of coverage. Some policies will only cover accidents or damage to a third-party -- these are the cheapest policies out there. If you want a good lifetime cover policy, or a comprehensive policy that covers routine procedures and checkups, your premiums will be much higher.
Conclusion
There are a lot of factors that influence the cost of pet insurance, and it can get a bit confusing.
However, no matter how baffling you find it, we'd recommend pet insurance to all dog owners. It's nice to know you're covered if a serious illness or injury cropped up, so you'll never have to decide between putting yourself into debt and giving your canine companion the best treatment available.
---
If you're looking for insurance providers, you can check out our reviews of Embrace and Trupanion.
This post may contain affiliate links. We may earn money or products from the companies mentioned in this post.
Top Picks For Our Dogs
For a list of all the supplies we get for our new service dog puppies check out our New Puppy Checklist on the PuppyInTraining.com blog.
Summary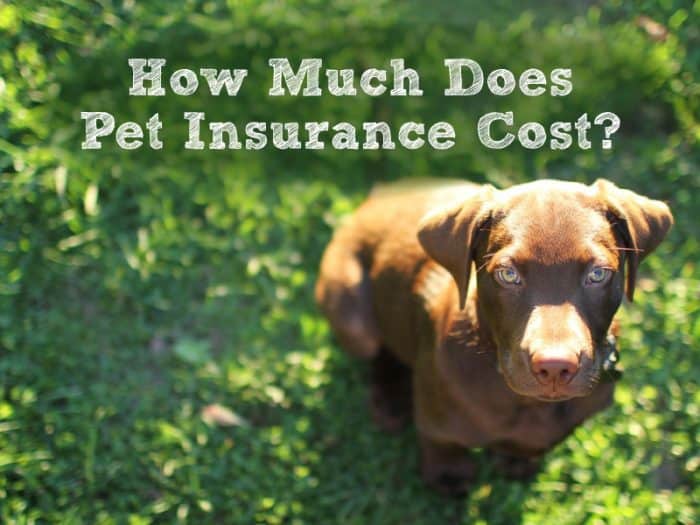 Article Name
How Much Does Pet Insurance Cost? The 8 Big Factors That Add Up
Description
The factors that affect your pet insurance cost are: the insurance company; where you live; the type of pet you have; your dog's breed; your dog's age; the deductible; the reimbursement rate; and your coverage level.
Author
Publisher Name
Publisher Logo