This post may contain affiliate links. We may earn money or products from the companies mentioned in this post.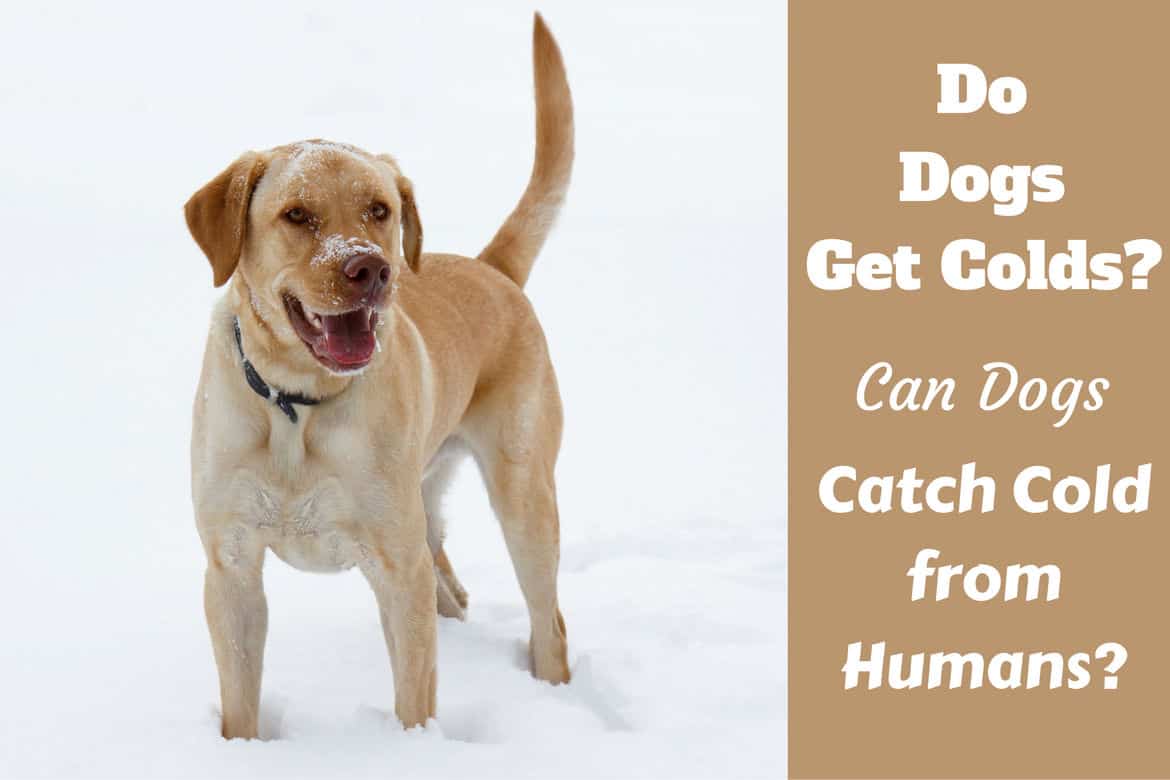 Do dogs get colds? Yes, just like humans, dogs can and do get colds.
However, although our symptoms are similar, there's no way for us to catch a cold from our canine friends, so don't worry about caring for your pet while they're under the weather.
You can safely do so without putting your own health at risk.
Can Dogs Catch Human Colds?
I've often wondered 'can dogs catch colds from humans?' I've heard many stories of people's dogs fishing used tissues out of a bin and two days later showing classic signs of a cold.
However, it's simply not the case. Dogs cannot get colds from humans.
In fact, it's very rare for any disease or virus to be transferable from a human to a dog, or vice versa.
The common cold that affects us has evolved for millennia to be perfectly suited for life in the environment of a human body. A dog's body is a very different environment altogether and is hostile to the common cold.
Now, having said that, dogs do not get off Scott free. There is a canine cold virus. It causes all the same symptoms as a human cold, it's just an altogether different virus.
Dog Cold Symptoms – How to Tell if Your Dog has a Cold?
While canine colds are caused by a different virus to the human cold, the symptoms manifest themselves largely the same in both of us, namely:
A runny nose and eyes
Congestion and trouble breathing
Sneezing and coughing
Lethargy
Loss of appetite
If and when you spot these symptoms in your dog, make sure to separate them from any other dogs in your home; while humans are unable to catch a canine cold, other dogs are very susceptible.
Don't mistake the occasional sneeze, which is entirely normal, for a cold – chances are, any solitary sneezes can be attributed to dust or allergens in the air, just like humans.
How Serious are Colds for Dogs?
Dogs that are otherwise healthy should be able to recover from a cold within a week at most without any veterinary intervention, provided you can treat them effectively at home.
Never just ignore a cold and remember to seek help from a vet if your dog's condition persists or gets worse.
A common mantra among vets is that a cold is often never as simple as it seems, and you should be particularly alert for any unusual symptoms.
Some serious illnesses can initially present themselves like a normal cold but can progress quickly into a more serious health issue, including Parainfluenza, Kennel Cough, Canine Distemper and Adenovirus Type 2. Vaccines are available against these diseases.
If your dog's symptoms include a rattling cough, vomiting, high fever and a thick phlegm, be sure to consult your vet immediately to rule out more serious health problems.
Both puppies and older dogs, or those suffering from pre-existing conditions, are likely to have weaker immune symptoms than otherwise healthy dogs, so it's a good idea to take them to the vet if they present with any cold symptoms as they may require medicine.
---
---
How Can You Prevent Your Dog Catching a Cold?
Prevention is always better than a cure for humans, and this holds true for dogs as well.
The most important thing is to keep your dog as fit and healthy as possible, to boost their immune systems and to give them the energy to fight any viruses or bacteria that they may be faced with.
That means a healthy, balanced diet with plenty of exercise – at least once a day – together with regular check-ups at the vet and keeping them up to date with their vaccinations.
Also, remember to allow your dog access to a plentiful supply of fresh water.
While cold weather in itself does not cause colds, it does require your dog to use more energy to keep warm, which means less energy can be given to fighting viruses and disease – including the cold virus.
Therefore, it's best to be proactive in the cold months and make sure that your dog is warm – perhaps with a blanket, dog bed or even a jumper – and kept away from rain and draughts.
What's The Best Way to Treat a Dog With a Cold?
If your dog is unlucky enough to catch a cold, it's important to be proactive with treatment to avoid it progressing to a more severe illness.
Always consult a vet if you're worried about their illness getting worse or not going away. This video explains the treatments that your vet is likely to recommend:
Provided they're otherwise healthy they shouldn't require any trips to the vet or prescription medicines, as there's a host of home remedies that are great at tackling a canine cold and helping your dog build their immunity back up.
To help them breathe easier, install a humidifier near where they sleep – the steam will loosen up any congestion and impacted phlegm caught in their nose, sinuses and lungs. 10 minutes should do the trick!
Make sure that your dog is taking in enough fluids by providing plenty of fresh water.
If their appetite is low, some dog owners recommend a portion of chicken soup for your poorly pup; the sodium in the broth will restore some energy while the chicken should be enough to get them to eat and keep up their strength.
While some people recommend a dose of Vitamin C, it's always best to double check recommended dosages with your vet.
Also, don't be tempted to administer human cold medicine ­– some of the ingredients could be toxic!
Finally, make sure they're kept nice and warm with a blanket and even a heating pad so they're not using vital energy to keep warm.
Disclaimer
All content on this site is provided for informational and entertainment purposes only. It is not intended to be nor can it be considered actionable professional advice. It must not be used as an alternative for seeking professional advice from a veterinarian or other certified professional.
LabradorTrainingHQ.com assumes no responsibility or liability for the use or misuse of what's written on this site. Please consult a professional before taking any course of action with any medical, health or behavioral related issue.
Top Picks For Our Dogs
For a list of all the supplies we get for our new service dog puppies check out our New Puppy Checklist on the PuppyInTraining.com blog.