This post may contain affiliate links. We may earn money or products from the companies mentioned in this post.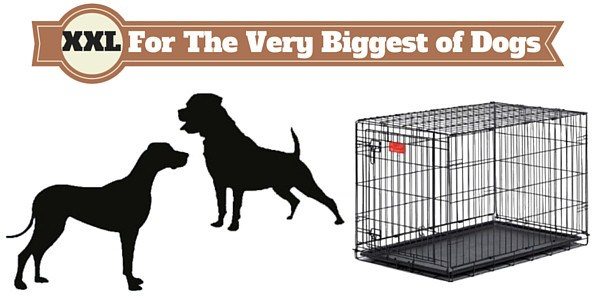 Wire dog crates are the most prolifically used crates in the dog world today. They are the most practical, feature rich, safe and secure crate type on the market.
Read on to discover what makes metal wire crates such a good choice, before seeing our recommendations for the best crates on the market, appropriately sized for your giant breed of dog
Why Choose a Wire Crate Above Other Styles?
They Collapse for Storage or Travel Without the Need for Tools
If you ever have a need to store or move the crate, they are very easy to fold down flat and have handles to carry them easily like a suitcase.
Most makers pride themselves on the ease with which you can break down and re-assemble the crate in seconds without the need for any tools whatsoever.
Yes, fabric crates will be easier and certainly lighter, but then you miss out on the strength and other features of wire crates that fabric crates just cannot rival.
Resizeable to Suit a Growing Puppy or Adult Dog
For effective house training, dogs will need different sized crates at different stages in life so you may have to buy 3 different sized crates as your puppy grows through into adulthood. These costs soon build up!
To overcome this, metal wire crates are supplied with a divider than you place inside the crate to match the space inside a larger crate to suit the requirements of a puppy.
Therefore, you only need buy one crate to suit an adult dog, resize it to suit a puppy, increase the space as they grow and save lots of money during this process.
Cleanliness and Hygiene is a Cinch
In case of house training accidents or or if your dog suffers with an upset tummy, cleaning a wire crate could not be any easier.
Simply remove the slide out tray from the base, clean this out in the yard, and wipe down the metal wires with a damp soapy cloth. Job done.
Compare this with a crate made from wood, fabric or plastic. They will absorb some of the mess and will need a decent amount of scrubbing and rinsing to get them back to truly clean. Not an easy or envious task.
So wire crates win in the cleaning stakes which will be a massive benefit in the long run, believe me.
The Strongest of All Crates Available
For the largest and strongest of dogs, fabric and wooden crates just will not last very long. Plastic ones more so, but nothing compares to the strength and durability of a good, metal wire dog crate.
Whether taking in stride small knocks and scratches over the years, or standing up against a barrage of abuse from a wannabe escapee, a wire crate will stand up and stay strong. No other crate comes close to the toughness of a wire crate.
Dogs Enjoy Maximum Ventilation and Can See All Around
Many dogs still like to be able to see all around when they're crated, and of course in hot weather they need maximum ventilation to make sure they don't overheat.
Most crates made from other materials have pretty solid, enclosing walls whereas with a wire crate you have options.
You can either leave the crate uncovered for max airflow and visibility, or cover it over with any of the commercially available crate covers, or even improvise with a cover of your own (a nice tartan blanket perhaps?)
The Mix of Price and Quality Is Unrivalled
Metal wire dog crates are the most economical option when it comes to crates, but don't be put off the lower prices as it doesn't mean quality has suffered.
Wire crates are the most durable, long-lasting option in the market, while being easily transportable, easy to clean, entirely safe and very secure. They are quality at the best prices.
When Buying, Keep These Tips in Mind
You want a crate that's safe, secure, practical and long-lasting. There are certain features of wire crates that go toward this goal…and other features that are nice to haves, or plainly not needed at all.
With so many crates on the market, finding the right one can be difficult. So to help we've compiled a short list of buying tips that you should seek in any purchase, to make sure the crate you buy is fit for purpose:
Size is the most important factor: If you;re going to use the crate to aid house training, it mustn't be big enough to use one end as a toilet and the other for sleeping. 2 to 4 inches longer than your dog and 2 to 4 inches taller is the ideal size to aim for.
There must be no sharp ends that can cause harm. Make sure the crate is safe! Some lower quality models have been reported to have sharp wire ends. Avoid these for obvious reasons.
You want it stainless or with an easy wipe coating: If you buy a crate susceptible to rust, it isn't going to last very long. Luckily most are made from stainless steel or have a resin coating to protect against corrosion.
For ease of clean, the base tray should be easy to remove: A slide out, easy clean tray is a BIG time saver! Or more to the point, a dirty crate where the base cannot be easily removed for cleaning is a massive inconvenience, (climb in the crate to clean it anyone?) but is luckily something you can void.
Look for hassle free, tool-free assembly and break-down.: It's just easier. And I like easy. If you have to move the crate, most of them fold easily and can be reassembled with no need for tools. Whereas some will need to be moved fully assembled or taken apart and put back together with a socket set. I know which I'd prefer :-)
Best Dog Crates for XXL Giant Breeds
Note: The crates on this page are handpicked to be perfectly sized for the following breeds:
Afghan, Alaskan Malamute, Anatolian Shepherd, Bernese Mountain Dog, Bloodhound, Briard, Bull mastiff, Giant Schnauzer, Gordon Setter, Great Dane, Great Pyrenees, Greyhound, Irish Wolfhound, Komondor, Neapolitan Mastiff, Newfoundland, Old English Sheepdog, Otter hound, Rottweiler, St. Bernard.
Midwest dog crates are the single most popular crates for sale in America – and it's easy to see why.
The company has been trading and producing dog crates now for over 90 years and in that time have truly perfected the art of creating high quality, feature rich yet affordable crates for all.
I'm sure nobody would argue that Midwest Homes for Pets are the most highly respected industry leaders in the space. Therefore we feature and recommend their two most popular models.
Following this are two great alternatives, from Proselect and precision pet. Very similar feature sets to the Midwest crates and certainly up there matching in quality.
Midwest Life Stages Folding Metal Dog Crate
[amazon fields="B0002AT3MO" value="thumb" image_size="large" image_link="none" image_class="ais350″]
One of the best selling crates in the whole of America – The Midwest life stages crate comes highly recommended by all. No other crate receive such high praise and good reviews as this model in many places on the web.
Notable features:
Double door crate, for easy access from the front and side.
Tough, protective black electro-coat finish ensures good looks, durability and long life.
Easily removable and easy to clean, tough ABS plastic tray in the base.
2 slide catches for closing the crate, rounded corners and no sharp edges – Safety and security is foremost with this crate.
Complete with divider panel for re-sizing a larger crate to suit a puppy.
Extremely easy to set-up and break down, with no tools required.
Folds down into a suitcase size, complete with two handles, for ease of portability.
Click to learn more / check pricing.
Midwest iCrate Pet Crates
[amazon fields="B000QFWCLY" value="thumb" image_size="large" image_link="none" image_class="ais350″]
Another incredibly popular crate from Midwest Homes 4 Pets.
The iCrate series has a very similar feature set to the life stages series above, but there are some notable differences:
The wire bars and grid on the life stage crates are a little thicker and closer together. This makes the life stages crates a little heavier, but more durable. In a Side by side comparison, the life stages crate just looks 'tougher'.
The iCrate model is also slightly narrower with a lower ceiling than the life stages for crates that are otherwise the same length.
Due to slightly fewer materials being used, the price is lower in the iCrate series than the life stages.
Don't let what seems like negatives above put you off! The iCrate is still a high quality crate that receives high praise from all. It's just more suited to less boisterous (and less destructive) dogs who like maximum visibility from the inside of their crate.
Notable features:
Double door for flexibility in positioning in your home, and two methods for access from the front or the side.
Stylish looking, durable, protective black electro-coating.
Easily to clean and tough ABS plastic tray.
Secure slide bolt catches, no sharp edges, built with safety and security in mind.
Divider panel with the larger crates – a crate that grows with your puppy.
Simple, tool free set-up and fold down in seconds.
Click to learn more / check pricing.
Proselect 'Easy' Wire Dog Crates
[amazon fields="B005N1190G" value="thumb" image_size="large" image_link="none" image_class="ais350″]
The 'Easy' line of dog crates from Proselect are a great value, great priced series of crates combining all the necessary features to make them a highly secure and safe crate to use with your dog or puppy.
Great feedback with over 200 4 and 5 star reviews on Amazon from previous owners, this crate earns high praise indeed from the people who matter – people using the crates day to day with their pets.
Notable features:
Slide out floor tray for easy and convenient cleaning. The wire crate itself has a black coating that's simple to wipe clean with a cloth.
Divider panel included as standard to resize the crate as for a puppy and increase space as they grow.
Dual sliding bolts for securing the door – extra protection if your dog is a wannabe Houdini.
Easy assembly with no tools needed, and folds extremely easily for storage or transportation.
Click to learn more / check pricing.
Precision Pet Two-Door Great Crate
[amazon fields="B000633ZJ4″ value="thumb" image_size="large" image_link="none" image_class="ais350″]
Another great value, high quality wire crate providing maximum ventilation and visibility from within.
Extremely good feedback and reviews from previous owners, testifying to the crates quality, durability and great value.
Notable features:
Double door crate providing flexibility for placement against different walls and easy access to your dog inside.
Removable, easy clean plastic tray for a base.
Divider panel included for re-sizing the crate to suit your puppy until they grow.
No tools needed for assembly
Effortlessly folds and includes a carry handle for easy storage and portability.
Rounded corners and no sharp edges to ensure the safety of both you and your pet.
Stylish looking, black epoxy resin coating that is easily wiped clean and durable.
Click to learn more / check pricing.
Product image credits: © Amazon.com
Top Picks For Our Dogs
For a list of all the supplies we get for our new service dog puppies check out our New Puppy Checklist on the PuppyInTraining.com blog.